Hi, We rescued this chap and called him Monty from the cat shelter in Cork Ireland.
He is now a Year old and continues to grow and is larger than the average house cat. I'm curious does he have a mix of Maine Coon due to his coat and his behaviour does match some of what I've read online.

Here is a couple of photos attached.

much appreciated.


comments:

Beautiful cat!
by: Anonymous
Nice pictures!!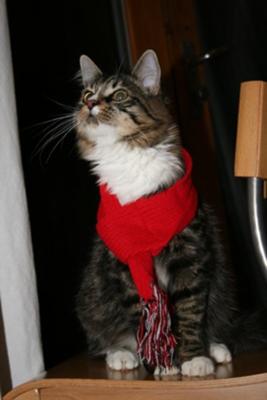 He's gorgeous
by: Donna
What a beautiful kitty. He looks so soft.

He really does look maine coon mixed
by: Buster and Missy's mom

My Missy is also a mix, she doesnt have the large paws that never ever scratch like Buster who is pure. Smaller paws which look like yours has.

Coones have cattitude! Must be fed separately and well tended to then leave, I will sit with you on the sofa IF I choose and don't touch me if I warn you. Oh and playing hide and seek in the garden.

Hiding from me, seeking to be fed. Oh and I have a furminator brush to keep out the goat head stickers from Missys fur, I lose a lot of skin that way! I 1/2 way filled up a laundry basket with that fur, Buster is very cool about it but again he is purebred Maine Coone and knows it.

thanks
by: Neill

Hi,
Thanks for responding so quick. I kinda was thinking the same thing. one thing for sure he does like a dog is beg for food :D probably the most vocal cat i've ever owned.

Some of the behaviour traits is what got me thinking he could have some Maine Coon in him but I guess i'll never know for sure.

Someone else mentioned to me he could have norway forest cat in him and this person was from norway.

I'll just stick with the longhair monty! ;)

Thanks again for your thoughts.

Monty; Maybe A Mix
by: Maine Coon Cat Nation

Hi,
Monty reminds me of a cat I once had by the name of Clyde. He was friendly, fluffy, and I thought maybe part Maine Coon. After a while I figured he probably wasn't, but I always wondered.

Unfortunately, that is the way it is with some cats! "Regular" domestic housecats can be longhaired and thus somewhat resemble a Maine Coon.

If they have a pronounced mane, ear tufts, foot tuft, a dog-like personality, these are clues to a cat that might be a Maine Coon mix.

Without a pedigree or very distinctive looks, Monty is the perfect example of a gorgeous cat who "may have some Maine Coon in him."

He doesn't have a strikingly Maine Coon appearance, but if he were a mix that would be to be expected.

It's now up to you, as his owner, to decide if he fits the bill of a Maine Coon mix, based on his personality and behavior.

From what I can see, based on his appearance, he sure could be! (We'll be adding his handsome face to our photo album so check back!)

~Carrie