Hail Cesar!
Welcome to Cesar's page! Over time, his owner Renee has sent pictures and updates, so let's get to know Cesar!

Cesar Taking Over The Printer
Cesar on the printer
Here are a couple of new pictures of Cesar. He is 1yr 4months now. He weighs 12.5 lbs. He is a very loving and playful cat! He still attacks my feet every chance he gets! Renee
Comments:
AWWWWWW!
by: Diane
cuteness, he looks like my baby Rueben who is only 2 mths older sits on the back of the chairs like your cat is doing on the printer lol

New Pictures Of Cesar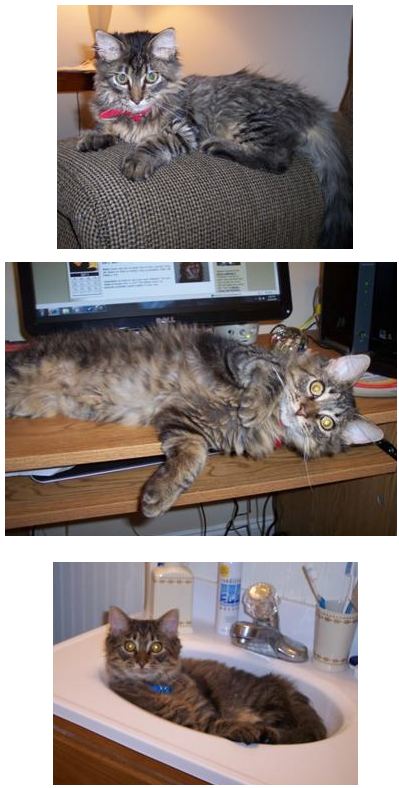 Silly Cesar
Cesar is 6 1/2 months now. He weighs 8 1/2 lbs, and is very long.
He is very smart. He loves the bathtub/sink, and to play fetch. One night my mother and I were watching a movie and Cesar brought me his toy mouse and then to my mother letting us take turns throwing it for him.
I am going to try and get this on video soon. I am very glad I was able to give him a home!!
I love this site!
Comments:
Handsome Cesar
by: Maine Coon Cat Nation
Hi Renee!
Thanks so much for the update on Cesar! He is turning into quite the handsome little man! What a beautiful coat he has.
These are two wonderful pictures, thanks. And thank you for the wonderful words about the site! It makes my day :) Cesar and the rest of the awesome Maine Coons are my inspiration.
All The Best,
~Carrie
sink kitty
by: Jodi Colpitts
oh hes 2 sweet! my coon Willow dont fit in the sink anymore but the Siamese still does!
water
by: Mic
Do all Maine Coons typically like water? Our Babaganoush... who passed recently..used to love the kids' slip 'n slide.. the water. Our new, loving Mishka, however, is not excited about the bath tub or sink. She tends to run away from water. She is a black smoke Maine and is wonderful, by the way.
I concur with the above poster who says they love this site. Me too!
What a sweetie
by: OC Ellen
He looks like a lovely kitty
Thanks!
by: Renee
Thanks for the nice comments on my Cesar! He is a greatest cat I have ever owned.

Cesar as a kitten!

Hail Cesar The Kitten!
Sweet Cesar Tabby Kitten
I rescued him from my neighbor next door, he was born underneath her stairs. I picked out another kitty because I did not see him yet.
When I saw him I quickly wanted him. Once I picked him up, and he looked up at me with those beautiful eyes. I knew he was going to be my kitty. He is so sweet!
He fetches like a dog. He has just about all of the characteristics that are described above.. I just noticed the tufts of hair coming out of the bottom of his feet. He follows me like a dog.
I will upload a picture when I get a battery for my camera!
Do you think he is part Maine Coon?
He is about 20wks in these pictures.
Can you please add one of these pictures to my page.
Thank You,
Renee
Comments:
So Sweet!
By Maine Coon Cat Nation
Hi Renee!
Thanks for these wonderful pictures! Cesar is adorable.
He certainly has the shaggy look down. I think he could be part Coon. Although there's no way to know for sure, it quite possible.
He is just precious. Thanks for sharing him. Send us an update as he grows!

~Carrie