Boots is now 9 yrs old. We first encountered Boots who (btw is half Maine Coon breed ) was underneath our porch.
I'm an animal lover and my home has become a refuge for homeless cats. I can't sleep or eat knowing there a cat out there who is cold and hungry.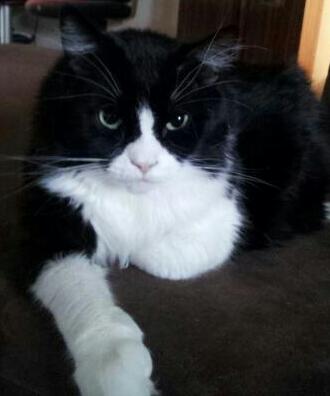 It took us 2 days and finally he was on our deck eating the food I left for him.
I could see him through the window and he was tiny little ball of fur. All I could see from this angle was white paws that looked like booties. Hence the name boots came about.

After a week of coaxing and gaining his trust my husband was the first that Boots went to. He followed Tim inside and from that moment Boots and Tim became inseperable.

Six months later Boots got out while we were moving. We moved three streets down.
Every day for months my hubby went looking for him but no boots in sight. 14 months later Tim heard a cat meowing outside and right by the beginning of our driveway was a black and white cat and when Tim approach him he notice under that scruffy dirty fur a set of green eyes he would never forget.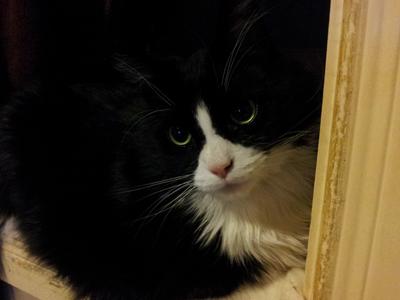 He called his name twice Boots replied with a meow and rub his head against his leg.
After a yr and half being gone Boots found his way home.
We cleaned him up took him to the vet and Tim got him microchipped just in case he lost him again.
Fortunately for us Boots still with us and he still follows Tim around.

My husband would be lost without his best bud and to think few yrs ago he was just a stray hoping to survive out there. Boots is a member of our family and no one could or would ever take his place!


comments:
My adoptive nature
by: Anonymous
Thank you so much for your comments. As far as me being a cat "freak"! I've always had maximum 6 cats.

I have a big house and whatever stray that pops up by my house i take in and since I volunteer for a cat shelter/ foster care store where we re-home strays for cost of 50.00 (5 yrs old or older) 100 for adult and 160for kitten.

They are all healthy, dewormed, and have their shots. We also neuter them also.

I recently found a litter of 6 kittens with mom inside my basement wall. It gets very cold in Northern Ontario and i guess mom found a hole underneath my porch that goes into my basement.

After 4 days of trying to locate what area they were one got out while my husband was doing laundry.

He felt something on his foot and heard a squeaky meow. He picked her up and notice a hole under the stairs. Somehow she fell or slid down about five feet to the ground.

Other than being dirty she looked well. We took the wall down and removed the debris and insulation and there they were 6 kittens and one starving mom.

Took about 20 min for the mom to set her and kittens freed. The mom was hurt and could not get out so from what Vet told us kittens were about 2 half weeks old.

Two of the babies had "cat's herpies" a severe illness caused by certain bacteria in the immune system and "Hope" the one that came out to find help died at 5 weeks old and the second one "Nico" whom is part Bengal from what I can tell is healthy and living with us.

The mom was not feeding them I guess she sensed that they were to sick and abandoned them. I became a surrogate mom to both.

You will be happy to know that Paws found a good home to kittens and mom. That was my second batch of litters I've been blessed with both by homeless cats.

If you take a cat into your home plz make sure you can afford to take good care of them and get it fix so it doesn't end up pregnant and homeless. Im called the cat lady in my neighborhood lol

Boots
by: Theresa c.
I just finished the story of boots and just had to write in.

Boots was a stray part main coon cat that gained your trust, but became close to your husband time.

I just began to cry when after 18 months of boots being lost he responded to your husband after your husband called his name twice. Such a sweet story that ended with a tear jerker

I had a cat once, he was not Maine Coon, but after my dog had puppies my manhattan; my cat, ran away for 4 years then out of the blue I heard a meow at my back door and to my surprise it was my cat.

Very very surprise because I didn't know cats do that. I know dogs can find there way home just never heard of a cat doing it.
(I did not live in the house for very long when he had taking off so I was sure that day he was forever gone)
your story is the 2nd cat finding his way home. As quick as manhattan came back to say hi he was gone again.

I searched for a few yrs. And he was never to be found. I do think about him and wonder why he came back for a brief moment and was gone. (Manhattan was a stray and hated to be indoors, held and loved it just made him angry) I do miss that little guy.

New hope
by: Michele
Thank you for your story it gives me hope that my Maine Coon will come home he has been gone since March 6 smokey aka mocha bear loved me more than any cat I ever had and I felt the same h was always right beside me... I'm so happy boots is back home ... THANK YOU Again!

great story
by: Michele
My part Maine Coon has been gone since March 6 your story gives me hope... has name is Smokey aka mocha.
Bear he also was a rescue I love him and miss him so much I never had a cat that loved me as much as he did... glad boots is home and all is good! :-)

Boots
by: Kim
Love your story about Boots. I am a cat freak too and am always taking in strays. Nice to see that their are people out there who can't bear the thought of suffering cats. Boots is so gorgeous and lucky he found you.

Boots
by: Laura
Poor lil spud, wonder where he was all that time.Thank goodness he found you again. I lost my Kermie for 28 days and I was just devastated.
He did come back thankfully and is now 14yo.