August 2015 Photo Album
Welcome to our August 2015 Album! Beat the heat with these cool Maine Coon Cats!

Bella's story!
By: Mary in Cary NC
Bella is a pure bred Maine Coon Cat. I got her from a breeder when she was 4 months old. She was a year old in the picture.
Bella is the most intelligent, most loving cat I ever met and I have had cats all my life.
She is my best friend and we have spent 10 wonderful years and counting together.
---
Kammie
By: Diane Cummings in North Easton MA
I got Kammie for my Mom for company after my Dad passed. She just turned 4 in April and was born in Enfield Maine.
This Spring I was injured in Florida while on vacation. I haven't been able to see Kammie since April.
Every time I talk to mom on the phone, she hears my voice and comes running, lays down at mom's feet and rolls on her back. Of course I have to talk to her on the phone and she rubs her head on the phone.
When I hang up she runs to the window and looks up the street to see if my car is coming. I sent her a baseball cap that I had been wearing home with my mom, and she goes nuts rolling all over the cap, then falls asleep in the hat. Maine Coons are such smart cats.
She has been great company for my mother. I hope I am well enough to get to go see her soon, I miss her as much as she misses me!
---
Whimsical Winston
By: Karyn in Boston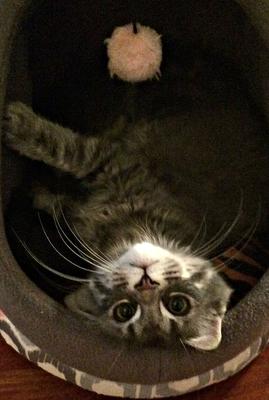 Winston is a one year old- 14 1/2 lb (most of which is fur and belly) Maine Coon mix who forever changed my world last July.
He is funny, kooky and so, so smart. He loves to play fetch with his toys and is obsessed with drinking out of the bathtub faucet.
He is an indoor cat who loves to hang on the window sill and look for squirrels and birds. He is very friendly and welcoming to all who come visit.
---
Makassar, aka MackieDoodle
By: Julie Hendricks in Metamora, IL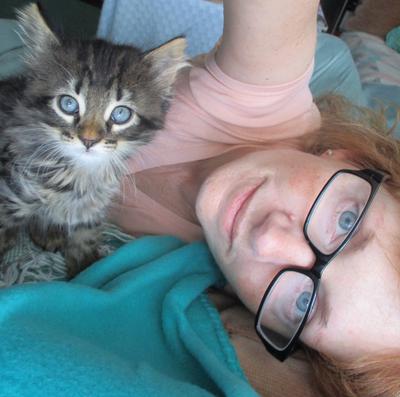 We think he is half Coon. I was persuaded to adopt him after losing my cat Widdershins (aka Buggy) and my cocker spaniel Scrimmie within 3 weeks of each other. I was heartbroken and not planning to get another companion.
My cousin knew a family whose mackerel tabby had surprised them with a litter of kittens, all short-haired tabbies except for one, and no one wanted him, and couldn't i just go see him? I did, and within an hour he was coming home with me.
He had no adjustment period. I expected him to hide for awhile, but he walked into my apartment nonchalantly and immediately started exploring and playing with Bug and Scrim's toys.
From the start he seemed unlike other cats. He behaves just like a dog: always underfoot, loves to be played with but is also affectionate and snuggly. He loves to give kisses and behaves like a little clown. His voice was tiny compared to Bug's (although he has become more verbal as he's grown.) He is fascinated by running water. Yes, I got him a fountain, and I got him a sturdy porcelain one because he grew very rapidly. He has a lion-like mane, long britches on his back legs, tufts in his ears, a massive tail, and he is beginning to get tufts growing out of his paws.
We learned after the fact that the neighbors of the people I got him from had a cat who was impregnated by a Maine Coon. Based on the Doodle's looks, personality, voice etc., we are operating on the assumption that his mother also had a dalliance with this tom. It has been very helpful to read about Coons, and all advice has been spot on. Incidentally, I love him to pieces, and my Facebook friends enjoy the silly pix I post of him, and they all rave at how beautiful he is.
---
Meet Turbo!
By: Denise McElney in Gold Hill, Oregon
Turbo was 10 years old when we got him. He had been a barn cat and abandoned by his family who moved to Florida. (Can you imagine?!)
My husband and I went to get him, sight unseen and have been in love ever since! We were unfamiliar with this breed so were delighted as the character of this magnificent creature unfolded. Needless to say, it was a short period of time that he evolved from a barn cat to house cat.
At first he hissed and swatted when we tried to pick him up. Soon he would join us out on the patio and hop up on our laps. He would even come when we called! We were asking ourselves 'Is this really a cat?'
The next thing we knew he was asking to see what was inside the house. We had to leave two doors open for him during his initial inspections. When we showed him how to use the cat doors he knew his escape route was secure and he started spending more and more time indoors.
He still loves (and needs) to spend time outside but the majority of his time now is spent inside, when not sleeping, he is in our laps! He had to get used to all the typical household noises, like the dishwasher, vacuum, and the TV. Oh, he hated the TV at first.
But he is very smart and we are amazed at how well he has adjusted to his conversion to a house cat. We live in a rural area and were having rodent issues, which is what attracted us to getting a barn cat. And 'oh my', he has turned out to be quite the little over achiever! He delights us with his antics, noises, and quirks. When he enters the house he announces himself. We take him for a walk around the property most nights. He loves it and often initiates these walks.
Turbo weighs 16 lbs and has tabby markings. He is a fastidious groomer, to the surprise of our vet. He won't let us brush him, and yes, we have tried every angle. So we give him a 'treat' with some mineral oil to help with the fur balls. He is not a 'foodie' so it is very difficult to bribe his behavior with treats. He seems to know the oil is good for him and laps it up, leaving the food treat in the dish.
Since we were newbies to cats and Maine Coons, this website has been a wealth of information. We enjoy the pictures of all the fur babies and have learned a lot about their behavior and health needs. We know we will never be without a Maine Coon again!
---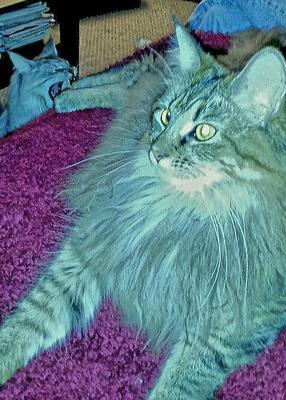 Thornplum Jasmine
At just 13 pounds Jasmine can still hold her own with bad boy brother Thornplum Tazmaineian Devil.
Shortly after this photo was taken Jasmine put Taz in his place in short order.
---
Meet Scratchy :)
By: Lin and Danny in Leduc, Alberta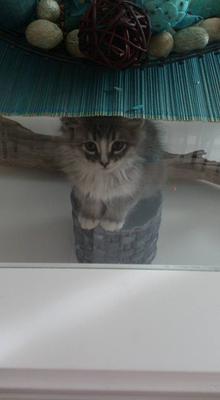 This is our newest family member, almost 4 months old. He was only a few weeks when the main picture was taken, he's tripled in size since then :)
---
From the Calico Tokyo Maine Coon Cat
By: Hitomi in Tokyo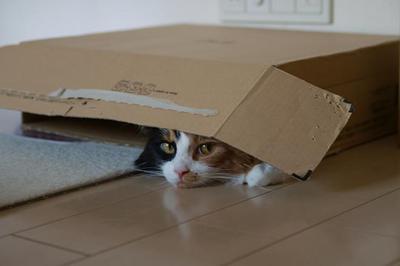 May is the calico Maine Coon at the age of 14 months.
She loves "Watching."
Bird-watching, Insect-watching, even Man-watching.
These are recent my favorite photos focusing on her watching.
---
Shandy
By: Judy Anderson in Mapua, New Zealand
When you need to stretch out
and the chair is just too small
Shandy is 14 years old and has been with us for 4 years. She had been handed in to the SPCA so we were very lucky to get her.
She has the most beautiful nature, so good with our grandchildren. Demands a brush at least three times a day rolling over willingly although manages to let us know when she has had enough.
Goes walking with me just like a dog, I always smile at the way the cattle gather at the fence to look at the big furry thing trotting by.
---
Little Miss Lucy
By: Debbie in Islip, NY
Likes to talk to Daddy all the time.
Very vocal.
---
Everyone loves Lincoln!
By: Jenn G. in Danvers, MA, US
Lincoln enjoying some outside time on his leash - 9 months old.
Lincoln joined our family last October. At first I was nervous about getting a cat that would grow so large but Lincoln is truly growing to be a gentle giant.
Lincoln enjoys being the center of attention. Sometimes we wonder if he is a dog disguised as a cat! He enjoys being leash walked and exploring our back yard. When we have company over he has to greet everyone and be acknowledged. His favorite pass time is sitting on our 3 - season porch and watching birds visit our bird feeder.
We just celebrated Lincoln's first birthday with a superhero themed party. He loved the attention and definitely knew the party was for him! He proudly wore his superman cape and socialized with all of his guests!
We are thinking about getting him a friend. It will definitely have to be a Maine Coon - we are now hooked on the breed!
---
Scirorocco Whirlwind
By: Cheryl in Johannesburg, South Africa
Sciro for short, or if my daughter is calling him, Lucifer, is now 15mnths old. He was bred by Marianne Kernes in Johannesburg South Africa.
Sciro has grown up in a house filled with dogs. As a small kitten the Golden Retreiver, Romy, adopted him as her baby. She loves to try and clean him, he in turn loves to play with her, pouncing on her and biting her ears, which she happily puts up with. When the dogs get called to bed at night, Sciro hears the word bedtime, hides round a corner and pounces on the Schnauzer, Pepper as he comes running past.
Anything that gets made on the kitchen counter has to be put down away from the edge of the counter. It's not unusual to have a paw reach up and try and hook the plate you are working on away from you.
We had to get a weighted water bowl made for small dogs as we were constantly finding big puddles of water all over the floor as he kept tipping the bowl. We still find big puddles of water, now he simply swats the water all over the place.
He isn't allowed out of the house, other than on the upstairs patio, where is favourite place is balancing on the drain pipe, just like our very own gargoyle.
Sweet and cuddly does not describe him. He hates to be held, but will follow me around the house all day, just like a dog and is very happy to sit with you but not on you. He is a source of much entertainment!
---
My Boy Bo
By: Maureen in BC Canada
Bo is 6 years old and very lovable. He likes to spend is days on the catio watching the birds.
---
Jude - Orange Boy
By: Kathy Miller Stewart in San Bernardino, CA
Jude picked me, not the other way around. When I went to the shelter to adopt, he put his paw on my shoulder.
I turned around and there he was, a little orange guy with a runny nose. He came home with me that day and here it is 9 years later!
He is definitely part of the family, and one of my closest friends ever! He is loyal to all of us, but I don't mind saying that he prefers me.
Physically, he is a beautiful cat, displaying lots of Maine Coon characteristics like the "M" on the forehead, the black whiskers, the wide paws, and the lion's mane.
His personality also fits his breed because of the silly sleeping positions and the great affection he has for us. He doesn't like to sit in laps or be held that much, but he does enjoy cuddling up against me and always purrs loudly.
His most interesting characteristic would have to be his great hunting abilities. Although we keep him in at night, due to the coyote situation, he likes to hunt all day. He gets gophers and lizards mostly. If he does happen to stay out past dark, his whole face changes. His eyes widen and he stays hunched down and alert.
Jude is also very smart. When he wants to come in during the day, sometimes he will hesitate at the door. I will countdown 5, 4, 3, 2, 1 and if he doesn't come in by 1 I close the door. It always works.
Another great thing is that Jude loves to have his picture taken. It started when I needed motion shots for my Photography class. I would run and try to get him to run alongside me so I could get a picture of him running. Now, whenever I take my camera outside, he runs up to photobomb them. It is not hard to share some of the best photos with you, as there are many!
---
Tiger Kitty
By: Linda Brown in Conroe, TX USA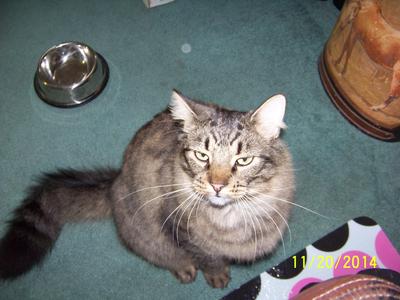 We adopted our Maine Coon Mix as a feral kitten, not knowing what a beautiful boy he would turn out to be almost 2 years later.
He is very loving and loves to sit in my lap while I watch TV. We have 3 other cats and he gets along well with all of them, playing with and grooming each other.
---
My Maine Coon Cats.
By: Linda Faiken in North Royalton, Ohio
Bella and Brutus are a double blessing to me. Bella is comical, smart, loves to be brushed and loves to play hard. She loves to look for birds and chase after bugs.
Brutus is my baby. He is laid back and always has to have attention. He sits and lays on couch with me. He loves to chase Bella. Every night he looks out the window to see another animal prowling outside. I can't imagine them NOT being in my life. They are both mixed Maine Coons and have the greatest personality and disposition.
---
The newest addition to our family
By: Reah Fain in Beckley, WV
This is Esmae she is a 5 week old Torbie Maine Coon kitten. She was abandoned by her first family along with her other 5 siblings at the age of 2 weeks old at the vets office with out their mommy which is so sad but at least they were in good hands.
The caring staff took the babies in and started caring for them and though they are only 5 weeks old now they are eating and using the litter tray and growing like weeds and I was introduced to this gorgouse little girl while having 4 of my boys there to be neutered I have a total of 10 cats including little Esmae another Maine Coon named Cosmo who is now going on 2 a black and a white Turkish Angora Nemo 12 years and Cleo is going on 2 and a tabby who is around 6 years named Keiko who was pregnant when my husband found her and she gave birth to 7... 2 of whom have new homes with my daughter and mother-in-law leaving me with 1 girl and 4 boys back to Esmaes story the staff at the vets office knowing I'm a sucker for little fur babies put this little puff ball in my hands and that was all it took she now has her forever home where she will never want for anything and is much loved....