Shandy is 14 years old and has been with us for 4 years. She had been handed in to the SPCA so we were very lucky to get her.
She has the most beautiful nature, so good with our grandchildren. Demands a brush at least three times a day rolling over willingly although manages to let us know when she has had enough.
Goes walking with me just like a dog, I always smile at the way the cattle gather at the fence to look at the big furry thing trotting by.
Likes to talk to Daddy all the time.
Very vocal.
Lincoln joined our family last October. At first I was nervous about getting a cat that would grow so large but Lincoln is truly growing to be a gentle giant.
Lincoln enjoys being the center of attention. Sometimes we wonder if he is a dog disguised as a cat! He enjoys being leash walked and exploring our back yard. When we have company over he has to greet everyone and be acknowledged. His favorite pass time is sitting on our 3 - season porch and watching birds visit our bird feeder.
We just celebrated Lincoln's first birthday with a superhero themed party. He loved the attention and definitely knew the party was for him! He proudly wore his superman cape and socialized with all of his guests!
We are thinking about getting him a friend. It will definitely have to be a Maine Coon - we are now hooked on the breed!
Sciro for short, or if my daughter is calling him, Lucifer, is now 15mnths old. He was bred by Marianne Kernes in Johannesburg South Africa.
Sciro has grown up in a house filled with dogs. As a small kitten the Golden Retreiver, Romy, adopted him as her baby. She loves to try and clean him, he in turn loves to play with her, pouncing on her and biting her ears, which she happily puts up with. When the dogs get called to bed at night, Sciro hears the word bedtime, hides round a corner and pounces on the Schnauzer, Pepper as he comes running past.
Anything that gets made on the kitchen counter has to be put down away from the edge of the counter. It's not unusual to have a paw reach up and try and hook the plate you are working on away from you.
We had to get a weighted water bowl made for small dogs as we were constantly finding big puddles of water all over the floor as he kept tipping the bowl. We still find big puddles of water, now he simply swats the water all over the place.
He isn't allowed out of the house, other than on the upstairs patio, where is favourite place is balancing on the drain pipe, just like our very own gargoyle.
Sweet and cuddly does not describe him. He hates to be held, but will follow me around the house all day, just like a dog and is very happy to sit with you but not on you. He is a source of much entertainment!
My Boy Bo
By: Maureen in BC Canada
Bo is 6 years old and very lovable. He likes to spend is days on the catio watching the birds.
---
Jude - Orange Boy
By: Kathy Miller Stewart in San Bernardino, CA
Jude picked me, not the other way around. When I went to the shelter to adopt, he put his paw on my shoulder.
I turned around and there he was, a little orange guy with a runny nose. He came home with me that day and here it is 9 years later!
He is definitely part of the family, and one of my closest friends ever! He is loyal to all of us, but I don't mind saying that he prefers me.
Physically, he is a beautiful cat, displaying lots of Maine Coon characteristics like the "M" on the forehead, the black whiskers, the wide paws, and the lion's mane.
His personality also fits his breed because of the silly sleeping positions and the great affection he has for us. He doesn't like to sit in laps or be held that much, but he does enjoy cuddling up against me and always purrs loudly.
His most interesting characteristic would have to be his great hunting abilities. Although we keep him in at night, due to the coyote situation, he likes to hunt all day. He gets gophers and lizards mostly. If he does happen to stay out past dark, his whole face changes. His eyes widen and he stays hunched down and alert.
Jude is also very smart. When he wants to come in during the day, sometimes he will hesitate at the door. I will countdown 5, 4, 3, 2, 1 and if he doesn't come in by 1 I close the door. It always works.
Another great thing is that Jude loves to have his picture taken. It started when I needed motion shots for my Photography class. I would run and try to get him to run alongside me so I could get a picture of him running. Now, whenever I take my camera outside, he runs up to photobomb them. It is not hard to share some of the best photos with you, as there are many!
---
Tiger Kitty
By: Linda Brown in Conroe, TX USA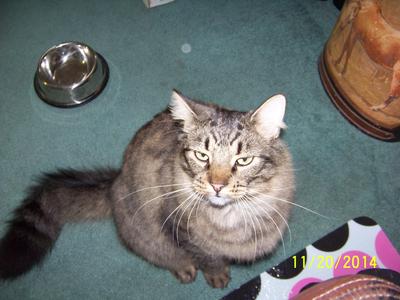 We adopted our Maine Coon Mix as a feral kitten, not knowing what a beautiful boy he would turn out to be almost 2 years later.
He is very loving and loves to sit in my lap while I watch TV. We have 3 other cats and he gets along well with all of them, playing with and grooming each other.
---
My Maine Coon Cats.
By: Linda Faiken in North Royalton, Ohio
Bella and Brutus are a double blessing to me. Bella is comical, smart, loves to be brushed and loves to play hard. She loves to look for birds and chase after bugs.
Brutus is my baby. He is laid back and always has to have attention. He sits and lays on couch with me. He loves to chase Bella. Every night he looks out the window to see another animal prowling outside. I can't imagine them NOT being in my life. They are both mixed Maine Coons and have the greatest personality and disposition.
---
The newest addition to our family
By: Reah Fain in Beckley, WV
This is Esmae she is a 5 week old Torbie Maine Coon kitten. She was abandoned by her first family along with her other 5 siblings at the age of 2 weeks old at the vets office with out their mommy which is so sad but at least they were in good hands.
The caring staff took the babies in and started caring for them and though they are only 5 weeks old now they are eating and using the litter tray and growing like weeds and I was introduced to this gorgouse little girl while having 4 of my boys there to be neutered I have a total of 10 cats including little Esmae another Maine Coon named Cosmo who is now going on 2 a black and a white Turkish Angora Nemo 12 years and Cleo is going on 2 and a tabby who is around 6 years named Keiko who was pregnant when my husband found her and she gave birth to 7... 2 of whom have new homes with my daughter and mother-in-law leaving me with 1 girl and 4 boys back to Esmaes story the staff at the vets office knowing I'm a sucker for little fur babies put this little puff ball in my hands and that was all it took she now has her forever home where she will never want for anything and is much loved....
---
Get Everything Maine Coon at Your Fingertips - Now: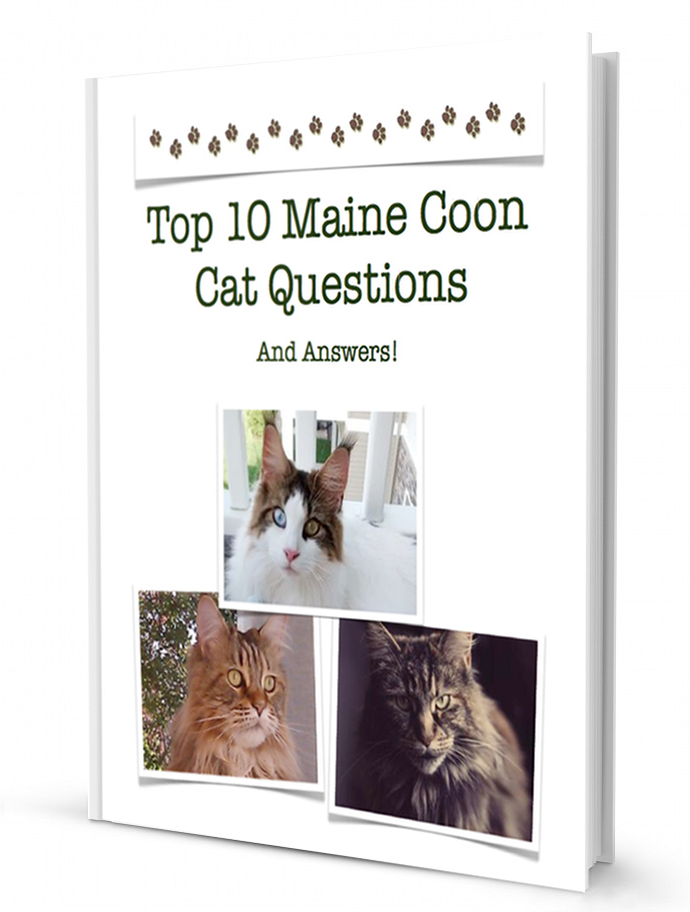 << The Care & Keeping Of Your Maine Coon is the ultimate guide to all the breed-specific needs of your Coonie. This unique breed has unique needs! A must-have.
The Top 10 Coonie Q & A's >>
is the essential handbook for all Maine Coon Questions, covering topics like nutrition and weight, "Is he a Maine Coon?," size, lifespan, and more.
Maybe-Maine Coon Cats For August:
Veni Vidi Vici!
By: Crystal Bishop in Seattle, WA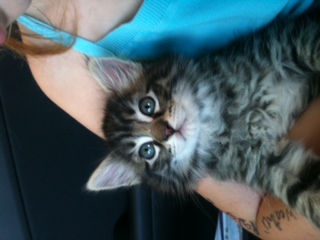 Veni 8 weeks old
Veni came to us as a free adoption at 7-8 weeks old (according to vet) Her mother showed up in a shed in a rural area. We went to see the kittens and we were smitten.
Veni's mom was a short hair torty mix. Out of the litter of 6, there were two long hairs.
Veni is now 2 (and a half). She just keeps getting bigger and fluffier. She plays constantly, carrying small toys around (anything will do) in her mouth. She rarely meows, mostly she chirps, twitters, and purrs. If she meows, we come running to see what is wrong!
We have to 'Veni' proof our house, as if we had a toddler. She will eat almost anything that she can swallow and has already had one surgery and one very very close call (ate sudefed from a foil pop out pill pack) I joke that I should change her name to Veni Vidi Edi... I came, I saw, I ate.
She greets everyone by chirping and throwing herself on the floor and rolling to her back. She really enjoys a good belly rub and proper cat worship.
---
The Care & Keeping Of Your Maine Coon Cat: It's hard to describe the love between a Maine Coon and their family. I know you understand! With such special family members often come special, breed-specific questions and concerns. Your loving Maine Coon is very unique, both physically and in purrsonality.
---
Bailey
By: Jillybean in Sydney, Nova Scotia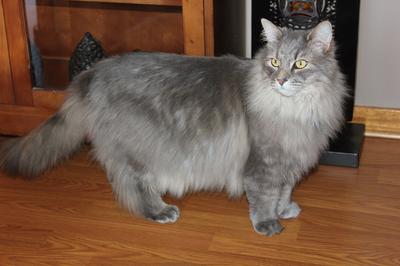 Bailey was found as an abandoned, 4 week old kitten, he was very sick. We took him to the vet right away and with meds and lots of love, he grew into a beautiful cat.
Bailey is now 8 years old, our vet is suprised that Bailey got so big, his paws are over twice the size of our other cats. He has no extra toes, his coat has 3 layers, when he splashes the water on to his coat, the water beads.
Bailey swishes the water in the dish with both paws before he takes a drink,he loves playing in the water. Bailey also kicks the wall on a daily basis, he backs up to the wall and kicks it, one foot at a time,we have no idea why he does this but he has been doing this almost every day for 8 years, lol
Bailey doesn't really meow, he makes a twerp, almost like meowing with his mouth closed. We have had many cats over the years, as we rescue cats and can honestly say that Bailey is the most unique, biggest and laid back cat we have ever seen.
---
Leo our "maybe" Maine Coon
By: Lori in South Carolina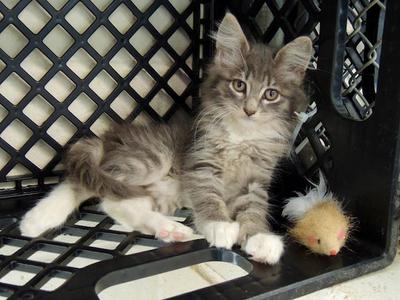 at the shelter
We rescued Leo last year after an afternoon of volunteering at our local shelter. He was 2months old and not quite 2 pounds (check out the size of his ears in the photo of him in the crate at the shelter!).
He has certainly filled out, and now weighs in at 14.5 pounds and is an absolute joy to have around. He loves to be where the "action" is, and always manages to flop down in the middle of the kitchen floor when I am cooking (that is how he lies down...with a thud...no dainty settling in for him).
He loves to play and often creates "bathroom art" with the brand new rolls of toilet paper. Leo carries his striped caterpillar toy around, leaving it in random places for us to find. He doesn't have lynx tips, but does have hair tufts on his ears and between his paw pads, along with a luxurious coat and a beautiful mane.
We will never know if he is a MC mix, but it doesn't matter, this beautiful boy has won our hearts.
---
Zephyr My Love
By: Liz Litts in Mesa, AZ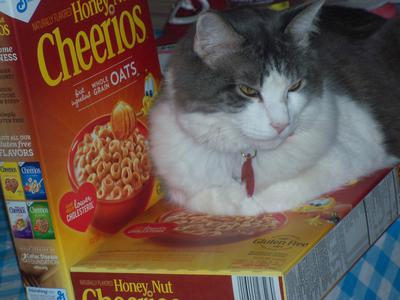 I don't know if he is full Maine Coon-but I recently adopted him from the local animal control.
He is just the sweetest thing-big boy--gets along great with the other two-'ladies' of the house and takes special care of my dad.
I love him so much-he really likes to cuddle and has a thing for toy birds--espically if they make noise.
---
Found Bilbo in Bad Spot
By: Heather in Montezuma Creek, Utah, USA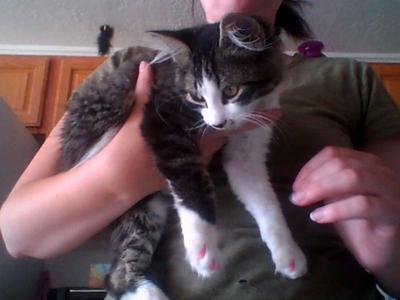 I found this little guy in a trash bag inside the communities dumpster after someone tried to throw him out literally with the trash.
I have no idea how old he is or what he is. But he has a very, very fluffy tail and is growing the longest fur on his britches and neck area, as well as long hair in his ears.
He had long toe hair, but it was matted very badly and I ended up having to trim off the matted stuff that felt like super glue. He is so very loving (loves to cuddle, sleep with me), is extremely well mannered/gentle (brought into a home with a three year old cat who has been crying/hissing, etc. But that thank heavens is almost over), and loves to play.
Any suggestions or hints as to what he might be?? Or how old he is???? We have to wait for the Vet to come back to town next month and I would like at least an idea of how old and what he might be.
Thanks
---
Double Trouble ...
By: Kelly in Manhattan, KS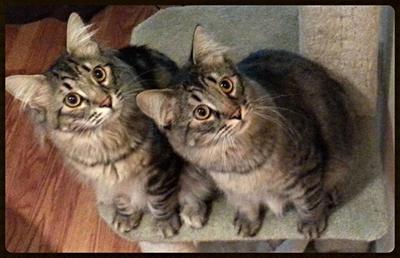 We adopted these two brothers when they were 4 mos old from Pet Finder/Humane Society.
We brought them home, took them to our Vet for a physical/shots & Vet said she felt they were a Maine Coon/Tabby mix according to their size and physical characteristics, ear/toe tufts, Mac's coat, eyes, huge feet & big fluffy coon tails. They are currently 10 mos old and are already 13.5 lbs.
My husband was never a cat person but he loves these guys as they are strong, hardy cats that like to be patted robustly and roughhouse with. They act more like dogs than cats.
Overall they are not lap cats but are always lying around/near us and they like to be in the middle of ALL our daily activities. They are always hanging around waiting for us to return from work, bringing groceries home, working around the house & following us from room to room.
They are so sweet, gentle, smart and they have been taught to sit for their kitty treats! They do not "meow" much and if they do, its very soft & quiet. They communicate with us with trills, chirps and chittering. They have started to become very interested in water and stick their paws under the running water. Lord help the mouse that finds its way into this house!! Quinn has already caught his fist baby mouse (but wasn't sure what to do with it) and toyed with it.
They are very friendly & not timid in the least bit. Of course they are still young and have a lot of growing yet as they get bigger, so does the size of their mischief.
Of course there is no way to ever know if they are part Maine Coon and it really doesn't matter, we love them and will always love them just the same. They bring us constant love, entertainment, companionship and laughter to our home.
---
Is Big Lou A Coon?
By: Erica Hitt in Richmond, TX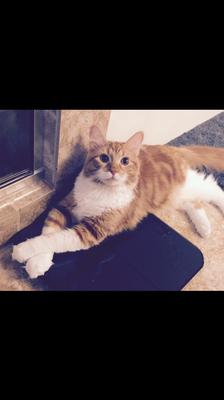 Louis (pronounced "Loo-e") is the perfect mix of loyalty & independence. He will follow us into every room, and sit observing and waiting to help or play when he can.
He LOVES water, and he'll climb up on the bathtub and dip his paw through the water when we take baths. He'll also wait outside the shower door watching the water fall, and then he'll get in the shower to explore when we step out to dry off.
He's also obsessed with toilet water, his water bowl & pretty much just water in general. He has long tufts of fur between his paws and long fur growing out of his ears.
He has a furry puffy white chest like a lion. He is affectionate, yet independent. He is verbal, and his noises sound different from the usual cat. They are high pitched, somewhat rolling sounds. He is great with both my 5-year-old daughter and our 8-year-old miniature shih tzu. His tail is long & super bushy.
He is only about 8 months old, and his paws are still HUGE in proportion to his body. He is a playful, goofy, loving sweetheart, and we have absolutely fallen head over heels in love with this kitten!
---
Charlie
By: Therese in Iowa, USA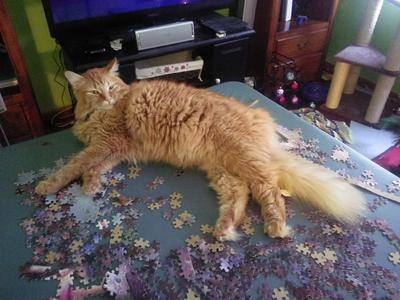 Oh my goodness!!! Charlie is the SWEETEST cat I have ever seen.
He follows me everywhere, gets along with everyone in the house including our 2 dogs, trips me constantly and I am so in love with him!!!
No clue if he's part Maine Coon but I think he fits some of the traits. He's pretty big, fur growing out of toes, sweet as sweet can be. Wouldn't trade him for the world!
---
Giufa'
By: Enrico Reginato in Catania, Italy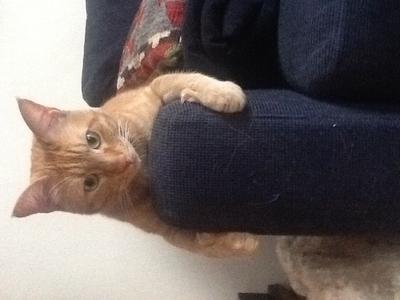 It is a redhaired cat, sterilized, now one and half year-old, weight 6 kg, slim, with short hair, great ears with hairs no the top, lynx-style.
Very nice attitude, he likes to play, always follows us in our home. We often travel and he comes with us on planes. Every early morning he starts mieowing, with soft voice and he wants us getting up.
He doesn't like to be taken and embraced, but he often rubs our legs and lays down on the floor to be caressed. He is very demanding for food, and not hungry.
---
Shelby
By: Tina in Owego NY
We first received Shelby a little over a year ago. He was found abandoned in an alley. We were asked to "foster" him.
He quickly stole our hearts and has been a wonderful fun part of the family.
Related: