August 2013 Featured Coonies
Welcome to the August 2013 Photo Album - so many stunning Maine Coons to meet!
Update on Oberon Nimbis
By: Lisa in South Africa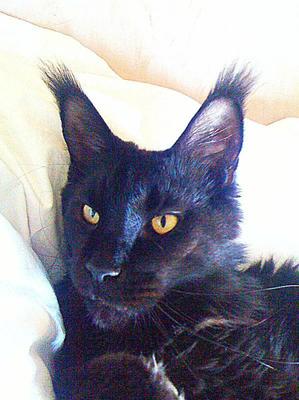 I sent you a picture last year of my beautiful boy, he is now a year old and it's more like having a toddler than a cat...
He seems to have a weird fascination for eggs, he has recently learnt how to open the dustbin... his favourite thing to take out are eggshells which he then walks all over...
I constantly find myself asking my cat why on earth are you walking on eggshells? anyway we managed to lock the dustbin, thinking our problems were solved...
haha were we mistaken, he has now learnt to open the fridge... his favourite thing in the fridge? the eggs!! it's even better now because they fall from a height and smash on the floor... he's just lucky he's handsome... lol
I wouldn't want it any other way!
---
An Update On Minnie
By: Rebecca Holton in Halifax, UK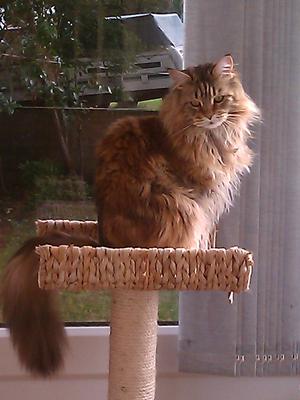 Minnie on her cat tree
Minnie is now 2 years and 2 months old.
She's such a big part of our lives and we love her so much.
Minnie loves chasing flies and watching the world go by.
She continues to build nests all over the house. She likes high places, places with views and places you have to crawl into.
Minnie's favourite toys are feather wands. She's a bit more sedate now she's maturing but she can't resist a feather toy disappearing under the rug.
---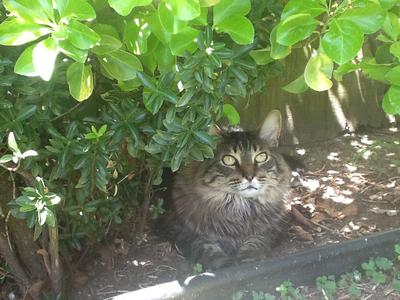 Ozzy Hanging In The Cool Shade
By: Mike R in L.I. NY
9 year old Ozzy. 17 lbs. Hanging in the cool shade after a 90 degree day on Long Island, NY
---
Black Jack Tabul Cat
By: Tiffany in Cumberalnd, MD, U.S.A.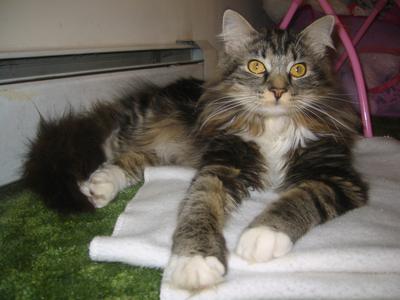 He's huge! Just turned a year old and loves to get in the bathtub to drink! He also likes to 'talk' by making a very cool sound like a meow without opening his mouth :)
---
Kramer the Lion
By: Sean Connolly in Clearwater Florida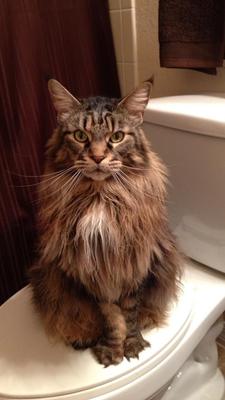 Best personality on a cat I could ever ask for.
11yrs old
I named him after Kramer from Seinfeld :)
---
Mia
By: Bob in Cleveland, Ohio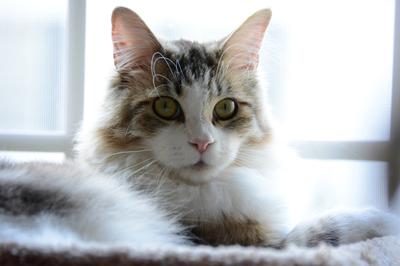 Mia on her perch
Mia is just a little over one year old and is our new "child" since we are now empty nesters. She's a barrel of laughs and has her affectionate moments, too.
Very smart, she will bring us her toys, no matter what floor we're on, when she wants to play, and if we happen to not notice, she lets us know with a healthy miaow. Hope you enjoy the pics...
---
Ready for Halloween a Little Early!
By: Janice in New York City
Louis feels that everything is his business. He loves to be the center of attention and if he isn't he acts like a clown in order to get an audience.
If that doesn't work, he will walk over and tap you until you pet him. He does one cute thing every minute of the day.
It is amazingly exhausting to be that cute so sometimes he takes a nap on the dining room table.
---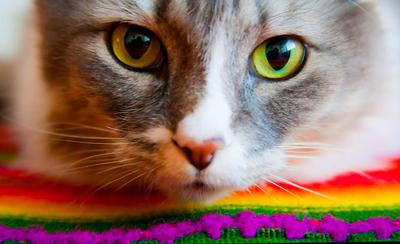 Sofi
By: Mane in Cordoba, Argentina
Esta es Sofi
---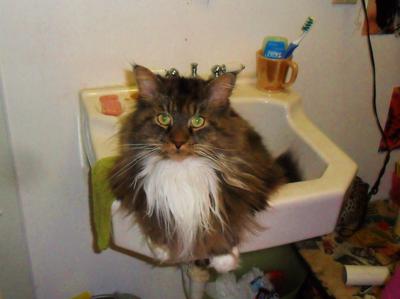 Quincy
Resting in the sink...
---
Kiboku - A Real Woofy Cat
By: Barbara Egan in South Africa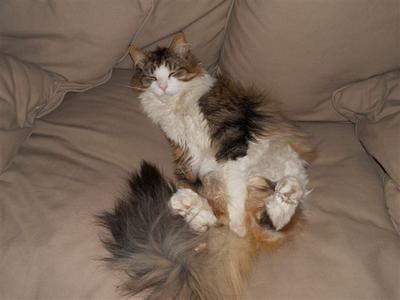 at leasure
Hi I'm Barbara and I am the lucky companion to a 19 lb Maine Coon.
Kiboku is a magnificent mackerel tabby and white pure-bred South African MC. His name is the Swahili word for hippopotamus and has such a lovely ring to it when we call him.
He is not just a cat but a real member of the family. My youngest son has grown up with him and refers to him as "brothercat".
Living with a MC is an incredible experience. When we picked up our 8 week-old kitten (he was already the length of my arm), the breeders gave us this list of do's and don'ts and tips about what treats to give them - looked like an overkill but was actually a real reflection of what complex kitties they are.
On water - he loves drinking from a glass and will jump onto the hand basin and tap your arm until you cup your hand under the running water of the tap so that he can drink. He sits in the birdbath in the garden in summer and also stands up to drink from it.
The most curious sight is to see him standing at the garden gate peering out the slot to see what is going on in the alley behind the wall, just like a quizzy old man.
On food - he loves the big Maine Coon kibbles from Royal Cainin but is always looking for variety. So in the mornings he chirps from his cat perch which stands at the same height as me, for his meat, which has to be cut into bite size pieces and fed to him by hand.
We have tried placing the meat or chicken in a bowl but he will not touch it unless it is hand-fed to him and then he will only have as much as he feels like before telling you that it is enough. One of the strangest things is that he will not eat fatty or greasy meat - he loves his biltong treats and catnip is to die for, especially when we use the spray on his favourite snake toy.
On playing - willing for a game any time. Best friend is a piece of string but he loves the canvas tubes where his bottom sticks out one end and his nose is near the top.
He also loves playing catch - Kiboku has treated me as his cat-friend and leapt at my leg while I was running away, leaving two deep teethmarks just below my knee - I did yowl with pain at the time but could see the funny side afterwards.
The greatest is that he realised that he hurt me and now when he gets that naughty glint and the wiggle to start chasing I just have to say NO and he still runs but does not hurt me.
On companionship - he waits at the window for my car to arrive every evening and then races me to the front door so that he can scratch to make me open it faster.
Then its a long chirpy conversation and an investigation into whatever I have brought home and a follow-my leader from room to room until I sit down - and then he cuddles up right next to me.
And yes rubbing noses is a MUST greeting and reminding you by tapping your leg when you are working at home is a must routine every hour or so.
My cat is the most wonderful companion, not intrusive, but always there and always inquisitive - it would be easy to write a book about all the little quirks such as chasing under carpets, playing pull-man around the bottom of the couch, tucking rubber mice deep under chairs and then asking you to fish them out...
He is my really special dog-cat
---
Harvey
By: Ms Jo in Richmond, VA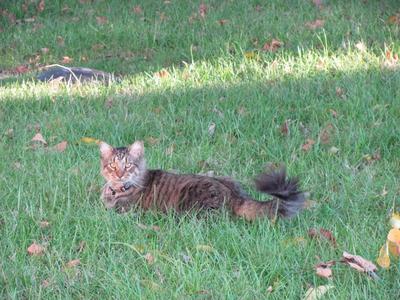 Harvey enjoying the first day of Spring
Meet Harvey. Harvey is the neighborhood's social king.
People walk by the house and wave hello to Harvey while Ms Jo has never met these people.
---
Showing off their Fur and Size
By: Jenni Siri in Ligonier, IN, USA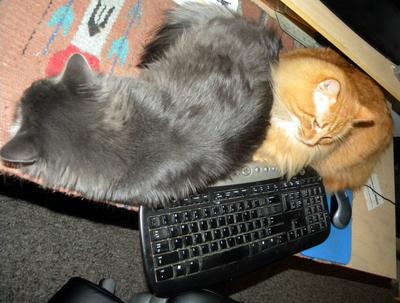 No room for typing any more
This is just an update on Buster and Molly (who is actually a boy). Buster was a stray and Molly's mom was a stray. The orange one is Buster and the gray one is Molly, she's not quite a year old and Buster is 3 1/2.
Both of them seem to be fluffing out which is odd because it's the middle of summer. Maybe they are getting ready to shed it all before winter? I just wanted to share the new pictures.
---
Rhodium
By: Debbie in Lephalale South Africa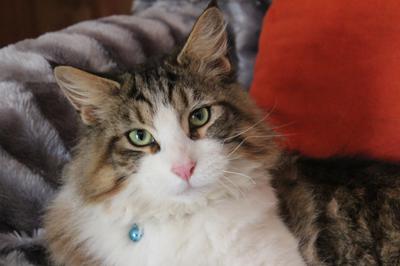 He has to be the most loved cat ever - definitely not spoilt - just very well loved. He torments the other cats in the house - he seems to think he is the boss.
---
Maine Coon Black
By: Slawomir in Poland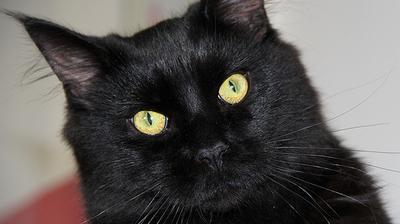 Name: Ironman
Born: 2012.10.28
Lives in Warsaw, PL
---
Zeke
By: Tina in Minnesota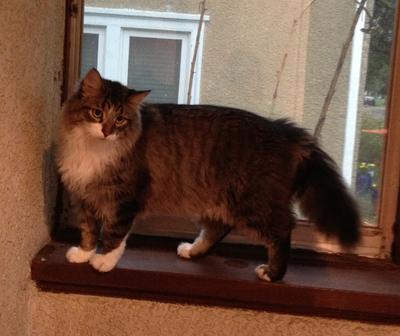 I had a Maine Coon years ago that I fostered and loved so much that I adopted him.
He has been gone for years, but ever since I fell in love with the breed. Zeke was a recue kitty that I drove 100 miles to get (well, we were passing through the town on our way back from visiting family), I saw his picture and fell in love with his fluffy self.
We brought him home after this past Thanksgiving, he joined me and my family of 2 young girls, a dog and my husband. He had no problems adjusting to his new home, and immidiately played with our dog Peppy.
I just love how beautiful he is, anyone I show pictures of him to says he is such a beautiful cat.
Zeke (his name by the way comes from the character on the Wizard of Oz on the farm with Dorothy that later becomes the Cowardly Lion) has a broken tail which makes it so he can't lift his tail all the way, but it doesn't bother him in the least, it just makes him all the more special.
---
Meet (Sid) Caesar
By: Joan in Graham WA
He's a shelter adoptee who's been with us just over 3 months. We love him for his devotion to us, he stays near where ever we are. Just wish he could learn to love his housemate, our 12 YO DSH female, Misty.
He doesn't like her to play with his toys and glares and will chase if she gets too close.
We think he's very beautiful, he's well behaved with the vet and all our visitors. He also does not object to wearing a harness and leash for walks in our garden.
---
Charlie on his way to his new home.
He's 8 weeks old.
By: Susan in Kaysville, Utah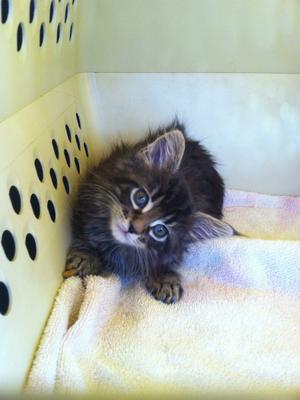 My daughter took this pic on the ride home from the breeders. That was 4 weeks ago and 2 pounds ago. I can't remember what life was like BC. (before Charlie).
---
Aslan: The Pretend Lion, His Keepers and The Bathroom
By: Donna Marriott in Nottingham England UK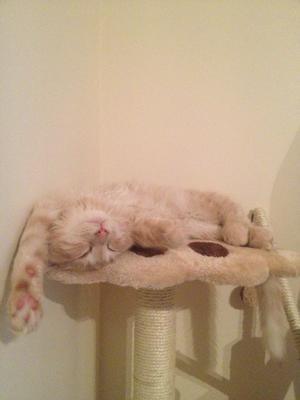 Aslan is our first Maine Coon and WOW what an amazing breed!
We purchased our "little" ball of fluff from a breeder in Huddersfield, which is a good 90 minute drive from our home in Nottingham.
Collection day came and we were full of excitement and really ready for Aslan to join our family ... waiting 8 weeks from paying our deposit felt like forever!
Armed with a fancy carrier and personalised cuddle blanket we collected him and headed home.
After 10 mins we noticed a rather nasty stink, which ultimately ended in a bath for Aslan, the throwing away of the heavily soiled carrier and blanket, a car valet and two heaving cat slaves.
Approaching our 4th month of ownership and Aslan is fast growing up and becoming a very handsome boy with an obsession for water like i have never seen before.
If there's a sink you will find Aslan, although he does have one grubby habit of drinking out of the toilet (no chemical products are used, don't panic) or possibly even worse....diving into the basin as soon as he hears the flush.
All that to say i have never come across a cat so loving, beautiful and intelligent ... traits typical of this fabulous breed.
Happy Coon keeping :O) - Donna
---
Kirby The Lovebug
By: Mindy in Vermont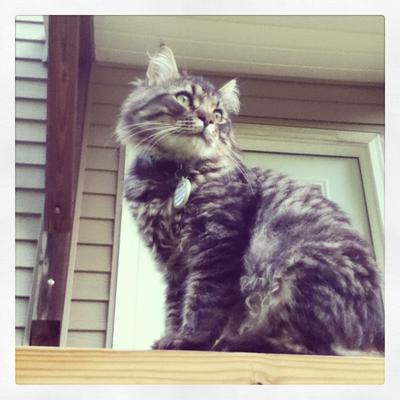 He was shaved due to matting when found so he has a big fluffy head.
We adopted him from a local humane society. They suspect he is about one year old. He was so matted from being outside for a good part of the winter that they had to shave him like a lion.
We were going to keep him indoors but he was very dramatic about that. He has this very sad meow when he wants to go out...it's heartbreaking to hear him use that. We kept him indoors for 2 months but he would not accept being an indoor cat, so we caved. He spends a good part of the day outdoors and comes in at night (although, he usually wants to go out during the day too).
He's very playful and loves to attack me. He loves when I go outside to explore with him. We go for walks in the woods and he tries to sneak up on me. When I turn around he runs up a tree. He has a very goofy personality. He's not scared of people, a little wary of dogs (but doesn't hide), does not get along with other cats. We were told he was a bully at the humane society.
Now that his fur is growing in he has the tufts between the toes. He is also looking fairly burly, has wide shoulders.
---
Simba
By: Tami in Lake Worth, FL USA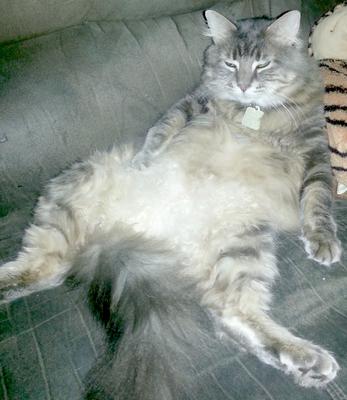 Our Family rescued Simba, a six year Maine Coon, almost a year ago from Animal Care and Control. Originally we turned in a dog that we found wandering around our neighborhood and paid a non-refundable free to adopt her.
When the owner came forward, we were given the option to adopt another dog but we fell in love with Simba. The staff had named him Simba because he resembles a lion and we thought it was a very fitting name so we kept it.
Simba loves to have his belly rubbed and he loves to eat. Sometimes he will wake us up in the middle of the night. We have tried to reduce his weight (16 lbs) but he only slims down by a pound or two and then it creeps back up.
He isn't a fan of getting baths but he will put up with them.
---
Captain Jack
By: Kate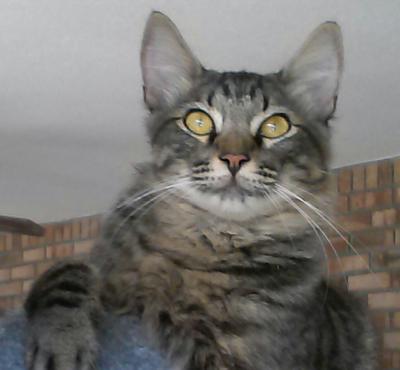 Captain Jack is a 9 month old MC mix (we think). Hes 14 lbs and a total goofball.
He makes.the best noises when he moves, sounds like a chirping bird. He loves to climb and will play with anything and everything.
His favorite passtime is to get a running start then swinging from our drapes.
---
KatyKat
By: Deanna in Fredericksburg, VA, USA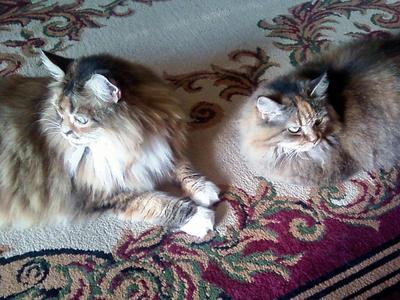 Hello there, Maine Coon Nation! My Maine's name is KatyKat and she is 16 years old.
VERY furry, INCREDIBLY lovable! Enjoys being around other folks and cats and her sidekick in one of my uploaded photos is Little Miss (not a Maine Coon but still as lovely!) who is also 16.
KatyKat enjoys napping just about anyplace - chairs, sofas, beds and stairways and goes bananas for our laserpointer! :-D
---
Sir Chester Parnell
By: Faith Hughes Parnell in Milwaukee, WI, USA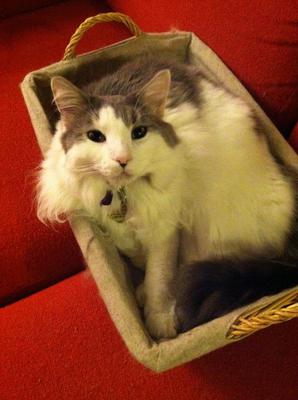 Chester in his favorite basket!
Chester is an absolute joy of a cat, and is quite a character. I've had him gracing my life for about three years now; ever since I adopted him from the humane society.
Like a typical Maine Coon, he enjoys water, and is constantly "monitoring" the bathtub. When my husband and I shower, he loves to jab at us (and the water) with his paws. He also loves to drink out of the tub and is absolutely fascinated with sinks. In short, water is almost a hobby of his.
Chester also loves to play fetch. He has a special toy that he will bring back to us after we throw it for him, and has even been known to jump on our bed at night (with the toy in his mouth) to wake us up for some playtime! He has the cutest little anticipatory chirps!
I often catch him sitting with crossed paws, and he looks almost regal, so we tacked a "Sir" on to his name. He loves cuddles and to be showered with attention.
I hope this special boy is with us for many, many years to come!
---
Esteban
By: Nancy in Auburn, AL USA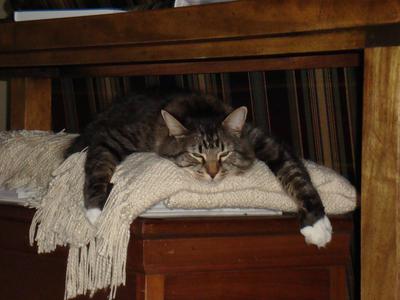 Esteban, a Maine Coon mix, belongs to Nancy in Alabama. He was adopted from a rescue shelter at age six (he's now 8).
He has huge white feet and many, actually most, of the traits associated with the Maine Coon breed. Perhaps his most obvious feature is talking!
He is extremely verbal and seems to be trying desperately to communicate with humans. He also loves to drape (see the attached photos).
---
Thomas
By: Katya & Andres in London, UK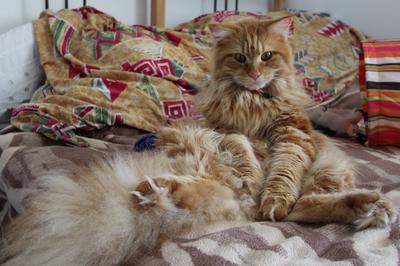 Meet Sir Thomas, one-year old British baby. We absolutely adore him!
He is our little fluffy happiness, very sociable, always around and always following family members around the house.
Life is so much better with this gorgeous kitten =)
---
Phoenix "Mini-Maine Coon"
By: Christina in Columbia, SC
Phoenix is a 3-year old orange Maine Coon. She came into our life after a friend found her on the street while walking her pitbull.
She was so small that we thought she was probably about 6-8 weeks old. We took her to the vet and found out that her adult teeth were coming in, which made her about 4-5 months old. She is now whapping 7 pounds.
She loves to play, so much so that she chirps out demanding it. She's a sweetheart and we are so happy to have her in our life.
---
Arky
By: Lee Riches in Melbourne VIC Aus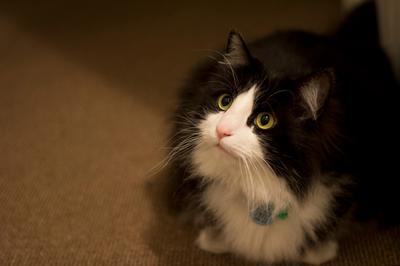 Well, he's not strictly full Maine Coon. And certainly doesn't have the well-known calm temperament. But he is rather wonderful idiosyncratic, and unpredictable.
---
Jimmie
By: Diane in Lisle, IL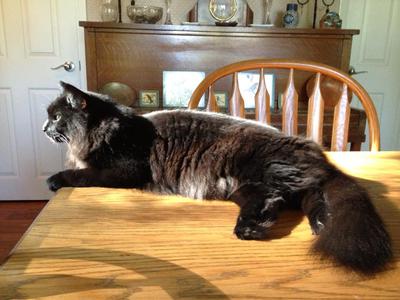 Jimmie thinks the dining room table is his own personal lounging space.
---
Felix
By: Linda in Stuart, FL, USA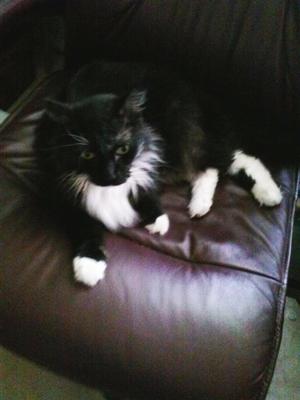 This is an updated picture of Felix. I had sent in one once before some time ago. In this one he managed to keep his eyes open!
Since his last pic I have found out from the Vet that he is indeed a Maine Coon. Prior to this I had wondered if he was Maine Coon or a Mix.
I adopted him - he was a rescue cat. I also found out that he is about 9 years old. Hope he'll have a long life - he is such a character!
---
Love My Lil' Coonie!
By: Lindsey in VA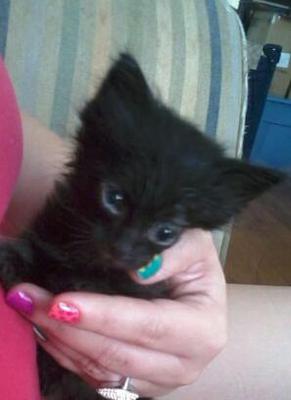 Meet Sir Onyx Hitchcock!
He was given to me lonely and hungry, hes just opened his eyes to see the world.
He was super small, eyes closed and smelled. Now hes got a round belly and is full of energy. He makes me laugh with out trying.
He's no lap cat... That is he prefers to sleep and lay on my chest and purrs away. LOUDLY!
---
Maze
By: Rick Knight in Macon GA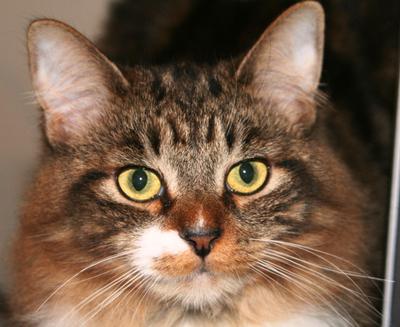 1 year-old and 12 pounds! Smartest animal I've ever seen! What a tremendous, loving friend!!
---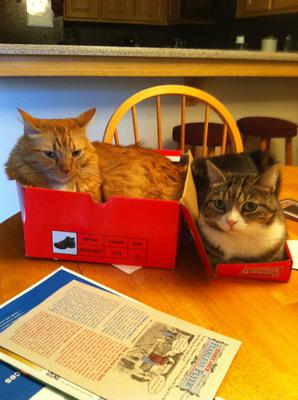 Monty and Zoey Sharing A Box
Our MC mix Monty loves boxes and his sister Zoey just had to get in on the action..
To give you an idea of how big Monty is...
That is a hiking boot box not a standard shoe box and he is overflowing it :-)
---
Sylvie, Queen of Mischief
By: Marie in Arlington, TX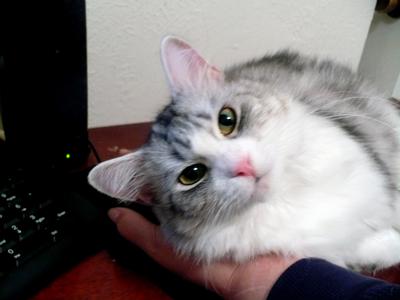 Her real name is Coonopry's Sylvia and she was a retired breeder that I adopted in December of 2012.
She's a very loving and lovable kitty, but she enjoys getting into mischief. Like playing with my crafting stuff and attacking her big brother's tail.
She also enjoys bouncing around on the bed at 6am when she thinks it's time for the human to get up!
---
Maine Coon see, Maine Coon Do!
By: Liz Black in Indianapolis IN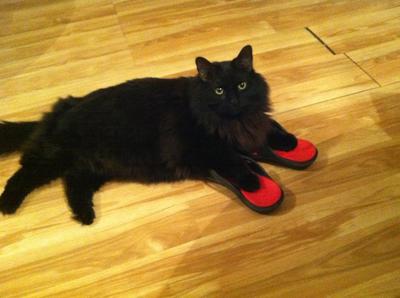 Big Black Bart is ready for the beach
My Big Black Bart thinks he's a human baby most of the time. What a mommys boy.
---
Tigger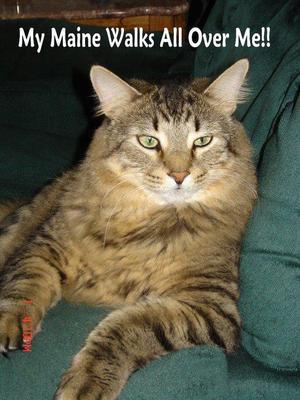 6 year old, special guy!
---
Felix
By: Amanda in Runcorn Cheshire UK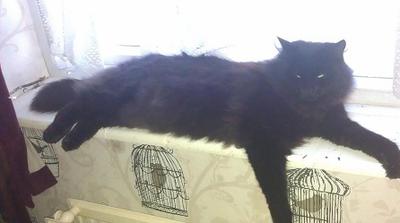 Felix is a 5 year old Maine Coon that lives with 2 other normal cats.
I rescued him when he was 9 months old thinking he was just a domestic cat.
He is very loyal cat to me very fussy with other people, the slightest noise outside he comes in through the open window.
---
Musical Cat
By: Grace in Albany NY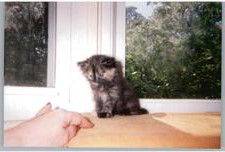 This pretty girl will be 2 on Aug 24th, 2013. She was from a litter of kittens that a stray had in my friend's garage.
She was so tiny (then). Wow she's a big girl now. Very sweet; love to cuddle and sleeps on her back.
Our Westie is her best friend, even though she's bigger than he is.
---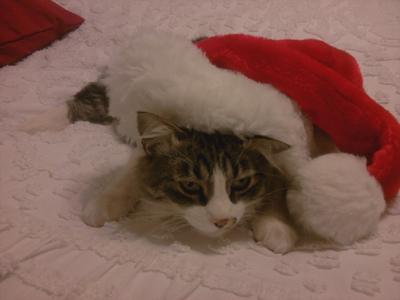 I love moms hat!
Littleman at Christmas
By: Patty in Show Low, Az
My friend, my baby, my everything!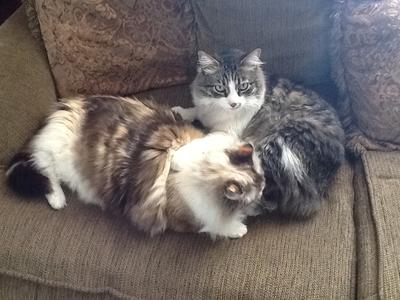 Emmie getting cleaned by Littleman
The Kids
Littleman and Emmie Lou busted hanging together. Emmie usually will not have the time of day for Littleman!
---
Pippin New Pics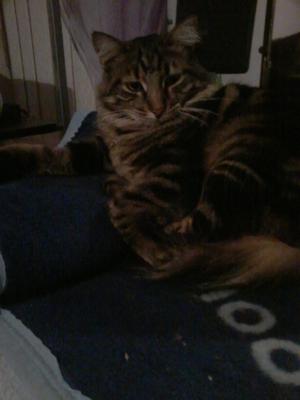 My little angel!
---
Guardian Angel
By: Marta in Calgary, AB.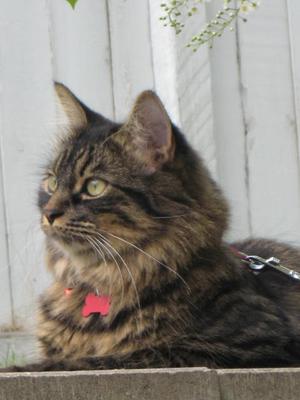 Milo. Milo, is a Maine Coon. Although he looks like a raccoon, he is adorable and loves to cuddle with my sister and I.
The way he does is: My sister calls him when in bed, couch, or floor, as long there is a blanket nearby, he goes in, rests in my arm and kneads with his paws on our necks, because is soft.
This session lasts for 5 minutes then he goes to his whereabouts. He is serious, very quiet, and only when he wants to go to the balcony he whines. Also, he found another cat under a neighbor's deck, which he (Milo kept him company almost all day until I found out he Milo, was missing from my house.
The cat we both found, was probably left to die, he was probably 15 years old; with a tattoo on his right ear "HAR161" the clinic who did the tattoo does not exist anymore. Who knows who the owner is/was? I kept him for two weeks he had a good life with me. But I returned him to the Animal Services.
I hope he is doing fine and hopefully back with the owners, which I do hope they are nice... the story is long, but I made it short. Milo misses the Stray Cat ...
Milo is great. Please see pictures of Milo and the Stray Cat.
Thank you.
Marta Rodriguez
---
My Mystery Boy, Marcus!
By: Jennifer in Brewer, ME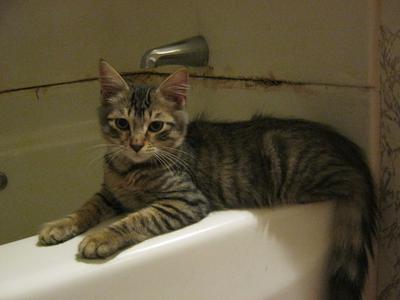 As a kitten about 4.5 months
Now, if this boy is not Maine Coon, then I don't know who is!
Strangely enough however, nobody has a clue where he came from.
He was found at a rural trailer park in Greenbush, ME as a kitten about 3 months old when he was taken to the Bangor Humane Society. Yet nobody knew who he was, where he came from or anything about him. He was found by himself without litter mates, much less a mom or dad to find. So he's a complete mystery.
Odd that at that young of an age he'd be alone. You'd think even if the people didn't care about him or want to keep him, they'd want to make money as they easily could from keeping and breeding him. And if they had to "discard" kittens, there'd be siblings found with him when there were not.
Now there's no way that his mommy could have been a stray giving birth to kittens on a railroad track, which would make any kitten feral. He was friendly and trusting of many strangers at the Humane Society as well as the people he didn't know at the trailer park who discovered him and had the ACO take him. So it would seem his mommy would have to be someone's pet. She probably got pregnant accidentally. The people had to have taken care of the kittens and socialized them until they were weaned. He was healthy when found at the trailer park except for excessive fleas which is normal for any furry animal living out in the boonies in the middle of the summer.
Now, I understand that cat breeds cannot be "detected" with DNA the way dogs can be. So my little Maine Coon Prince remains a mystery to me. And isn't he a beautiful fluffy boy?
---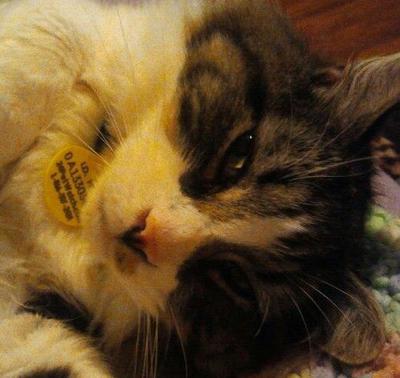 Hi I'm Oreo
By: Bryan Childs in Chicopee MA
We rescued him from our local animal shelter.
He had already had his adoption fee paid. We love him so much.
He is now a big part of our family...
---
Bob!
By: Erica Pengilly in Helena, Montana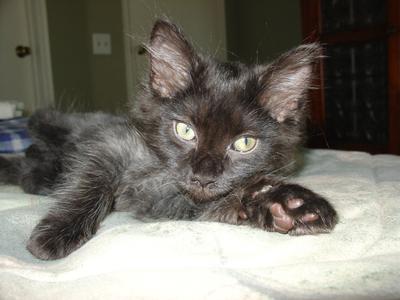 Bob when I first brought him home
I adopted Bob through Petsmart and didn't know he was a Maine Coon until I took him to the vet.
He had an upper repertory infection and they were about to send him back to the pound to be put down.
I had to convince the lady doing the adoptions that I really did want him even though he was sick and that I had an appointment for him with the vet that afternoon since I had watched him sneeze Sunday and Monday waiting to adopt him first thing on Tuesday when the adoption people were there and thank goodness they let me have him!
I have 4 cats and Bob is the youngest. He will be 7 in October and he has an incredible personality! He always wants to help me with anything I am doing, loves to bathe and be bathed by the other cats and is into everything. He drives me nuts sometimes but I love him.
We just moved into a new house that is all on one level so my husband and I are struggling a little bit with his yowling through the night. Not sure how to fix the problem but I wouldn't trade him for anything.
---
Devil or Angel?
By: Betty Axtell in Cary, NC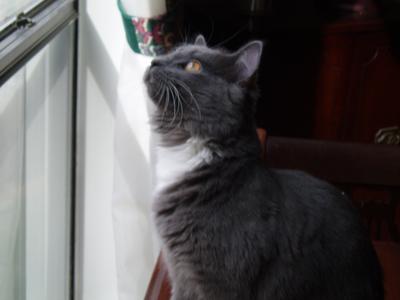 My 'sometimes Angel'
Angel is a wonderful cat (just one year old). "Blue and white with copper eyes". I think father was the Maine Coon and mother a calico. Yes, when she's had enough attention - she will nip.
After trying 'all' the ways to control this issue - we now do 'time out'. I grab her by the scruff of the neck - put her in the bathroom for 10 minutes and she is all 'sweet and kind'.
She will play fetch until I give up. Yet, if someone, even family visit -she looks at me and says 'no way' and will not fetch - not even once. Friends look at me and 'sure, Betty' It's like the Singing Frog from Bugs Bunny.
---
Littleman and Emmie Lou
By: Patty cavanaugh in Show Low, AZ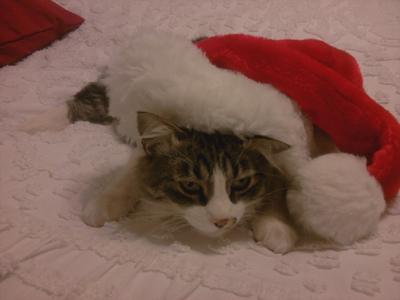 Littleman
We rescued Littleman about 7 years ago. He was found between the walls of a barn and still had one eye closed. The vet thought him to be less than 2 weeks old. I fed him with a eye dropper until he was old enough.
He is the most lovable cat I have ever had the pleasure of having. Emmie Lou on the other hand is beautiful and knows it. She has a definite "I'm better than you" attitude but we love them just the same.
Littleman (black cat) loves to drink from the running faucet so we thought, lets get them the water flow dish. Well, I couldn't believe it when we got it up and running that he was afraid if it! He is finally coming around now though.
I do believe that we will always have a Coonie in our home. Our cats have brought us so much pleasure over the years.
---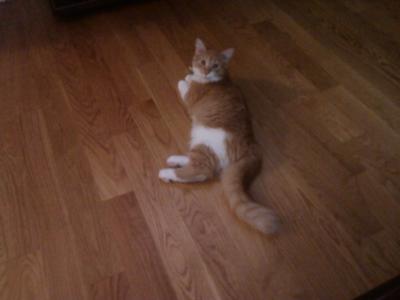 My New Boy Sunshine At 3 Months in Boston
By: John S in Boston MA
Sunshine is a little funny guy that gets in to everything. He is 3 months old and lives in Boston Mass.
He's very healthy and very active at night and power naps in the day lol.
---
More Maine Coon Cat Pictures: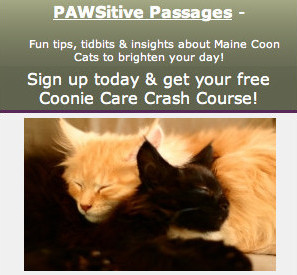 Maybe-Maine Coon Cats For August:
Monty - Our Gentle Giant
By: Liz in Fresno, CA, USA
He is a big boy, loving, smart, and handsome.
Greets me when I come home and follows me around the house.. got him from a no kill rescue.
Am guessing he is a Maine Coon Mix. He is the best.
---
Gizmo
By: Jessica Fisher in Howell, MI
I got Gizmo a few weeks ago from a friend. She and her siblings were rescued from a dangerous factory setting.
She had spent 5 weeks living in the wild, and was quite feral when I got her. Within a few days though, she was completely affectionate and friendly.
She follows me around the house, comes when I call her and even plays fetch. She doesn't have tufted ears, but she does have fur poking out between her toes. Her whiskers are also oddly curved in towards her nose and form a sort of circle shape.
She loves running around the house making chirping noises, and wakes me up in the morning by doing so. She also likes to sleep on my pillow by my head, and lick my face. She purrs really loudly, and is one of the most vocal cats I've ever seen.
Since her mother was a wild cat, and I'm not sure about her father, I have no idea what sort of cat she is. Whatever she is, Maine Coon or not, I love her anyway.
---
Gattino from Paris
By: Mylene in Paris, France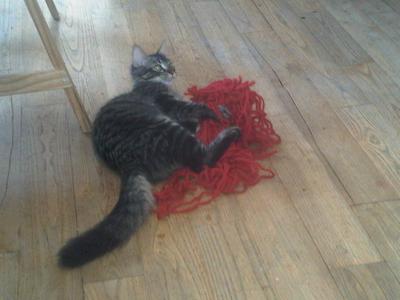 Gattino, also known as His Royal Fluffiness or 'the small fluffy person', is 5 months old and a Maine Coon cross (I'm guessing with a European shorthair.)
He's got all the Maine Coon traits, hair between the toes of his giant panws, his mane (fluffy though relatively short for now), the tail, and the talking, most of all!
He's got the linx tips but they're a bit short., though they seem to be growing, if thats possible. I'm hoping he gets longer hair across his body and becomes a small giant but I'm afraid the european short hair may have taken over on that aspect, though he does have the big tail....
Anyway, we love him tons, he's a character and keeps away the Parisian mice :)
---
Oscar... Is he part Maine Coon ?
I gave Oscar a home a few months ago. My sister found him abandoned with infected cuts and scrapes from many battles.
She got him the care he needed and had him neutered with the idea of taking him into her home but as it turned out he did not get along well with her existing cat family.
So she asked me if I'd like to have him...and although I really wasn't looking to having an animal. At the time after spending the weekend with my sister his winning personality won me over.
Oscar is like no other cat I've ever had he loves people ...I call him my greeter...he's at the door as soon as he hears someone coming...he's greets people with soft meows and lays down in front of them belly up to be rubbed...then as soon as they sit he's on their knees looking for more loving.
He demands the same kind of attention from me only more so he HAS to be wherever I am with his nose into everything...I have a hard time reading or typing he wants to be in the middle of it all.
He needs to investigate everything I've found myself apologizing to the repair men because of him. After he's done his usual greeting...he follows them around "helping" them.
He hardly ever bites and if he does it's only a soft bite.. he is a great hunter and never gives up until he gets what he's after...even if it's only the occasional spider...as you can see by the picture he has many physical traits of a Maine Coon as well.
The only trait he has that doesn't fit into the Maine Coon classification is that he doesn't like other cats...he loves dogs though. I would love to know what others think ..is he part Maine Coon...not that it matters I love him for WHO he is not for what breed he is...this is pure curiousity on my part.
---
Vega Bond
By: Jennifer in Halifax, NS
Shortly after she was rescued!
Vega was a rescue that was found wandering the streets during an awful cold snap we had a few winters ago. When she was found, she was underweight, mangy, greasey and her tail was like steel wool. I figure she was probably about 6-8 months old at the time.
Once she was out of the elements and back on a steady diet (oh, and gave birth to two kittens), she started to grow. And fluff out. And grew a lot more. And got even more fluffy!
She has the softest fur I've ever experienced and it doesn't matt. She loves to have her fur brushed and will run to the brush when she knows she's about to be groomed. She absolutely adores humans and as soon as a new person comes into the house, she is sitting on their lap within minutes.
And visitors can pet her in any way and in any direction and she just soaks it all up. She never hides and is always happy to be around people. She has large paws and a really tuft of fur around her neck.
---
Rudy
By: Cynthia in Silver Spring, MD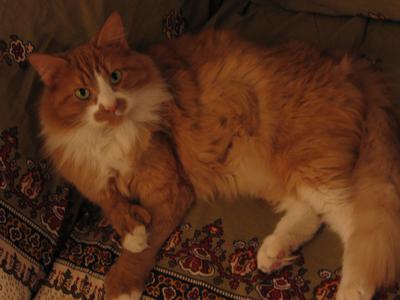 Rudy, at a little over 2.5 years-old
I found Rudy as a stray kitten. He was skinny and dirty, and seemed like a regular domestic short-hair orange tabby, except for his extra toes, and his fluffy tail.
It took him about two-and-a-half to three years to get to full size (and full fluff).
His proportions, toe fur, extra toes, fluffy tail, puffy bottom fur, and big paws--as well as his goofy personality--all make me think he was a Maine Coon mix.
---
Syxx The Stray Kitten
By: Okami
We found this kitten outside in our backyard and the land lady said that the mother cat abandoned Syxx because she couldn't hop the fence.
It took about a week and a half but eventually Syxx warmed up to us and made me the replacement mommy. Ever since we got her we noticed a few things about her.
First, she loves water, (she hates baths, gets very vocal)but when set in a tub full of water she will just sit there. Whenever everyone else is asleep she will come up to me at about midnight and randomly start grooming me and becomes extremely affectionate.
My sister and I have also noticed that toys will randomly find their way under the futon where Syxx sleeps as if she took them under there herself, and finally I noticed that she seems to have an M on her forehead like maine coons do.
These are all reasons I believe she has at least a bit of Coon in her, however we have a bunch of strays out this way so I am not completely sure.
---
Basbosa
By: Hala Masoud in Dammam, Saudi Arabia
Younger than 2 months old
Basbosa is a playful young girl. I named her that after an Arabic dessert called "Basbosa", because she is so eatable and sweet like a basbosa. She loves being cuddled and she acts more like a human being. I raised her up since she was younger than 2 months old. She is one year and 4 months old now.
She waits for me when I arrive home from work. She talks to me directly and she knew her name very fast. She is so smart and she adopts skills very fast. She even tries eating with her own hands. She is so smart that when mom calls my elder sister she goes immediately to her and try to wake her up, by playing and jumping around her. LOL.
She is so amazing. Even when she got sick, I held her in my arms and started talking to her and telling her how a strong girl she is. She was listening to me. I know she was and as a proof, the next day she started eating and drinking water gradually until she became very healthy.
She is always curious to know everything and always wants to get attention. She is so cute and breathtaking. OH GOD I LOVE HER!
She gives so many meaningful facial expressions. This was noticeable to everyone who saw her. She even gives that look of anger and exhaustion. LOL
She is even acting jealous nowadays since I adopted a new cat who's 8 months old and almost acting the same.
I dunno what to say about her. She is simply my little girl. She is acting like my daughter. She gets everyone's attention and no one can resist her charming beauty even in pictures.
Her vet told me that she's probably a mix between Persian and American cats.
In Saudi Arabia, we don't have really much breeds experts and the most well known cats here are Persian ones.
I really find my baby acting more like human that I adopted the new little one in order for her to realize she is not. LOL
I appreciate your great and hard work on this website.
Thank you,
Hala Masoud.
---
Shadow, The Loud-Mouth Rescue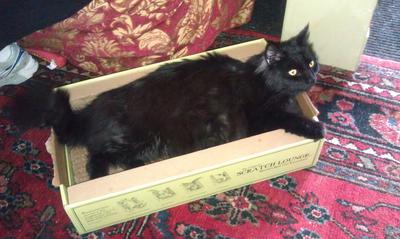 We got Shadow from a local shelter a month ago. He behaves very differently from any other cat we've had. He's not shy at all and never has been from day one.
When we have guests he circulates to make sure he gets attention from everyone. He meows loudly to get attention (he says "WOW!!!) His head butts are like being hit by a Mack truck. He's a big boy but not fat (13 lbs.)
Our other cat isn't so sure about him but he's eager to make friends and only hisses at her if she hisses in his face. His behavior and size sure fit the Maine Coon profile!
---
Lilly
A very high energy kitten who also enjoys being cuddled
---
Javier livin in Minnesota the 507
I got a cat Clementine thats 1.5 yrs old. I think she is part Coon because she has some of the characteristics.
She's big, sorta has the head shape and definitely has the tail. I dunno maybe shes like 25% or 40% maybe.
---
Kitten
I got Kitten at a shelter. I have a feeling he may be Maine Coon.
---
Tabby the Barn Cat
By: Haylee in Saint Johns MI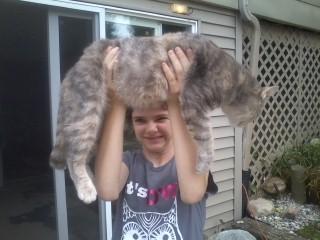 My cat tabby is around 18 pounds and in the photo this is recently actually taken today (I am 13) she is really big and has dog paws (big paws).
So we think she is at least half Maine Coon her fur is medium length with a rolling r meow that is loud and a hiss that sounds like a roar!
---
Wondering if this is a true Maine Coon Cat
By: Kevin in Providence, RI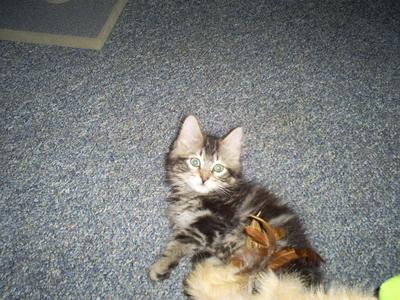 Adopted him and another kitten from the pound to keep him company. Just wondering if, in fact he's a Maine Coon Cat or did I get duped?
---
Mr Kitty
By: Paula Yanek in Belleair, FL
My son saved Mr Kitty from a shelter in Texas, where animal control picked him up off the street and his former owners did not want to pay the $100.00 charge to reclaim him, so they put him up for adoption and my son adopted him.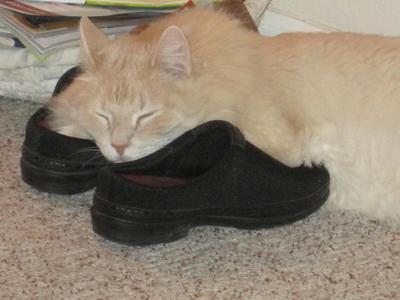 My son traveled too much in the Air Force, so he brought Mr Kitty to his Mom to keep, I had never had a cat, only having dogs all my life, but I could not imagine my life without him now.
He has all the traits, large, muscular build, big green eyes, tufted ears, chatter, and loving, almost acting like a dog.
My vet suspects he is a Maine Coon, but I have no way of knowing since he was between one and three years old when my son adopted him from the shelter.
A breeder says she is almost sure he is MC. I will love him no matter what, he is such a beautiful and loving cat.
I was I like to say awarded custody of Mr Kitty for my son who rescued him from a shelter in Texas where he was picked up by animal control in a county where cats are not allowed outside and the family would not pay the $100.00 fine to get him out of the shelter so they put him up for adoption.
I never had a cat before, only a lifelong Dog lover, so having a cat was somewhat new. He is my faithful companion with a very cute personality as he runs throughout the house chattering as only he can.I just lost my15 year old Havapoo, Dollybell, so MR Kitty is such a blessing to me.
---
Maine Coon (mix?)
By: Rick Blansett in Sweet Valley, PA
Here is my Sable. He was picked up as a stray but definitely has some major Maine Coon traits. He is about nine months old in this picture.
---
Jerry the Giant Maybe (Maine Coon?)
By: Julianne in New Jersey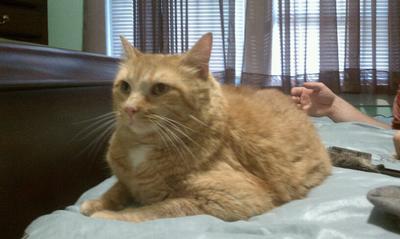 We adopted Jerry when he was 3 years old. After seeing so many beautiful cats at the shelter we knew Jerry was the one for us.
He is such a sweetheart, he loves attention and being cuddled. He is so friendly and loving. People cannot believe his size! But the vet said he is in no danger and he is big boned.
We were wondering is he is possibly a Maine coon mix? I started looking it up because he is so large and he has 2 coats of hair ( very fuzzy belly), and meets the other characteristics... what do you think?
---
More Maine Coon Cat Pictures:
The Rainbow Bridge Album:

A Maine Coon leaves a mark on one's heart that is never forgotten. These are some beautiful tributes to amazing family members.

Cats In Sinks:

What is it about cats in sinks? Perhaps it's the size, the shape, the way they produce fresh water, or maybe it's just because it is so fun for a cat to be right in the way!
Related: