August 2012 Maine Coon Cat Pictures
Welcome to the August Photo Album! So many lovely Maine Coon cats and Maine Coon mixes to see! (Comments are closed in this archived August Album).
My two boys Milo and Rio
By: Marissa Rea in Scotland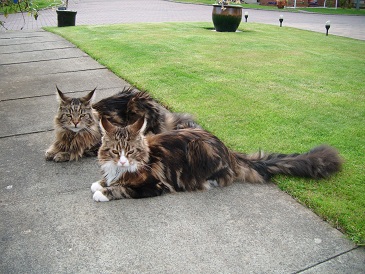 Milo & Rio
These are my two gorgeous Maine Coon boys , they are full brothers born exactly one year apart.
Milo will be three years old in November and Rio will be two, they are adorable, Milo is very shy around other people and Rio is scared of nothing, he is the cheeky one. They are my babies xxx
Comments:
Kassia: They are beautiful. I would love to pet them and hold them.
Adele Rodriguez: What beautiful tabbies! I have a brown classic tabby with white male at home here in the US. He is choosy about who he gets close to, but he's chummy with people who visit regularly.
Lisa Ross: Oh my they are both stunning brothers, and are extremely Handsome boys
---

Tommy Lee
By: Pat Hudson-Barrs in Greenville, SC

Tommy Lee, our little man in black, is our second Maine Coon. He was born in April and brought home to his half brother, Rusty and our Ragdoll, Chloe.
There was a little growling and hissing when he first arrived, but he took it in his stride (actually, he ignored it)!
He's the first one to the food dish and eats Chloe and Rusty's leftovers. He loves this basket but is quickly outgrowing it!
He's a real scrapper! Unlike his brother Rusty, he hates being brushed and will do anything to avoid it.
---

Our Dudley!
By: Cheryl McGettigan in Stratford, NJ

We adopted Dudley from Animal Orphanage of Voorhees, NJ last spring. The description of him on Petfinder.com was very wrong. It stated "young, short haired gray male, about 1 1/2 yrs old". We went to visit him and he was in the infirmary.
Right away I stated that he was not a short haired cat. My son, Sean held him and it was love at first purr. We could not adopt him until he had an all clear from the Vet on staff, so visited him every other day until all was well.
He has doubled in size and agility. It was quite clear that living at the shelter had it's effects on him. His muscles had atrophied. We, along with his new sister continued to exercise him and now he has found the cat inside him.
Comments:
Pat in Ocala: Dudley is a beautiful cat. So happy for him to be part of your family.
---

PG
By: Debbie in Lephalale, South Africa

She has to be the proudest looking little monster I know - She is only a year and a bit old, but prances around as if she owns the house.
Comments:
Kassia: The most prettiest Maine Coon and longest thickest haired one I have seen in a while.
---

Keeko the Crazy Coonie!!
By: Danielle in Covington, GA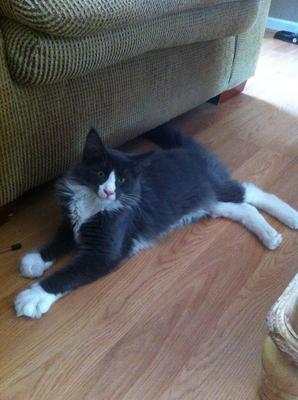 Just looking cute- 4 months old
His first night home- 4 months old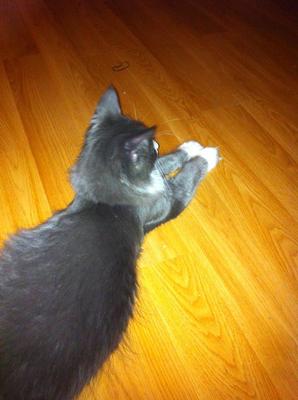 Laying at my feet- 4 months old
This is Keeko. We call him our BirdCatDog. I've never had a Coonie that chirped but boy is he a little bird! He's also super dog like, which is typical, but more than any Coonie I've ever had!
He is super sweet, cute, purrs like crazy, and a total joy! He is only 4 and half months old and weighs 7lbs 14ozs. He's going to be a big boy! Love this cat!!
---

Bear & Yogi my 5 month old kittens
By: Paree in the UK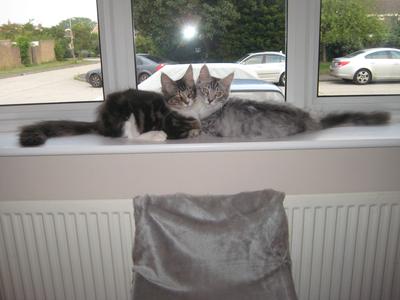 Bear and Yogi
Yogi & Bear are my 5 month old kittens
Comments:
Anina: They are beautiful! Raising two together is the way to go, best for them and also good for their human. I love their ears and the colours are divine.
Wendell: Its always better to raise two together so they have company when you can not be around. These two look so content in their window.
---

Meet our KIKI
By: Adomas in London, UK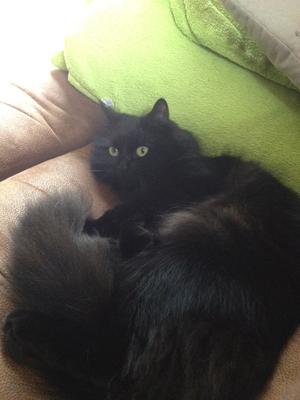 Kiki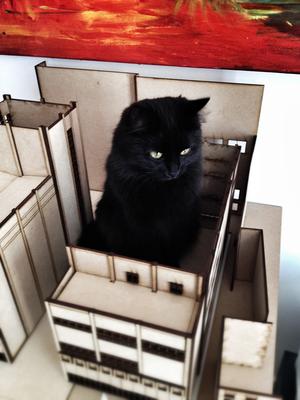 Kiki
Kiki
Most sweetest and cleverest cat! We so happy to have her :)
---

Jonny doing Pilates
By: Jeanne in Bonn,Germany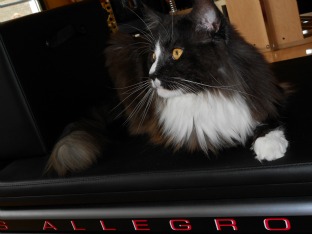 Jonny
Jonny is nearly four years young and he is a very handsome guy, always friendly and smooth.
Comments:
dlw: This cat is a dead ringer for our "flower"...she got her name because she looked like a skunk when she was a kitten. I miss her every day......
---

Sherlock and Loiosh
By: Stephanie in Toronto

Both of these rambunctious boys are 6 months old now, and came from a breeder in Ontario. They are so happy all the time, and playful to the extreme!
Loiosh, the silver red cameo (the pale one) is very cuddly, and loves to wake me up with kisses and purring beside my head.
Sherlock is very proud and curious, and will sit beside me while I am doing anything and watch, including brushing teeth or cleaning out our rabbit's cages. He and Kairi, one of our bunnies, will curl up together and clean each other, and then go tearing around the place chasing one another.
Next April 2012 Albums to See: