August 2012 Maine Coon Cat Pictures
Welcome to the August Photo Album! So many lovely Maine Coon cats and Maine Coon mixes to see!
My two boys Milo and Rio
By: Marissa Rea in Scotland
These are my two gorgeous Maine Coon boys , they are full brothers born exactly one year apart.
Milo will be three years old in November and Rio will be two, they are adorable, Milo is very shy around other people and Rio is scared of nothing, he is the cheeky one. They are my babies xxx
Comments:
Kassia: They are beautiful. I would love to pet them and hold them.
Adele Rodriguez: What beautiful tabbies! I have a brown classic tabby with white male at home here in the US. He is choosy about who he gets close to, but he's chummy with people who visit regularly.
Lisa Ross: Oh my they are both stunning brothers, and are extremely Handsome boys
---
Marco Polo
By: Nicoletta in Stamford, CT
We got Marco Polo when he was 1 yo from a breeder. They wanted him to be a cat show kitty, but a vet detected a heart murmur so they neutered him and started to look for a home for him (his dad is a world champion kitty).
We went to the breeder to get a kitten (we had to go through 3 different interviews to make sure that we would have been good parents to the kitten. After we finished our first interview, the lady told us that they were looking for a home for Marco Polo.
And there he was, this gorgeous 1 year old silver tabby lying comfortably on a nice armchair. It was love at first sight. I went close to him, he chirped and he came close to my hand and started to leave his scent all over my hand. Then he got up went to the window and chirped back to me because he wanted to show me something. We brought him home 10 days later.
He immediately felt comfortable in his new home. He was purring when we stroke him and he was playing a lot. When we brought home the kitten Beowulf (they shared the same mommy) he played the role of the big gentle brother. Funny thing Beowulf ended up to be the alpha cat. they were inseparable. Beowulf favorite spot to sleep was me or a tiny sink (he could not fit but he kept going there. Marco Polo instead slept everywhere I was, but never on my lap.
Last year on September 3rd we lost Beowulf to cancer. He was 8 1/2 years old. It still hurts so much. I have his ashes on my bedside table and I talk to him every night. Marco Polo, when he realized that Beowulf wasn't coming back home, spent a month hardy eating and just drinking.
Now he's in excellent form. The vet last week (I had to change because my old vet died) could not believe he is 10 1/2 years old. He still plays like a kitten. When I call his name he turns to me, meows (like only Main Coons do) and runs to me.
Latest enjoyable activity: putting all his toys in his food bowl as soon as he's finished eating. When he's hungry again he has trouble finding the food. So mommy cleans the bowl from the toys, he starts eating and then put the toys back in the bowl!
He's my baby boy. I cannot describe in words how much I love him.
Comments:
Casper: The most beautifull breed of cats i have been searching for one for so long!
---
Love My Coonie!
By: Barbara in Framingham, MA
My owner picked me out and we both fell in love with each other. I'm two years old now and all grown up but I still love to act kittenish, give kisses and love massages.
My owner takes me out everyday on a Krazy K Farm kitty holster. I love it as nothing has to go over my head. I enjoy chasing flys and stalking the birds. I watch over my human family wherever they may be in the house.
I sleep in my mistress's room every night curled up in the corner on the rug. She saved my life at 6 months when I didn't know any better and swallowed a braided mesh toy. Thanks to the vets who performed an endoscopy to remove it at Tufts Foster Hospital for Small Animals I am a healthy 10 lb. cat.
My owner is my guardian angel and now always watches to keep bad things out of my reach and keeps me safe!
---
Tommy Lee
By: Pat Hudson-Barrs in Greenville, SC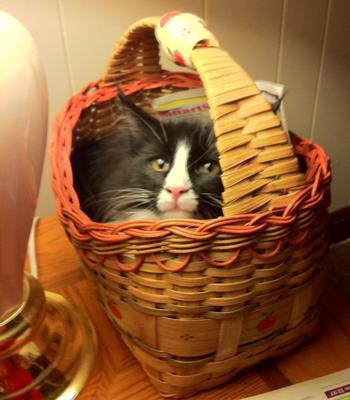 Cat in a basket
Tommy Lee, our little man in black, is our second Maine Coon. He was born in April and brought home to his half brother, Rusty and our Ragdoll, Chloe. There was a little growling and hissing when he first arrived, but he took it in his stride (actually, he ignored it)! He's the first one to the food dish and eats Chloe and Rusty's leftovers. He loves this basket but is quickly outgrowing it!
He's a real scrapper! Unlike his brother Rusty, he hates being brushed and will do anything to avoid it.
---
Merlin
By: Laura in Florida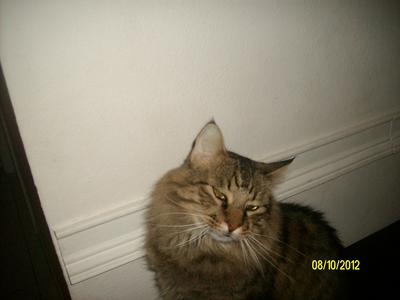 Merlin was my Mother's Day present 4 years ago, He is loving but has his moody moments and he checks on the kids at night while they are sleeping and follows me where ever I go in the house and has separate meows for each member of the house.
---
Our Dudley!
By: Cheryl McGettigan in Stratford, NJ
Our Dudley!
We adopted Dudley from Animal Orphanage of Voorhees, NJ last spring. The decription of him on Petfinder.com was very wrong. It stated "young, short haired gray male, about 1 1/2 yrs old". We went to visit him and he was in the infirmy.
Right away I stated that he was not a short haired cat. My son, Sean held him and it was love at first purr. We could not adopt him until he had an all clear from the Vet on staff, so visited him every other day until all was well.
He has doubled in size and agility. It was quite clear that living at the shelter had it's effects on him. His muscles had atrophied. We, along with his new sister continued to exercise him and now he has found the cat inside him.
Comments:
Pat in Ocala: Dudley is a beautiful cat. So happy for him to be part of your family.
---
PG
By: Debbie in Lephalale, South Africa)
She has to be the proudest looking little monster I know - She is only a year and a bit old , but prances ariund as if she owns the house.
Comments:
Kassia: The most prettiest Maine Coon and longest thickest haired one I have seen in a while.
---
Princess Sophia
By: Anita in Crestmead Queensland Australia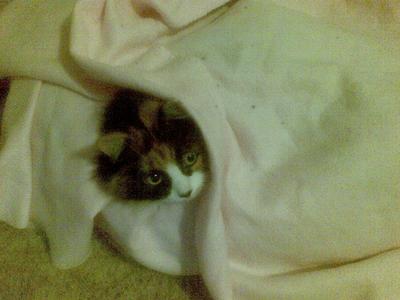 Sophia was from my local RSPCA and choose me when I went to look at cats. She is spoilt beyond belief and loves nothing more than curling up in my arms and snoring thru the night.
It's a one cat house and that way she does not have to share her favourite catnip toys or her multiple scratching posts.
Sophia loves to talk to me morning and night and always tells me about her day. Living in Queensland it gets hot so playing in the shower after I get out is her little fun time.
My house would never be complete without her and I am glad shes is in my world. And I am also happy to be her housekeeper.
---
Keeko the Crazy Coonie!!
By: Danielle in Covington, GA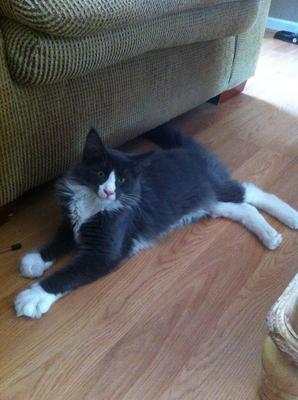 Just looking cute- 4 months old
This is Keeko. We call him our BirdCatDog. I've never had a Coonie that chirped but boy is he a little bird! He's also super dog like, which is typical, but more than any Coonie I've ever had!
He is super sweet, cute, purrs like crazy, and a total joy! He is only 4 and half months old and weighs 7lbs 14ozs. He's going to be a big boy! Love this cat!!
---
Mittens Then and Now!
By: Laurie Brookshire in Chicago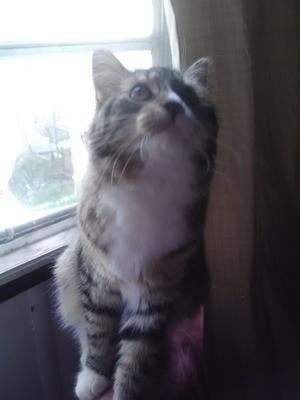 Mittens has now been with us for a year, she is now 1 year old and more playful than ever.
She loves to greet her daddy when he gets home from work in the morning. And loves to run rampant throught the house anytime after midnight LOL. She still tries to climb the walls when she can.
Her favorite spots to sit are on the back of my antique chair so she can look out the window and she sits in my computer desk drawer keyboard drawer) with me at night. She has brought us so much laughter and fun and the kids love her.
We basically rescued her from some kids by our house, she was underweight (13ozs) at 5 weeks old. She was dirty and full of fleas and hungry. I paid the kids 20 dollars for her cause I knew she would not make it otherwise. Im soooo glad I did.
---
Oscar
By: David Feldmann in St. Louis, MO USA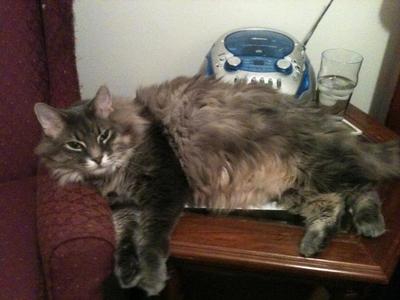 Oscar was adopted by his guardian, David, in April 2006. Appropriately enough, he was born on April Fools day.
Comments:
Jenny: Oscar is gorgeous! My Toby was born on April Fools Day in 2006, too. Sadly, I lost him unexpectedly on Friday, April 13, 2012, to kidney failure. He was a gorgeous white and gray Maine Coon mix and was my very best friend for the short time that I was blessed to share with him. My heart still hurts and I still cry for his loss. I wish you and Oscar many, many years of good health, happiness, and friendship.
---
Fluffy The Puff Coonie
By: Charlotte Conley in (Wakefield, MA
Fluff is 5yrs old. I found him walkin out of a store. A young boy had him in his bike basket w/ a baby bottle. My god he was 2days old; the boy was on his way to the vets to offer fluff up u know what would of happened.
I took Fluff home gave him formula (kitten formula) and he took to the little bottle but he was blowing up after feeding well I owe my thanks to my older male cat sparky then 3yrs old. Sparky immediately knew what the problem was - Fluffy needed to void. I guess my cotton balls were too soft.
From then on he grew and grew and now he turned out to be a Coonie! Our vet told us. My vet said to me do you know u have a Maine Coon on your hands. Well I just though he was long haired. We all survived the up bringing nuterings and water play he is the bestest cat I have ever owned. Fluff is the smartist sillyist fun cat I ever had...I love him so much theres something new everyday.Save a cat they need us all as we need them. Thank u for this opportunity.
Comments:
Pat in Ocala: I loved your story about Fluffy! May you have many happy years with your precious cat.
---
Velcro
By: Denice Rupp in Carson City, Nevada, USA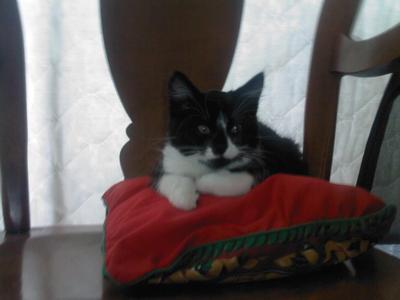 Prince VELCRO, when a little kitten. he always finds a soft place to rest.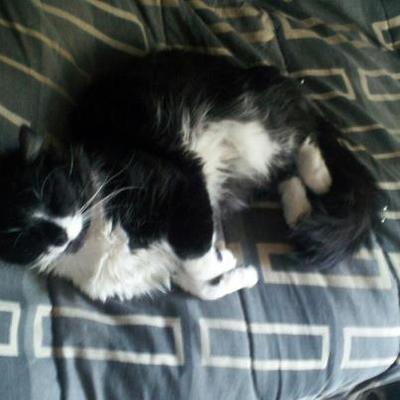 Velcro Loves my bed. He sleeps
there all day. and is out all night.
Velcro is such a special Cat. He is now 2 yrs old and still such a kitten. He is super lovey to me. He has CHOSE me to be his buddy. He follows me around often and likes to snuggle with my while I am on the laptop. Can't imagine my life without him.
Comments:
Debbie: How handsome! He looks a lot like my Max (3 years old).
---
I was adopted by MoMo
By: Robin in New Haven, CT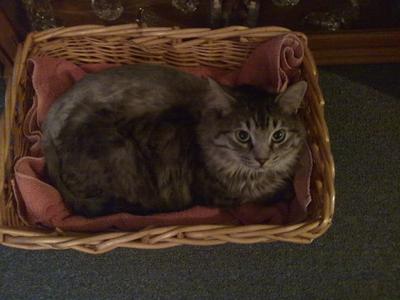 MoMo is 5 years old male, I adopted him (actually he adopted me) August 16, 2012. He is so lovable, I went to a rescue a few days before to meet cats, he was the last one I met.
He hopped up on my lap put a paw on each side of my face, like he was hugging me and rubbed his face all over my face, they at the rescue had never seen him act like that before. I knew right then he was the one. As you can see, I like to think I made the decision, but he chose me.
Comments:
Carol: Gorgeous cat!!!~
Wendell: What a great face!
---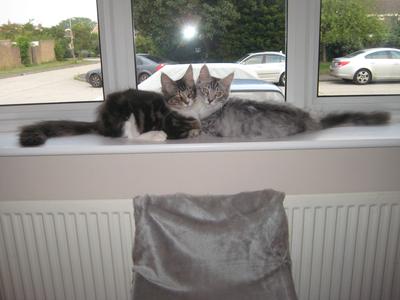 Bear & Yogi my 5 month old kittens
By: Paree in the UK
Yogi & Bear are my 5 month old kittens
Comments:
Anina: They are beautiful! Raising two together is the way to go, best for them and also good for their human. I love their ears and the colours are divine.
Wendell: Its always better to raise two together so they have company when you can not be around. These two look so content in their window.
---
Meet our KIKI
By: Adomas in London, UK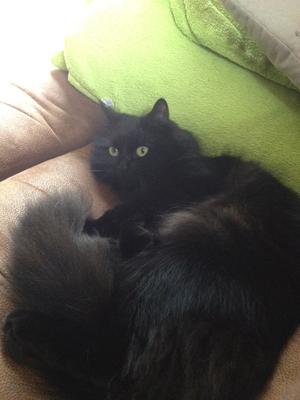 Most sweetest and cleverest cat! We so happy to have her :)
---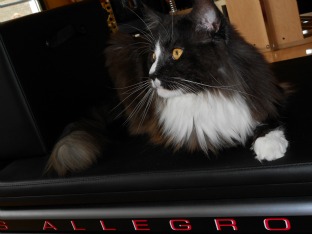 Jonny doing Pilates
By: Jeanne in Bonn,Germany
Jonny is nearly four years young and he is a very handsome guy, always friendly and smooth.
Comments:
dlw: This cat is a dead ringer for our "flower"...she got her name because she looked like a skunk when she was a kitten. I miss her every day......
---
Sherlock and Loiosh
By: Stephanie in Toronto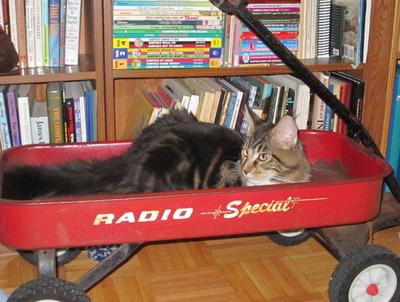 Sherlock in 'his' wagon
Both of these rambunctious boys are 6 months old now, and came from a breeder in Ontario. They are so happy all the time, and playful to the extreme!
Loiosh, the silver red cameo (the pale one) is very cuddly, and loves to wake me up with kisses and purring beside my head.
Sherlock is very proud and curious, and will sit beside me while I am doing anything and watch, including brushing teeth or cleaning out our rabbit's cages. He and Kairi, one of our bunnies, will curl up together and clean each other, and then go tearing around the place chasing one another.
---
Gibbs
By: Sarah D in Essex, UK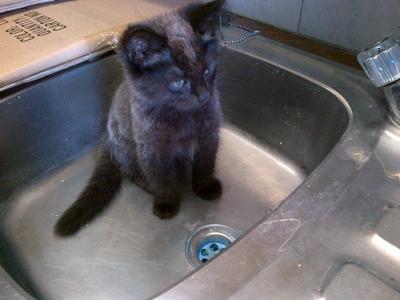 investigating on the first day at my new home at 9weeks
My little Gibbs is coming up to 14 weeks old, he's a little adventurer. Always looking around and play fighting with me.
I didn't realise he was a Maine Coon cat until I was flicking through a cat breed book in my local pet store. From what I can make out I'm pretty sure he's a Black Smoke Maine Coon but I could be wrong.
He also has medium brown leather. Either way he's my baby and I wouldn't change him for the world :)
Comments:
Sarah D: Jessy:- I have looked at what you believe my kitten to be and have to disagree with you, he has changed alot I've the past few weeks and is now almost completely black. So I agree he may not be a black smoke but I dint think he's a Siamese / tonkinese mix.
Jessy: He's not a black smoke; he has a Siamese/Tonkinese coloration. Whatsomever, he's a cutie.
Leah Waterworth: What a cutie! My little Maine Coon is L. J. Gibbs. He comes home Friday!
---
My Girl
By: Cassie Herrick in Ashtabula, Ohio USA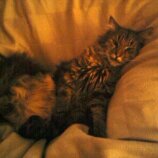 She is such a love bug loves to cuddle and she's so fluffy and loves baths.
I have to hide the cat treats from her cuz if she finds them she will open the bag and help herself!
She is so funny at times I'm so happy she's in are family she's such a joy
---
Jasmine is the Queen of all she surveys
By: Gail Ramey in VeroBeach Florida, USA
Jasmine is a 5 year old Coon mix. I rescued from an elderly man who could no longer care for her, after several vet trips for shots, teeth cleaning, a tooth, pull and a nail trim she settled in just fine.
It took a while to adjust but she is right at home now. She follows me every where and becomes upset when she can't find me.
She is very sweet, gives kisses,loves belly rubs. She will go running and chase the invisible enemy the flop down and roll over on her back for a belly rub. Jasmine likes to be near you but not held.
---
My Baby, Apollo
By: Melissa in Springfield, Illinois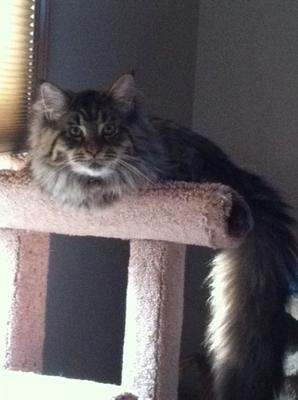 love his eyes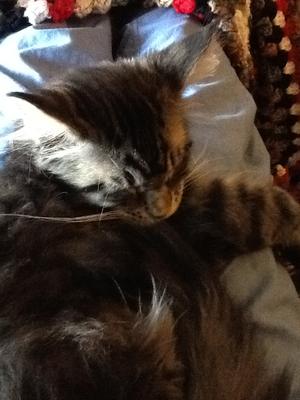 he was so small when I brought him home
I traveled to Missouri on a bitterly cold February day to take my Apollo to his new home in Illinois.
I had lost my beloved cat "Louie" to cancer over the Christmas holiday and needed to heal my broken heart. I did a lot of research on this breed and knew I just had to be a "mommy" to a Maine Coon. What a joy the past 10 months have been!
Apollo is quite the quirky kitty I had read about! He loves to fetch, sleep on his back, and eat with his paws! When I look into his beautiful amber colored eyes, I can almost read his thoughts....thank you Apollo for healing my heart.
---
Buff
By: Shasta Morse in East Brookfield, MA
Lounging on his mickey mouse chair
Buff is now a yr old and huge. He is so beautiful and soft and loves to cuddle at night.
He has now gone to the extra effort to get out of the house by climbing on my kitchen table and leaping thru the screen door, and then he sits on the porch and meows till we realize the house is full of bugs and buff has jumped thru the screen again.
Just thought I'd share an update on my crazy Buff..:-)
---
My Cat Buddy
By: Val in NJ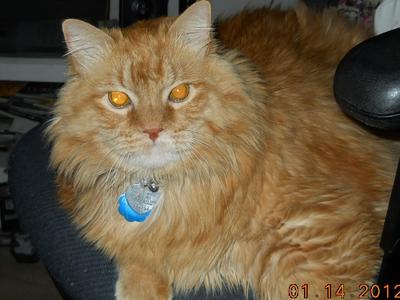 Buddy is a big cat, he is 27 lbs. He is so cute he sleeps next to me on my bed on his own pillowcase.
He wakes me up sometimes in the early morning looking for food. He rolls over so I can rub his belly. He is my little boy.
Comments:
Carol: all these cats are gorgeous!!!! omg love them!!!!
Linda, Sarasota, Florida: What a beautiful big boy with fantastic gold eyes!
---
Sweet Blu
By: Stephanie in Hoover, AL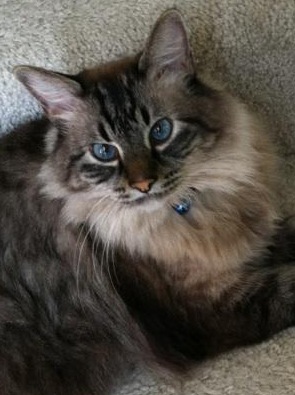 Blu
Blu is 10 years old and is the sweetest cat I have ever had. He carries a small stuffed pig around that is his baby. The little pig goes downstairs with him in the morning, upstairs to bed at night and frequently is found in his food bowl. Occasionally, we also find the little pig in his water fountain!
Blu loves playing in the water and snuggling up to everyone in the house. He follows me around like I am his Mommy to each and every room I go to.
He comes to us when we call him and if I say "let's go night, night", he goes upstairs and gets right on the bed. He has always acted more like a dog than a cat!!
Comments:
Amy: I want to know how Stephanie got a picture of my cat? Your Blu looks EXACTLY like my Rascal. The shelter said he was a Lynx-point Siamese. But he has long fur, so we thought Himalayan. But a friend, and my vet, suspect some Coon in him. He doesn't possess all of the characteristics (he's not that affectionate and he's not that vocal). But if Blu is part Coon, then so is Rascal. I swear they're twins.
---
Pippa
By: Janis Hueftle in Berlin, NJ, USA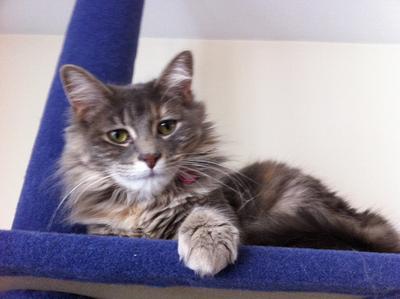 Waiting For Mommy To Bake Cupcakes
Pippa Middleton Hueftle, rightly named as we got her right around the time of Kate Middleton's wedding to Prince William, is now 1 1/2 years old. She's got torti shading and a beautiful long coat.
She loves to fetch and follow us everywhere and many times we trip over her! She's precocious and loves to be on the kitchen countertops, much to Mommy's dismay!
We adopted this little beauty from our Animal Welfare Association and we are so happy to have her as a loving part of a family, one she shares with big sisters Anastasia, our 13 year old Calico and Snuggles our 11 year old Tuxedo girl : )
---
My Sweet Chia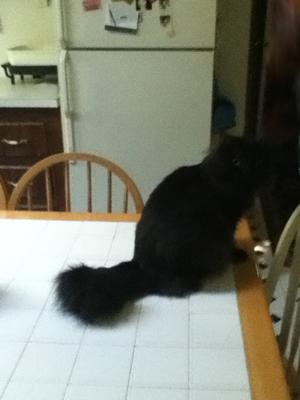 I found this cat at my sister's house about 2 years ago. He was a kitten and someone had just thrown him out. He was so skinny and I really didn't think he would make it through the night.
I took him home and bathed him and fed him and i had planned on finding a good home for him, but he started to grow on us. Last night my niece came in from Florida and said he looked like a Maine Coon. I was like what is that, lol.
So after getting on your site I do believe he is and I must say he is the sweetest kitty ever. He sits on my lap every morning as i have my cup of coffee. I am so glad I found him!!!!!
---
Chester
By: Joanne in Derry NH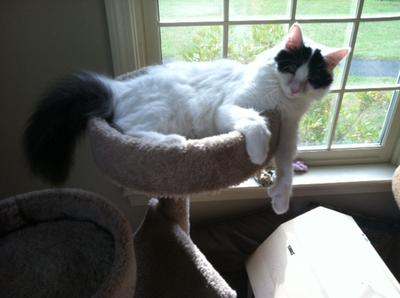 We adopted Chester from the local shelter and we knew right away he was special.
We love the personality he has - he is such a ham. He loves toys and creates his own games and follows me around the house like a little puppy.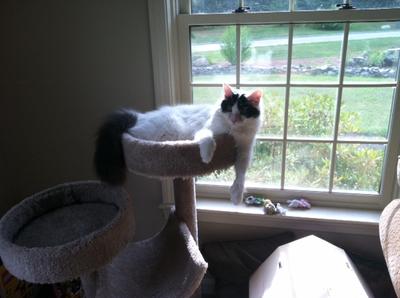 He even plays catch with balls. He makes an adorable chirping noise when he is happy and purrs loud enough to wake the neighbors.
We feel so blessed that he chose us for his family - he jumped in my purse. He is polydactyl, has a great feather duster of a tale, has old man eyebrows, lynx like ears and copper eyes and hairy paws.
---
Max At 6 Months
By: Melissa Carmichael in Albuquerque NM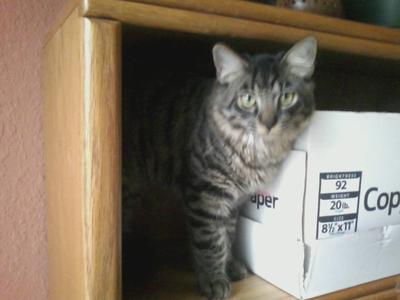 This is Max, he turned 6 months yesterday. He does not like his pic taken for some reason, so I was extra lucky to get these... I can't get Max to eat anything but dry food and goats milk.
Oh, and the birds, bugs and field mice he brings in regularly! He is the most quiet of my 4 cats, but he is also the most active.
His tail is longer than his body and his feet are bigger than any of my 3 full grown cats. Yes, he is a King in the making!
---
Willis
By: Ronda Britt in Arlington, VA
Willis is quite simply, the best cat in the world! He is a Maine Coon mix adopted from our local shelter.
He loves to cuddle and be held like a baby, and he also likes to make flying leaps to catch his favorite feather toy.
Here he is doing another favorite thing: relaxing.
---
Gabriel Enjoying his Golden Years - Update
By: Jenny W. in Clark, New Jersey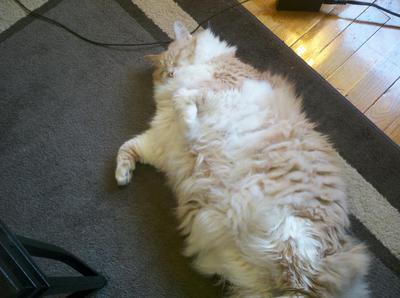 Gabe's retirement.
Gabriel is 11 1/2 years old and has had a full, full life. He's traveled across the country - both ways - and lived in New Jersey, California and Texas.
He's outlived a bunch of his siblings and spends his days sleeping, cuddling, and leisurely batting around a catnip mouse with his massive paws.
Comments:
Jamie: He looks like an older version of my baby Chubbs! And he lays the SAME!!
Pat Hudson Barrs: My Rusty likes to lie on his back and will roll over when I brush him to expose that furry belly.
---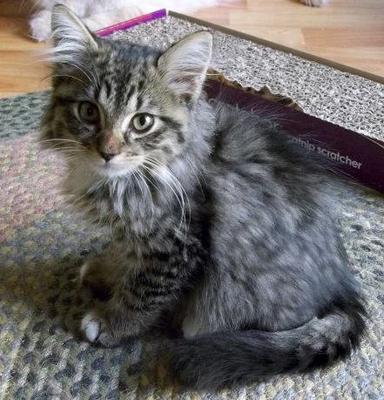 Levon Jackson
By: Loree in Hollywood, FL
This is one of his baby pictures. Levon will be a year old in Oct.
Comments:
Joseph: Reminds me of my cat Pop. I made a game for him - check it out at https://www.maine-coon-cat-nation.com/Maine-Coon-cat-blog.html
Andrew: I didn't find the game.
---
Puff Love
By: Alyson Hazelton in Limerick, PA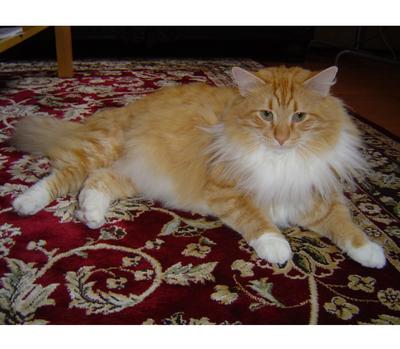 We adopted Puff after my heart melted seeing him hiding under a blanket in a cage at Petco. He was rescued from the streets living with a group of black and white feral cats in a rough neighborhood.
He looked so sweet and just needed a nice home. We brought him home and he soon found a best friend in our other orange tabby.
With his unique look and sweet tempermant, we were interested in what kind of cat we had adopted. After some research, we decided he was a Maine Coon.
His traits match up and finally after coming to maturity after a few years, he is big, soft and so sweet! We would love to see if your opinion matches ours in that he is possibly a Maine Coon (who is quite photogenic)!
Comments:
Alyson: I got Puff from the streets of Norristown, PA (near Philadelphia). Can't believe he was a street cat!
Joanne: He looks just like my rescue Lester any idea where he is from?
Barbara: He looks very much like a 1/2 sibling to my MC who's from Tabbypatch. Where's you find this guy? Met a "Puff" Maine Coon in Oakland at Tabbypatch.
Lenisa: He is soooo Adorable....
Karen Hodgdon: Puff is beautiful - My Coonie is named Tucker and Puff could be his twin!
---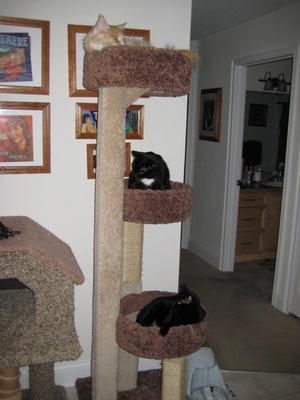 Our Maine Coon Mongo has top billing in our house
By: George and Dee in Daytona Beach Fl
Mongo our year old has top billing in our house. 17 pounds and growing
---
Buddy on the bed
By: Edward Joy in Owosso, Michigan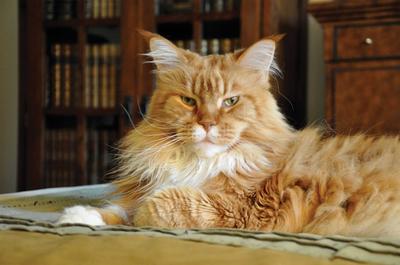 Buddy
Buddy is a ten-year-old Maine Coon, and though he was the smallest kitten of his litter, he now weighs 20 pounds.
Nothing pleases him more than his two leaves of fresh cat nip every day.
Comments:
Anonymous: If ur buddy and my Miah had a baby, how cute our babies would be.
Comments:
William: A gorgeous red coon cat; love his ear tufts.
---
Quincy
By: Dan & Christen in MN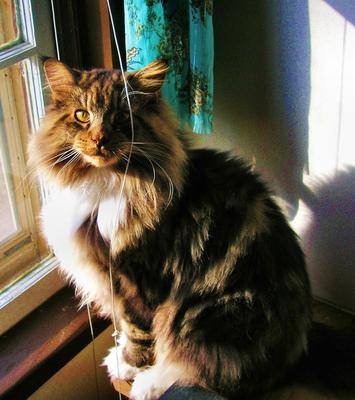 Quincy
Quincy is our gentle giant Maine Coon--keeping us entertained regularly. The last picture is after we gave him his summer trim-the "Lion Cut".
---
Prince
By: Monique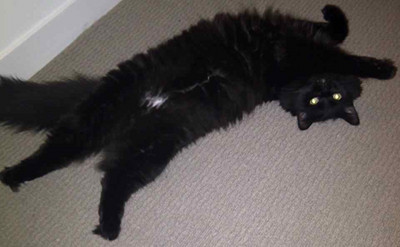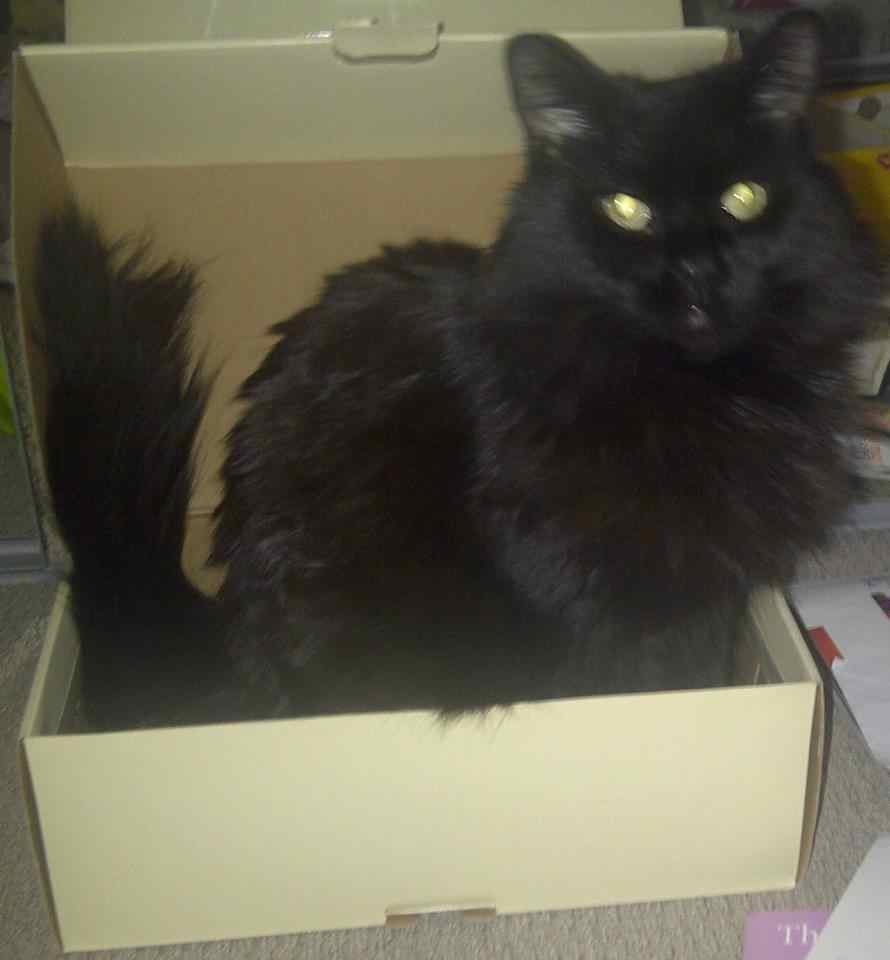 Hi, I have a beautiful cat! his name is Prince! he's so very special, I'm so thankful to be his mom!
Comments:
Jim Cox: He reminds me of my Midders (Bigfoot Midnight Thunder).
Janine Lewis: I have a boy, chuck, who is just like your prince. What a fun, amusing, sweet cat. Mine is 5-6 months old and now is the time to take him in for the" cone of shame".
Debbie: My Max is also black/white. Your Prince is a very handsome boy!
---
Scooter
By: Marisa in Saratoga Springs NY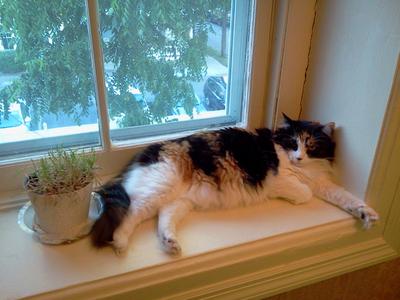 She picked me and I'm happy she did! Loves to talk, ride in the car, walk on the harness, and have photo shoots!
---
Mylow aka Mr. Low
By: Sarah Stek in Pittsburgh, PA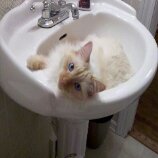 Mr. Low is the most amazing cat we've ever had! After reading about the Maine Coon breed we've come to the conclusion that he may be one or a mix. From physical to personality characteristics he fits exactly! Hes so sweet and smart we just love him. He also loves water from the bathroom sink its his favorite thing to do.
Comments:
Sherman: MyLow could be a Colorpoint maine Coon or A neva Masquerade-Siberian Cat
---
Meet Cassandra
By: Karin van Vuuren in Pretoria, South Africa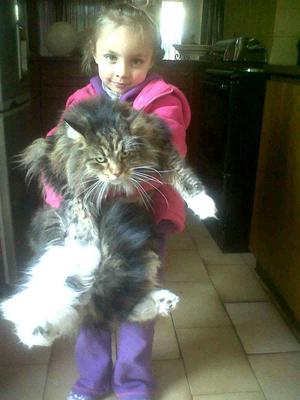 This is Cassandra, 2 year old brown tabby. She loves to sleep almost the whole day and is getting bigger by the day :-)
---
Merlin - The hairy bean
By: Lorraine in South West England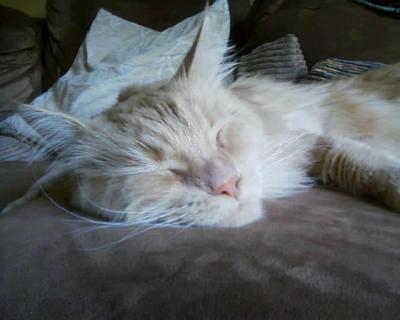 Tassare Royal Merlin is nearly 16 months old he weighs about 7kgs. He is the third maine coon we have owned and the biggest!
Although he is big he is a softy and gets put in his place by our other cats.
We have previously had female maine coons and the main difference is that males tend to be soppier. He is not a lap cat as he is too big but likes to sit between us with his head on one of us and his tale on the other.
Merlin is still growing so we are not sure how big he will be but despite his size he is still like a kitten. He is like Tigger so full of energy and bounce.
His nickname is the hairy bean because his colour is similar to a baked bean!
I love all cats but especially Maine Coons you can never have too many!
Comments:
Adrienne: Love the name! And how gorgeous!
Jane Hastings: He looks gorgeous..... handsome fella
---
This is Tato my 11 months Maine Coon
By: Silvia Galvez in Miramar, Florida USA
My spoiled baby. He loves playing with water,loves his belly rubbed and he's always cuddling to sleep.... I love my Maine Coon.
---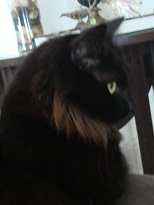 Here is Romeo
By: Cheryl in Cardiff by the Sea, Ca
He is the funniest cat- loves to show off all of his different meows. He talks and kisses and loves to snuggle. When his mane comes in for summer - he thinks he is all that!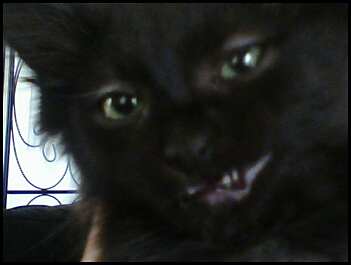 Romeo as a kitten- he was hysterical
Here is Romeo talking as a kitten- it looks like a kindergarden picture!
---
Kitty
Kitty
By: Donnie in Sanford, FL, USA
He found me at work. I fed him for about a week before deciding to take him home. He's been an awesome kitty, and everyone says he's beautiful:)
Comments:
I have his identical twin at my house. Beautiful!
Barb Shernoff: He is gorgeous!! Wise of you to take him home!!
---
Just helpin' ya out
By: Bear in Granite City, IL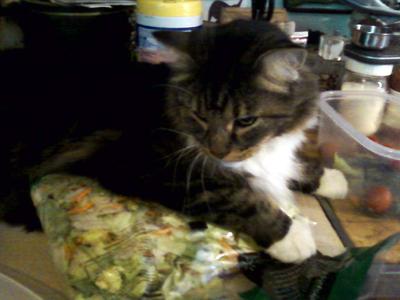 I was helpin'.....
Bear is a big lover and a helper. He feels like he has no bones when you pick him up. We raised him from 2 ozs and his kin when his mommy passed just hours after they were born. Just look at him now!!!
---
Felix
By: Linda in Stuart, FL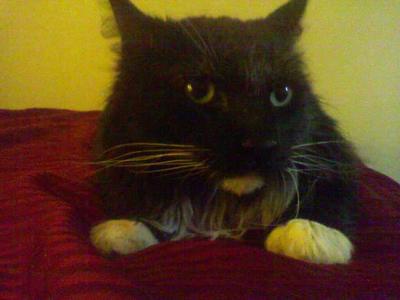 We rescued Felix this past January - he's about 4-5 years old and weighs 15 pounds. He definitely has the Maine Coon characteristics!
He "talks" a lot and acts like a dog! (in a good way of course). He is so much fun! I also noticed a couple of other pictures on this site that look just like him!
---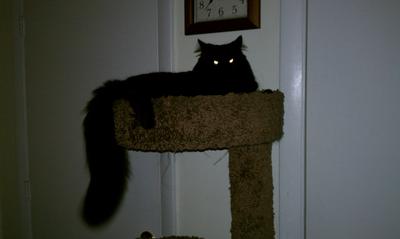 Bubba getting ready for Halloween
Bubba
By: Jerry in Masschussetts
Bubba graced our doorstep 16 months ago, He quickly found his way into our hearts..as a little ball of fur and now an entire fur coat later He allows us to reside with him.
He is very independent and weighs a healthy 17 pounds and growing.
---
Smokey in her favourite chair
Smokey, Empress of all she surveys!
By: Lee in London, UK
Smokey is 18 months old and loves greens--especially parsley and basil. We are totally smitten with her.
Comments:
Priscilla: My Callie girl looks just like Your sweetheart! My Callie thinks she is an Empress too!
---
Alba
By: Constantinescu Bogdan Andrei in Bucuresti, Romania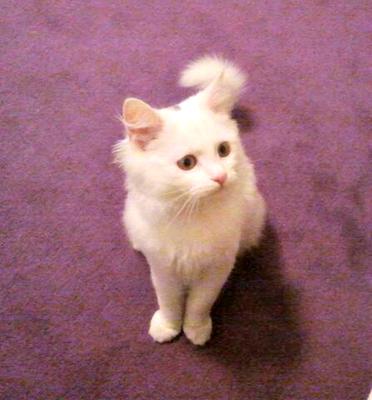 Beast
Comments:
Joan: Just like my Snowie and he has the same wee black patch on his head as well.
Jenny W.: WOW. Such a beautiful cat!
---
Nala
By: Dawn in New York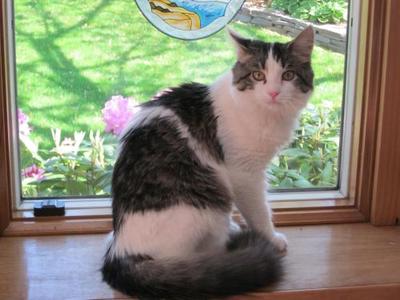 Princess Nala
We just adopted Nala recently. She is sweetest and most affectionate cat I have ever met!!! She loves to cuddle and play!
The woman at the shelter told us she was a Maine Coon mix, which I think may be true by looking at the other kitty pics. What do you think??
---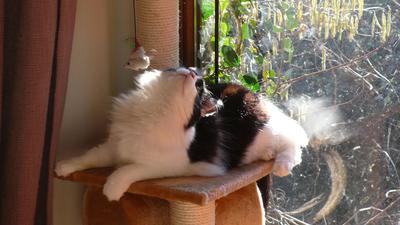 My Suzy
By: Daria inGent, Belgium
She is gorgeous and she knows it :)
---
Beowulf (aka 'Wulfie')
By: Clarice and Jake in San Francisco, CA, USA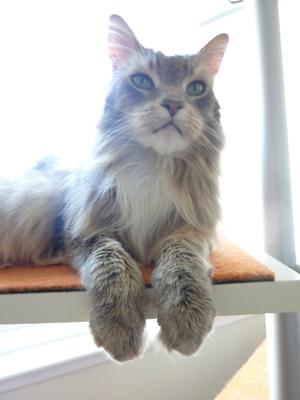 Wulfie is 10 years old and 22 pounds of love. His favorite things to do are: drink from the tub faucet, eat his catnip in the garden, drop pieces of food in his water bowl to play with, sprawl on his back, doing what we call 'the flop' (after making muffins on my lap, he teeters and totters and flops on my lap). Wulfie also has a shoe fetish and loves to lay on our shoes.
He has a fan club at the 'kitty spa' and the vet office. Everyone is amazed at how big and beautiful he is. He's often referred to as a little lion.
He has many nicknames: Big Dub, MeowMeows, Wulfman, and Wulfie Chicken Caeser.
He's the best kitty ever and is very spoiled by his mom and dad.
---
Katrina (Kat)
By: Peggy Balle in New York
Kat is a 16 year old main coon who came to us as a stray and has stayed 16 years. She enjoys snuggling, sleeping, eating at just hanging out with you.
---
Precious
By: Mrs. Jane Hastings in Canvey Island, Essex UK
zzzz... wake me when dinner's ready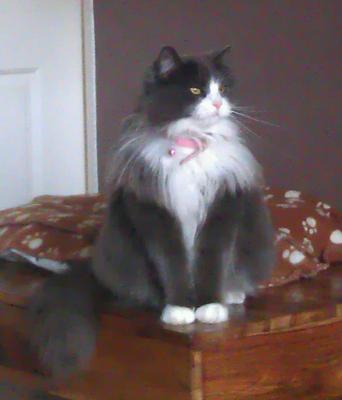 Precious..... Well named! Our precious princess
Precious came to us as a rescue cat after being abandoned at about 7 months old, pregnant. She was with a foster carer for the Cat Protection League where she had healthy kittens in March 2011 then found us in August.
She is gentle, sweet natured & the prettiest cat I have ever seen, pink nose, pale amber/gold eyes, grey & white with big white feet with tufts of fur between her toes.
She loves "helping" around the house & garden. I had never heard of Maine Coons it was during a visit to the vet when someone saw her in her carrier in the waiting room & told me they thought that was her breed.
Comments:
Fabiana: My cat looks almost like ur cat except my cat looks like he has a mask on just like a raccoon, always wants to be held acts like a baby will let u do anything you want but its strange he dosen't seem to meow when he tries a funny very quiet sound comes out.
Anne Hatch: What a stunning cat! So elegant and beautiful!
Haley: Your cat is sooo beautiful!!!
Barb: What a beauty! How could anyone abandon such a doll!
---
Sadie
By: Lisa Orsini in Fort Edward, NY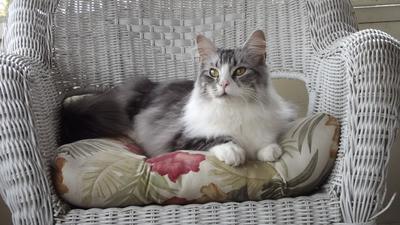 Sadie is now 1 year and 5 months (and 15 pounds). She's a purebred Maine Coon purchased from a breeder in Averill Park.
She is a true gentle giant, with a huge personality. She loves to snuggle, play fetch and play hide and seek.
Comments:
Melanie: What beautiful coloration she has. Very striking!
Andrew Lawton: Could you forward me the breeders name in Averill Park? I am in Amsterdam and looking for a purebred MC.
---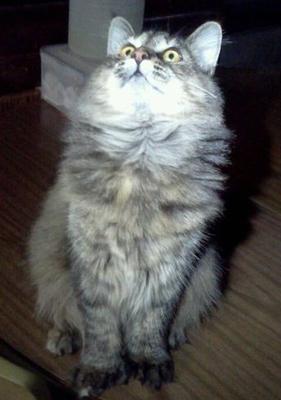 Daisy my seven toes baby
Daisy
By: Daisy Earl in Kalamazoo, Michigan
She has seven toes and is 2 1/2 years old
---
Pandora & Simba..
By: Jeanett D. S. Kristiansen in Nykøbing Falster, Denmark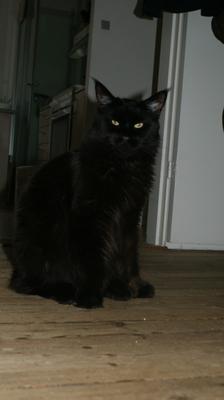 My 1 1/2 year old coonies.. :-D
---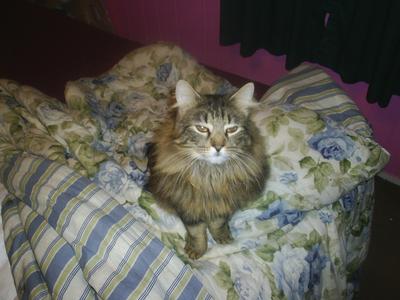 my handsome Brady
This is Brady, my beautiful Coonie
By: Jeff in Syracuse
My 5 year old Maine Coon who I resued after his mother was hit by a tractor trailer.
---
Sherlock and Dr. Watson
By: Dennis & Anita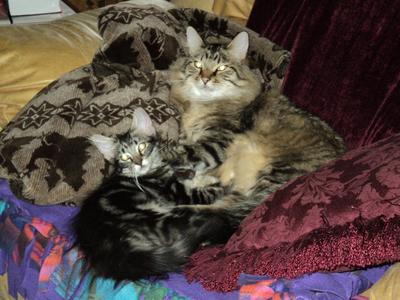 Someone is growing up fast!
More from Sherlock & Dr. Watson:
Dennis & Anita
Comments:
Danielle: I am so happy you got them both, and they really love each other. love D
---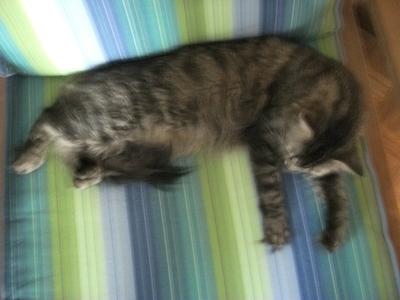 ..Ridlee..
By: Goatman
..adopted month ago..she is a peach..
---
Winston the cat!
By: Kiki in Fort worth, Texas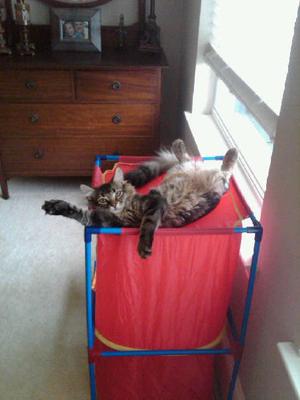 When Winston was about two weeks old, he got thrown out of some man's truck. My mom was driving on the road, on her way home from work, when she spotted little two-week old Winston, barely breathing.
She pulled over, to realize that Winston was a very dehydrated little kitty, his jaw was cut open (we could see his bottom teeth, and his eyes were barely starting to open. She took him to the vet, and he said that little Winston wouldn't make the night. She took him home, and managed to keep him alive, and well hydrated.
Later that week, we took Winston back to the vet, and discovered he had multiple problems, uncluding a URI, and his jaw was broken,. The vet was still thinking he didn't have long to live, but we proved him wrong.
For the next month, after surgery by surgery, and different kinds of medicines, our Winston was turning into a normal kitty. Soon we were able to expose him to the outside, meaning the living room. He loved to walk around, and he purred so loud when he was free, he loved having all of the attention that he got.
Our vet told us that Winston was a mutt, but one day I was looking through my kitty book, and found the "Maine coon cat" page, the picture looked identical to Winston, and so we addressed him as a Maine Coon ever since.
Winston is now three years old, and looking great! His broken jaw is healed up, and his fur is so long and beautiful, he is a very loving, and spoiled kitty. He loves to sleep in my room, and lay on my chest when I'm sleeping. I hope by the time I move out (in like six or seven years) that Winston will still be alive, and I'll be able to bring him into my own family.
Winston has been such a joy!
Comments:
Brent: Sad story about Winston, but with such a great ending!
Denny: God bless your mom for having the courage to save Winston. Curses on the guy who threw him out of the truck. I hope he gets the same treatment.
---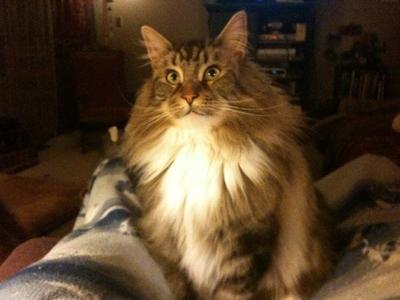 Sadie, Pretty Lady
Snuggling with a Maine Coon is an excellent way to spend a cold Winter!
Comments:
J Tyus: Beautiful!!
Anonymous: "Sadie Sadie ~ Pretty Lady"
---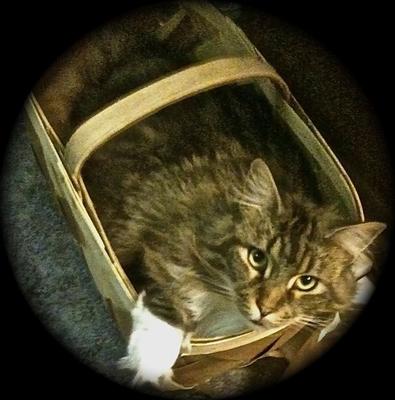 Natural Posers
Sadie
She is a beautiful and gracious cat! Carries herself with dignity and character.
---
Wiley and Coyote
By: Beth Davis in Ransomville NY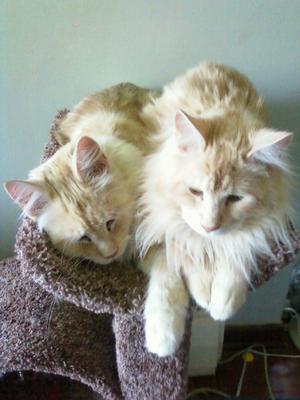 Getting big 1 year old
Note from editor: This is a nice update. For more photos of these two boys, Wiley and Coyote are also in the January Album!
Comments:
Beth Davis: R.I.P Little boy your brother Wiley will miss you and so will I...
---
Mad Max The Road Warrior
By: Carleen in Jacksonville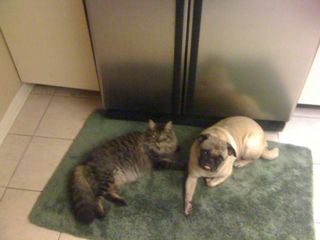 Max was thrown from a moving car, thinking he was being thrown over a bridge. I was sent to get him and all I saw were 2 cute little ears on a fluffy ball of fur. As soon as I got out of my car, he jumped into my arms and started purring. Max had a broken rear leg, split chin and scratched eye. He wanted NOTHING to do with the box I put him in, climbing out.
I dropped him at the vet, not asking what they would do to save him, knowing he would most likely be put to sleep. I have a dog and an an old grumpy cat already. Not to mention I could not afford the surgery that would be required. Two days later, I got a text and a picture asking if I would adopt him...Max was soooo sweet and purred so much the vet and clinic saved him and donated their time and resources. I went to see my little road warrior and fell in love....AGAIN!
Max is now my protector, constant companion and rules the house. He loves his pug, picks on the grumpy cat, talks non stop and loves the the shower!
Comments:
Lisa: Max is a handsome fellow - so glad you stopped to get him. You made my heart happy.
---
Merlin The Great
By: Mary Hall in Athens Greece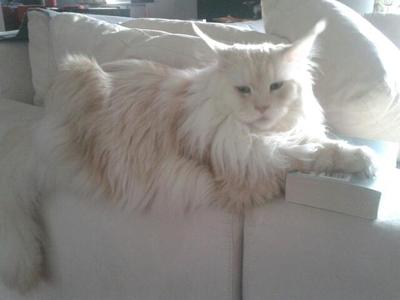 good book
Absolutely gorgeous!!!!
Comments:
Lorraine: What a lovely cat we also have a mc called Merlin who looks very similar to yours but he is more cream. Thanks for posting the photos he is stunning!
Heidi: What a Beauty!
Mary: We brought Merlin home thinking he was a male but turned out Merlin is a female .7kg and 2 and1/2 years old pure pedigree. We adore her despite the male name. It's magic after all.
Val: What a beautiful cat. I love his color.
---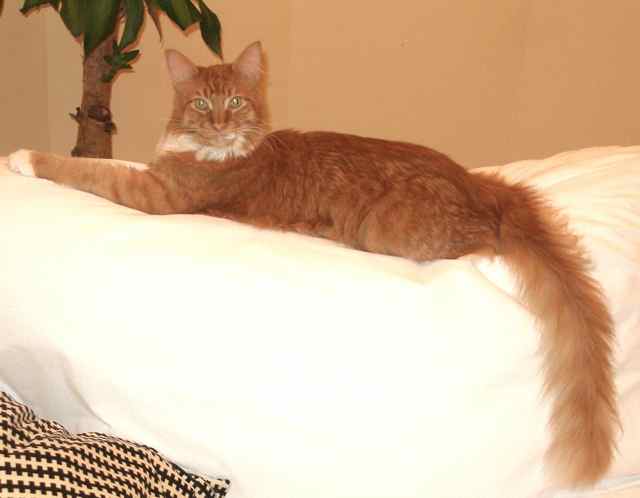 Hello I am Albert
Albert
By: John in Dubai
Hi I am Albert. I live close to Dubai, I was born in Birmingham UK on 2/11/2010 so you could say I am still a young guy right now.
My travel to Dubai was very nice flying Emirates but I did delay the departure by 1 hour as no one had checked in a Hansome cat like me before so I made the flight late. Every day I wake up and can see the beach and ocean and enjoy the sun here in the middle east, but in summer I do like the air con to keep me cool.
Hope you have a happy life like do
---
Leo, the GREAT kitty!
By: Penny in Huntsville, Alabama
We adopted Leo, after a young mother in tears begged me to take him. I asked why of course, and all she told me was she just didn't have the time for him. I finally figured out why she would be giving this beautiful kitty away.
We love our Leo, because if we didn't he would have been booted out of the house after his furst week here! He is LARGE and in CHARGE! I am an avid animal rescuer, dogs and cats. I am also a terrible *failed foster* which is why our 5 dogs allow us to live in the house with them!
Leo isn't afraid of anything, when he plays he plays ROUGH and HARD! My arms look like I have run them through a shredder! :) Since day one he let every dog know he was in the house now and things would be different.....and BOY have they. We have been a *cat less* family for two years now, our sweet calm Maine Coon boy that we adopted from the local shelter lived 16 years and when he let us it was awful.
Leo is far different from Breeze, which is great. We love Leo and all his strange ways, like going through the grocery sacks when we return from the grocery store, he really act;s like he is looking for something.
We love and most of the time startled by him as he lays in the kitchen chairs and smacks you as you walk by. He is a devil to everyone, but we think he is perfect.....might even be an angel! :)
Comments:
Lee-Anne: Your Leo sounds just like our Missy Moo. We found her dumped at 3 weeks old. She is a darling but she just wants to bite and scratch us. She thinks she is playing though. We have been training her with lots of NO's and GENTLE but when she wraps herself around our arm, teeth into us and thumping our arm with her back legs we have to peel her off and put her in the naughty cupboard for a few minutes to calm her down. We love her to bits even is she is really naughty. She is only 4 months old and I am sure she will settle by the time she is 5 years old. She has the biggest personality. is so funny and we love her to bits.
---
Dozer
By: Karen Conner-Beck in Parchment, MI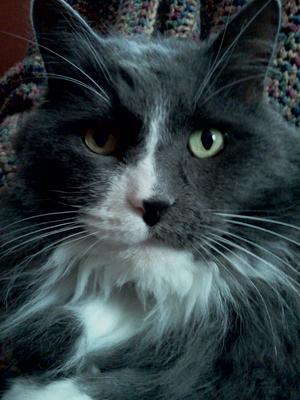 Dozer
In April of 2003 I came home to my then-apartment complex to find a huge furry cat coming out from underneath a car tire with a very loud and shrill Meow!
He was injured at the tail and all matted down and dirty after being out in the cold and snow (yes, we have snowstorms in Michigan in April) and also very hungry. I coaxed him up to the door, and my then-husband and neighbors got him inside the building and fed.
The neighbors provided the food and my brother gave us an extra litter box and litter to use, until we could figure out what to do with him. My father came over and said "holy cow, that's a big cat!" Three days later we took him to our vet and it was discovered that this cat was only about 2 years old, and besides the tail injury, there was nothing else wrong with him.
We searched for an owner for 2 weeks, and after none came forward, we had him Neutered and declawed. He now has over an acre of "yard" to call his own and he loves taking kitty walks on his leash, going to "grandpa's" for treats, and laying in every imaginable place in the house to sleep.
His name is Dozer, or Kitty Doze, or Dozer Kitty. he weighs about 19 lbs currently and is approximately 11 years old.
Karen Conner-Beck
Parchment, MI
Comments:
Andrew Lawton: While many people are opposed to declawing, it is mainly due to some who do so in a barbaric method. Current declawing involves the use of a laser and is humane. Our Maine Coon who had to have this done, primarily because her polydactylism was somewhat deformed, has no ill effects from the procedure. If humane declawing helps more cats get adopted due to less damage on furniture and possessions, then I think it should be a consideration.
---
Lexi
By: Steve Conner in Comstock, MI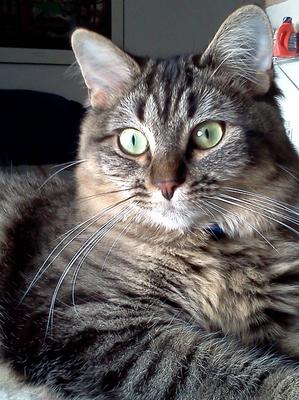 In January, 2012 a friend of my sister, who also has a Coonie, posted on Facebook that there was a female Maine Coon mix kitten available for adoption from the Richland, MI Animal Rescue.
I had been thinking about a new kitten for awhile after having to put to sleep an 8 year old female shorthair that was ill for quite some time. I went to the foster mother's home to meet the kitten, who at the time, was 12-16 weeks old. She had been rescued from the Barry County, MI Shelter on the very day she was to be euthanized.
I made a connection with her, and the next week after she recovered from her Spay surgery. I went to pick her up. Her favorite things are playing with colored "springs" and an old hockey skate lace, which she drags all over the house. The springs wind up underneath the stove and couch.
When I am at work during the day, she is in her favorite window watching the birds and squirrels outside. She sleeps on the towel rack in the bathroom and has a tail the size of a feather duster! She is now approaching her first birthday and has found her forever home! Here is Lexi!
---
Johnny Ray Menelli Mitchell
By: Jerri Mitchell in Council Bluffs Iowa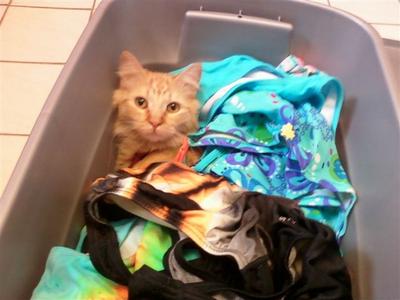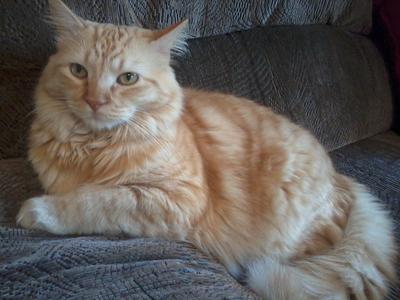 I picked Johnny Ray up from a shelter when he was 5 months old. I named him after my sister who passed away from cancer a few months previous.
He is 2 years old now and is very loveable on his terms of course. He likes to be held only if you are standing, try to sit and off he goes. If you are near any faucet and he is around he thinks he needs a drink and patiently stares at you and the faucet and back at you and etc. until you turn it on.
I love to listen to his chatter when he is watching birds. He wakes me up in the morning by head butting me hard and scratching at the blanket and he doesn't give up either. When I am getting ready for work in the morning I have to spend a couple minutes holding him and circling the bathroom so he can sniff and snoop.
He literally tries climbing up on me from the bathroom counter until I give in. I am hoping to get another maine coon or mix in the near future and it will be from a shelter again.
Comments:
Anina: I too have a red shaded silver Maine Coon, her name is Maya and - she insists on climbing on my shoulders when I get out of the shower. She is a gentle soul, your Johnny also looks like a calm cat (but with a dangerous habit!).
Janis H: He is so beautiful! : )
---
Mickey D our new cat
By: Brenda Ashby in Hill NH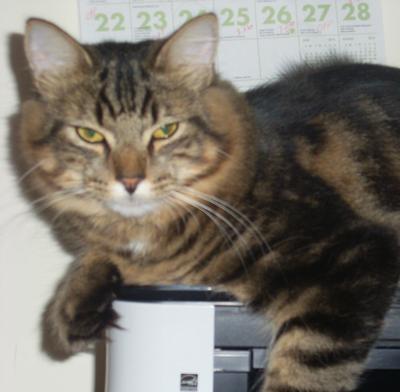 Mickey D came to use about 6 months ago. The Vet. thinks he is a Maine Coon. He was a very skinny an hungry kitten. We took him into our home of three dogs an one other cat.
I was to be amazed he got along with all of them very well. Even our Jack Russel who does not take too kindly to strange animals in the home. We had no luck finding his home so we took him to the Vets. Had his shots and got him fixed.
He has turned out to be my cat. Someone is missing a very loving kitten. The only problem I have with him is when we have company come over he panics. Wont come out even to use the box. I was wondering if it was natural with this breed to shy away like this.
My other cat does not like our company either but he will come out to use his box. I would be willng to read any suggestion you might have. I am moving the box so he does not stress out to much. My grandchildren love him but he scratches an bites them.
Comments:
Bettie Gould: Our cat, "Purrfect" looks just like Micky D. She is also very timid of strangers, declawed and loves to bring her toys to us to play with her.
---
Issibella
By: Donald W MacTavish in Biddeford Maine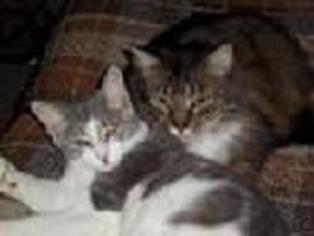 Izzy and Peanut
I got Izzy from a home that did not want her. She was to be put to sleep in a few days but I took her. She is 13 years old and the best friend a man could have.
I also got a kitten for her to play with lol. She is 7 months old. They do get along well after a little fighting.
Hello I am Issabella
By: Donald MacTavish in Biddeford Maine USA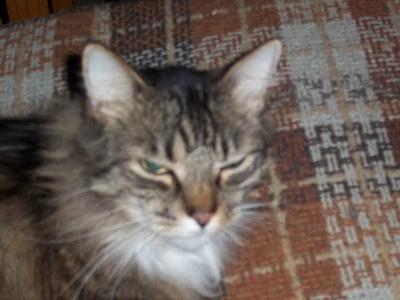 Hello I am Issabella
Hello I am Issy. I was born on 11-29-2000. I live in Biddeford maine with my owner and a kitten who is 7 months old.
I love to spend the night cuddled up with my dad and go every place he goes and watch.
Sometimes I like to play with the kitten or just push her away I loce to be brushed every day and be petted to. I dont like the water like my kitten roommate does but thats ok.
---
Dozer
By: Daisy Earl in Kalamazoo,Michigan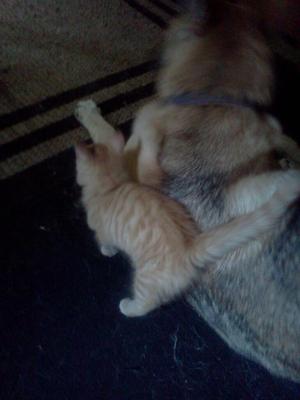 He is 4 months and he rules our big dog - its so funny to watch. You can tell that our dog enjoys every minute of it.
---
Misc. Comments:
Jennifer Wilcox: Re: Smokey, Timothy and Mina; All the kitties are so cute with their own personalities! The three I mentioned here look like my Max, act just about as goofy and are talkers! I've never had a cat before. He adopted me and he sure keeps me on my toes.
Disclaimer: When you buy through links on our site, we may earn a small commission.
As an Amazon Associate I earn from qualifying purchases.
Our Coonies use and love:
Greenies
4.7 stars; 3.6k ratings
Furminator for Longhaired Cats, Large
4.7 stars; 15k+ ratings
Double Layer Waterproof Cat Litter Trapping Mat
4.5 stars; 56k+ ratings