April 2015 Photo Album
The snow is melting, and these gorgeous Maine Coons are sure to melt your heart!

Ivan Der Riese. 10 mo old
By: Norma Follstaedt in Butler, PA
Ivan the king
Ivan is a rough and tumble "little" boy who has a real sense of humor and keeps us laughing.
He is around 18# at 10 months, and still growing. We definitely have fallen in love with this breed.
---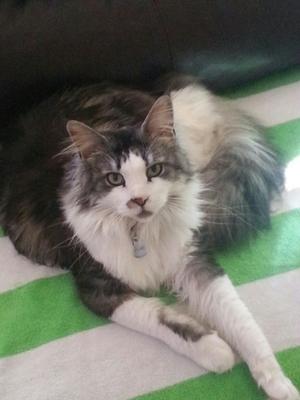 The Dutch Queen
By: Patty in Los Angeles, CA USA
Her ladyship, Sakia was born in the city of Rotterdam in the Netherlands.
Our family acquired her while we were living in Amsterdam after I was transferred there for my job. We were overrun with mice. After they ruined our Christmas morning by eating through the boxes our pastries were in.
We loved her so much that we went back to get her brother. Now they live with us here in California and we bless those mice for leading us to find these wonderful cats!!!
---
Mew The Maine Coon
By: Danelle in South Africa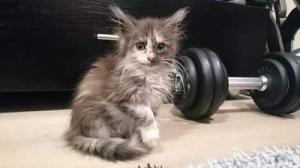 Mew is 11 weeks old and just loves attention! She hops like a bunny when she runs away playfully and she always rolls over so that you can scratch her fluffy tummy.
She loves to watch movies on mommys chest and sleeps on daddys back. The moment she is comfortable she will start moving her paws, digging her nails in the blanket, prrrrr until she falls asleep and stretch her body in the strangest positions.
We love her so much! :)
---
Tnor, The Hill and Valley King
By: Jason in Oregon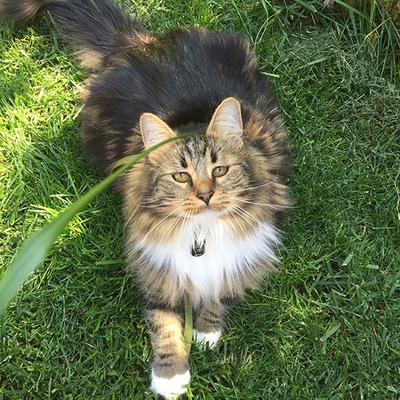 He is the mighty 11 pound (12 counting belly) Tnor. He likes to talk to you when he's not napping or chasing shadows across the wall.
Catnip is his vice, and social protocol requires the licking of beards and the nibbling of earlobes.
---
Loki Pawtooth
By: Heather in Melbourne Australia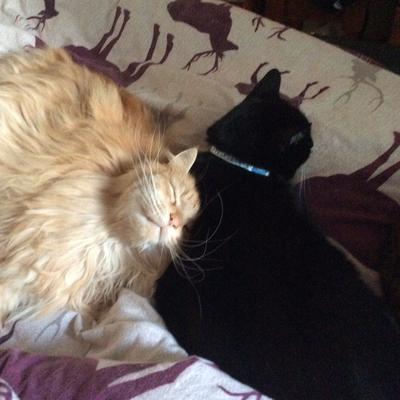 Loki is a two and a half year old classic brown tabby. I love his perfectly symmetrical markings. He's always ready for cuddles with mum and dad or his brother Thor and sister Siggy.
Loki loves hair-ties and has a large collection stashed under the lounge suite along with pens and bookmarks, etc. he also enjoys having his photo taken and will happily pose for family and visitors alike.
---
Einstein
By: Carrie Davis in MN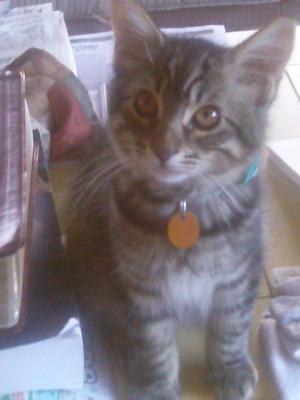 little Einstein
Einstein is a adopted part coonie from CA. We simply marvel at how big he is still getting (His birthday is 5/31). He's not quite a year old.
He's filling up spaces more everyday, and we often find him upside down and bent in the most awkward of poses. He makes us laugh, and we sure enjoy him as part of the family.
---
Judah- he sure is growing
By: Leanne in Hamilton NZ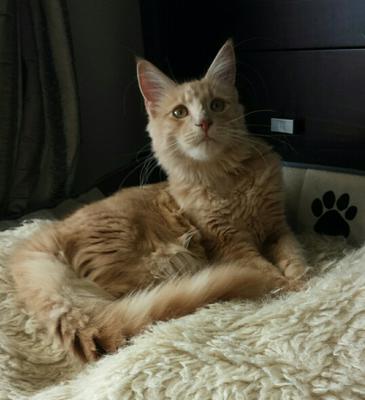 Big baby Judah
Thought I would send in an updated picture of our gorgeous "Judah", he is featured in the February album and since then has been doing a lot of growing.
He is now 5mths old and weighs in at around 5kgs!! His favourite place to relax is at the top of his kitty tree although as he grows he is going to find it hard to fit.
He has an amazing ability to leap in the air and spin around and catch things. His favourite toy is a mouse on an elastic string. He spends ages chasing it and when he catches it he proudly walks away with it in his mouth and hides behind the curtain.
I am sure he is going to be an amazing hunter as he has already started bringing in field mice as presents.
---
Loki - Full of Mischief
By: Cheryl in Melbourne, Australia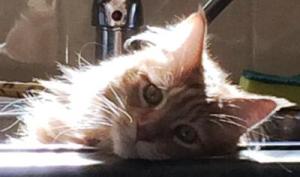 We got Loki when he was 18mths old from a breeder it was love at 1st sight. He has the most beautiful golden eyes.
He lives in the Granny Flat with my teenage son as I have a 16 year old White Russian, Cleo (with tortie colouring) who really does not play well with others.
We gradually started bringing Loki into the house for short visits to get them used to each other which seemed to be working when on one visit Loki got up high on a cabinet and knocked things down (which wasn't a big deal), but a very heavy jar fell and must have hit his back hip which unfortunately broke, so the poor baby had to get the ball joint removed altogether.
While he was on the mend my cat went to the granny flat and we kept Loki in the house so I could monitor him and also give medication when needed.
Loki would actually tip his head and open his mouth for all his medications - I've never know a cat quite like him. He has recovered but we are back to square one with cat introductions.
I just think it's so cute how he just chirps away at Cleo while she growls, hisses and carries on. It just doesn't faze him at all. I love everything about this breed.
---
Dr John Dee
By: Gemma in Ipswich Suffolk UK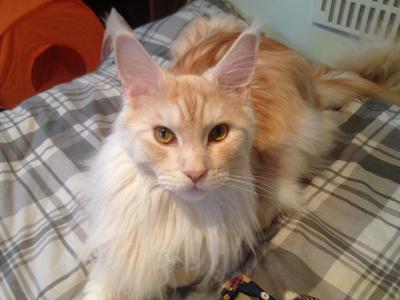 He is a Red Silver Shaded Tabby. He is such a handsome boy and knows it!! John Dees favourite toy is a red fish and loves doing flips trying to get it.
He will not sleep on the bed if his Daddy is here but will come and lie next to his Mummy when he is away. John Dee keeps her company if she is feeling poorly.He likes to sleep ontop of the tortoise castle keeping watch over his brother George.
He has two fur sisters Suzuki and Twinkle and during the day snuggles up with Suzuki in the little room with a giant crocodile soft toy. He loves his cat tree but gets a bit naughty when a the top and likes to swipe people as they walk past.
He is only a little over a year old and loves going outdoors and catching insects- he is only allowed out with Mummy. He is going to get a new sister at the end of May a Silver Mackerel Tabby.
---
Timmie L of the Bay
By: Becky Burciaga in Fair Oaks, CA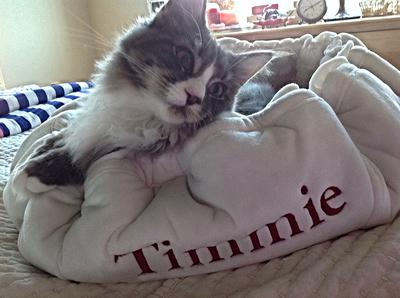 Timmie loves to pose
Timmie's name sake is Tim Lincecum of the S.F. Giants (we live in Northern California)...I picked her up from the breeder and brought her to her new home the day after Tim Lincecum pitched a No-Hitter in June 2013...besides that, Timmie's two litter mate brothers, Marco and Buster, also have Giants' players names, so even though being a girl, she needed a Giants' player name too.
Timmie is truly the epitome of the saying that a Maine Coons is a dog in a cat suit. Not only is she so very out going, friendly and playful, fetch being just one of her favorite games, but she is a pro at the fist/paw bump and head to head butts. She loves my grandsons, getting down and playing with them whether they are building with Legos or the Erector Set, or when playing video games on the iPad.
If a cat could be an Empath, I would have to say Timmie truly fits the description of one. It's been nearly 12 years since I lost my 20 year old son in a car accident. Even after all this time, I will still occasionally experience a breakdown over my loss and it doesn't matter where in our home she is, Timmie will either hear me, or sense my need, and come to provide comfort. She'll crawl into my lap and stay with me until the sadness has passed. No words are needed, she again seems to sense that her job is done and she'll go about her play as if nothing happened. There are times when she'll also "just know" to stick close, and will follow me from room to room, sleep next to me, which is not something she normally does...she has her own sleeping havens, away from my bed.
Timmie loves to be outside, (preferably in the front yard where all the action is) but knows it's only while on her leash does she get to go out...unless it's in her catio in the back...there she can lounge in the sun while trying to be sneaky and eat the leaves from her two legger mom's lilac bush, or even better, the maiden hair fern!
---
Kelimcoons Chloe Grace
By: Dunja in Goffstown, NH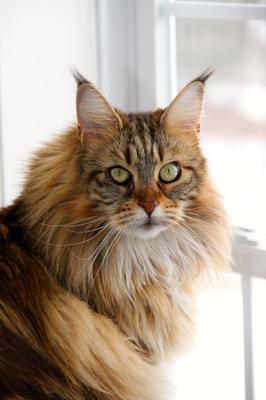 Chloe in her full winter coat
Chloe is a 5-year-old brown classic tabby MC. She gets a beautiful thick long coat in the winter. Check out her unusual feet... she has light long strands of hair over her toes!
She is a real sweet girl and slightly shy, but as soon as you take out the toys she is always ready to play. In nice weather she has access to a outdoor cat yard, which is completely fenced in with cat-safe fencing.
This way she can enjoy the outdoors while staying safe and protected. She has 2 Maine Coon 'siblings', Candy Cane and Murphy, and another brother who is a DMH.
---
Milo Time 2 yr old Golden Boy
By: Sherri Hingson in Lake City, Fl, USA
Milo's Photo Session
He Turned My Hubby Into A Cat Person: Milo adopted us 2 yrs ago in 2013 when he was just 5-6 mths old.
He belonged to our neighbor who was a single mom with 5 boys aged 3-10. My hubby was sweeping the carport and he came over to help. He then decided our childless place was a relaxing quiet place.
The neighbors gave him to us when they moved 3 mths later because he stayed with us more than he stayed with them. I did not know what a Maine Coon looked like, only heard of the breed.
A family member cat person told me this year that he was a Maine Coon. I looked it up and sure nuff, he had ALL the characteristics of a Maine Coon except his ear tip tufts which are very tiny & few hairs. You could say non-existent. He is a clown and keeps us in stitches laughing. He does almost everything everyone else said about their Coonies.
He is an awesome back yard mole eliminator. I love to observe him laying out in the open backyard watching and listening for those boogers. So patient.
We trained him to a cat radio collar (PetSafe system) to stay in our short fenced 3/4 acre back yard because we could not bear loosing him on our very busy rural suburb road. We have lost several cats in the past to cars.
He knows when the collar is not turned on and usually just hops the fence to sit & wait at the carport glass door and then gives us that Nah Nah look when we let him in. I am amazed at his agility and the heights he can jump for his large lumbering size. He loves our 2 Doxies and the mini Doxy loves to bathe his face and ears with her doggy tongue and he holds onto her around her neck and they take turns bathing each others face.
My husband is retired and is home a lot and every day when I get home, my hubby has a funny story to tell me about what Milo did and he tells it while laughing. He entertains my hubby & me so much, I could not imagine our lives without his silly nilly antics.
He was a big hit at Pet Smart, riding around in the child seat of the cart, laid back, taking it all in without a care in the world.
And, yes, he is a flopper. Flops down in front of you for a belly rub. Hubby called him Flopper for a long time instead of Milo until we both realized he kept growing and growing and getting bigger and bigger. Now hubby calls him Fat Boy. He is 17 lbs of solid silly floppy hairy Coonie and we just adore him. He is our first Coonie.
---
Boo-- Mr. Hollywood!
By: Jackie in Jackson, NJ
Boo at 8 weeks old
Boo is gorgeous, intelligent, and so loving! That's why his nickname is Mr. Hollywood!
He was a tiny kitten rescue. The manager of Petco said "You mark my words.... you have a Maine Coon there!"
So hard to imagine at the time, but the rest is history! Recently Boo turned 3 on April 12th, the day after my son's birthday. My son got the golf clubs, and Boo got the box-- everyone was happy!
---
Coonie in a basket
My Marley
By: Annette in Linesville, PA USA
Marley is a big part of our family. As you know, our Coonies are somewhat human.
He understand what I am saying and talks back to me. He was born almost 8 years ago in a wood pile near my sister's house.
He had 4 bothers and sisters who were all eventually adopted out. Mom and one sister is still in the family. Mom is a regular orange striped tabby but half of the siblings have the Maine Coon gene. Isn't he handsome!
---
Sensational Sabastian
By: Sandy in Tuxedo, N.Y.
Sabastian is our sensational half Maine Coon kitten. He'll be a year old soon and has brought nothing but joy to the household! I've never experienced such a wonderful gentle feline soul who wants to be around everybody.
The time of day I particularly enjoy is in the morning when I am just getting up. Sabastian is let out of the crate and suddenly he is up on my chest purring and making his bed while saying good morning.
I'm sold on Maine Coon cats whether full bred or half they are such a joy to be around!!
---
Another Cat Called Loki
By: Mary Elizabeth Walsh in St. John's, NL, Canada
Three Month Old Loki
Loki seems the purrrfect name for a Coon Cat! Our step-daughter brought this beauty home last summer when he was 6 weeks old.
He originally came from a litter of "barn cats". As soon as I saw him I knew he was a MCC. His temperment also gave away his breed. He is a pure delight to watch chasing his toys, attacking the dog (all in fun, of course!) & just naturally getting in trouble.
He can be affectionate when need be & loves to be groomed. He is now 9 months old & getting longer & heavier every day. He is a little devil & we enjoy his every antic.
His tail is almost as long as his body, fluffy & full. He also won't stay still long enough to get another picture but I'm trying & have my camera close by all the time just in case the moment arises. I'll keep you updated on this little (I should say "big") imp.
---
My Girl, Bobby-Jo
By: Kelly in Cannock, Staffs, United Kingdom
I re homed Bobby Jo from a friend who couldn't look after her anymore. I already have 3 cats but she settled in straight away.
She has the most beautiful temperament and chirp to die for, she's taken over the house and she knows she's a princess! She's 4 years old this June and she gets a lot of attention from the neighbors.
---
My Beautiful Girl
By: Diana Watt in Nelson, New Zealand
Soraya is around 4 we adopted her from Kjempecoons, as a retiree.
We have water in a bowl in the bath as she loves splashing it and one of her favorite hiding places is on the windowsill behind the curtain.
From outside you can see a whitish tummy and legs in the air poking out above the window surround. One of the coolest things about her is how she comes when called like a dog - but a lot faster.
She doesn't appear to be interested in hunting anything bigger than a cicada - which both she and Lilly (the Birman) consider to be free cat toys.
I upsized a cattree using a fencepost as a support and she often sleeps there - normal cat trees weren't big or strong enough.
---
Maybe Why They Are Called Maine Coon..?
By: Dennis & Tina in South Dakota

Garvy is our 2 year old Maine Coon. Last night he popped up to look out the window and my wife noticed the outline of another animal on his back.
With all the types of camo and animals you might know what it would most resemble.
---
Lil' Handsome Prince (January, 2015) Updated
By: Teri Northup in Midland, Michigan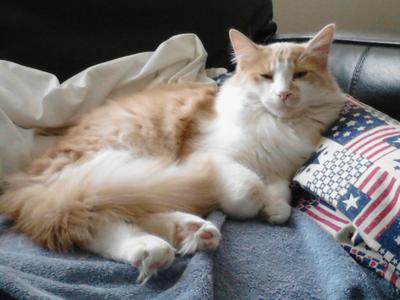 Prince's Toe fur
This is an update to January, 2015, when I shared his rescue story. Handsome Prince is growing more fond of pouncing and running. He loves to hide under the various items draped on chairs, couches, even his furniture and wait for me to walk by.
He pounces on my toes or jumps up with his white paws thrown wide to claw me - but he doesn't make contact. I know he loves to hear me squeal as he runs away. I just love this 10 month old kitten.
There are some pictures to share of his long hair in all of the many places and even a picture of him looking regal. Don't be fooled though, he will fly up and run off without even thinking about it. Our home is his playground and I wouldn't have it any other way.
---
Best Cat Ever!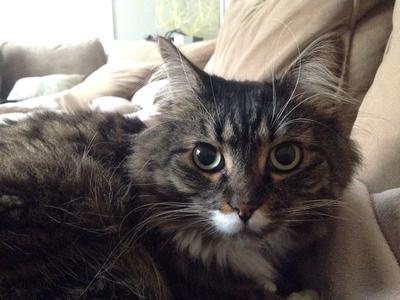 My Maine Coon Cat (mix?) is Potter. He is now about 6 years old.
He is definitely the sweetest snuggliest cat I have ever had the pleasure of caring for. He loves to snuggle up on my chest, knead into my neck (sharp claws or not) and drool all over.
He even got a report card from the boarding place with a remark of "Best Cat Ever!". So now I know it really is true and not just my biased opinion. :)
---
Byren My Gorgeous Boy
By: Nicola Monaghan in Cornwall
Big floppy loving boy loves having his belly stroked. 7 years old now; last time weighed at 9.8kg.
(Note from editor: Nicola, your pictures didn't come through - This happens when they are large files, meaning high quality photos. There are tips here for editing photos for the web, if you'd like to try again. Without an email address, I was unable to contact you.)