April 2013 Photo Album
Welcome to the April Photo Album - Prepare to be showered with beautiful, colorful Coonies!

Calvin the Coon
By: Hannah Cartmell in Derby, UK
Calvin is my beautiful 5 year old Maine Coon who has a lovely cream coat with peach coloured markings.
He's a big lad weighing a hefty 26 pounds but he's a softy who loves lots of cuddles and will follow me around the house wherever I go. He also loves to play fetch.
---
Miller
By: Anne O'Neill in Dublin,Ireland
This is Miller, our beautiful Maine Coon that was found abandoned in an empty beer crate. He was christened Miller after the brand of beer that was advertised in that crate lol.
We had him for a mere 5 weeks when myself and the wife had to go on a holiday break to Budapest in Hungary. He was being looked after at my father's house but unfortunately he managed to get lost and we thought he was gone for good.
My wife put ads on line in the hope that someone would respond, but to no avail. Then we decided to make up some flyers with a pic of Miller and an offer of a small reward. We placed the flyer in my father's local shop windows, a couple of months had passed when my wife got a call on her cell phone. A neighbour who lived up the same road as my fathers described Miller to a T.
She said that she had been rudely awoken in the early hours of the morning by an intruder. She was terrified it might be a (cat)burglar until she heard Miller's meowing. He had perched himself on top of her opened bedroom window. She took care of him for a couple of days and decided to take him to the local vet.
The vet then transferred Miller to a cat and dogs home on the foot of the Dublin mountains. Myself and the wife were delighted that he had been rescued as we feared the worst and thought we might never see our adorable cat again. I felt guilty and responsible for losing him in the first place.
That was three years ago and Miller has been a fantastic pet. he is gentle, affectionate, funny, intelligent and playful. He behaves more like a dog than a cat and loves to play hide and seek and fetch. These pics are quite recent and he has shed quite a bit, but you can still make out all those Coon traits.
Comments:
Chuck: Man, that is one helluva looker ya got there.
---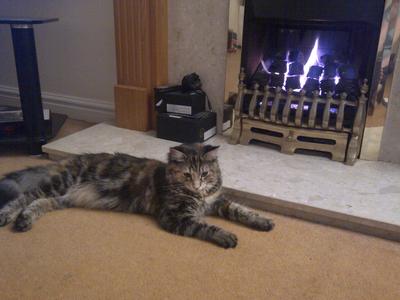 Meet Titch
Titch is a 6 month old female Maine Coon, very cute and very loving.
Comments:
Paula Goss: Titch was a stray found wondering lost meowing, skinny and hungry, we put posters up and advised local vets but noone came forward, she is now our 7th stray cat that lives with the other 6, they are all housecats as we live on a main road, but she loves being in and adores our tabby bengal called Tess.
---
Mr. Monty
By: Belinda in Nova Scotia, Canada
Monty was adopted from a breeder in the state of Maine at 5 months of age.
When I brought him to the vet to have his needles up-to-date, they noticed an enlargement around the kidney area. After ultra-sounds and blood tests, it was confirmed one of his kidneys was enlarged and appeared there was no function at all.
An appointment was made with a specialized hospital 8 hours away. Once the surgery was completed, it was confirmed that the enlarged kidney was actually a cyst and no function at all. The breeder had never returned my calls or e-mails.
Today he is a healthy boy of almost 5 years old and 16 lbs. He is my pride and joy. He plays fetch, and tries to catch the ball before the dog does. And loves his picture taken.
Comments:
Karen Osborn: He is a beautiful majestic cat
Liz: Monty is the twin of my Rufus, all the way over here in the UK! He is such a handsome boy and basks in all the compliments he gets :)
---
Lily and Laynie
By: Wendy in Easton, PA
This is our 3 year old beautiful Maine Coon Lily. She is pictured here with a new addition to our family.
She, Laynie, was a stray in our back yard this winter, and we felt so bad for her and could not resist her loving nature.
In only 2 months, she and Lily have bonded, and it is so sweet to see Lily mother the new baby in the family.
---
Maine Coon in Chile
By: Marcela Alvarez Roga in Longavi, Linares, Chile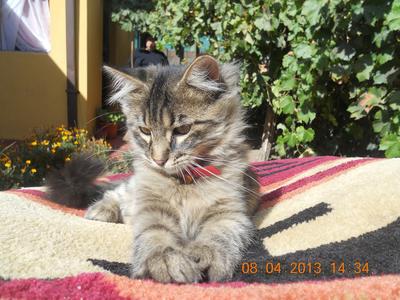 6 mess
A beautiful cat. playful, with very soft fur and long, over 6 months and is exquisite.
---
Chika
By: Denise in South Afica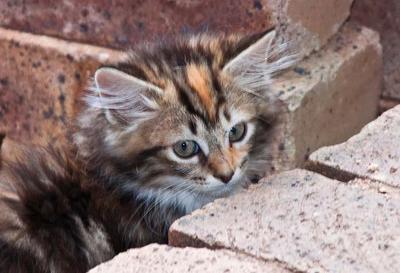 She is six months old, gorgeous,cute, funny and very independant, super fast and loves playing.
She is spring loaded and loves trees and anything where she can show off her skills. Can be loving and affectionate but disikes being picked up which is hard as she is so cute.
She paticulary likes going out after sunset and catching flying insects and eating them and is totally obsessed with birds. Best Xmas present I ever had she is my special friend.
Comments:
Norma Ardesson: Your cat is VERY beautiful -- I have a Red and White Maine Coon that is 10 Months old and she is very beautiful and such fun!!!
---
Big Boy
By: Joanne Dayton in New Jersey U.S.A.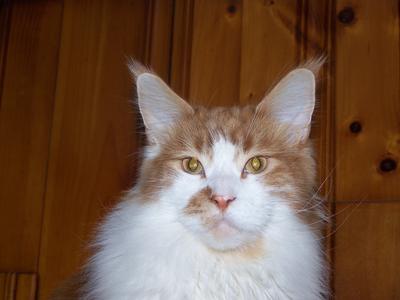 Our Maine Coon is 7yrs.old. He is our big boy and a gentle giant. He love to sleep in bed with us and our 2 min pins, and if there isn't any room he will sleep on our back. He loves to be involved in everything we do. If we bring something into our home he checks it out and then sleeps on it. He loves water and loves to drink out of the sinks. Every night he lays on my lap and watches t.v. with me and then falls a sleep on me. I think he thinks he's a dog some times he comes when he is called and he talk to us all the time. We love him very much he is our gentle giant.....everyone should have a Maine Coon - they are the best.
---
Willow
By: Betty in Waltham, MA
We just adopted Willow, who's five months old, a few days ago from a wonderful breeder in NH.
She's as sweet as can be, and her fur is so incredibly soft. She loves the plastic spring toys, as well as the track ball, and as soon as you pat her, she turns on her purr-motor. She's growing so quickly, too!
We're looking forward to many years of joy with this beautiful little girl.
---
Huckleberry, Phin, and Beau
By: Ware Cornell in Weston, FL, USA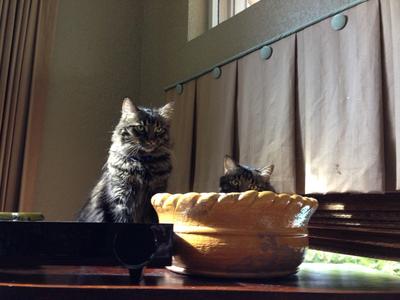 Twins
Three Maine Coons we rescued in December 2011 from the Broward County Animal Shelter the day before they would have been destroyed because they had colds. We then had to force-feed them for a week or so because they could not smell their food and had lost the instinct to eat.
All are thriving. Phineas who was the sickest is the alpha (among seven cats). Huckleberry and Phineas are twins, or as close to twins as cats can be.
Comments:
Debbie: Thank you so much for giving these fellows a chance! I am so happy they are doing well.
---
Mr. Murphy quite the poser...
By: Bill in Shreveport, USA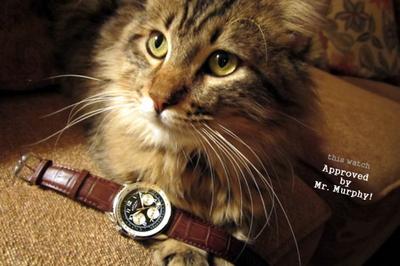 Mr. Murphy loves to have his photo snapped. It's as though he knows what is expected and gladly complies.
Here he poses with his favorite bear and a couple of his dad's watches! We love this big boy!
---
Grimm
By: Anjel M. in Pullman, WA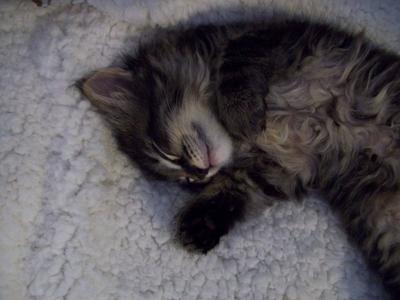 First night I brought him home
I found Grimm at a pound after searching everywhere for a little Maine Coon baby. I took this picture the day I brought him home when he was only 4 weeks old.
He is now 1yr old and the biggest trouble maker around but I love him to death. I have owned a Maine Coon before so I'm perfectly prepared for what this little fluff will become and I can already tell he's going to be a big one (I just hope he grows into his ears soon because he's a little funny looking right now).
He absolutely loves being held and packed around like a baby and even lets my 4yr old niece carry him around but he is growing much faster than she is so I doubt that will go on much longer.
After owning my first Maine Coon, I vowed to never live another day of my life without having a Maine Coon in my life and I plan on sticking with that vow because they are such amazing, loving animals.
---
Prince Charlie
By: Nancy Hemsworth in Saint John, New Brunswick
I purchased my Maine Coon Cat from a local pet store that brought in cats from ca-r-ma (cat rescue maritime) I donated $30 and brought Charlie home.
He is 10 months old and I am in love with my new fur baby.
---
Quincy
By: Dan & Kris in MN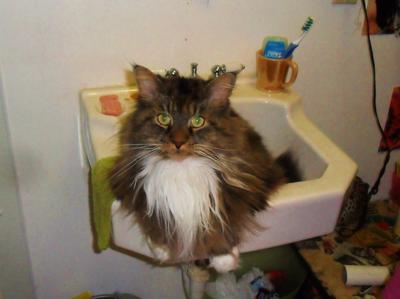 He makes himself at home anywhere and everywhere!
---
Leo the Lion
By: Sandy Brown in Worcester, Mass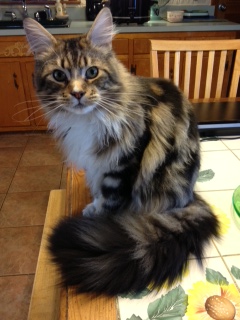 I am so Handsome!
My 10 month old Maine coon kitten, named Leo the Lion, is everything to me.
He is so comical and makes me laugh every day. I love how smart he is and knows his name. I just call out Leo with no kissing sounds and he comes running every time!
He's such a theif too, he loves wrappers and if I eat tootsie lollipops he insists that the wrappers are his. He's not interested in them if you hand them to him instead he prefers to steal them when he thinks your not looking.
He lives up to his name to because he has a tail exactly like a racoon and he has nice lynx ear tips. He really doesn't meow it's more like a cooing. His favorite is to sit by the windows watching the birds. He loves my enclosed back porch.
He loves my dog Snickers and Snickers, an English Springer Spaniel, feels the same about him. I have pictures of them cuddling. I love watching the animal planet channel and its so funny because Leo will watch it with me when he sees cats or dogs on it.
He's even made my husband love him and my husband normally doesn't really care for cats. That's saying something! We just love Leo and for so many great reasons!
Comments:
Debbie: He is a very beautiful Kittie!!! One thing I found amazing is how he learned to turn on the radio when your out LOL!!!!! Smart Kittie!!!!
Elise Light: You forgot to mention how he turns on the radio on blast for you everyday before you get home from work LOL
Jillian: That's sweet that your hubby loves him now too. :3
Pam Carr: What a handsome boy. He looks just like my beautiful Katie who brought so much joy to my life. Cherish your little boy.
Kathy: I have a Leo, my maine coon is1 yr this month, only I registered him as Leo The LionHearted...and he looks alot like your Leo !! He also comes when we call him...and he "fetches" small balls and actually brings them back !!! So much fun to have a Maine Coon in our lives...!
Miss Persia on the lawn patch
By: Tina in Central Point, Oregon
Miss Persia on the lawn patch
Miss Persia was a rescue from the pound. I had lost my precious Maine Coon Regis a few weeks before and I was so lost and lonely. Miss Persia is a sweet, talkative kitty.
Comments:
Jessy: Are you thinking she's part Persian?
---
Our new Maine Coon... and our third!! Hoover!!!
By: Lia in Santa Rpsa Beach, FL
For my birthday, we got our third Maine Coon boy. He is just beautiful!! So far a very lovey lap Coonie!
Our orange Maine Coon is very curious and appears to want to be friends... BUT.. our Hobie, the first Maine Coon we have, (they are both 2.5 years old)... is very angry and is hissing and yowling. He can see the kitten behind a glass door.
It only has been 24 hours so I figure it may take awhile for Hobie to adjust. We have let the kitten out to roam while the other two are locked in our bedroom for awhile. Hobie, when let out, is hissing and yowling. Boy.. o... Boy.. can't wait until he is at least tolerant.
We have given extra loving.. treats... tried not to disrupt the routine. He even hisses at the smell of the kitty on me. Any other suggestions? Otherwise we are so happy with our new coonie boy! WE got him from our breeder, ICOONS... (Lisa)... and our boy has top champion bloodlines... to us.. he is a new addition to our angels...
Thanks,
Lia in Santa Rosa Beach, FL
Comments:
Magda Mae Bowman: Lia, we have a 13 wk old MC Male Kitten from ICOON who joined his half sister who is one 1 year old. Both sired by GC Rovio. There was a small amount of hissing and under the breath growling from Sophie but kitten Loki ignored it. My husband Ed & I each got a want play toy and made a game out of it and things quieted down almost immediately. After 8 days they were playing on the same perch with Loki grooming himself on the back of his sister, Sophie. Yes, it is very comforting to know this is going to work.
Laura: Patience. Our current Coonie was 9 mos old and I rescued a tiny kitten not six weeks old. He was quite angry. For a few days but then "mothered" or "fathered" I should say. They are now two and almost three and best of friends. O'Mlalley still tried to take care of Cody. They will adjust.
Cat W: Zelda was like that when we first got Link, and it sends to just be typical Coonie behavior! Don't let him being vocal etc. put you off letting them interact, it's very rare that an adult well actually hurt a young 'un! They'd rather just walk away or maybe a little rough telling off :P just supervise them and hopefully they'll end up like mine; will play, eat and tolerate each other, but will never sleep next to each other! :)
Magda Mae Bowman: Lia, we have a 13 wk old MC Male Kitten from ICOON who joined his half sister who is one 1 year old. Both sired by GC Rovio. There was a small amount of hissing and under the breath growling from Sophie but kitten Loki ignored it. My husband Ed & I each got a want play toy and made a game out of it and things quieted down almost immediately. After 8 days they were playing on the same perch with Loki grooming himself on the back of his sister, Sophie. Yes, it is very comforting to know this is going to work.
---
Clementine loves sinks
By: Sydney and Steve in Ferndale, MI

Clementine is an almost 2-year-old Maine Coon mix who loves water. She and her brother Cooper are often found rolling around in the bathtub as the shower drains, but the day this was taken she was sleeping solo in the sink.
Comments:
Jessy: Oh my darling Clementine!
---
Cooper the climbing cat
By: Sydney and Steve in Ferndale, MI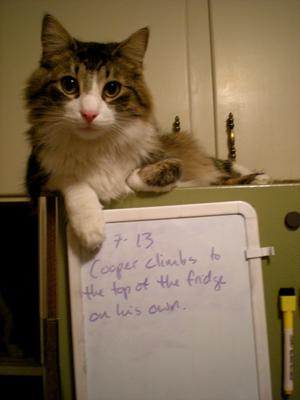 Cooper is a Maine Coon mix who is almost two.
His sister, Clementine, can jump to the top of the refrigerator on her own, but he struggled make it up there.
The day this was taken, he had just figured out how to climb on top of the fridge using a nearby bookcase. He was very proud.
---
Introducing Mouse and Foxy!!
By: Amber in Montana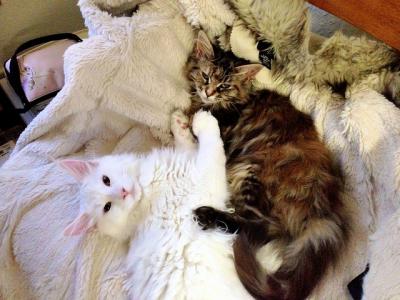 Together forever
First we have Mouse (Mousie) - What a personality!!
He is nearly 10 months old and 12 lbs of pure love XD
He continually, every day finds new ways to delight us. I think he is crazy ... he loves everything. Box duty (making sure the boxes are easily jump-in-able... making sure the traction is good .. can't be sliding around all the time when you jump in now can you?), helping us put away groceries (he thinks he is helping when he touches everything *nods*), helping us cook (gotta get on the counter and watch every movement to make sure we do it all just right), and other general zany things.
He also has this out of ordinary fascination with his water fountain. He likes to sleep on the bowl. It gets his fur all soaking wet and ... knatty but he really loves it. It seems like it calms him - and he has been doing it since he was very little.
The thing I love the most about this little guy - is our special relationship. My husband said it doesn't happen to him at all , so it must be something reserved just for me.
When I am sleeping in the middle of a night, all of a sudden out of nowhere mouse will get on the bed, find where my arms are and FORCE himself into them so i'm cuddling him tight .. he will always place his head under my chin and continually move and squirm so that his head is against my heart or near my face. Then finally, once he has stopped moving around so much .. he falls fast asleep cuddled in my arms like a child.
So now time - for Foxy!!
Foxy is our 10 lbs 8 month old Tortie colored Maine Coon that we bought as a companion for mouse. He just seemed too lonely. The other occupant of this house is a 10 year old persian who is very standoffish and won't have anything to do with him. So after we talked to mouse's breeder , we decided to bring in another little girl from a different litter to grow up with him.
She is a sweet heart XD She has quirks of her own , though she does seem more 'normal' and laid back like other cats I've known.
One cute thing she loves to do is play with her food. She will nab a piece out of the bowl with her paw and then play with it for a bit - batting it like a toy before gobbling it up. Rinse and repeat XD Hah XD
She is also a big cuddler , but prefers daddy's lap to mom's arms.
I'm so happy my baby kittens have each other - they really adore each other and sleep/cuddle all of the time :)
Comments:
Martha J. Jimenez: I have a 9 month old male Ragdoll (seal bi-color) that looks just like Mouse; nearly the same face.
Arlene M. Baladi: What beautiful Coonies you have...Love Mouse and Foxy!
---
Sinks are so attractive
By: Liesbeth in Netherlands, Europe
Missy and Kaspar are seven months old and love running water.
---
Sophie and Loki
By: Magda Mae Bowman in Freeport, FL

Sophie is a 1 year old Maine Coon cat whose privacy was invaded 11 days ago by her half brother, Loki, born Dec. 31, 2012.
Both were sired by GC Rovio at ICOON in Youngstown, FL. My husband Ed and I are thrilled that after 8 days of very little rejection from either one, they are now sharing everything, even the litter box.
Loki's name means "God of Mischief" in Scandinavian mythology and he's showing it. Sophie is a "cool cat", not much of a lap cat but Loki is making up for it.
Half brother & sister and two entirely different personalities make it even more fun for us.
---
Cookie
By: Rosa in Portland Oregon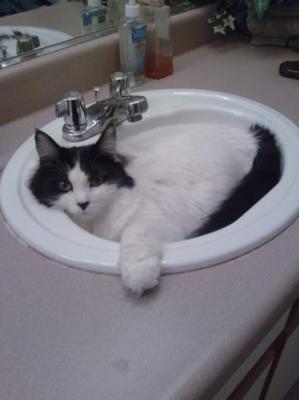 Her name is Cookie because she has a black face a black butt/tail and a almost completely white middle like an oreo cookie (except for one perfectly round black spot on her back)
---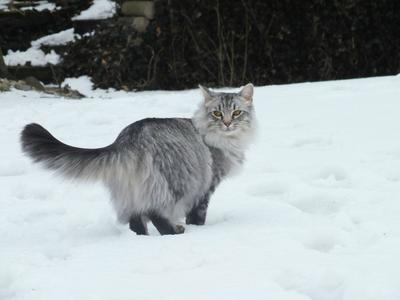 Pearl
We adopted Pearl when she was 6 weeks old from the pet store next to my work.
She is 1 1/2 years old and loves to play outdoors. She definitely has a personality all her own and loves to have her picture taken.
Comments:
Jo: What a great photo and Pearl is gorgeous!
Christine Iqbal: I have a cat of Siberian Forest cat type who is identical to Pearl! Her name is Su-Li and she is eight years old a!nd very beautiful.
Arlene M. Baladi: What a beauty Pearl is...my goodness she is absolutely regal.
Clint: What a beautiful cat. Great picture of her in the snow.
Christine Iqbal: Pearl is a beauty. Our Princess Su-Li is her double!
Debra Zemke: Absolutely beautiful!! She certainly does love to have her picture taken... it shows, she is standing much the same way you see the movies stars stand on the red carpet at the Oscars! Glamorous Starlet she is!
---
Horatio
By: Cindy Stansfield in Waverly, NY
I found this 'little' baby in the middle of the road on the way to work one morning.
He was covered in fleas and ticks, and had blood all over in his fur. I zipped him to the vet, he rode on my lap the whole way down just purring!, and the vet told me he was about 4 months old and a Maine Coon.
His is now about 8 months old and weighs in at 11 pounds. He is completely deaf, but don't let that fool you, he is VERY VERY loud! He meows loudly to get us up when he's bored, and to call the other cats when he wants to play.
Horatio is a wonderful addition to our crazy cat family.
Comments:
Jayne Hann: What beautiful green eyes he has! He is stunning!
Kim Schieven: Wonderful story, beautiful boy, you are his hero and he will love you back in the special way a Maine Coon does. As I understand it a percentage of white cats (blue eyes?) are deaf but he will do fine with your understanding. you are his hero, he is your blessing. best wishes!
Denise Hamill: what a beautiful story
---
Platoon
By: Deanna Sullivan in Canada, B.C
Platoon is about 8 months old and our first cat that we have owned together, she is new to us.
We got her from another home at just a few months old she is in a great new loving environment and I have never fallen for someone so quickly in my life.
Platoon is full of surprises and brings an amazing energy to our home. She reminds me a lot of a dog, greats us at the door she LOVES to have baths we bath her maybe once a week, and every bath I have she sits with me plays splashing games with me.
She is very protective over me and my partner and is the cuddliest friendliest kitty ever. I wanted to put her on here as she is the cutest cat ever and does very interesting things which brings funny pictures to share.
Comments:
Karen Civitella: This is one adorable cat!!
---
Daisy Mae
By: Lora Hammon in San Dimas, California
Helping Mommy do Homework
Daisy came into my life on July 2012. I tapped on the glass of her cage and she rolled over. I knew then that she was the one for me.
The shelter told me that Daisy was 2yrs old and someone had left her in a vacant lot where they found her. She chirps in the morning when she wants to be fed.
She plays with her feather sticks and I put a cat tower right by the window where she can watch the birds outside. Daisy follows me and my son from room to room and she loves playing in the water. She even helps me wash dishes.
She jumps up on my computer table and lays right next to me the whole time. I feel so blessed to have her love and affection and I look forward to many years together.
---
Killer
By: Courtney in Baton Rouge, LA, USA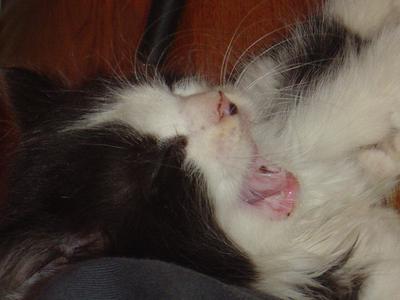 Just a baby
This is Killer. His name may give him a bad rap, but he is actually the most loving cat in the world. He was rescued when he was just 8 weeks old in 2004, and he has been by my side ever since. His name came from the fact that as a kitten, he ate like a killer whale- he never stopped eating! With his coloration patterns (and my love for orcas), his name is almost ironic because of how sweet he is.
He is a momma's boy through and through, but he gets along with just about everyone. He is very possessive of me, but he knows to share me with his fellow cats and the dogs. He loves all of our other pets, but he doesn't get along with strange cats that come to our house. He is declawed, but he still climbs and bats as though his claws are still there!
Some of his favorite things are cat nip, cat grass, playing in the garden, drinking water out of the bath tub, climbing on your chest/stomach and sitting his massive 22 pounds there, playing in boxes, and having his tail scratched.
His nicknames include Big Baby (because he really is just a 22 pound baby), Keeyer (how my niece pronounced "Killer" when she was a baby), and Tom (my dad says he's just a tom cat).
Fun fact: Killer was also captured by the Google Earth camera! His fluffy tail is seen on Google Earth in front of our neighbor's house.
---
My Beloved Kat - Beautiful MC Mix
By: Robin in San Antonio, Texas, USA
I adopted Kat when she was just a very young kitten. At the time, no one asked or really "cared" (or knew) what breed mix she might be. I just knew she was the most beautiful cat in the world with her gorgeous sparkling baby blue eyes, long fluffy tail, her "toe fluff" and her beautiful all-white hair.
y daughters and I often looked at various photos of white cats but none REALLY looked like Kat. It wasn't until Ruby came into our lives that I started to see the resemblance. Ruby was a full MC with a long pedigree of award-winning show cats. Standing side-by-side, I started noticing how much Kat and Ruby shared in body structures - Kat's facial features/bone structure was exactly like Ruby's. Her ears were very similar with long tuffs of hair and little wispy tips protruding from the points of her ears. Her tail wasn't as long as Ruby's but almost as magnificently fluffy. The growth of her hair (fur) was like Ruby's and she was virtually the very same size. Her average weight was 12 - 13 lbs. She was a little shorter than Ruby though in height but the general shape of her body was the same. Her paws were quite large, just like Ruby's, too. I started suspecting the possibility that she may be part Coon, but it wasn't until after her unexpected death at age 13 that the pieces of the puzzle started to come together.
My Ruby was now alone and needed a companion. She missed her big sister Kat. I went back to the same breeder where we had got Ruby and brought Susie home. She was a 3-yr old show cat who came from the same pedigree line as Ruby so she was a perfect match for us. The breeder asked about Kat and I showed her several photos. Her first response: "She's one of the most beautiful Coons I've ever seen!". I told her Kat's story and after further "investigation", she agreed that although Kat may not have been a full-blood MC, she was definitely a mix. At that moment, I felt proud!
Ruby and Susie received a baby sister last summer - a beautiful little all-white, polydactyl, full-breed MC kitten named Pinkie. Watching Pinkie grow (she's 13 mos now), I relive more and more memories of Kat. Other than her eye color (Pinkie has golden/green eyes), I think the older she gets, the more she's going to look like my beloved Kat. It's pretty amazing!
Comments:
Arlene M. Baladi: What a beauty your Kat is...SO adorable!
---
Nick the Cat named for the Christmas Nicholas when he adopted us
By: Helen in Yankeetown, FL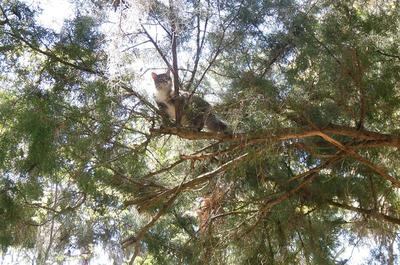 Nick the Bird
Nickie recently took to climbing trees and looking at the world above.
He was very cool about it, no panic and when he bored of playing Nick the Bird he easily climbed down and came in the house.
---
Zelda - female tabby
By: Cat W in Portsmouth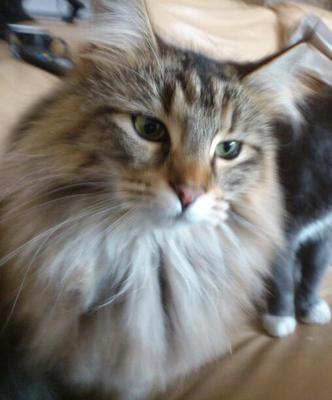 Zelda, anticipating cereal milk!
Zelda is a feisty and very vocal Maine Coon! She doesn't hesitate to put our other cat in his place, but is also an incredibly affectionate cat ( in her own time :p)
She also loves being groomed, and demands to be brushed every night when I get in from work :)
---
My Beautiful Maine Coon Sissy
By: Angela Atkins in Kalamazoo, MI
My Sissy-moomoo came into my life three years ago as a cute fluffy kitten, and I had no ideal what kind of breed she was until I asked the giver of her.
She has over passed the size and wieght of my other cat Kea-Kea which is a long-haired tabby. Why I call her Sissy moomoo is that her colors remind me of a cow, which I do colect cow items.
She is my love and youth, she is three years old but still acts like a kitten. All ways wanting to play her little games. She loves to get her daily drink of water right from the tap, but will drink from the bowl.
When she eats she grabs a few from the dish and puts it on the floor then eats, why she does this I do not know. She is so funny. At night she crawls into bed with me until I fall asleep. And then she goes to play with Kea-Kea, and her toys.
---
Peanut Turns One
By: Andy in Mohnton, PA
I adopted Peanut when she was 3 months old. She is a very sweet little girl who has all the characteristics of a Maine Coon.
Always active and playful. Likes her lap time and treats. Gets under my feet when I get home. At times it is just easier to pick her up and carry her, rather than take the chance of stepping on her.
Celebrated her first birthday (April 4) with a birthday cake and treats . She weighs a little over 9 pounds. With small paws (not so common with Maine Coons)
I don't feel she with be that big. Which is all right with me!
---
Bentley
Our Sweet Bentley
By: Alan in Holbrook NY
Such a sweet friendly loving Maine coon.
Comments:
Judy Holmes: Hi Alan I have a Coonie like Bentley too sweet and gentle. from Australia
---
My Beautilful Tilly
By: Sylvia Cheel in Ottawa, Canada
She is an awesome cat but more than that she's a friend, she walks on leash and glad to see the snow going as she loves to catch bugs, flies you name she will go get it.
I have looked at all the pictures everything I see she has done, her fav game is hide and seek especially if the door is open, she will and look at you and just as you go to pick her she off running again.
Love, love, love my Coonie.
---
Missing Photos: The following submissions are missing photos. That sometimes happens when they are "too large" to be posted to the web. Please see the Contact Page for some tips on getting your pictures ready for the web. Thanks!
Big Handsome Henry!
By: Rebecca in Cleveland, Ohio
Henry is a 3 year old male rescue. After losing two cats last September, he has been the love of my life. I'm pretty sure he is a mix, but has many Coon personality traits, and we spoil him rotten!
He loves his moist fancy feast, cat condo, purrs like a maniac, follows me from room to room like a dog, loves to chase milk carton rings, and he's very voal and affectionate. He has truly brought me out of my greif from the loss of my other two.
---
Leonardo half cat half dog
By: Paul in Banbury
Well if you have a Maine Coon you will know what I am talking about he forever wants to know any new things in the house, he always begs just like a dog investigates every think and every one I swear he is a dog.
He doesn't like being told off or what to do he justs lays there hissing at you and growling which is funny when you know him. But if you don't it can be quite scary ... He has a very high pedigree ..
---
Gus, my buddy!
By: Bruce Williams in Chatham,NY USA
Gus is an outside cat that, as I have been told was rejected by his owner 14 years ago. He is about 15 years old. I have been feeding him, with the other outside cats since I moved here. We became close and I didn't think he would survive the winter. He followed me into my apartment and found his home, finally!
Misc. Comments:
Jennifer: All of everyone's cats are beautiful. I have Maine Coons myself 3.
Wendy: Here is my furry friend Jackson. Definitely a Maine Coon mix. He is so lovey, very playful, purrs, rubs and enjoys his play time in the tub or sink! He loves to play with water. Also, getting a lot more vocal as he is getting older! Just turned nine months old. Look at his tail, wish he could dust for me!