Akourah loves to jump into the sink whenever anyone goes in bathroom.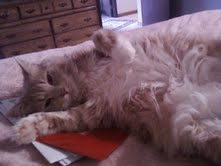 Bubba is my sweet big boy
Comments:
Bear
by: Anonymous
Super sweet
Keeping Warm
by Jennifer Kelly
(Kingston Ontario )
This is Aries he decided to get under the blankets this morning when it was chilly lol
Comments:
Clever cat
by: Anonymous
Fully prepared for the cold days.
My name Is Saphira, And Not Many People Know That :-)
by Michelle
(Hampshire, UK)

Saphira My Princess....
Saphira is relaxing in her conservatory, looking and waiting for Mummy's daily brush :-) :-)
Happy Hemi
by Liz
(Tacoma, WA)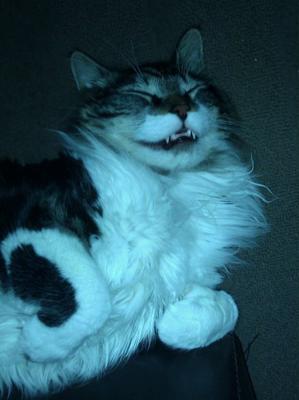 Happy Hemi
This is Hemi. My one year old, six-toed, sixteen pound Maine Coon baby. As you can see, he is a happy boy!
Comments:
:)
by: Anonymous
He makes me smile!
happy
by: Anonymous
he does indeed look happy :-)
Kitty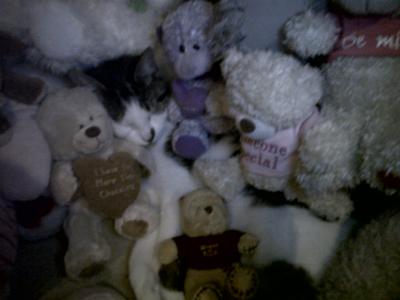 Kitty
Comments:
kitty
by: Anonymous
Sooo cute
Jagermister and Journey - brothers
by Robin
(Henderson, NV)


Jagermister and Journey aren't brothers by blood but I got them both from the shelter at the same time.
They were in cages next to each other and they are 1 week apart. Journey is a Maine Coon and weighs 17 pounds!
Jagermister is the same age but weighs only 8 pounds. They are almost always together.
Stripes Lounging
by Karen
(Lawrence, MA USA)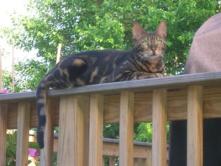 Stripes loves hanging out on the back deck watching the birds and just enjoying the nice weather.
Comments:
Stripes
by: Helen
What a fine looking "dark tark"
(target tabby) as we say here in Texas. He looks to be the master of his universe.
Pebbles The Brown Classic Maine Coon Kitten
by Lisa Martin
(Carver MA)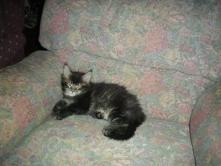 Pebbles taking a cat nap on the recliner; Pebbles is a brown classic Maine Coon Kitten. She is the most lovable kitty.
A day in the life.......
by Michelle G.
(Hanford, CA)

What a day....
My 12 yr old cat Sylvester. This is pretty much what he does ALL day. His biggest decision is where his next nap will be....my bed...or the recliner! Decisions.......Decisions!!! lol
Comments:
awww
by: juliet
What a beautiful young man he is - just look at those paws..you are very lucky x
how cute
by: Jamie Leona
wow what paws he has lol they are soo cute tho I have a orange n white one named Samson
Sleepy Sylvester
by: Maine Coon Cat Nation
What a good-looking 12-year-old! He takes his naps seriously, then! Sounds a lot like our Leo :-)
Adorable!
by: Patty
Love his paws!
So what do you think? Was it me!
by Renee
(Ohio )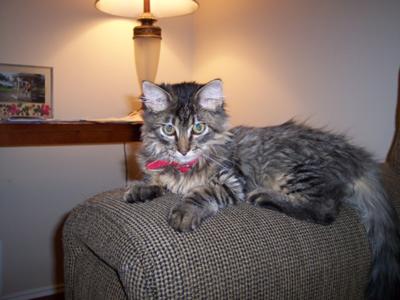 So what do you think? Was it me!
Cesar is always attacking my feet when I walk.
Comments:
No Way
by: Joann & Bubba
No Way baby you are 2 cute, Cesar you are a very handsome little Coon. Wish you culd meet our Bubba. Happy paw prints to you and your family !!!
Classic Halloween Cat-No Jacket Required!
by Elizabeth Philippus
(Concord, NC USA)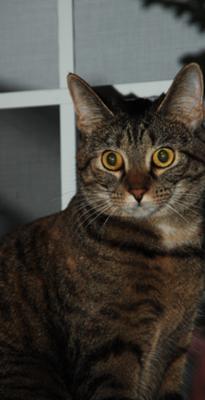 Mia is just so hilarious to look at. She just has the biggest expression on her face all the time. Sitting pretty!