Featured Coonies 2020
Come see Remy & Leo, Guz, Molly Moe and Gypsy in this 2020 album! They are all gorgeous!
Rembrant and Leonardo - aka Remy and Leo!
by Monique
(Canada)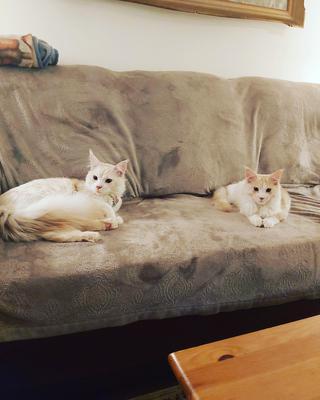 After almost a year of reading up on these beautiful creatures we made the plunge and bought home Rembrandt who is a beautiful Cameo Red Maine coon.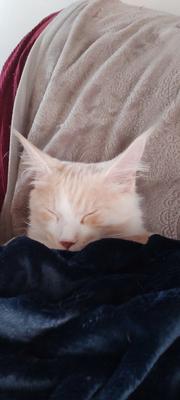 We instantly fell in love and he has become a welcoming addition to our family.
Sylvester our 15 year old has accepted him with open arms.

We decided purchase Remy's brother from another litter and brought little Leonardo (Leo) home and it was incredible right from the start!

Leo is also a Cameo red Maine Coon and we couldn't be happier with our little princes.
---
My Buddy Guz!
by Bill Mannion
(Cupertino, CA)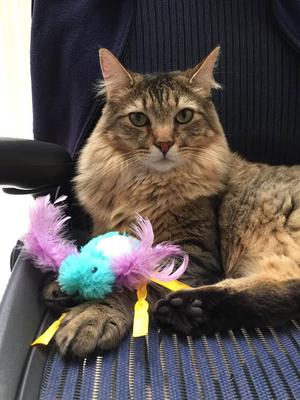 My buddy Guz was adopted by my daughter and grandson who are currently living with me.

I am 89 and if they weren't with me now I wouldn't have had the pleasure of Guz's company.

I have had two cats many years ago but none recently so Guz was a welcome recent(2018) member of the household.

He conforms to your newsletter descriptions in every "golden retriever" way and the newsletters are very helpful for us in keeping Guz in tiptop health. His BIG PAWS as in humans mean a BIG HEART!


comments:
Wonderful Saying
by: Bill Mannion

I recently read the book "Nala's World" by Dean Nicholson and found this saying on a fly leaf:
Count your blessings if a cat loves you.
Charles Dickens

The book and the saying made my day several times over. I hope it will do the same for you!
---
Molly Moe
by Joyce
(Jackson Michigan)
Molly was adopted at age 3 from Indian River Humane society....she captured our heart and attention at first sight.

In the glassed in area she kept pawing at the window trying to get our attention. We could not resist her.

She has big green eyes, she rolled around on her back doing everything she could to get our attention. We just knew she was for us. We immediately adopted her on the spot. Molly loves to drink from the bathroom faucet.

Molly is very playful. She loves to chase balls and chase and corner you as well. She is so full of life.
---
Gypsy
by Lee Ann Schott
(North Wales, PA, USA)
I rescued my Coonie in February of 2017, from my then, local Animal Shelter.(Michigan)

She didn't have a name, so I gave her the name "Gypsy", after a Stevie Nicks song! She wasn't very old when she was surrendered at the shelter, maybe a year or so.
I got her spayed, and she's in very good health, and seems to be very happy in her forever home! We now live in Pennsylvania, for three years now.

She's a beauty, and she knows it! She loves, and will come to me, or my gf, when we sing her a little song using her name. We call it the "Jippy" song.

Gypsy loves her belly rubbed, and will lay with me for quite awhile purring away! She's very playful with the other cats too.
Yes, we have three other rescued kitties, of varying ages. Gypsy's the baby of the group! And, the only Maine Coon!

Needless to say, she's very spoiled, but that's okay, we love her very much, as well as the others in our little family.

comments:
lovely girl
by: Debbie
She is absolutely gorgeous and thank you for rescuing this lovely little lady.....I am sure she is very thankful to have a caring family that will love her whole life.
(note: comments are closed in this archived album entry)
Return to Top of 2020 Featured Coonies
Disclaimer: When you buy through links on our site, we may earn a small commission.
As an Amazon Associate I earn from qualifying purchases.
Our Coonies use and love:
Greenies
4.7 stars; 3.6k ratings
Furminator for Longhaired Cats, Large
4.7 stars; 15k+ ratings
Double Layer Waterproof Cat Litter Trapping Mat
4.5 stars; 56k+ ratings