Bob THE BIG Tabby from the Fields of Oklahoma
by Robin Robbins in Broken Arrow, Oklahoma
Hi! All Animal Lovers

We live in a rural area, we have had many cats and dogs dumped on us. That is another whole column on the idiots who do that and what their eternal punishment should be.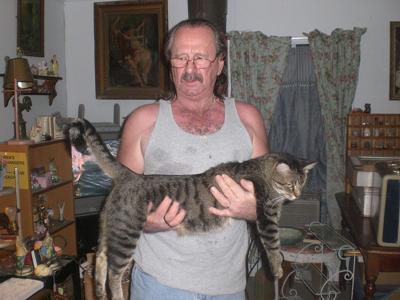 Bob the BIG Okie Tabby
Anyway if one is dumped and I don't immediately get a Humane society to take them after a few days I am too attached to part with them.
Or a few unfortunates who would bite and have a bad personality from a bad former owner we call the pound to pick up.
Hate to do that but it is better than suffering longer outside for who knows how long, plus the possibility of our safety and that of our visiting grandchildren.
Needless to say we have 7 dogs, and 11 cats! 2 dogs are little and go in and out of the cat door. We have a small fenced Cat Yard in the back that lets them and our cats come and go inside as they want.

What keeps them in the smaller cat yard is Sammy-who is a border collie (another rescue) whose "job" he thinks it to patrol the fence-Constantly! and keep the cats in. He has been a God Send.

The one or two cats who have dared climb over were not hurt in any way by him, just kept in one place by the Control that Border collies do with their stare.
They move-He moves and his Stare makes them stay in place, he barks and I "rescue" them or they run back in the cat yard.

Ever since we have had him the couple of cats who have tried it have gave up in disgust trying to climb over the fence. Then we have a couple of acres around our cat yard in back and in front of our house that is fenced and outside.
It is acres and acres with wooded areas etc. and coyotes, fox, raccoons, armadillos, roadrunners, Opossums, skunks, beavers etc.
I have also seen a couple of real, but smaller Bobcats, hawks and Bald Eagles! Of course Many of these would be Bad for a cat or small dog to meet.

Now comes the story of Bob, when we first moved out here about 5 years ago, about a year later I almost caught a small tabby kitten up in a tree of ours. I kept trying but he ran off.

There is a big barn behind us on over a hundred acres rented out for people to keep their horses. I am sure there have been some feral cats there from what I heard although I have never seen them.
Anyway about 1 week ago I walked to the end of our dead end road which goes about 1 block past us and then has a creek.
I was putting a bowl of water and food out because my husband said he saw a Tabby down there and it has been over 100 degrees with no rain here for over a Month!-last few days it was 112, 114, 116!

It was about dusk when you see the animals come out and as soon as I poured the water in the bowl I heard a Loud Meow! and saw a LONG tail running through the fields toward the fence across our street which is acreage leased out also.
To my surprise a Giant Tabby came running through the field fence gate and went to the water bowl, got a big drink and started rubbing on my legs and was Very grateful.

I thought surely this could not be the small shy tabby kitten I had seen a few years ago!
Then I thought of an incident that happened only two night before-a drunk or somehow impaired driver ignored the two Dead End signs on the entrance to our two block long gravel dead end road. We are the only house for miles.
He plowed through the plastic barrels we have set up with reflectors and more warnings before they end up in the creek. (Which some have done!)
This guy just kept on going 40-50 miles per hour, never let up on the gas, barrels went flying everywhere, some pieces got stuck under his car and he backed into the big field gate next to our house the horse owners use and dented it. Of course he sped off in a cloud of dust!

I then wondered could this cat have been an unwilling rider who got the Heck out of the car when that happened!? He looks to have been really well fed or he is a great mouser and we have more grasshoppers this year than I have ever seen!

He didn't have ticks, flea etc and I put flea and tick treatment on him first thing. We have an apartment that my Father (who was named Robert "Bob" for short) lived in.
He lived with us the last 6 years of his life, he had Alzheimer's and although an exhausting job, he thanked us every day and I had a relationship I would never have had with my Father had he not lived with us.
He once was a gruff and tough man who later was very much grateful for our help. This man who was once a 2nd World War bomber pilot would now sadly get lost in his own back yard.

I was his legal guardian and my Mom's who lived in a nearby nursing home with many physical problems.
Dad became much easier to get along with, thank goodness. But he passed away quickly one morning in Sept. 2009 as he thought he was getting ready to get dressed and go to the Adult Day Care or "Seniors" as he called it.
My husband found him on the floor by his closet when he was going to give him him morning meds as he always did and found Dad.
The paramedics said it was "instant" and happened only about 30 minutes before my husband found him. Thank You Lord. My Mom passed in 2008 after being on and off Hospice in the nursing home and even before that many times over those years.

So I named this tabby Bob in memory of my Dad and he is staying in his own air conditioned apartment until he is checked out by the vet and introduced to the rest of our cats.
We turn on the animal channel for him, visit him several times a day, gave him toys, scratching post, food, water, litter box-a Big one! etc.

He Loves his new home, we go visit him and he gets up in your lap, does the Paw Paw dance and licks you on the nose and face like a dog! That is another first I have seen in a cat and he follows you everywhere! Friendliest "Wild" cat I have EVER seen.
I have not weighed him but I know he weighs more than my heaviest cat who is also longer than usual but not as much as Bob and the other cat weighs 15 pounds.

So we measured Bob from tip of nose to tip of tail and he is 36 inches long! 3 Feet! 13 inches of that is his tail~! I know he is not long haired but because of his size and what I have mentioned could he be part Maine Coon?

No matter what, Bob will be special to us and we are glad he joined us whether because of a crazy driver or crazy weather! But I always ask God-Please don't send another soon?! We are both senior citizens and physically disabled.
We live in Oklahoma-edge of Tulsa with hundreds of open acres around and in a BIG old house that used to be used for a dairy and the original big part of the acreage probably.

Now it is down to our 2 1/2 acres and 2 1/2 acres next to us with the cemetery that we are acquiring since the Vet passed away and his son wants someone who will honor the grave sites and those still to be used and are animal lovers like us.
So we know and have the understanding of the Real Grief suffered by owners whose beloved friend passes away.

We bought this place because of the rural area and to have an apartment for my Dad when he was alive. P.S. The man who used to live here years ago was a vet and has a small Pet Cemetery next to our our open acre by our house.
It has been there since the 60's and we do the upkeep etc on it or hire someone to do it and there are still visitors to see their former beloved companions. I was so glad to find out it was a Pet cemetery!
I have put a couple of cement statues of dogs and cats in it next to a cement bench under the one tree in the half acre fenced lot.
Many who visit are elderly and use walkers etc and need a place to sit down when they visit their beloved former companions.

Thanks for taking my long letter and story about our Long Cat Bob!

Thanks, you guys have a Superb site! May you and your furry friends have many blessed days!

Robin Robbins