Meet Mister Buster!

By: Linda in Missouri

J.Paul is 23 days old and 1.5 pounds. He is a Blue Classic Tabby Poly on all four paws.
We are so excited to bring him home. Our breeder has been so sweet to send us pictures at least twice a week.
Comments:
At 23 Days?
Linda, do you mean only that he's 23 days in the photo? Because I can't imagine that a breeder would let him go to a new home at such a young age. BTW he's cute!
J Paul Kitty
by: Busters mom
Adorable, its really great that you have those pictures so you can keep them.
Its a nice gesture to send pictures of J Paul as he grows up to the breeder too. I used to raise Border Collies and one lady who purchsed "Daisy" would bring her back every year so I could see her and take pictures. Nice.
Polydactyl
by: Helen
I know MCC aren't supposed to have polydactyl toes, but I just love it. I had a Domestic cat with 6 toes on each front foot and 5 on one back foot and 6 on the other. I loved Dactyl and he lived to be nearly 21.
From J.Paul's picture he appears to me to be a mackerel stripe, not classic. Classics have big wide stripes and bracelets. He is so-o-o-o cute right down to his many toes.
Baby Blue Boy
by: Maia
Hi Linda, He is just so adorable and I notice he is sitting there with his paws crossed over like a right regal kitty.
My Mylo also sits like that all the time with the paws crossed looking just like king and all buffed up. His pictures are on this site too.
The breeder I got my blue boy from sent me pictures of him every couple of weeks so I could see how he was developing but I could not get him until he was 14 weeks old.
You will enjoy J Paul Kitty so much as they are the most beautiful and affectionate breed of cat that you can get.
All the best with your new baby and enjoy!
response to question re: J.Paul Kitty
by: Linda
J. Paul will live with the breeder until he is 12 weeks old. She is going to let my husband and I visit him at 7 weeks after his first set of shots. We are so excited we just can't wait.
He and one other kitten are the largest of 5. Our breeder has made us feel like we were a part of his life from day one.
I love the idea of giving back to her by taking pictures regularly and sending them to her after he comes home to live with us. Thanks for all the nice comments.
Linda you are very kind....
by: Vasili's Maine Coon Cats
Dear Linda,
Thank you for your kind words and praise. J. Paul is a very special kitty indeed. But you and your husband are very special people also! :)
Also, one poster mentioned about Polys and Maine Coons. 40% of all Maine Coons somewhere in their lineage will have a Polydactyl. Polydactyls are fully accepted and registered with all cat associations.
My breeding tom is a polydactyl and is dual registered with CFA and TICA and has champions grandchampions in his bloodline. I have some very interesting information about Polydactyls on my website if anyone is interested.
As for J. Pauls markings, he is a classic tabby. :) Classics are noted by having a circular pattern on their sides. Mackerels have stripes on their sides.
ALL tabbies have stripes on their legs and the "M" on their forhead. All tabbies, both classic and mackerel will also have white rings around their eyes.I hope this clears up any confusion and I welcome visitors to my website:Vasili's Maine Coon Cats
---
J. Paul Kitty is now Mr. Buster
We still have not brought this boy home but I can barely stand to wait the remaining weeks to have him.
Our breeder let us visit him last week and we love him so much.
My husband had the job of naming him and has changed it at least twice. But after meeting him we know his is a Mr. Buster.
Comments:
So Cute!
Ohhh what a cute little guy. Hope he brings fun to your house.
:)
---
Just a few weeks to go until Mr. Buster comes home.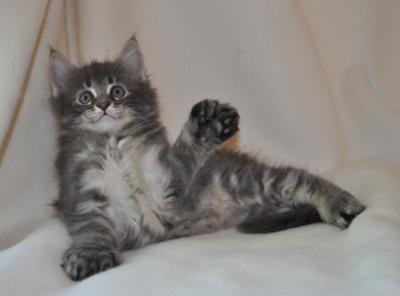 Our boy is 2 1/2 pounds and seven weeks.
We have gotten to visit him twice and are so excited to bring him home. My husband wants to train him to walk on a leash. What?
He is a Blue Classic Tabby and is poly on all four feet. Makes for interesting pics.
So in a couple of months we will be official proud parents of Mr. Buster.
Comments:
omg
by: KT
He is SOOOOO beautiful!!! You guys are lucky!!
Mr. Buster
by: Connie
My two Main Coon Ladies have cone on to Kitty Heaven now but I can tell you looking at Mr. Baby Buster's paws that he is all Maine Coon.
They are Big Boy Paws and the first thing I notices first about my Big Girls other then their little smiles.
He's a doll and just wait until he washes his food or hides everything like a klepto. They are such a crazy joy to have. Have fun.
Connie in Wichita
Go for the leash!I'd say that you should try to train him to walk with a leash. The boys get so big that they need a bit of exercise and also if he is used to a leash it will make traveling easier!
but congrats on your cutie - looks a lot like my Loki, who is a black and silver tabby and pure trouble on four feet =) I'd recommended getting a big scratching post ;)
A beauty
by: Sharon
Brings back memories of our Blue Classic when he was a kitten - 10 years ago now! I bet you are very excited!
---
Mr. Buster is Finally Home!!!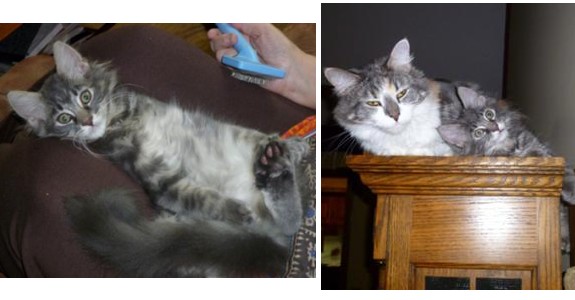 Mr. Buster is finally home and about 13 weeks old.
He is funny and sweet and so loving. Everything we had hoped. Our breeder spends a lot of time handling her kittens and plays with them. So he was completely socialized.
He and our 18 mo. old female MC Hazel chase each other all over the house and end up sleeping together. I can't imagine anything more fun than interacting with these darling animals.
Mr. Buster is on his harness and leash and loves to explore the backyard with my husband. The advise about the leash you all gave came in handy. Thanks.
Comments:
Buster
by: Gail (Quincy, MA, USA)
Your little boy is absolutely gorgeous! Your 18/mo. is fabulous too! They look like they are joined at the hip...bravo! Enjoy them - they will give you years of pleasure and love.
Buster
by: Jessy
He has that kitten look of wonder in his eyes. Enjoy it while he still has it.
---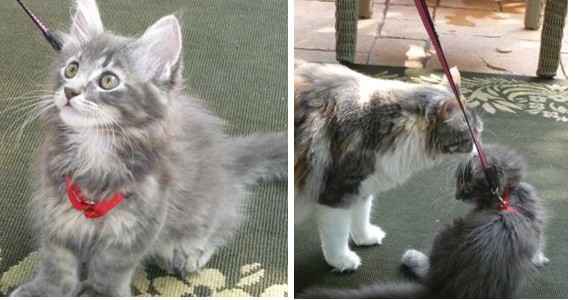 We finally got to bring Mr. Buster home last week. He is the sweetest most laid back little guy you could imagine.
He loves all of us including our 18 mo old MC Hazel.
Larry put his little harness on him this morning and took him to the patio. He loved it. I was not expecting that.
Thanks for the helpful comments that were posted.
Comments:
Buster
Boy, if he grows into those feet he will be HUGE. Too cute for words.
Big Maine Coons
by: Terry
My boy is as big as your senior cat-- just like having a small dog. Love it. The little one is adorable!!
Leave YOUR Comment:

Dec 10, 23 03:14 PM

New today: Meet

Ginny

from Lumacoon Maine Coon! Ajuna shares, "This is Ginny our three year old dramaqueen. She's a big softie once you get to know her, despite that look of doom in her eyes XD she wa…

Nov 10, 23 03:06 PM

New today: Meet adorable little

Juniper!

Nicole shares, "I went to the vet and they originally had her as domestic medium hair and once the vet saw her she said she has some Maine Coon in her because…

Nov 05, 23 08:36 AM

New today: Meet

Yellowstonecoon Tomboy Honey!

Jessica of Yellowstonecoon Cattery writes: "Hello, Maine Coon families! We are so tickled to share our beautiful Black Smoke baby girl with everyone! She…