Classic Chester- -Classic Coon
by Susan Melching in Longmont, CO

Chester came into our lives at 7 months old.
We adopted him from our neighbors who were moving and could not take him with them. He is a pure-bred Maine Coon and gorgeous!
He stole our hearts immediately. At 10 months now, he is 12 lbs and 27" long. We are smitten with this kitten!
Comments For "Meet Chester":
Wow
by: Anonymous
Wow what an absolutely beautiful cat, he is gorgeous :-)
Water Kitty? : )
by: Heather CT
Chester looks adorable! and how funny to see him in the shower.. our orange M/C runs into the bathroom as soon as he hears the water go on, and sits in the shower as soon as it goes off. Such the water cat! I think he is part Golden Retriever! Enjoy your new addition!
Chester, too!
by: Susan Melching
Chester does the exact same thing! H loves to watch the water dripping down the sides of the shower. Of course, he ends up really wet on the underside and tail!
Update On Chester: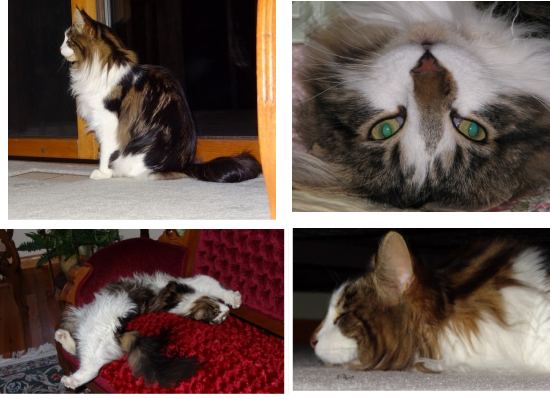 Chester is now 16 months old. He is 36" long and 16lbs.
He is the best bug hunter and brings all his toys upstairs every night just hoping for play at 3:00 am!
Although not a cuddle cat, he always has to be near one of us. And TALK! Oh my, Chester meows like you wouldn't believe when he wants something and chirps and trills every time you pass by him, even in the dark.
He adds so much life to our home, especially since we are empty nesters. It's amazing how quickly they get into your blood. We couldn't imagine life without him now.
Comments For "Update On Chester":
Not empty nesters anymore!
by: LP
Oh he's just precious. You're in trouble now though because he clearly needs a friend!!;-)
Gorgeous
by: Anonymous
What a lovely looking boy you have there, he sounds just like our new little one.
:)
Chester
by: Helen
Don't you just love the way a MCC can twist himself into a question mark? My Bezzer Buzzer does this all the time. Chester is beautiful.
Chester is gorgeous
by: Linda
Your big boy is so beautiful. I love his lynx tips. He has the sweetest expression on his face. You will have years of pleasure with your sweet Maine Coon cat.

Classic Chester-Classic Coon: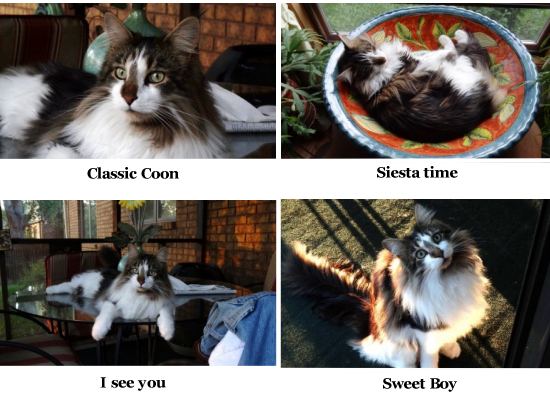 These new photos are so typical of Coon poses.
Chester is indeed the master of the house!
Comments For "Classic Chester-Classic Coon":
Grand CC
by: Helen
What a beauty! Chester has those big square whisker pads that make him so handsome and MALE.
You are lucky to have such a good specimen of the breed.
Chester
by: Judy UK

No-one could mistake your handsome boy for anything else but a Maine Coon. He has the boxy jaw of a Coonie, without being slightly narrow, like a Norwegian Forest or a Turkish Van.It would be great to see how he progresses thru' the years.
Fantastic!
What a beauty!
by: Heather
What a cutie Chester is! I LOVE his "painted" nose! enjoy!
markings
by: Susan
Thanks Heather- so do I. I also love the bit of tan under his chin. I'm glad we're not the only ones who think he is handsome.
Chester Update - March 2012
Chester, our magnificent Coonie just turned 2 years old! He is still growing, although not as big as we had hoped. He is very long, but slender.
We discovered in his wellness exam that he was suffering from a UTI and a kidney was very enlarged. Upon Xray, it was revealed that he only has one kidney.
In his previous home, he was attacked by a raccoon in his own back yard at 6 months old (we adopted him at 7 months). He suffered a nasty bite to the base of his tail.
We have done some research and found an article about Leptospirosis in cats. He was treated with antibiotics at the time, but that could have been the cause of the kidney atrophy.
So his visits to the back yard are over and his diet is wet food food only with a little kibble as a treat. This is proving challenging as we only choose low phosphoric content, high quality food and he is soooooo picky!
If anyone has any information that may help or had a similar experience, we would love to hear from you.
In the meantime, I just had to share a couple of beautiful photo of our dear Chester.
Comments:

Dec 10, 23 03:14 PM

New today: Meet

Ginny

from Lumacoon Maine Coon! Ajuna shares, "This is Ginny our three year old dramaqueen. She's a big softie once you get to know her, despite that look of doom in her eyes XD she wa…

Nov 10, 23 03:06 PM

New today: Meet adorable little

Juniper!

Nicole shares, "I went to the vet and they originally had her as domestic medium hair and once the vet saw her she said she has some Maine Coon in her because…

Nov 05, 23 08:36 AM

New today: Meet

Yellowstonecoon Tomboy Honey!

Jessica of Yellowstonecoon Cattery writes: "Hello, Maine Coon families! We are so tickled to share our beautiful Black Smoke baby girl with everyone! She…