A year ago I rented a cottage and on the property there was a cat roaming the yard. My landlord said it was homeless for the past 4 yrs and it just lived under my cottage I'm renting.
Landlord and son fed the cat but it was too fast running away when attempted capture. I was sad and started helping with food also. I would talk to the cat and hang around trying to gain trust to no avail.
On January 19 2015 happened to be a semi warm day I went to dispose of my garbage and heard a hiss and saw the cat sitting under the house catching some sun.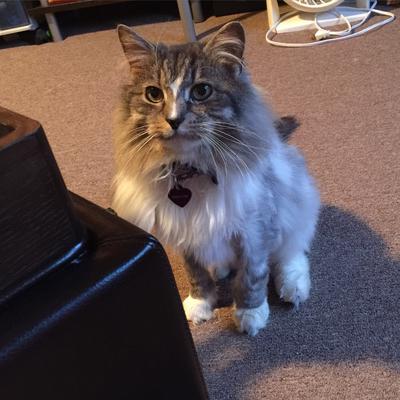 Mishu - now she's beautiful
I spoke to it and went and brought food and milk, its fave treat. I sat next to cat and it didn't run away. I was gleeful and talked to cat while it ate.

I took pictures of it it was in dire sad conditions and I wanted to take in my house and help it, cat would meow like it wanted attention and it let me pet it.

Joy soared in my heart and I kept petting it. I then noticed it front paws were bleeding and raw skin. I felt terrible for the cat.
I went and got a blanket and by petting cat I got closer and wrapped blanket over cat and picked it up. I'm not allowed pets in my lease but I could not leave this animal to suffer anymore.

It did not trash or scratched or meowed. I think it gave up on life. I cried and took it in my house and a friend guided me to bathe it, it was so filthy dirty. I made a warm bath lots of towels. I bathed this cat and finding it was a girl and it did not move from the water.

I blew dried her a bit and she did not mind. Sheer exhaustion this poor animal had and soo under weight. I spoke to my landlord and explained the situation and told her I would keep her if you allow me other wise
She has to spend the night and I'll take cat to a shelter. I was allowed to keep her since she knew the cat.

So now off to vet because paws were not good. On a 200$ budget (all I could afford) took her to vet and after many visits and trying to diagnose her right paw we come to find she has an extensive toe infection that has been going on for months and months and its about to go sepsis and will kill the cat.

She has about a month to live if toe is not amputated. Other paw looks like skin froze to ground and when she moved it, it peel the skin.
That healed Right away but right paw needed toe amputation. Over whelmed with vet costs, a vet program of client donations through putting up her story up on vet facebook page, people donated for her care.

Toe got amputated and she had to have a Lion cut of her fur because she had years of no care, she was so matted down and tangled it was a huge mess. She went on special diet food to make her gain weight - she was 7lbs and otherwise healthy.

No worms or fleas or mites or ever had a litter or other diseases. Other people donated a travel box and litter box and toys. Now its almost 6 months that she lives with me and she's healthy, beautiful, weight gained about 13 lbs now.

Still skittish and very verbal, hair is growing slowly but surely. She's very sweet and very vocal when she wants something. (gotta have her milk! Vet said a tbps its ok morning and night). She's slowly comming to me for attention and love,doesnt hide as much.

Plays very little and likes to play with string. Found out she can't see much out of left eye by playing with her. She's adjusting well and I can't wait for her personality to truly come out.

She doesn't like too loud of noises and loves her bed on the couch. Still working on cuddling with momma but likes to be scratched and brushed.
Vet puts her at age of 8/9 yrs old, and lucky I took her in at the time otherwise with her massive infection and being homeless she would have perished.

I am happy to be her momma and love her so and give her lots okf TLC and kisses.😺 1st picture is what she looked liked and then after. After researching I know shes a Maine Coon. Thank you for reading.😊. I named her Mishu D' Lion.


comments:
Thank you
by: Anonymous
Thank you Gretchen she's so wonderful now

lovely Mishu
by: Gretchen coon kitten
Dear Kathleen,
What a wonderful human being you are to take the extra steps necessary to rescue your beautiful Maine Coon girl, Mishu.

It is heartwarming, bringing tears to my eyes to see Mishu's photos after you rescued her. She is just a lovely girl!
Bless you dear lady!

Mishu's guardian angel
by: Ty
I'm so glad you found your little lady when you did. I too rescued a Coonie but from the animal shelter. She is my fur baby.

We'd looked and petted every cat and kitten that would allow us. Actually when we came to the section where she was she was lying down.

She looked over at us then turned back around as if she was saying Go Away! We were about to leave without our kitty when I came to tell my son it was time to go I saw the same kitty who had the go away attitude right in my sons lap purring away!

I then realized that's our cat! She was 2yrs old when we got her weighing only 7.8 lbs. This August my fur baby will be 4 yrs old and she weighs 12 lbs. I wouldn't change rescuing an older cat ever. Rescues rock, no matter where you get them from!

brought back memories
by: Gena's "Sweep"
In fall 2002 me and Ed began seeing a stray kitten in nearby park; tortie, so I feared she'd
be hit; mid-Oct. 2002, tucked her in jacket.. weighed 6lbs, had worms..

got her spayed, had to let Ed care for her due to my older Siamese.. he passed 2011 and Sweep's been w/me since. Ed passed Aug 2013, which was hard for my "Daddy's girl" cat.. she's 13 now, has a small tumor in her lung, but continues playful, good appetite..

gets kitten food to prevent wt. loss..this little one turned me about, read up on maine coons---if she's NOT purebred, she's very nearly so..she too was wary of touch, hissed and scratched BIG TIME, but she now joins me on b ed, in living room always..

I loved reading about Mishu; it's amazing how even a long-lonely cat can come around; says SO MUCH about their spirit

<3
by: Ashley
What a great story! She is a beautiful cat. How lucky she is that you found her and took her in and gave her another chance at life. I hope you two have many happy years together!

Purry
by: LilyCat
Purry nice of thee to make Mishu thy purrever kitty. Thank youyouyou! Hugs, LilyCat

Mishu
by: Liz
My daughter name. Is mish

Well done
by: David
That was a nice moving story of a cat abandoned by it's previous owner & now she's got a new family who will look after her for the rest of her life, good luck with yr new friend & she will come around & she will b ur best friend forever

Mishu's Guardian Angel!!
by: Thea
You are such a wonderful person to do what you did. I wish there was more people like you in the world.

Mishu's Rescue Story
by: Barb Darwin
You are a true angel to have rescued Mishu!

Bless you
by: Jody
You have a beautiful soul and she is a lucky girl.

Blessings to You & Mishu
by: SNW
What goes around - comes around. No good deed goes unnoticed ---
All the Best --

Chessie
by: Constance
Love the story about Mishu! She is special.

My bf rescued a Maine Coon in 2008 from a local restaurant. Someone had dropped off 4 kittens!
Dom took the cat to a vet and was told she was healthy and would live a long life!!! She has black, gray, orange and some white colors on her gorgeous coat.

The first night I met her she came upstairs and told me off from the stairwell and ran downstairs like nothing happened.
I told my bf and he laughed so hard! She walked around my shoulders when I went to bed and sniffed by head!

I have known her for 5 years and it has been a treat. She adores my bf who spends time in Phila., and MD - Chessie stays with me and it has taken time for her to get close to me.
Once in a while, she will sit on the couch beside me or jump up on the bed on my side. She likes men best!

Mishu's Mom
by: Kathleen
Thank you everyone for your lovely thoughts and comments. It makes me smile at the wide amount of people taking care of rescues too. It does my heart good.

Mishu is doing just wonderfully and slowly coming out of her shell and letting me see more of her personality. So far she is VERY verbal about the two things she wants.
Milk and mommas attention! She is loving her new window perch and uses it as a means for me to go and scratcher her. 😺 She's very sweet and content.

Thank you again for your lovely words . I share them with her. 😀

Kathleen Mishu's momma

Bless you...
by: Pat
Thank you so much for helping this sweet baby.. I'm sure she thinks she's in heaven on earth living with you...I have one Maine Coon but have had numerous rescues all my life.. I believe that God puts people and cats together.. you were chosen for her by God..

Great job!
by: Debbie
Hello,
What a wonderful story and so glad it had a happy ending. I too rescued a Maine Coon that was dropped in the field behind my house.

He wasn't treated very nicely as he has one eye missing and he limps where he broke his front paw and didn't heal properly. It took me several months of feeding and talking to him to finally get him to come to me and trust me.

I took him to the vet and thankfully he was not sick, had been fixed and just needed a lot of love and affection.

He does however have Feline Aids but has not developed any symptoms yet and hopefully he won't. He has become the best cat ever. I named him Sampson for his strength thru all of this.
Debbie

She's a doll!
by: Kim
So glad you rescued her; she looks adorable. I rescued my Baby Beast where I work. She was outside the school I teach at and she as allowed into the foyer.

I called by husband to come get her and on the way home they bonded. The vet said she was about 7 months old and only weighed in at 3.3 pounds.

She was so sad and skinny that she ate everything we gave her. It's now 5 years later and our Beast is a beautiful addition to our family. I can't imagine a day without her.
Mishu
by: Patti

AWWWW be still my heart! She is beautiful and I thank God she has you to care for her....
Amazing
by: Bev

This an amazing story...i'm just so grateful there are still some people in the world like yourself, not to give up on giving a loving home & rescuing on what clearly needed to be rescued. Thank you xoxoxox
Sweet Mishu
by: gypsyliontamer

Awww so sweet. So happy you were able to rescue Mishu and care for her. She is blessed to have you.
She's so beautiful
by: Lesley

Terrible for any cat but such as shame for a wonderful Maine Coon to be so badly mistreated. Thank goodness for people like you and I know you will be rewarded with a loving and fantastic friend who will be your constant companion.
Since I got my MC we haven't spent a night apart and spend most of each day in each other's company.
Meant to be together!
by: Vicki in Mississauga, ON

Kathleen, your story truly warms my heart. You and Mishu were obviously meant to be together! Bless you for not giving up on her, and for becoming her forever mom. May you have a long and lovely life together.
Great story
by: kneey k.

Thanks for being a caring terrific person. It saddens me wen I hear stories like this. My Fritzee was also a stray but he is a wonderful friend follows me all over the place
Also rescued a Maine Coon
by: Susan

Bless you! We rescued a Maine Coon Sophia- she came out of our woods last spring.
We got her to the vets for check up last June then finally got her to stay in the garage last fall and worked her into the house. She is best friends with our German Shepherd/Kelpie mix Jemima Puddleduck, also a rescue and is working to get along with our Tuxedo Scout and Calico Maisy that were both hand raised- at days old. Sophia is a dream cat. the best behaved.
wow...
by: Bernard

Tears in my eyes. What a WONDERFUL story. You have a kind heart and I know for sure, that Mishu has recognized your spirit and allowed you to become her rescuer.
Maine Coon Cats are Great!!!!
by: Anonymous

You are truly a remarkable person!! You not only saved a cat from possible death; but you are giving her a loving home, and both of you are enjoying this.......so much LOVE!!!! Bless You!
Living under the porch...
by: Mickey

I moved into a house that had a long haired cat living under the porch for at least one year before we moved in. Everyday I put food out for him and finally he let me see him.
He was matted with dreadlocks. Every night after dinner I sat on the porch and brushed him with a long handled bath brush. I snipped his dread locks one at a time.
Over the course of the winter, we became friends. He had a bed on the porch and went to the vet for all his shots. Then he started eating on a towel on top of the washer in the laundry room.
Then he was able to come into the kitchen, then the dining room where he had a catnip scratcher and where he could observe my 3 other cats.
One day he made a bee line for the rocking chair in the living room and then I knew he was our cat. We had him for 6 years until he died of a saddle thrombosis at 12.
He was the best, most loyal, most loving, smartest, coolest cat I have ever known.....Mr. Kitty, I'll miss you forever.
True story
by: Your brother

Hi kathy!!!!! Its a nice story. I am glad that you took the time to write it and share it with other people. I am sure that people will love it.
Beautiful
by: Anonymous

God bless you for rescuing this beautiful creature!!
Mishu
by: Randi

Kathleen,
I cried through your whole story. You ARE an angel. Both you and Mishu are blessed to have found each other. I wish you many more years of happiness together.
Gorgeous!
by: Anonymous

What a wonderful thing you have done for this beautiful animal......blessings to you.
love
by: Anonymous

So glad you saved her. She's beautiful.
Bless you
by: Cyndi Lynn

I am so happy that you've been blessed by many who have helped see you and Mishu through her ordeal.
I pray you are blessed many times over for opening your home and heart to her. God bless🙏
Mishu
by: Helen
What a wonderful, kind, caring person you are. Mishu is beautiful and is bringing you the joy and love you deserve for rescuing her!
Mishu
by: Kathleen

Thank you Mary. I wish i had $ so i can buy land and rescue all kinds of animals. Would be a dream. 😀 How could I ignore her it broke my heart every time she ran from me. Now shes my coonie😁
Re Mishu
by: Kathleen

Thank you Gunnar. She's my lovie and im so glad she' in my life.
You are an Angel
by: Mary

Thank you for saving Mishu's life. It broke my heart, when I saw the picture of her. She sounds very happy. I wish more people, were like you.
Mishu's
by: Gunnar C

Thanks for caring :) I have two Maine coon and the are the to me
Regards Gunnar from Iceland