Homecoming Edition
Tattle Tails, Maine Coon Newsletter
November 18, 2011

In this issue:
Cat Quote
Maine Coons In The News
Meet Elliot!
New On The Site
Hot Deal
Thanksgiving Tip

Note from Editor:
Now that this is an archived newsletter, the links have been removed in order to keep this website neat and tidy.
Rest assured that each fresh newsletter contains all the live, handy links to articles and photo albums.
"There are few things in life more heartwarming than to be welcomed by a cat."
-Tay Hohoff
Maine Coons In The News:
Seek the Maine Coon is back home! Back on May 22nd, a tornado swept through Joplin, MO.
Anna and Brandon Sanderson took cover in a bathtub with their 3 pets, including Seek. Seek was swept up by the tornado and the family has been looking for him ever since.
Unbelievably, Seek has been found and reunited with his family. He has definitely been through some trauma, as evidenced by his weight loss -
He's gone down to just 4 pounds form his previous 20. But, Seek is doing well and expected to be just fine.
"I wish that he could tell me where he has been and what he's all ran into while he was gone. I'm sure he has a story to tell himself," remarks Brandon Sanderson
Source: http://ozarksfirst.com/fulltext?nxd_id=546677
---
Spotlight On Elliot!
It's time for a favorite Tattle Tails feature: Alice's Interview! Alice recently held an interview with Elliot, our Featured Cover Boy! Enjoy!
"Hi Elliot! Thanks for taking the time to talk to me today! I'm looking forward to getting to know you. You have wonderful classic Maine Coon looks!
How old are you? Are you a purebred Coonie, or mix? Do you have any nicknames, or maybe a longer name? What is your color?"
Hi Alice, my name is OakBluff Elliot Blue, but you can call me Elliot. I was born on Nov 30th 2001, so will be 10 shortly.
I am a pedigreed Blue Classic Maine Coon, but Mom and Dad didn't register me with TICA or CFA because I thought that was a stuffy thing to do since I had NO plans to be a show cat.
My parents also call me 'Kramer' because of the way I slide sideways into a room when I am playing.
"How did you come to live with Sharon? Did she choose you, or did you choose her?"
My Mom picked me out when I was 6 weeks old. My breeder let her and my Dad come in and meet my litter after carefully scrubbing their hands and rinsing with alcohol.
I was the only Blue in the litter and Mom so wanted a Blue or Silver.
When it was time to come home, at 12 weeks, Mom thought I was the perfect gentleman in the car.
Little did she know at that time how I would hate riding in cars all my life. Mom jokes that I go 'cat'-atonic when riding in the car.
You see, sometimes we go somewhere fun ... like on vacation to a cabin in the woods, but other times we go to the VET!
"Are there any other animals in the house? If so, do you love them, torture them, or tolerate them?"
I have two ME Coon brothers Arthur and Marley. I am the middle child. When I came home and met Arthur I was in love, but he was not impressed with my kitten antics.
Thankfully it took only a couple of days and I had him playing hide and seek and sharing his cat tree with me.
I have no idea why Mom and Dad got Marley. Arthur and I were doing just fine until they brought Marley home in Oct of 2008.
I hated him and worried myself sick. I got feline acne and all I wanted to do was beat him up.
Mom and Dad were not very pleased with my behavior, but they were patient and read books and tried everything they could think of to make me comfortable with my new brother.
It took a long time, but I finally got used to him and let him play with me occasionally.
Now that he is mostly grown up he teases me relentlessly, so I have to let him know who's boss; a whack a day keeps the little beast in line.
I really wish I was more like Leo in this regard, you seem to have a great relationship with him, Alice.
"What is your favorite way to bond with your people? Is there a special game you play, or place you like to snuggle?"
I am not a lap cat like my brothers. I like to interact with humans on my own terms.
I have my own spot on the couch and if a human is sitting there I sit on the floor and stare at them. Mom and Dad know the drill and move over so I can have my spot.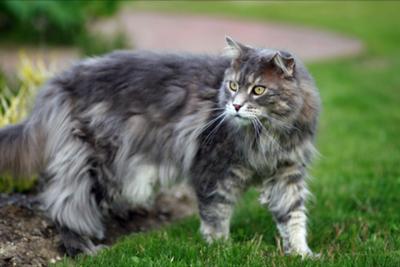 I 'flop and roll' when I want my parents to scratch my belly, they get a big kick out of that. I also enjoy tag with my Dad. He loves to chase me and tag me then I turn right around and chase him back.
I allow them to pick me up and hold me .. for a minute or two, just so they know I really do like them, but I don't really enjoy the cuddling thing.
"Do you have any super-funny quirks? Anything that puzzles or annoys your people? Life as a cat has to include some mischief! Tell us how you stir things up!"
My favorite pleasure is keeping my younger brother in line. I stalk him, back him into a corner and wack him. My parents get really annoyed, but what they don't know is that Marley mostly likes this game now.
Mom and Dad are very puzzled about why I stare at my water fountain. I can do this for hours. The water bubbles are fascinating and the sounds are soothing, not to mention I am keeping guard so Marley can't get to it. After all, he has his own.
"Anything else you'd like to share?"
Have you noticed my bent left ear? I'm not really sure how I got the hematoma, but it meant a bunch of trips to the vet to drain it. They decided to stitch the skin to the cartilage of my ear in hopes that it wouldn't continue to curl and that worked! My Mom and Dad say it gives me character.
It's been very nice chatting with you Alice! My Mom just loves Maine Coon Cat Nation, keep up the good work and I look forward to your future interviews.
---
What's New On The Site:
New Cats To Meet!
We meet new cats every day! For those who prefer to check in from time to time, here are the newest Maine Coon cats and Mixes, since our last issue of Tattle Tails. So come visit, and leave a comment if you wish!
As you'll see, we've made a change to the format when we add new cats to the site. Now, we're keeping a photo album for each month. So all of the following cats can be seen on one page, our November Photo Album.
It's neater and tidier this way. I'm in the process of redesigning the main page of "Maine Coon Cat Pictures" on the site to reflect this. It will hold a photo album for each month.
Sometimes, one particular cat will have a lot of updates, and quite a bit to read, such as a rescue story. In this case, he or she will be given his/her own personal page. As this takes shape, I think it will make updates and browsing through the site much easier!
New cats in the November Photo Album include: Pippa, Sir Godrich, Axl & Slash, Oliver Twist, Sir Kitty Coon, Mittens, Puffer, Princess, Holly, Shawnee, Sadie, Seti, Samson, Rico, Newt, Phil, Shadow, Jasmine, Cody, Desmond & Molly, another Sadie, and Little Orphan Annie! (and probably a few more between the time of this writing and it's mailing!)
Also, our soon to be completed October Album will include Kitty, Sissy & Henry, and Jasmine, each of whom are new to the site since our last issue of Tattle Tails.

Rainbow Bridge
There have been some recent beloved Maine Coons who have gone to the Rainbow Bridge. We send our thoughts and condolences to the loving families of:
Justin, who was loved for 13 years by Judy in Milwaukee,
Kato Lunt, who lived to be 17.5 years old with Anita & Dennis Lunt in Colorado, and
Duke, who is sadly missed by his owner Julian.
Fall Photo Contest!
Our Fall Photo contest was so much fun! The voting was tallied, and KitTen received the most votes! He's enjoying a month on our home page, as our Cover Boy. Congratulations, KitTen!
New Updates:
Sons of Horus Cattery: 
Come get to know Sons of Horus, a young Maine Coon Cattery in Brazil.
We recently had a chance to sit down with Heidi Mathias for a virtual interview. Get to know Sons of Horus, and their beautiful Maine Coon cats!

Maine Coon Cat Grooming Tools:

This new page in our Top Picks section contains Cat Grooming Tools to make life a little easier when it comes to keeping your Coonie in tip-top condition.
---
Hot Deal:
Most of us own or have heard of the FURminator. There is a whole line of FURminators, depending on your pet and it's fur type.
One in particular, the FURminator Long Hair deShedding Tool for Large Catsclick here to see the same model at 30% off in the UK.
The most popular cat tree on the site is still currently on sale. If you are looking for a deal, you may be interested in the Armarkat Beige Cat Tree It's 20% off at Amazon.
---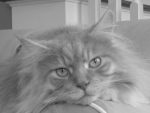 Tip:
We want to wish everyone a happy and fun-filled Thanksgiving this year!
Do you love to share some leftovers with your cats like we do? They especially love a little turkey ;)
But, take care when it comes to onions. Did you know that onions (and to a lesser extent, garlic) are toxic to cats?
While most cats won't go near plain onions, they may enjoy the taste of onion-infused stuffing or gravy with their turkey. Happy Thanksgiving!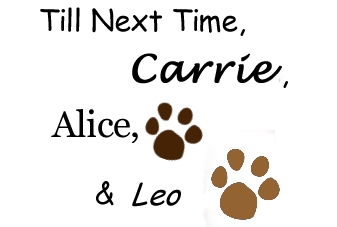 Return To Tattle Tails Back Issues Page