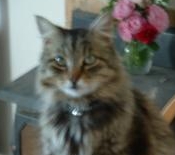 I took my adopted dog Sammy to Pet Smart to look for a toy or treats. Pet Smart has an adoption agreement with our ASPCA's and they promote super adoptions.
Sam kept going over to the cat adoptees and rubbing on the window and this big grey striped cat was rubbing back on the window.
Buster was surrendered when he was 8 months old, per his tag, when his family could not take him to their new apartment. He was BIG and I thought 8 months? I had always admired Maine Coon's but always friends had kittens looking for homes and ferals found their way to our yard.
So Buster actually picked us. He is one big boy. He is still growing. His "thing" is to jump up to my left shoulder and rarely does he ever miscue and scratch. He is hanging on my neck as I garden, clean and sit at the computer.
When we brought him home I worried that he wanted to go out so badly. Well it seems he must go "out" to use the lawn. It's funny to see him meowing at the door doing the "dance" and when the doors is opened he runs out to the grass and goes.
Buster waits for me to get home from work at night. Once I park he runs up and sits just far enough away that I have to walk over to him. He will not come those last 10 feet or so.
I must go to him, bend over, he jumps on my neck and puts that tail in my face and practically smothers me by hugging all around my neck and in my face.We are so lucky to have him.
Comments:
Buster
by: Karen
He is gorgeous and will bring you much joy....