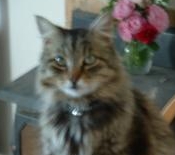 I took my adopted dog Sammy to Pet Smart to look for a toy or treats. Pet Smart has an adoption agreement with our ASPCA's and they promote super adoptions.
Sam kept going over to the cat adoptees and rubbing on the window and this big grey striped cat was rubbing back on the window.
Buster was surrendered when he was 8 months old, per his tag, when his family could not take him to their new apartment. He was BIG and I thought 8 months?
I had always admired Maine Coon's but always friends had kittens looking for homes and ferals found their way to our yard.
So Buster actually picked us. He is one big boy. He is still growing. His "thing" is to jump up to my left shoulder and rarely does he ever miscue and scratch. He is hanging on my neck as I garden, clean and sit at the computer.
When we brought him home I worried that he wanted to go out so badly. Well it seems he must go "out" to use the lawn.
It's funny to see him meowing at the door doing the "dance" and when the doors is opened he runs out to the grass and goes.
Buster waits for me to get home from work at night. Once I park he runs up and sits just far enough away that I have to walk over to him. He will not come those last 10 feet or so.
I must go to him, bend over, he jumps on my neck and puts that tail in my face and practically smothers me by hugging all around my neck and in my face.We are so lucky to have him.
Comments:
Buster
by: Karen
He is gorgeous and will bring you much joy....
Peyton is a rescue cat from the Marin County Humane Society in Novato California.
I was heartbroken after my cat (and best friend) Matisse passed away after 20 years.
I had her since she was 8 weeks old, so it was a painful loss. I was not in a hurry to have another cat. You can't just replace your best friend.
After about a year and a half my partner and I stopped in at the humane society...just to look. My partner was unsure of a kitten because they can be so quick and rambunctious and attack your feet under the bed, etc. etc.
Posey, (Peyton's name at the time) was so sweet in her cage and would gently reach out and grab my partners hand. That's all it took, she was hooked. Two hours later we had an adorable addition to our home.
Peyton is amazing! She sleeps in the craziest positions, flat on her back, all four paws spread eagle. She must have been abandoned very young as she suckled our necks for the first few weeks.
Now when she gets scared or misses us, she jumps on our laps and paws at our arm to roll up our sleeve so she can suckle our arm. She is very sensitive and quite sassy too.
When we tell her "no Peyton, get off the counter" she sasses right back telling us she thinks she is just fine where she is. Peyton likes to be in the middle of anything we do, cooking, cleaning, reading or working on our laptops.
She does not like cat treats or people food, so there is never any begging. She loves water, and jumps into any sink and waits patiently for us to turn on the tap. She likes to get in the shower and explore, while we are showering.
Peyton fetches her toy mice and when asked "where's your baby?", her eyes widen and immediately begins searching for her favorite blue lamb.
She will disappear for a few minutes and turn up with the toy lamb in her mouth and drop it at our feet. She loves to play hide and seek and tackle us when she finds us.
Peyton is truly a joy to have around and takes great care of us too. Sometimes we aren't sure who was the one needing rescuing, us or her.
Comments:
Heartwarming...
by: Katrina
They sound so lucky to have found each other!!!
Peyton
We are really glad Peyton found you! Gorgeous kitty! Best wishes for a very long journey together.
Nice story
by: Kathy
And what a cutie!
:0)
by: Debbie
What a furry sweetheart!!! You have a wonderful cat there.
Peyton Come Home...
by: Theresa
Thank you for your nice comments. Peyton is an amazing cat and she is deeply loved. The sad news is that Peyton went out on the early morning of July 2nd and has not returned.
Peyton has a strong will and is very determined. She loves being outside in the early mornings and evenings, and we did everything we could to keep her in (unfortunately she would get very upset and act out when she could not go out).
We are doing everything we can to find her and are not giving up on hope that she will come strolling in one of these days like it's no big deal. It has been a very difficult two weeks and we would do anything to have her home with us.