I picked this baby, sight unseen in November of 2015. I had said over and over that I would never have another cat in my life after I lost my BooBoo to anal cancer on March 5 of 2014.

My Boo, who I picked out as an 8 week old kitten, was with me for 13 years and saw the best and worst of me. And yet his love for me never wavered.
He got me through my Mom's anal cancer, I would have to be strong for her every day to get her to do the radiation and chemo, and it was Boo who stayed with me when I would come home for a bit to rest and to steel myself before going back to Mom's house.
And then just two months after we got the results of Mom's PET scan and it was CLEAR, my happiness was ripped apart with the news that my Boo had the same cancer that Mom had beat.

Boo would not beat Cancer, and he passed in my arms on March 5, 2014.

I said "No more cats" to anyone that dared mention that I needed a new baby to keep me going. And I meant that, no more cats EVER. I did go to a few no kill shelters with Mom, but only to appease her and I did not connect with any animals at any of them.

I was just so devastated by Boo's illness that was just like Mom's, and I said I would never go through a pain like that ever again. I could not even talk about Boo without bursting into tears.

Then, In November of 2015 Mom asked me to come to her place (we both have apartments in the same building) so I did. After I got there and we had talked for a time she told me that her helper who comes in once a week to clean and do laundry had news.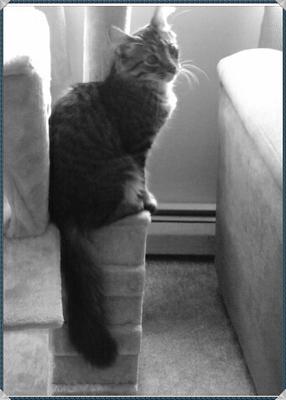 Her brother and sister in law's Maine Coon cats had just had a litter of kittens. It was on the tip of my tongue to say, "stop it, I said no more cats!" again but, that is not what came out. I said instead, "call her and ask if there is a male left?"

So Mom called and there was one male and one female left that was not already taken. I took the male, sight unseen.
Over the next weeks I got a picture or two, and I was told it was next to impossible to get a good picture of this little boy because he never stopped moving LOL.

But on December 3, 2015 I was given this little ball of fur. I looked into his eyes and he into mine, and it was love at first sight. He is nothing like any cat I have ever had, and I have had a cat since the age of 10.

He does not meow loudly, the loudest he gets is an "ack ack" while I am preparing his Orijens Cat and Kitten with boiled Chicken lunch or dinner. He has the most beautiful and expressive green eyes, his coat is so soft and shiny and he sticks to me like glue.

He is not crazy about being held, he is happiest next to me although just lately he has started to jump up into my lap and spin himself around before curling up in a ball for a few seconds.
Then he gets up, gives me kisses on my face and then jumps down to get a toy or two to play with.

He talks to himself while he plays and I just giggle at it. Watching him play is so much better than watching television and it is impossible to be sad with him around.

I am able to talk about Boo now without breaking down and crying, and Beauregard is the reason for that. I was so afraid to give my heart again to a cat, knowing it would end in heartbreak.

But now I realize that this life is very lonely without having a animal to love for today. So, I love Beau today as much as I can and when it is tomorrow I will do the same.

I do not think of all the "What if" this or that happens now, I just look at my Beau and smile. And I could swear that he smiles back at me too :)

His full name is "Beautiful Gaze, He is Beauregard", Beau for short. He really is beautiful inside and out.