10 Things I Love About Maine Coons
10 Things I Love About Maine Coons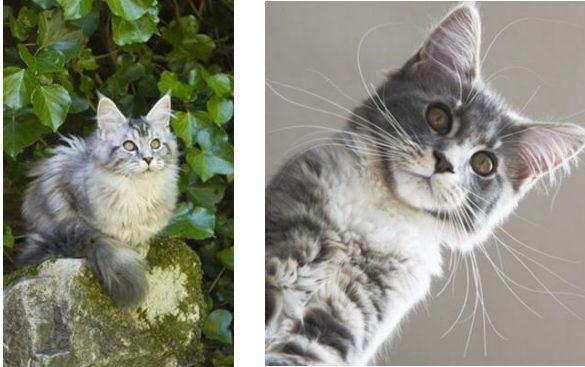 Meet Kali and Chloe, today's Throwback Featured Coonies!   Rosie says, "These are my beautiful girls. They live in the UK with me and are sisters. They'll be 1 year old on 9th January 2011.
The silver is Kali and the blue tabby with the white bib is Chloe." ...See more of Kali and Chloe in our 2010 Album!
Maine Coons are wonderful family pets. They are known for their looks, personality, and so much more. Here is a peek into life with these cats as pets.
Whether you are new to this breed and just learning about them, or have a Coon (or two) of your own, there is just so much to know and love about them. How about your Coon? What do you love about him or her? Share below!
#1: They Are So Smart
The Maine Coon Cat breed has been known for its intelligence for many years. If you have a Coon, you know how smart they are. They come when called, can be taught to do tricks, and they are very trainable.
They don't often exhibit cat behavior problems because they are so trainable. Maine Coons are simply smart, and they let you know it.
#2: They Are Devoted
Having one of these guys or gals in the house is having a friend. They are great company and are not particularly independent.
They don't fall into the cat stereotype of a cat who wants to be left alone, aloof and solitary.
Far from it! Maine Coons are very much like dogs. They often settle on a favorite person, following him or her around the house, "talking," and "helping" with chores.
When you call your Maine Coon he will come from wherever he is in the house, because he loves you and he is devoted to you!
When you sit down, he will usually be right there. He is a companion.
#3: Maine Coons Are Friendly
Oh, yes, they are so friendly. In fact, when you visit a cattery to see your kitten and his parents, you'll notice that the adults are just as friendly and curious about you as the kittens.
They come right up, rub on you, sniff you, chirp a greeting. These are very social animals. Did we mention they are like dogs? It's an honor to be the person on the receiving end of their affections.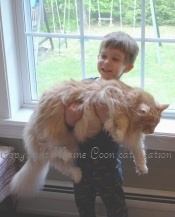 #4: They Are Fantastic With Children
Maine Coons are a family cat if there ever was one. They allow children to pick them up, and handle them. Of course, they expect gentle handing and respect.
I trust my Maine Coons completely with my young children. They are growing up together. My Maine Coons "talk" to the kids, rub on them, snuggle and purr with them. A lot.
#5: Maine Coons Are Beautiful
Well, of course, we know that! This is one handsome cat if there ever was one. The fluffy coat, distinctive markings, fabulous ruff, and a tail that puts any other to shame!
#6: They Are Photogenic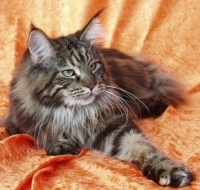 This kind of goes hand in hand with being so darned pretty, but you can never take a bad picture of these cats!
Maine Coon cats are stunning to look at, and if you like to take pictures, you'll always have a ready subject. No primping required!
#7: They Are So Funny
Everything they do is adorable. From trying to squeeze into a small box to falling off the couch mid-nap, Maine Coons will keep you laughing for years to come.
Males especially are known for remaining clown-like throughout their lives! Their antics will keep you entertained. They are laid back, confident, and not afraid to really strut their stuff!
#8: They Are SO Colorful
Oh, that coat of many colors. No matter what color you fancy, there is a Maine Coon Cat for you. From Black to White, Red Tabby to Brown, and everything in between, what variety!
#9: The Big Maine Coon Cat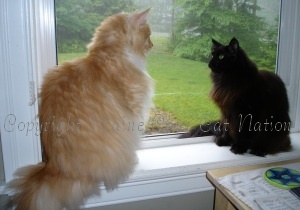 Oh, he is massive! There is nothing like one of those big boys. There are dainty ladies, of course, and medium sized Maine Coons, too, but a big Maine Coon cat cannot be topped!
Those boys can get so big! It's really amazing, and truly something to behold.
#10: Maine Coons Are Mysterious
It's true, they are alluring, mysterious, fascinating, charming, captivating cats. Myths and legends abound regarding their temperament, and about their mysterious history as well.
There will always be an aura of mystery surrounding this big cat, and to be the owner of a Coon is to have membership into a very special group! What do you love about Maine Coons? Tell us here!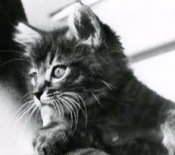 I Love My Maine Coon(s) Because...
We love our furbabies so much! They bring light, love and joy into our lives. Here, you get to tell everyone what makes your Maine Coon so special.

---
More love stories. This is the place to tell everyone why you love your Maine Coon. What makes him or her so special? Add your story in the comments below!
---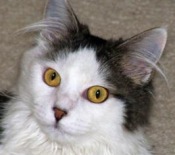 It's the purrfect time to celebrate our Maine Coon love! (but when isn't it?) Come check out all the lovely gushing from Coonie families about their beloved furbabies.

---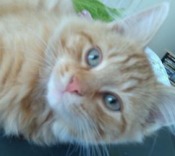 What do you love about your Maine Coon? They are so special! Here, our readers share what makes their cat so purrfect - It's Coonie Love!

---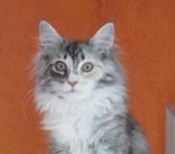 What do you love about your Maine Coon? They are so special! Here, our readers share what makes their cat so purrfect - It's Coonie Love!