I Love My Maine Coon(s)
We love our furbabies so much! They bring light, love and joy into our lives. Here, you get to tell everyone what makes your Maine Coon so special.


He is always up on me when I am trying to do something
By: Lyndon West in Corner Brook, NK

What can I say about my Coon OZZY? He is my boy, if he is not sleeping, he seems to investigate what I am doing. He is very territorial when we are outside, and he loves the outdoor enclosure that I built for him.

He can go out in his enclosure in the night time when I am sleeping at night with no fear. He cannot be harmed when he is in his enclosure, and he knows that. I LOVE MY BOY.


---
Still Play Like Kittens
By: Susan in Wisconsin
They love to play with me, but when they play on their own it's like two little kittens. They completely forget that they are big cats.
I just love watching them jump around, it's hilarious!
---
Loving and Sweet
By: Cheryl in North Carolina
He is soooo loving and sweet! He is curious to a fault, and has caused a few accidents throughout the house. He is beautiful to look at and sooo soft! He is very affectionate and cuddly.
---
Plays Dress-Up
By: Traci in Yorkshire, UK
He's beautiful and my little girl dresses him up in a mop cap and dress and pushes him around in a buggy!
---
So Much Fun!
By: Patti in Arkansas
My little girl, Willow, is my alarm clock. She gets up by my face in the morning and pats at my check until I get up. She is also a talker and we seem to be having regular conversations.
My big boy, Timmie, is so much fun! He isn't a lap cat, but he will head butt me when I sit down to get my attention. When he thinks I've been at the computer too long, he jumps on the table and rubs his head against my face.
Both of my Maine Coons are loving and gentle. I only see their claws out when they are climbing. They are so much fun to watch and interact with.
---
They Are Both So Companionable
By: Marjie in the UK
Both follow me round the house all day, where ever I am there's a Coonie sticking it's nose in. I look after my disabled husband 24 hours a day, seven days a week. Which can be stressful at times.
But both my Maine Coons are happy to listen and chat when I feel like talking to someone. I love them both very much.
---
I love my Maine Coon because...
By: Cat Williams in KY
Every morning he waits outside the shower for me to emerge and don my robe and then he requests to be picked up and held like a baby (burping position) so that we can rub our faces together and snuggle for a minute or two before I brush my teeth and do the rest of my morning ritual.
It's the only time he wants to be picked up and will turn away if I try it any other time. He looks me right in the eye and talks to me with his teeny little voice. He makes a sound like mimicking an old style telephone.
He has a thing for string but especially loves red string. His favorite toys are hair scrunchies. He plays soccer with them and will pick them up and carry them around the house in his mouth like a dog. I love him because he picked us!
---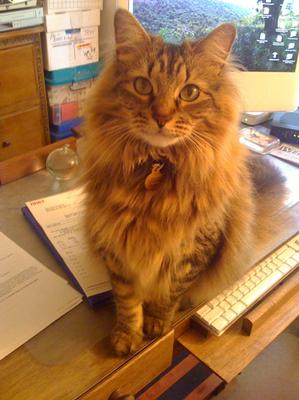 How Can I Count The Ways?
By: Theresa Welty in Jacksonville, FL
My special boy, Max, is the 4th Maine Coon I've had in a row. I just adore this breed! He's smart as a whip, funny and SO very affectionate.
He's my buddy, my pal and my best friend. I just adore him!
---
My Maine Coon Loves Me And Only Me
By: Sarah in Ohio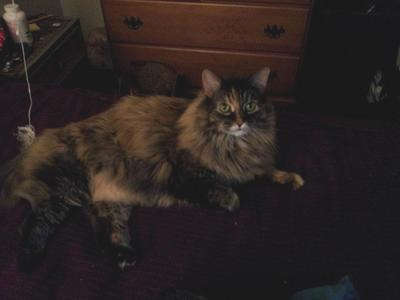 Beast has been in the family for a decade. She hung out around my parents but never cuddled. I recently moved in with them and spent a lot of time in bed due to illness.
At first, true to her name, Beast bit me a lot and wasn't immediately friendly. She would come for treats and play but when it came to touch, she would purr and seem like she wanted me to pet her but then soon she'd hiss and bite me. That has been her reputation in the family for years.
After a number of months of being together as I've recovered from a major illness, it's clear she's chosen me as her person. She's never cuddled with anyone until now. She lets me brush her and rub her belly. She purrs at me and yowls for treats. I feel so much satisfaction from our progress because it took time and effort to get to know her body language and now it's very rare that she will hiss or bite.
She's gone from being in the room near me but not on me to climbing all over me. I needed a friend and it feels like she really loves me. We have a special dialogue and there's so much non-verbal communication and time that's gone into working out our relationship.
I've had lovey cuddly cats and seen other people with cats that are just love sponges. My Beast is just for me and no one else, even though my parents got her about 10 years ago. She doesn't snuggle with either of them and it's nice to feel special.
---
Marco Polo, The Gentle Giant
By: Nicky in Connecticut
I love my Marco Polo because he's goofy and amazing at the same time. My big boy knows how I feel. He's there to lick my tears when I am depressed and cry or he is happy and playful when I am happy.
He gives me the best facial every night and he likes to have a chat every time I come back home. He comes where I am (even when I need to powder my nose. He learnt to open the bathroom door).
He's also my baby and every night he wants to be picked up and taken to the sliding door and we watch and comment together the wonderful view outside. That's my Marco Polo, my very gentle giant.
---
Love From A Deaf Coonie
By: Randy in British Columbia
My Coon is special because she is about 95% deaf. She is a tortie with all of her toe leather being different colors. Training a deaf cat is a challenge, but I love her dearly and I know she loves me back.
---
Independent Boy
By: Arlene in Florida
I dearly love my handsome Coonie! He is very vocal and laid back, however he does not want you to pick him up and hold him. He's very independent and prefers to be loved. on only on his terms!
---
Loves To Talk
By: Rosie in The United Kingdom
She loves to talk and has us all wound her long paw! She relates to all of us in different ways, even the dog (who was part of the family first)
---
Unconditional Love
By: Sarah in California
Because he loves me back-unconditionally! No matter where I am in the house, he's never far behind. As a kitten he used to insist on being picked up and carried around whilst doing chores- I even sat him in a hoisted baby carrier on my chest so I could get the wash done!
If I make a sad sound, am crying or sick, he will run to me immediately without being called and sit with me until I am well. One night I had food poisoning and I was stuck in the bathroom all night. When I awoke the next morning, he was still there, half laying on me.
Maine Coons will love you deeply and forever, so do the same to them. Take care of them and protect them and they will be your best friend, confidant and protector for the rest of your life.
---
Greeter & Helper
By: Tawnya in California
He's my best friend, my helper, he greets me when I come home every night, he watches as I drive away each morning. He plays fetch with me. And the best, he snuggles me!
---
I Love My Maine Coon because...
I have had the pleasure of being owned by a blue-grey & white Maine Coon. I got him when he was 1.5 yrs old. He was the sweetest cat; loving, affectionate, greeted me at the door and wanted to be in the same room with me always. He was so giant and fluffy but had the quiet, higher pitched meow of a kitten.
He was completely unaware of how large he was and had no concept of where he could fit. I gave up keeping anything on my coffee table. One stretch or flick of his tail and everything would be on the floor.
He liked water and would lay in puddles on the floor after I showered. It was like his fur was water resistant.
He was not independent or fickle like other cats I have had. He was friendly with guests but was most definitely a "Mama's boy". He was not a lap cat but always laid up against me or at the very least, with his head or paw resting on me. He had a great motor-boat purr!
If you want an independent cat you can leave alone, this is not the cat for you. Maine Coons need to be near their person/people.
---
Exfoliates My Face
By: Tory in Portland, Oregon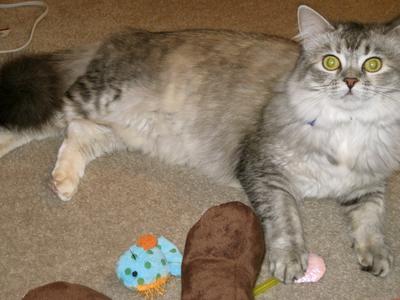 She greets me every morning on the toilet! Her trills, and big cat stretches show me her happiness. We rescued one another. She was found in a family members backyard, only weighing a pound. After having a Siamese Himalayan for 16 years, Tootsie. I could not bear to bring myself another lovebug, nobody could live up to her. Five years later, my cousin, a vet tech in Sacramento called explaining she was on a mission to find her a home. She drove her 10 hours up to Portland, and of course I feel in love immediately!
One year later, she is spoiled rotten and her best friend is our American Eskimo, Roxy. She is strictly indoor, but a great bug hunter! Compared to Tootsie she is extremely active and isn't much of a lap cat. I love her just the same, she is who she is! And she constantly makes of chuckle, especially when she watches cat videos on youtube!
Zephyr's unique Maine Coon trills, are delightful and such a distinctive trait. She must have her fresh grown wheatgrass too! In short, she has been such a blessing to have, she is my little
Boo-Boo.