Maine Coon Love
It's the purrfect time to celebrate our Maine Coon love! (but when isn't it?) Come check out all the lovely gushing from Coonie families about their beloved furbabies.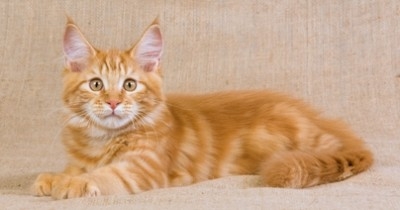 Here, we ask you to finish this sentence:

I love my Maine Coon because ___

Jump down to have your say and profess your Maine Coon love!

Maine Coon Love Stories:


Love Her
She fills my home with her amazing personality.
~Judi in Penn.

---
Curious Babies
They are involved in everything I do. They eagerly let me know how important it is to them that they can be with me. I just love having conversations with them.
~Diane in Mass.
---
Gizmo - Maine Coon Love
She is so loving and beautiful. I can't imagine our family without her now. She also loves to play and my husband says he never knew a cat could be like her. Gizmo rocks!
~Teresa in Michigan
---
Big Maine Coon Love
He is big like I am - not to mention cuddly, beautiful, loving, sweet and affectionate!! As a 6'2" female, I wanted a substantial cat that matched me in size!! I really don't think I could ever own another breed now. I am totally spoiled.
~Jill in TX
---
Vocal Girl
She chirps out a whole conversation with me every morning. Everyday it's different topic. She's the best.
~Arlene in NY
---
Such A Good Helper
He keeps tabs on me all the time! He welcomes me home from work every day wanting his usual petting and stroking! He helps with chores around the house and always seems to have time for a game of tag before bed time!
~Leo in NC
---
Acrobatic Maine Coon Love
First, l'm his favorite human in the family. No matter where I sit, he is never more than 2ft. away. The chirping is like having a conversation with him. Acrobatic?
He can push off his hind legs 5 feet off the floor when my son wiggles his fingers against the wall. He gets winded easily when chasing the laser for a half an hour. Then he pants like a dog.
~Mort in Nassau County, New York
---
Gentle Boy
He is gentle with the other house cats and puts up with the rowdy kittens, altho ferocious with the barn cats. I do wish he'd let me brush him but he's determined to do it himself.
~Kate in Indiana
---
Chatty
She gives unconditional love and companionship. We have conversations. She wants to please and learn. So easy to be with. Can't live with out her....
~Gypsy in California
---
Companionship
My Maine Coon was very loving. HE WAS FRIENDLY - he followed me everywhere. He love to sleep with me. He was mysterious about the things he had done.
~Beverly Carpenter in Branson, West MO
---
Maine Coon Love is Special
Gus is my best, faithful buddy. He has been a rejected cat for many years but I only crossed path's with him last year. I am told that he is about 15 years old.
He took to me and I didn't think he would survive the winter, so I brought him in a couple of months ago. My step daughter identified him as a Maine Coon cat. I have loved many other cats in my life, but Gus is special.
~Bruce in New York
---
Best Friend
She is seriously my best friend. Always by my side she's so smart she can cense my feelings lets me hold her hug her pick her up gives me kisses...I got her when she was already ten yrs old and still able to teach her tricks the love I feel and receive from her is AMAZING.
When I talk to her she listens comes when called and knows what certain words mean. Maine Coons really are like dogs. We sleep together every night not to mention spend every waking min together.
She truly has been my guardian angel I love her more then life its self and spoil her to the fullest my Susie q IS THE CATS MEOW
~Jennifer Margaret in Mass
---
Maine Coon Love - Littleman
Littleman has been one of the most loving animals I have ever been fortunate to own. We rescued him from between a wall in a barn. He was so little he still had one eye closed.
I hand fed him with a eye dropper and he only has eyes for "mom" , who is me. If I let him sleep with me, he actually puts his paw around me and holds me. He breathes my air, falls asleep then about 10 - 15 minutes later he goes to end of bed. He would lay on my lap for hours if I would let him.
This is why I have been looking into getting another one. We also own an American Ragdoll. Now she on the other hand clearly states, Don't touch me. I'm beautiful and I know it. They are like daylight and darkness.
Littleman is huge compared to Emmie but you would never know it. He will always side step around her. Love both my babies!
~Patty in Show Low, Arizona
---
Sister Kitties
"Daffy" (Daphne) and Daisy are Maine Coon mix, born to a feral tabby cat, but they have very Maine Coon tendencies as sisters while having very different personalities. "Daffy" is very petite although she looks pure Maine Coon.
Daisy has the build and facial structure but not the long fur. They both follow me around the house and never miss a single change. They take their "responsibilities" seriously but have a great sense of humor.
Daisy adores being brushed and pampered while Daffy prefers the hands-off handling while loving the laser toys and interactive wand toys. She totally surprised me at the vet's last fall when she turned to me and intimated that she wanted me to hold her!
I'm hoping that scenario will be repeated at this year's appointment.
~Nancy in Massachusetts
---
Coco The Cat-Dog
He acts like a dog. I call him cat-dog, he is so funny. Follows me everywhere, sits at my feet, stares at me like he adores me and he comes when I call him. He is amazing to me.
I have had cats all my life and Coco by far is the best cat that I have ever had the pleasure of sharing my life. I have two, but unfortunately I think Cody was abused (he was a rescue) because he hides and doesn't like loud noises or strangers. But he's still a beautiful cat and gets along well with Coco.
~Katherine in New Jersey
---
Smart Maine Coon Love
She is the smartest cat I've ever known. Her favorite treat is Pringles and she refuses anything seafood flavor.
Never have I ever had a cat with so much personality. She has many different sounds, one for when she needs help (i.e. tried to jump into the cupboards above the washing machine and then fell into the empty washing machine having the lid close behind her. Needless to say I keep that closed at all times now.) to right before she throws up a hairball.
I've learned to recognize all of her sounds and what they mean. She has learned how to open drawers and cupboards by watching me. She is now trying to learn how to open doors. It is really quite amazing.
And boy when she feels as if she hasn't had enough attention she will get it, by jumping from the floor up onto my shoulders, no matter if I'm sitting or standing. Did I mention she was a hidden miracle?
I went to the animal shelter to adopt a cat one day and found her. In a corner cage where she couldn't really be seen and instantly fell in love not knowing she was not 2yrs old or a Maine Coon yet. I found out she was a full fledged Maine Coon when I was filling out her paper work.
She had been returned twice already and they didn't want her taken again because someone wanted a Maine Coon, they wanted someone who would take her for her and not return her when she wasn't what they expected.
Then when I brought her to the vet that week, he told me she was only 8months and not 2yrs old! Imagine my surprise. But I am incredibly blessed by Eleanor. She has her forever home now and she knows it.
Loves to cuddle with me all the time and is always guarding me in my sleep. Truly a precious gift of Maine Coon love from above.
~Stephanie in Maine
---
Rescued Maine Coon Love
She is smart, and amazes me with a new attitude, trick or behavior every day! I rescued Sunshine from a shelter, where she had been for six months...and had been labeled "unlovable," "unadoptable," and "bipolar, approach with caution!"
They had named her "Witchy Woman." They waived the adoption fee for me because I was this cat's only hope of having a forever home. On the two hour journey home she only "meeped" a couple of times.
When I let her out of her carrier I steered clear of her, letting her adjust to the new environs at her pace...and those eyes of her's watched my every movement. Within an hour she was up on my lap...and she followed me around like a puppy when I wasn't sitting and she was occupying my lap.
At bedtime she claimed the pillow next to mine. I fell to sleep that night wondering if "Witchy Woman" was going to drop her "company manners" and attack me in my sleep. The next morning as I arose from my bed, there was this chirping, dancing, prancing cat at my feet.
That's when I first said, "Good morning, Sunshine!" When people visit, she is right at the door, awaiting to welcome, and be welcomed. Every morning when I mist the Boston Fern over my table she is there, prancing around and loving her daily showering!
And she scared the devil out of me the first time she jumped into the shower with me! A cat that likes water? Amazing! My part-Coonie has some issues from her abandonment. But what a cat! My girlfriend has always had Siamese cats. My father had a Manx.
I thought they were "smarties!" Until my part-Coonie started exposing me to her many multi-talented and multifaceted personality!
~Judith in New York
---
Happy Maine Coon Love
Little Oliver is the most precious and sweet cat I have ever owned. He sleeps next to me and when my door is closed he waits by the door until I Come out. He gives kisses and loves to follow me everywhere I go.
The noises he makes and the way he sprawls out on the floor crack me up everyday. He is never in a bad mood and lightens my day everyday.
~Molly in Morgan
---
These Maine Coon love stories are so heartwarming! There's nothing like the affection and devotion of a beloved pet.
Profess
Your Maine Coon Love!