The Water Cat
Cats hate the water, right? Not the Maine Coon!
This is definitely a water cat. Of course, many other types of cats like the water, too.
When you think about it, their relatives, the "big cats" go fishing in lakes and rivers, and it's no problem for them. Maybe your cat loves water, too!
One of the first things we had to remember with our kittens was to always shut the toilet. Their balance wasn't great yet.
One day, they both fell in! And, our Leo has been known to visit a person in the shower from time to time. He's definitely not the only cat to do this.
Leo the big Maine Coon cat waiting for bath water to be turned on
Other breeds known to have an affinity for water play are the Turkish Van, and Bengal Cats.
They may even take the concept of water play to a whole new level! Of course, many Domestic Housecats love to play in the water, as well!

Living With a Water Cat:
Drinking water from the sink tap
Many times we have found wet paw prints all over the stairs, leading in to the bathroom and so much splashed water all around the toilet!
Always fresh, clean water of course!
Cats really seem to have a thing for running water. Leo likes us to turn on the faucet, and he'll stick his head right in, letting it run all over the top of his head. He does this in the tub, too.
If you have a decorative water fountain or even houseplants, you've probably seen your cat gravitate toward these areas.
Cats instinctively know that running water is fresh. Fresh water has oxygen in it. Stagnant water runs the risk of growing bacteria. We've all seen our water cat swirl their paw around in the water dish before taking a sip, right?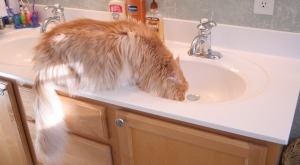 Leo puts his whole head under the faucet!
Things can be made more difficult by a cat who constantly spills his water by scooping it out, or dumping the dish! We ended up buying a heavy-duty bowl fit for a German Shepherd. But at least they can't dump it!
Big boy curled up in the sink
Another option is to put the water dish into a larger bin for the cat to jump in to. Then he can play to his hearts content.

Have you ever noticed a favorite cat toy in your cats water dish? In the wild, a cat will save their "catch" for later, often burying it in a safe place. In a house, your cats food and water dishes serve that purpose!
And a great alternative is a cat water fountain. They are a big hit with lots of cats since they provide fresh running water all the time, providing a water cat with hours of entertainment, and a supply of healthy fresh water.
Alice and Leo are obsessed with their cat water fountain. It's perfect for a water cat - the cats meow!
Dec 10, 23 03:14 PM

New today: Meet

Ginny

from Lumacoon Maine Coon! Ajuna shares, "This is Ginny our three year old dramaqueen. She's a big softie once you get to know her, despite that look of doom in her eyes XD she wa…

Nov 10, 23 03:06 PM

New today: Meet adorable little

Juniper!

Nicole shares, "I went to the vet and they originally had her as domestic medium hair and once the vet saw her she said she has some Maine Coon in her because…

Nov 05, 23 08:36 AM

New today: Meet

Yellowstonecoon Tomboy Honey!

Jessica of Yellowstonecoon Cattery writes: "Hello, Maine Coon families! We are so tickled to share our beautiful Black Smoke baby girl with everyone! She…