Diva Molly
by Gillian Roffe
(South Africa)
Diva Molly from South Africa:
I am gorgeous, smart, wise and loving as every Main Coon should be. Only 16-months old, but loved by all.
Molly is a blue-white Maine Coon born on December 12th, 2009.
A great discussion point when visitors arrive is the fact that Molly was bred from Russian and American parents.
| | |
| --- | --- |
| I am soo beautiful | Posing in the flower pot |
She grew up in the business (travel agency) and is the centre point of discussion from suppliers to clients.
| | |
| --- | --- |
| Molly with her educational toy | Penley her teddy |
She likes to wander in the garden and to solve this problem we bought a Pet Locator Plus, a wonderful gadget to track our beloved kitten.
She is amazed that we can find her so quickly. Part of going walkies is to give her mother a heart attack or playing games of hide and seek.

For any cat owner who would like to know where their cat hides, the Pet Locator Plus is a must.

Reply:
Hi Gillian,

Wow, Molly really is gorgeous! Thanks for the tip on the Pet Locator Plus. I'm very interested in this!

(Interestingly, the original version, which has been around longer, has 4 stars and is a very popular purchase according to Amazon.)

How wonderful that you have found a way for her to go outdoors and be safe as well! According to the Amazon website, this newer version doesn't have any reviews yet, so I'm glad to hear your opinion as a user. Perhaps others will have questions or comments about it!


Thanks for sharing your beautiful Molly! I'll be sure to add her to our photo album on the next update!

~Carrie
October 2011 Update:
| | |
| --- | --- |
| Diva Molly enjoy the spring air | Diva Molly only sleeps on a chair or bed |
Diva Molly only sleeps on a chair or a bed. Taking her afternoon snooze.
Diva Molly (SA) - Proof Maine Coons Love Water!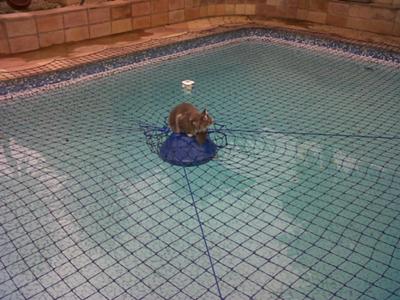 Molly in the Swimming Pool
As proof that Maine Coons love water, we had to enclose our swimming pool but Molly is determined to get to the water.

She walks across the net to sit on the floater in the middle of the pool.

No fear!!!

Reply:
Gillian, That is amazing! She looks like the "Queen Of The Water" out there! I can't believe she walks across that net :)

Thanks so much for sharing, I know everyone will love it!
~Carrie

comments:

Love my little MC beauty
by: Bella's mom in Texas

I recently became the human mom to a silver patch female MC.
I brought her home from the breeder when she was eight weeks old and we have been getting to know each other for almost three months.
She is strictly an indoor cat and is getting used to having run of most of the house.

The one issue I have is keeping her off the kitchen counters and some scratching on furniture.
I have several scratching posts for her, and encourage her to use them, but as far as discouraging jumping on counters, I could use some tips.

Trimming her nails is a problem for me, too. I actually was able to do two of them today, but that still leaves quite a few untrimmed.
I have been paying to have them trimmed, but that gets expensive!

Diva Molly
by: Sally

Thank you for sharing your story about Diva Molly. I didn't know that Maine Coons loved water.
I have a six month old female kitten and she always jumps in the shower with me. I have never had a Maine Coone before and didn't know this. She is a real joy to have.
I am learning new things with her every day.

Diva Molly and her life in SA
by: Gillian & Molly

My mom and I have not commented a while on my life in Port Elizabeth in South Africa.

Just had a very hot summer, however the cooler months are here. Had a huge scare a couple of weeks ago. We had monkeys in our garden. I ran for my life weird things on all fours.

Molly is very nervous to venture into the garden in the mornings. She associates the mornings with the monkeys and will only come out in the afternoons.
She is 5 years old and a very clever Maine coon. She lies on her back in order for me to blow bubbles on her stomach. She loves it.

She loves her life between the garden and travel office. She has a little stray named Dennis whom she is still very jealous of. However they can be the best of friends when they feel like it.
She still wears her pet locator and has saved all of us from scary moments.
Mom gathers gemstones and I wear my on gemstone around my neck. I love my bling
~Molly.

Diva Molly
by: Caryl Young
Diva Molly is gorgeous also in South Africa in Benoni and was given a Ginger Maine Coon kitten, have had many cats but he has stolen my heart what a gentle, breed.

Wanted to thank you had never heard of a cat locator and will be acquiring one asap. Loved all her photo's but the pool is a winner!

Pet Locator
by: Anonymous
To all main coon lovers,
Molly is now on her second generation pet locator which is a much improved device. The main communication device is slim, black and very new age.

Also the gadget that fits to the collar is now waterproof and it has an easy device which fits onto the collar.

Also the device is cheaper than the first locator I purchased.

Maine Coon lover also from SA
by: David
Hi Gillian, love your cat I am also from south Africa Boksburg and have had all kinds of cats in my life. I recently obtained a Maine Coon from a breeder in Pretoria.

His name is Merlin the magic cat you can view his pic 2011 May on this site. What I want to say is after having so many different breeds in my life, my Maine Coon is the most loving, talkative, sweetest softest thing on earth.

I think it must be a sin to love an animal as much as I love my Merlin. He is almost 12 months old now and already a massive cat, and he eats as if there is no tomorrow.

Wish you could see how he cares for me when I am sick. I have my another tabby but would like to have at least 10 Maine Coons. Unfortunately my wife is a bit allergic to the hair. I would never buy any another breed again. There is no cat with personality like a Maine Coon.

Molly is gorgeous
by: Joy
Molly is a very beautiful cat, I have a blue tortie and white, Muska, and she loves being outside but is she is not home by 10pm I go into a panic. I will look into the pet locator, it sounds ideal.

I have been so taken with Muska I asked a second MC to move in with us. They are a wonderful breed, they are beautiful and they have lovely natures. I am a total MC convert.

I hope you have many happy days with her

Molly from SA
by: Gillian
Both Molly and I are very surprised that we have had such a quick response from other Maine Coon lovers.

In South Africa the heat can be a problem, so Molly goes out early morning, by mid-day she comes into an air-conditioned office.

She will stay in until late afternoon when the temperature drops. Being in South Africa we do treat for flees etc, and have our homes and gardens professionally sprayed by pest controllers.

I also dose her with Advantage, which she hates. We have a large garden and she has many places to hide, so the pet locator is a must and gives us great peace of mind.

I do however always make sure every hour of so to use the locator. She does respond to the locator when she hears the buzz sound from her tag.

I did not think that she would respond, but she does. With the locator plus they provide panic button. (I wonder if I should teach her to use the button if she is in distress?? ha-ha)

Diva Molly
by: Patti
She's beautiful, she really is sweet. I love my Ruby, she's cuddly and lovable and kissable. If I knew the Maine Coon was like this I would of had a few years ago. They really are habit forming ya know.
Molly is a real looker.

Gillian & Molly
by: Judy- South England
Wow Gillian
Molly is beautiful MC. Is your garden 'off the beaten track'? I imagine your place is a few miles away from houses? I may be totally wrong!

Living With South African temperatures, how do you keep her cool? Also, are there nasty bugs? Does she have to have any jabs that our cats in the UK wouldn't need?

Finally, she absolutely purrrfect :) I'm a fan

Just Beautiful
by: Angela
WOW...Molly is a true beauty...I love the photo of her in the flowerpot.I think you are very brave allowing her outside obviously the locator gives you peace of mind...we keep our cat inside.
---
(note: comments are closed in this archived album entry)