Diva Molly
by Gillian Roffe
(South Africa)
I am soo beautiful
Diva Molly from South Africa:
I am gorgeous, smart, wise and loving as every Main Coon should be. Only 16-months old, but loved by all.
Molly is a blue-white Maine Coon born on December 12th, 2009. A great discussion point when visitors arrive is the fact that Molly was bred from a Russian and American parents.
She grew up in the business (travel agency) and is the centre point of discussion from suppliers to clients.
She likes to wander in the garden and to solve this problem we bought a Pet Locator Plus, a wonderful gadget to track our beloved kitten. She is amazed that we can find her so quickly. Part of going walkies is to give her mother a heart attack or playing games of hide and seek.
For any cat owner who would like to know where their cat hides, the Pet Locator Plus is a must.
Reply:
Hi Gillian,
Wow, Molly really is gorgeous! Thanks for the tip on the Pet Locator Plus. I'm very interested in this!
(Interestingly, the original version, which has been around longer, has 4 stars and is a very popular purchase according to Amazon.)
How wonderful that you have found a way for her to go outdoors and be safe as well! According to the Amazon website, this newer version doesn't have any reviews yet, so I'm glad to hear your opinion as a user. Perhaps others will have questions or comments about it!
Thanks for sharing your beautiful Molly! I'll be sure to add her to our photo album on the next update!
~Carrie
October 2011 Update: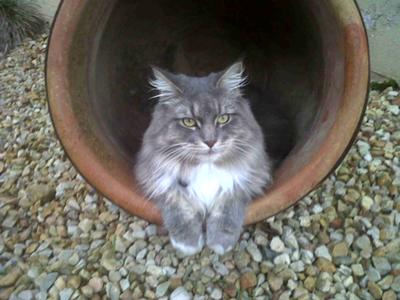 Diva Molly enjoy the spring air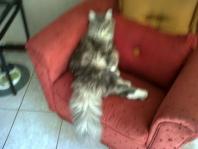 Diva Molly only sleeps on a chair or bed
Diva Molly only sleeps on a chair or a bed. Taking her afternoon snooze.
Diva Molly (SA) - Proof Maine Coons Love Water!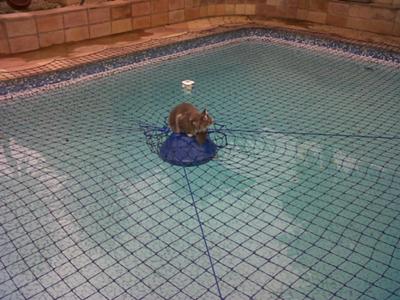 Molly in the Swimming Pool
As proof that Maine Coons love water, we had to enclose our swimming pool but Molly is determined to get to the water.
She walks across the net to sit on the floater in the middle of the pool.
No fear!!!
Comments:
Gillian, That is amazing! She looks like the "Queen Of The Water" out there! I can't believe she walks across that net :)
Thanks so much for sharing, I know everyone will love it!
~Carrie