Summer Greetings
Tattle Tails: Maine Coon Newsletter
July 2015

Welcome to our summer edition of Tattle Tails! Lazy, warm days are purr-fect for enjoying the good life!
In This Issue:
Feel-Good Cat Saying
What's New On The Site
Maine Coons In The News
Featured Article - Beating The Heat
Visitor Tips, Reader Q & A
---
"A cat's eyes are windows enabling us to see into another world."
~ Irish Legend
---
Reasons I Prefer Free-Feeding: With the formidable size of Maine Coons, and their late-blooming status, folks often ask "How much should I be feeding my Maine Coon?"

It's a sensible question. Kittens and young cats require enough food to fuel their growth. But with such a large breed, how much is that? Sometimes it seems like they are always hungry! Read More




---



Mishu's Rescue Story: In one of the most emotional, heartwarming rescue stories on our site, Kathleen writes: "A year ago I rented a cottage and on the property there was a cat roaming the yard. My landlord said it was homeless for the past 4 yrs and it just lived under my cottage I'm renting.

Landlord and son fed the cat but it was too fast running away when attempted capture. I was sad and started helping with food also. I would talk to the cat and hang around trying to gain trust to no avail..." Read More




---



A Tribute To Lucky: Deanna shares a deeply loving tribute to her beloved Lucky: "We lived on a farm in Chilliwack B.C., and our first kitten was dropped off at our doorstep just before my birthday in 2005, a little orange tabby we named him "Garfield."

1 week later we got this little ball of fluff "Lucky", he was so darn cute, and he and Garfield both being kittens grew together, and I always had cats..." Read More



---
Photo Album Updates: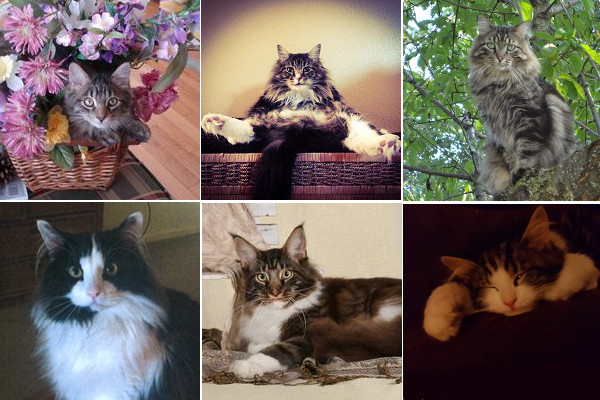 The July Photo Album is growing fast! Like summer fireworks, it's an explosion of colorful beauties from all over the world! From top left, clockwise: Willy, Max, Mackie, Shiloh, Tristan & Eeyore are just a few July Maine Coons. Still haven't added your Coonie picture(s)to the albums? Click here to send them in today! Visit The Latest Album!
Jax In Texas Needs A Home: "Jax is a beautiful, adult, Maine Coon, tabby mix. He's an indoor cat, weights 14 lbs and is 9 years old.

I rescued him 8 years ago from the Humane Society. He takes a bit to warm up to strangers, but is very loving to his family and is very talkative and playful.
It is with a heavy heart we post this, but feel he'd be happier in an adult only home (we now have a young child). He's had all of his shots, is neutered and litter box trained..." Read More
Cloud & Storm In Texas Need A Home: "We have two feral kittens. They are females about 12 weeks old.

Both have been spayed, received all their shots and are micro chipped via Hill Country Animal League in Boerne.
We canot keep them and would like them placed for adoption at a no kill shelter.
Cloud (the cream colored one) should be easily domesticated. Her sister Storm will take a bit more patience..." Read More
New Loving Tributes: A Maine Coon leaves a mark on your heart that never leaves. Leaving an everlasting tribute like the ones here can help heal.
Recently, we have had Mikey, Casper and Smokey join this growing page. Their Loving Tributes say a lot about the bond between a Maine Coon and his or her family.
---
Maine Coons In The News - Mufasa Reigns at a Local 4-H Competition
How fun! Mufasa is a silver Maine Coon who is loved by 16 year old Chloe Bellerive. And even though it was in the mid-90's in on Sunday that didn't stop Chloe and Mufasa from showing up at the Washington County Ag Expo and Fair in Maryland and defending his title!
According to Chloe, Mufasa is a pretty cool cat: "he's a pretty playful cat. ... And sometimes, he can, like, get aggressive after ... you ... are playing with him. ... But he's pretty cool... He likes to just play around with the cats and the other dogs, and other humans."
Congratulations to Chloe and Mufasa!
Source: http://www.heraldmailmedia.com/news/
local/the-king-still-reigns-in-the
--h-cat-competition/article_d4e58c40-2e72
-11e5-b4a1-2fb7e6a12df1.html
---

Heat stroke in cats is a very real and serious concern on hot days. When there is a heat wave, everyone is looking for ways to cool off and stay healthy.
Here are a few tips for avoiding cat heat stroke (also known as hyperthermia) when the temperature is unforgiving. Also, we've included signs, symptoms, and treatments for heat stroke in cats.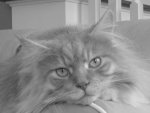 Reader Tips, Tricks, and Advice:
Over time, Coonie lovers have sent in lots of tips and advice! Here are some words of advice following our summer theme for today:
Common Sense In Warm Weather:
Jessy shares: "I have a Samoyed dog, a breed that herds reindeer in its native Siberia and has a lot more hair than a Maine Coon. I just never take him out during the hotter hours of the day in summer. My longest-haired cat has access through a cat door to an enclosed patio, but she is too sensible to go out in the hottest hours of the day."
If Dealing With Fleas:
Leslee writes: "I agree that Frontline, Advantage or Revolution are all excellent products for flea control. Has your kitten already been spayed? This might be a good time to see a vet or local clinic for a full health check. Most all kittens need worming; also testing for feline leukemia (etc) along with her first round of immunizations. I don't mean to scare you, but having a clean bill of health will get your kitten off to a good start...and a long and happy life with you!"
Going Away On Vacation This Summer?
Sharon tells us: "My rule of thumb used to be 24 hours alone. Not any more. A lot can happen in 24 hours as I found out when my husband and I did an overnight for my 50th birthday.
My then 18 month old Coon came down with some mysterious issue whereby he was extremely dehydrated when we came home, listless and had been throwing up what looked and smelled like stool. He was rushed to the vet who did radiograph which showed he was totally constipated.
Albeit this condition must have started before we left, but went unnoticed. Several vet visits later he was on the mend, but we nearly lost him. Never found out what happened or why. I have three cat sitters and when we are gone one of them comes in twice a day for 1/2 hour to scoop boxes, fill food and water bowls and play with them."