She sashayed into our family and for 16 years Miss Kitty graced us with her voice, with her 40+ word vocabulary, her huge presence and intelligence, moodiness, extreme skills in hunting and delivering wild game to our feet, but most of all with her unconditional love and the loudest purrrrr you can imagine.


She was always there. Every day when I came home from work, there she was to greet me with her voice. She knew just how to welcome me home by wrapping her huge boa-like tail around my leg to hug me, and then began her relentless pursuit for some supper to be placed in her china dish.
Miss Kitty told us her name by her actions & personality when she came to us from out of the woods behind a cabin at the end of a country road. She was so large she was frightening, but seemed so sweet, she "wanted" us for her family.
She had been abandoned there and lived in the woods, she was feral for at least a year. She never wanted to leave us. She became ill w/thyroid disease and her vet put her on daily medication which straightened her out.
The side-effects however proved not so good. She lost her battle because the meds caused kidney damage as well as congestive heart failure. I had to do the most heart-wrenching thing Oct. 6th 2010 and take her to the vet for the last time.
It was her last battle, and it was made a tiny bit more bearable because of the poem I found on the wall in the exam room where I had to hold her as she left me. I hope this poem helps those who have to endure this painful loss as it has helped me for the last 2.5 yrs. since Miss Kitty left for the Rainbow Bridge. (A wonderful & touching poem as well!)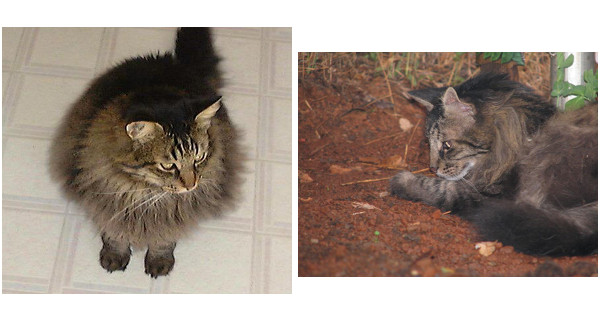 The Last Battle

If it should be that I grow weak
and pain should keep me from my sleep.
Then you must do what must be done
For this last battle can not be won.

You will be sad, I understand
Don't let the grief then stay your hand.
For this the day, more than all the rest
Your love for me must stand the test.

We've had so many happy years
What is to come will hold no fears.
You'd not want me to suffer so
The time has come to let me go.

Take me where my needs they'll tend
And please stay with me till the end.
Hold me close and speak to me
Until my eyes no longer see.

I know in time you will see
The kindness that you did for me.
Although my tail it's last has waved
From pain & suffering I've been saved.

Please do not grieve it must be you
Who has this painful thing to do.
We've been so close, we two these years
Don't let your heart hold any tears.

Author unknown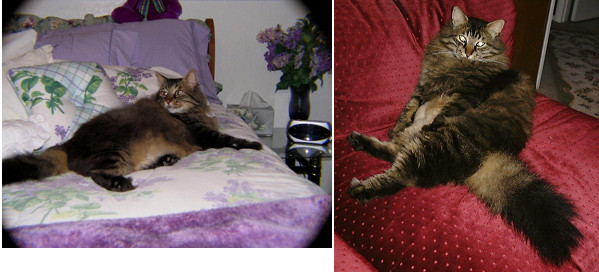 A Poem
By
Debra Zemke

"When Kitty Flies"

There'll come a day, much like before
Miss Kitty will take wing
We'll loathe the day and yet inside
I know that we will sing!

She came to us, seems from somewhere
Sacheted right into our lives,
Now spends her days watching over us
Lavishing our lives with her cries.

Told us her name, when hence she came
Been talking ever since,
Quick with her voice, which food her choice
Her preference is "Fresh" game.

She loves to fly, of that I'm sure…
For she boarded a jet all alone
She flew those miles Alaska-Bound,
Sure someone would take her home!

Of course, we followed her up there,
With her in charge, what choice we had?
It took some time, her mood to change
She thought we'd been so bad.

Now in Alaska, she does dwell,
And loves it just as we
For where else do the Eagles soar
Freely above the sea!

One day we'll miss her huge green eyes,
For Kitty Heaven she'll be bound
Where Eagles don't snatch Kitties Prey,
And They are de-clawed found!

It's then she'll really take to flight
And this time without plane!
She'll stretch all out spread-eagle!!
She'll fly right back to Maine!
comments:
May 14, 2013
The Beauty of Unconditional Love
by: Dr. Boon
I would
highly recommend you get another Maine Coon cat into your household so that you will be able to get out of this cycle of grievance. I cried when I read your poem.
It was so beautiful showing unconditional love human beings have toward their beloved pets. I still believe love should bring joy and happiness, not suffering and melancholy.
No matter where she is, think about "the good old days" you were together in a closely-knitted relationship. Let her stay in your heart with warmth and tenderness and begin raising another Maine Coon.
I myself love my Maine Coon cat so much that I think of him all day and night. He really gives me a purpose to live and he always trusts me unequivocally.
Thanks for listening to my story. Good luck and take care of a new member of Maine Coon in your family.
Apr 12, 2013
Miss Kitty
by: Connie L.
Miss Kitty could be our Custard's twin - look so much alike and posing the same. She is but a paw away and is watching and waiting for us on the other side. I know your pain well.
Apr 12, 2013
Miss Kitty
by: Connie L.
Miss Kitty could be our Custard's twin - look so much alike and posing the same. She is but a paw away and is watching and waiting for us on the other side. I know your pain well.
Apr 12, 2013
With deepest sympathy...
by: Cathy
How touching for you to share your grief, and may you feel all the sympathetic tugs on our own hearts, as we also have felt your loss. Perhaps our pets know this about themselves, but they soften our hearts and make us better people.
May you recognize all the many ways you were "improved" by your Miss Kitty, and pay it forward to the next beautiful soul who crosses your path. Love with joy, then grieve with passion, and then love with joy again.
It is too great to hold inside of you, and you've proven how loving you are. The spirit of your beautiful Miss Kitty will always linger near.
Apr 04, 2013
a very touching poem
by: Anonymous
sorry for your loss
Apr 03, 2013
Miss Kitty
by: joy
Oh My the poem is so beautiful. I am still sobbing. I understand y0ur loss so VERY well
Apr 02, 2013
she's only a paw away
by: Adams
I am the proud owner of a main coon. He is silver/grey in color. (2 years)He is commander and chief of the house.
The same characters that Miss Kitty had, ours does too. wherever I am there he is.. just like a child I cannot move anywhere in the house without him following me and lying next to wherever I am.
I know how much you must miss your Miss Kitty. They are soooo much family and their coon language is something else.
Miss Kitty is only a paw away... in Kitty Heaven and I am sure you can feel her presence.
Blessings to you and your family on your loss.
Apr 02, 2013
MAN I MISS OUR MISSA!!
by: January Jackson
Mom you made me cry so hard I had to stop reading half way thru to wipe the tears!! I miss her so much!! She was such a special gift to our family!! We will always have her in our hearts!! Love you Missa!! Thank you Mama for the poems!!
Apr 02, 2013
sorry
by: Lisa C and my furbaby Newt
So sorry for your loss!!! <3 What a beautiful cat!!
Apr 01, 2013
Sad
by: Anonymous
That made me cry.
Apr 01, 2013
Condolence
by: Wen
I am very sorry for your loss. R.I.P. Miss Kitty!
Apr 01, 2013
Miss Kitty was so beautiful
by: Despo
I am so sorry for your loss. We lost our beautiful Alexei last February due to complications from diabetes. I am shocked how much he looked like your beautiful Miss Kitty. I am so sorry for this tremendous loss.
Apr 01, 2013
last battle
by: Anonymous
So sorry for your loss maine coons are so amazing so lucky to have 2!!! Love the poems and thank you for sharing!!
Apr 01, 2013
With Sympathy
by: Anonymous
I love the poems, a fitting tribute to Miss Kitty. She was a beautiful girl! The pictures of her are awesome!