page is regularly updated with the best current deals. I look for items that are for cats (obviously!) and also have very good reviews, are substantially marked down, and that seem to be a good fit for Maine Coon Cats.
been updated, and includes a Booda Dome litter box, FURminator for large long haired cats, Cat Dancer charmer, Greenies, a Molly & Friends scratching post/bed, and a big cat tree for 74% off!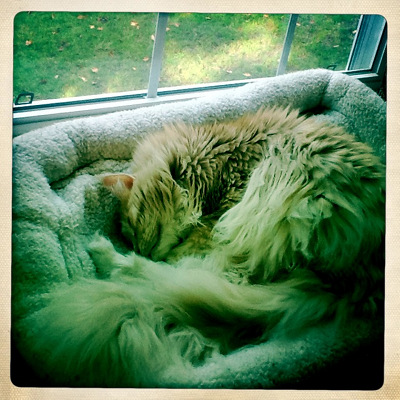 Going Social:
Did you notice the social toolbar at the top & bottom of this newsletter? I'm in the process of adding it to all our pages (slowly - page by page).
It is included on our most recent photo albums, and I'm adding it to the previous ones. So, if you are on Pinterest and you want to pin your cat's (or any cat's) photo, now you can!
---
Maine Coons In The News - TICA Cat Show:
This Saturday, October 20th, The International Cat Association Inc. will hold the second annual championship and household pet cat show in Oklahoma City. The show will be hosted by the Red River Rascals Cat Club, and located at the OKC Animal Resource Center.
Over 100 cats and kittens are set to compete. Pedigreed cats and kittens will compete in Championship, Kitten or Alter divisions, and household pets and household pet kittens will compete in their own divisions. Cats from the U.S. and Mexico will also compete in a Cat Agility Fun Ring! Go Maine Coons!
Source: http://www.edmondsun.com/local/x253529616/International-Cat-Show-set-for-Saturday
---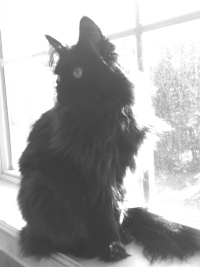 Toilet Training Cats:
I've taken the plunge! For quite some time, I've been toying with the idea of toilet training Alice and Leo.
Although I love having cats, I've been scooping litter boxes for more than half my life and I am so ready to let go of that chore and the smell.
I had some concerns that held me back for a while:
Would both cats catch on?

How will my somewhat clumsy Leo balance on the seat?

What if the system is expensive and it's a waste of money?

Will the training tray be strong enough for my hefty boy?

It seems unhygienic to share a toilet with a cat!
Well, I'm pleasantly surprised with the outcome so far. I gave it a lot of thought before starting.
I realized my cleanliness concerns were related to having the litter area and dirty paws so close.
But once training is complete (fingers crossed!) their paws should be super clean, never walking in a dirty pan again!
I considered the Litter Kwitter, but found that the CitiKitty Cat Toilet Training Kit had slightly better reviews, comes with a spare insert, and is priced lower. Litter Kwitter does come with a video, but I didn't feel I needed it anyway.
After reading a review where an owner placed weights and his two cats on the tray and found it quite sturdy, my last excuse was gone. I ordered it on Monday and it came on Wed
nesday. Meanwhile, I had placed a litter box in the upstairs bathroom last week, and gradually raised it to the level of the toilet. The cats kept using it so I'm thinking this is going to work!
Above is a photo of everything that came in the box. There is even a little catnip to sprinkle on.
Alice is the type of cat that is always "helping" so she checked it out and actually peed in it immediately!
In fact both cats have used it a few times (I think). I did see Leo checking the area out, but couldn't catch him in the act.
I must admit that there has been one accident so far. What I learned is that during this early stage the cats should not have free run of the house when they are unsupervised.
They need to show that they understand where "to go" first. CitiKitty recommends making changes when owners are present (weekends or days off) to stay on top of things - I can see why!
So last night they spent the night in the bathroom and it went well. Most everything was "on target" but there was one slight miss.
I think Leo doesn't trust walking in the tray, and he hasn't yet perfected his aim. But it was just his first try.
My observations so far are that it is slightly messy, it is a training process, and I think it will be very worth it!
So we are just starting day two, and I will make sure to post a full update in the next issue of Tattle Tails!
---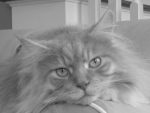 Leo's Health Tip:
"Many Maine Coon owners worry about a genetic heart condition called HCM. Others haven't heard about it, and when they do, they want to learn all about it.
Since every Maine Coon parent should have an awareness about it, my Mom is including a section on it in an upcoming eBook that is in the works; The Care And Keeping Of Your Maine Coon Cat. Stay tuned!"