Ginny from Lumacoon Maine Coon
by Ajuna Hacke
(Denmark)
This is Ginny our three year old dramaqueen.

She's a big softie once you get to know her, despite that look of doom in her eyes XD she was actually called Idun after the goddess of youth, but we felt Ginny suited her confident and independent personality more :)



Meet Maverick
by Pat Coyle
(East Stroudsburg, PA, USA)
This is Maverick; His daddy Zeus is a Maine Coon
After we lost our beloved full bred Maine Coon Sully to HCM we adopted Deacona a Maine Coon Bengal mix.
He is smaller than a Maine Coon but
the rest of his features are spot on.
On Thanksgiving we welcomed Maverick, a Maine Coon Highlander mix. Both breeds are large but his face is Maine Coon and he talks like a Maine Coon. His ears are definitely Highlander. At 6 months old he weighs 11.7 lbs.
by: Linda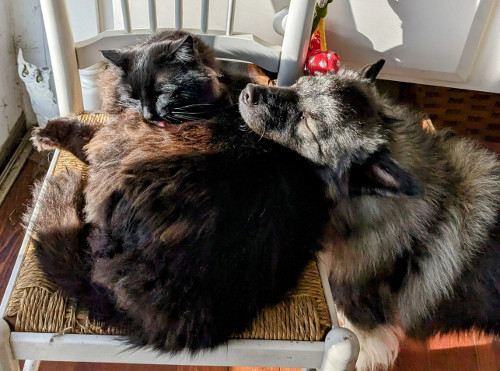 Just took this pix of my cat Poe and his personal puppy Luna Lu. They are best buddies.Their message is clear, peace and love!
Write your own page here: Maine Coon Pictures.
Astrix and Beauty
by Michel
(Linden, Belgium)
Our Maine Coons Astrix (grey) and Beauty (Brown Blotched Tabby)
Hello everyone,
Our two Coons. Astrix which has just celebrated its tenth anniversary. He is very affectionate, playful, curious and intelligent.
He always traveled by car to go to our second home in France. He adapts to all situations and knows all the gardens.
Beauty at 9 years old and was 3 times French champion in competitions. She is a true dog among cats. She loves to eat and never leaves the garden.
Our two Coons are free to go outside as is our other cat Lara, who is a 17 year and 2 month old European tabby. We treat our cats preventively with natural plant-based products.
Write your own page here: Maine Coon Pictures.
Cyrus is 1 year old
by Pam Cook
(Tennessee )
Cyrus is a sweetheart! He has been the most active Maine Coon I have ever had!

He is fast too! In one second he can run the length of the house and jump to the top of our cat tree that is made for Coonies.

We had to put a big box on top of our refrigerator because he was jumping on our shelves and then up to our window ledges. That is almost 2 stories high!!

The breeder gave us toys when we first got him and there was one toy felt mouse that became his little lovie.

If I tell him to go get his baby mouse he knows where it is and starts playing with it. He love chicken, roasted the best! He has been so entertaining and he is also very loving!
Our Current Photo Album
by Jessica Zerr
(Sinking Spring, PA USA)
Yellowstonecoon Tomboy Honey
Hello, Maine Coon families! We are so tickled to share our beautiful Black Smoke baby girl with everyone!
She just turned 12 weeks old and boy is she a little ham! We are enjoying her last week here before she leaves with her new family. Come visit us and see our little ones grow!
https://www.facebook.com/yllwstncnmccattery yellowstonecoon.com yellowstonecoon@gmail.com
Dec 10, 23 03:14 PM

New today: Meet

Ginny

from Lumacoon Maine Coon! Ajuna shares, "This is Ginny our three year old dramaqueen. She's a big softie once you get to know her, despite that look of doom in her eyes XD she wa…

Nov 10, 23 03:06 PM

New today: Meet adorable little

Juniper!

Nicole shares, "I went to the vet and they originally had her as domestic medium hair and once the vet saw her she said she has some Maine Coon in her because…

Nov 05, 23 08:36 AM

New today: Meet

Yellowstonecoon Tomboy Honey!

Jessica of Yellowstonecoon Cattery writes: "Hello, Maine Coon families! We are so tickled to share our beautiful Black Smoke baby girl with everyone! She…