The Beauty of Color Point Cats
It's time to celebrate the beauty of color point cats! For some people, this is their favorite kind of cat. What about you? Share below!

Ragdoll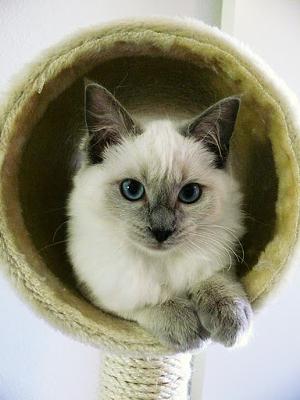 My Ragdoll color point cat, Moneypenny, is especially cute with a little kink in her tail. She is very fond of pats and cuddles, and demands them every morning at 5am like clockwork!
If you're not patting her, she will help you out by nuzzling her head under your hand.
She has many cute habits, one of her favorite things to do is to roll around in the bath tub. She is a 1 year old blue-point pure bred ragdoll and cute as a button.
She gets on well with Garfield, my other cat (a ginger). Together they work hard to make sure there are no flies in the house (or any other insects).
They love to eat cat grass and will run around crazily to get some. They both love to curl up and go to sleep on the end of our bed.
She can be a bit of a rascal though; she loves to sharpen her claws by destroying our couches, blatantly ignoring the special cat scratching pole we have setup for her. She can also be commonly found at the top of the fly-screen meowing for us to open the door.
---

Maine Coons Rule!
(But Ragdolls are pretty cool too...)
By: LP in Calgary, AB, CA

The story of Eli and his Ragdoll brother, Tiki has it's own page! Get to know these two boys by visiting their page, aptly called Maine Coons Rule! (But Ragdolls are pretty cool too...)
---

Flame Color Point Cat
I love my flame color point cat Loki because he is so lovable. Cross eyed and gorgeous he is a total mush of a cat.
He has this crazy thick fur but luckily loves to be brushed and combed. He also happens to love shedding all over my black clothing and my brown bed spread.
Loki is the brother of our other cat but happily takes the submissive role in our household. He waits his turn to eat and gladly gives up his seat for his more aggressive brother.
Loki is a great cat who has never scratched or bitten anyone, even our toddler. He does however take offense to being chased and will turn tail and make himself scarce when confronted with the small child's screeching.
---

Persian Cats!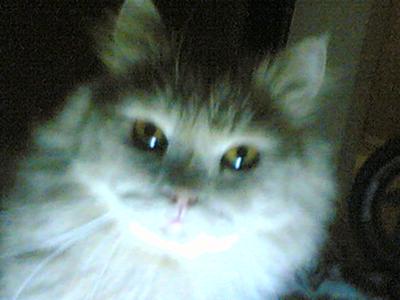 By: Satya in Mumbai

I stayed in Mumbai after my marriage, in my in-laws house & found this unique breed of color point cat. Before this I had a cat but it was stray cat.
But this unique breed called Persian, I had never seen before. In India, we usually see them in magazines or other such entertaining sources.
Now we have four cats of this breed. Actually, my sister-in-law is the one who looks after them. She takes care of them so well, like brushing, medication, vaccination, complete diet food,in which Whiskas is also included (many such abroad foods include vitamins for hair gloss, preventing hair loss.) She also gives them baths depending upon their need.
These cats are so friendly. You don't even know that they are there at your place. They are very calm, friendly, loving in nature. Anybody can get to know them within few days.
Jemmy especially is a very friendly and playful cat. The others are also the same but only his photo was available with me right now. The other names are Simba, MINI & Angle.
Simba is the king of our house as he is the eldest cat. Before this there was Himalyan breed but he died about 4 years back. He was much older then this cat, nearly 10 yrs. He was much healthier then the present cat. Actually he was the king of our house.
Jemmy will always be present to whatever work we do and at any time. There was lot more too tell but I'm out of time. Thank you, I enjoyed expressing about our cat.
---
Sep 24, 23 09:30 AM

New today:

Chubbs

is our newest addition to our Maybe Coonie Photo Album. What do you think? TJ shares, "Our male kitten, Biggerton Chubberton, or "Chubbs" for short, is a tuxedo kitten.. Chubbs is di…

Sep 20, 23 03:16 PM

Freshly updated: Our

Royal Canin cat food review

looks closely at their formula marketed toward Maine Coon owners. What makes it a breed-specific food? Here, we examine it's ingredients and what it of…

Sep 15, 23 06:35 PM

New today: Meet Leigh-Anne's fluffy girl,

Ruby!

She wonders if she has some Maine Coon in her.. ⬇️