Charlie Cat
by Jill McKee
(Bristol, UK)
Charlie - always in control
Born: Harmony Maine at Katail Cattery 25th March 1996.

Lived: Rhode Island, Massachusetts, Luxembourg and now retired to a life of luxury in Gloucestershire England with his best friend Chester(aged 12) from Providence RI.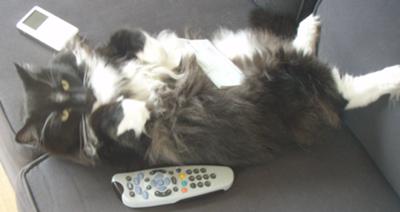 Charlie - always in control
Travels:
Boat to Martha's Vineyard
Flown transatlantic New York to Paris

Travelled by TGV (high speed train) from Paris to Luxembourg
Bus across Luxembourg City
Car through France and Belgium
Cross channel ferry from Belgium to UK

Loves: showers, tuna, sunshine
Current favourite hobby: Knocking down all the Christmas cards.


comments:
RIP Sweet Boy
by: Sharon
So sorry to hear of your loss. We joined MCCN well after Charlie did, and I hadn't come across his post until now. He was a very well-traveled boy and much loved too. Thinking of you and your beautiful boy during this sad time.

R.I.P. Charlie
by: dawdle
so sorry to hear he's no longer here. Our thoughts are with you xxxx

So Sorry...
by: Maine Coon Cat Nation
I'm so sorry to hear about your special boy Charlie. Our thoughts are with you at this sad time :(
Carrie

RIP Charlie
by: Mom and the Family
Our beloved Charlie Man passed away peacefully in Mom's arms 23rd November 2011. You will always be in our hearts, lovely boy.

He's The Man
by: Helen
Charlie is THE MAN. He should be doing commercials for a travel agency. He is handsome and I'm sure fluent in several languages!
Helen
Texas, USA

That's The Ticket!
by: Maine Coon Cat Nation
Hi Jill & Charlie,

Great page! Charlie is more well-traveled than many people! That's the way to do it.

Terrific picture, too. And Alice and Leo agree that Christmas time brings lots of fun things to explore :)

Thanks for sharing,
~Carrie
---
(note: comments are closed in this archived tribute page)
Return to Top of Charlie's Page