Welcome to our April edition of Tattle Tails! The year is off to a purrrfect start!
In This Issue:
17 month old Ludo from Ryhill, West Yorkshire, UK, is making news in a big way! If this lovable big boy continues growing on pace, he may become the UK's largest cat.
Ludo is already three times the size of the average moggy, at 24.5 pounds (11kg). His owner, Kelsey Gill, shares: "We've had Maine Coon's for a while, but never one this big. The other two Maine Coon's that we have at the moment are much smaller than Ludo and they're about four years old. He overtook them in weight and size when he was five months old and he was 18 pounds at nine months. 'Even though he's huge, he's so friendly and lovable. He'll often come over and lay on the bed or flop out on the floor to be stroked. 'He doesn't cost us anymore than the other two as he doesn't eat that much - the smallest one eats the most."
This time of year spring fever hits the cats just as hard as it hits the people! One can hardly blame them - How they love the feeling of the wind blowing through their fur. And the feeling of the warm sunshine as they lounge on the ground. And did you know there are birds out there?!?
Just the simple act of pouncing on a cricket or trying to catch a fly actually brightens up a cats day. It adds to their overall health. They get exercise, and they feel like those instincts are being satisfied.
Having indoor cats presents a challenge in the springtime. There are a few options though!
For those of us without an enclosed yard, walled garden or screened porch, outdoor cat enclosures provide a way for cats to go outside and enjoy all it's benefits. They are safe and accounted for, and get to enjoy being outside. Some handy folks even build their own enclosures!
Have you ever considered or tried leash-training your cat? It's true - Maine Coons can be leash-trained. You'll want to use not a collar (if kitty pulls or gets caught around something she can choke) but a special cat harness. These fit around the body, and most Maine Coons tolerate them well. Some even really enjoy their harnessed walks!
Of course, most cats won't be interested in an old-fashioned jaunt down the sidewalk (although a few will!) Leash-training a Maine Coon usually means safely exploring the yard together.
And when these options don't work, even opening a window brings such enjoyment to our furry friends! The breeze, the view, the scents and sounds of spring - what a treat!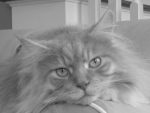 Reader Tips, Tricks, and Advice:
Over time, Coonie lovers have sent in lots of tips and advice! Here are some pearls of wisdom following our "cats outside" theme for today:
Cat Fence-In System:
Dale shares: "We ordered and installed a 'Cat Fence-In System' 10 years ago and now wonder how we ever let our cats run at-large. The cat enclosures offered on this site are also good choices. Before we 'got smart' about our cat's safety we lost 2 wonderful pets to road deaths. Don't let your beloved pet run loose...it counts on you as an intelligent owner/parent to do what's best for it's safety."
Protection:
Sharon writes: "I live in coastal ME and there is plenty of wildlife that would find a coon cat a very pleasant meal even in the village of our little town of 900. Many of the commercial cat enclosures will only keep them enclosed ... not protect them from wildlife like fox, fisher, coyote, bear and birds of prey. We opted for a chain link 10 x 10 x 6' kennel that has a reinforced shade cloth cable tied over the top. A predator could not get through the chain link and the shade cloth protects them from birds of prey and from the sun. We would never consider anything less substantial."
Pet Locator:
Gillian tells us: "Molly likes to wander in the garden and to solve this problem we bought a Pet Locator Plus. A wonderful gadget to track our beloved kitten. She is amazed that we can find her so quickly. Part of going walkies is to give her mother a heart attack or playing games of hide and seek."
Microchipping:
Gail's reminder about microchipping: "In the event the cat is found by someone with a scanner(animal control, vet, shelters, etc.), they will scan the cat looking for the microchip. They will then call the owner to let them know they've got the cat. In the event of theft, if the cat's chipped and the thief tries to pass the cat off as their own, they will be caught or at the very least, will be investigated as to why the chip belongs to someone else."
Harnesses:
Sharon writes: "We started leash training all three of our boys shortly after they came home from the breeder and the process was seamless, they all took to it right away. We simply started by putting the harness on for a few minutes each day so they could get used to it. Once they were used to it then we tried the leash. It might take a little longer for your 10 month old, but be patient.
We walk our boys around the yard and have taught them their boundaries beyond which thy are not allowed to go. This has helped when they occasionally bolt out the door. They run to the boundary and stop. We travel with them on vacation sometimes and being leash trained helps alot. This way they can get outside when there is a safe place to do so.
We use Lupine brand harnesses with great success. (The cat Lupine Harnesses are too small for most coons. We use the one for small dogs.)"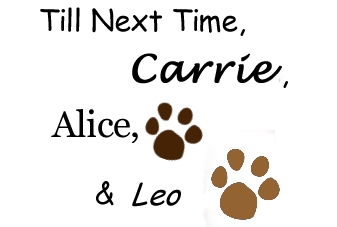 Get Everything Maine Coon at Your Fingertips - Now: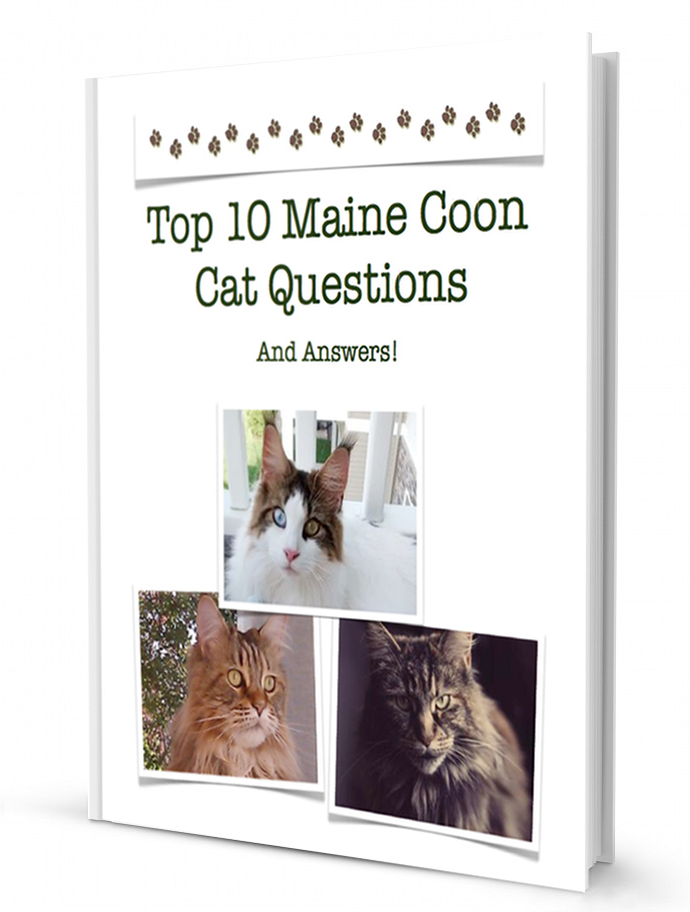 << The Care & Keeping Of Your Maine Coon is the ultimate guide to all the breed-specific needs of your Coonie. This unique breed has unique needs! A must-have.
The Top 10 Coonie Q & A's >>
is the essential handbook for all Maine Coon Questions, covering topics like nutrition and weight, "Is he a Maine Coon?," size, lifespan, and more.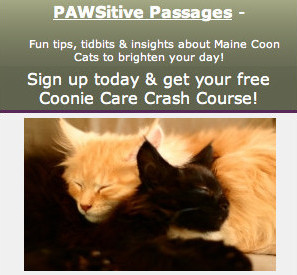 PS:
Be Friendly:
If you have friends or family who love cats, feel free to forward this newsletter to them! It's fun and free :) The more, the merrier!
---
PPS:
If you have enjoyed this issue, or any other page on the site, please help us grow by sharing it through FaceBook, Twitter, or other social networks. We
really
appreciate it!
If you have a blog or website, would you consider linking to us? Thank you so much!
I'd Love To Hear Your Thoughts:
Have you enjoyed your copy of The Care & Keeping Of Your Maine Coon? I love feedback!
I'm interested to hear which parts you related to or found useful, and what you might like to see in a future health-focused Ebook.
If you have a moment, please share your thoughts below! Thanks!
I look forward to reading your response on the Ebooks! Our mutual love of Maine Coons has blossomed into a lovely community. Together, we have created a very special place!
Care & Keeping Feedback
Please share your thoughts on the Care & Keeping of Your Maine Coon (& Top 10 Q&A's)!