A Maine Coon named Portland has recently been reunited with his owner, thanks to his microchip. His owner, Autumn, had moved abroad temporarily leaving him care of a friend.
So when Portland escaped and nine months passed, it seemed all hope had been lost. Then Autumn checked in with her local Humane Society. Portland was there! The had tried to contact Autumn, but she hadn't updated the microchip information.
So, if you have ever moved since microchipping your Coonie, make sure to call the vet & have your contact info updated on the microchip!

(Source: http://www.theregalcourier.com/opinion/story.php?story_id=133546961014579900)
Are you wondering about our gorgeous cover girl? This special, sweet girl is being fostered by Fran in Canton, Ohio. We're hoping to help her find a home to call her own - forever. Meet Puddy:
"Hi Puddy! I hear you are having a nice stay with Fran while you wait for your forever home. Maybe one of our Maine Coon Cat Nation friends will make the purrrfect match for you!" So tell us a little about yourself:
- How old are you? Are you a purebred Coonie, or mix? Do you have any nicknames, or maybe a longer name? What is your color?"
Well, I'm about two years old and I think I'm a Coonie mix. At least that's what my foster Mama tells me. She says my fur is beautiful and that the white, black and grey make me look interesting.
I have a large furry ruff around my neck and little tufts between a couple of my toes. They are always fluffing my long fur. I like that a lot! I also look like I have a moustache! I'm irresistable, I'm told. My only name is Puddy but I wouldn't mind adding another one.
"How did you come to Fran? I understand she can't keep you, but is enjoying every moment of caring for you."
I was hiding out in the woods around their home and decided to be brave and come up on their second floor back deck. I was getting really hungry and soooo hoped that they would be nice to me. I sure picked the right home because they fed me and gave me a nice warm place to sleep.
"What kind of home are you looking for? Do you get along with other cats? How about dogs?"
I would very much like a home where I can be the center of attention. When I'm outside I seem to get along with neighbor cats. I just can't seem to get along with Emma, the kittie that was already living with my foster parents. I'm not sure about dogs, maybe.......
"Do you have any funny or special quirks? Silly habits? How about snuggle time? Tell us how you like to bond with your people."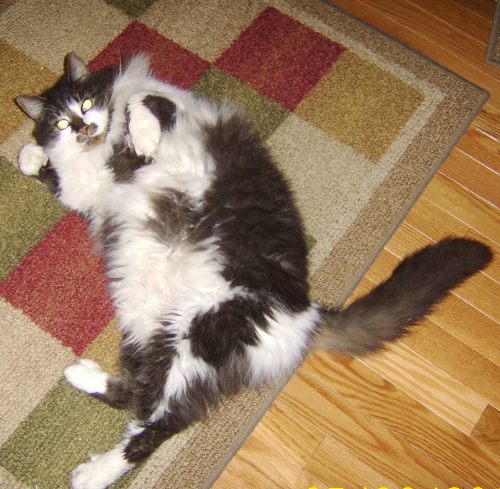 Puddy, belly up
I have an interesting purr. I'm a pretty big girl so I'm kinda loud with my purr. One of the things I like to do is just "plop" right behind my foster Mom when she is in the kitchen.
Actually, I'm happiest on a lap (that's my favorite) but just being on the rug with my folks right there is great too.
When it's bedtime, my foster Dad says, "okay Puddy time for bed" and I follow him down the stairs to my room and he "tucks me in". Next morning he comes and gets me and we have some together time before he goes to work. I know they love me.
"Thanks for sharing, Puddy! It was great to meet you, and I dearly hope you are soon settled in your forever home!"
Note From Fran:
Puddy would make an absolutely wonderful addition to a family or single parent. She likes to be on a lap and is very loving. We did find out that Puddy was spayed and her front claws were taken out. We really, really wonder who let this wonderful kittie go. It would make us so happy if Puddy could find a loving home.
Note from editor: Are you interested in meeting Puddy? Please contact me using the "contact" link at the bottom of this page. I will forward your email and info to Fran. Make sure to check your spam filter for replies.)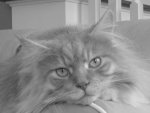 "Since today's issue started out with microchips, it reminds me that both Alice and I are microchipped. It was done when we were spayed and neutered. If you have a cat (or dog) who has an upcoming appointment with your vet, ask about microchipping. It's quick, easy, and provides identification in case we sneak out and get lost. Since we're indoor Coonies, we don't wear collars."