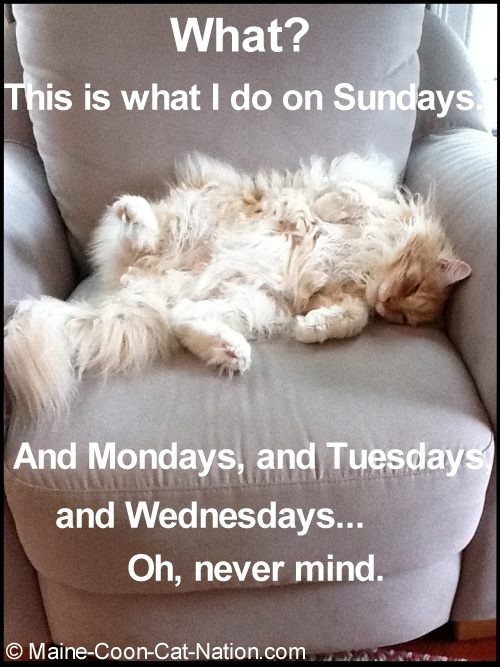 The June Photo Album is complete! It was quite a month, with lots of gorgeous cats and kittens to see.


The July Photo Album has just been started! So far we have Tiger Lily, Ozzy, Muggles Mundungus, Figaro, Osacar, Marcey and Bella. More beautiful cats are waiting to be added very soon!


On the right is a photo I shared on FaceBook last weekend. It's an actual picture I took of Leo on Sunday afternoon. I thought I'd add it here for those who aren't on FaceBook. It brought a smile to my face! Maybe I'll have to make more funny pictures to share!
A Maine Coon named Tramp made the news when he was reunited with his family after eighteen months! Janet Bishop was thrilled to see Tramp again.
"We looked for him for ages, searching nearby fields and things," said Mrs Bishop, who owns Doggies and Moggies pet supplies shop in Falmouth.
Cats Protection answered a call about a "big vicious cat," trapping Tramp. They contacted the Bishops and the rest is history. Coincidentally, a family just a few hundred yards away had been looking after Tramp!
Source: http://www.thisiscornwall.co.uk/Lady-Tramp-reunited-18-months/story-16377206-detail/story.html
---
Alice's Interview With... Isabella!
"Hi Isabella! I hear you have an interesting adoption story. I'm looking forward to getting to know you. So tell us a little about yourself! Are you a purebred Maine Coon, or a mix? What is your color?"
Isabella
"Like a lot of coons, I didn't start showing my breed until I was about 7 mos old, when I started putting on a lot of weight and my ruff and tail really grew in.
I found out later I am a tortoiseshell purebred. Since I'm only 2, I still have some growing to do."
"How did you come to live with Polly? Were you bought, rescued or adopted? How?"
"My family found me on Craig's List. The litter was me, my sister and an abandoned kitten the lady had taken in to nurse with me at 5 weeks old, up for adoption.
My new family had just lost their two beloved sister cats at 17 so I had big shoes to fill. Fortunately, I'm polydactic, so I have big feet for the shoes.
I was very bonded to the rescue kitten since we were the same age and nursed together, and when my new mom saw me, she didn't want to separate us, so she took us both home together.
We celebrated our two year birthday in march."
"What is your home life like? How many other pets are in the house, and how do you get along?"
"I live in a nice 3 bedroom house with lots of cubbyholes, closets and places to explore and a big backyard with lots of stuff to sniff.
They have a 22 yr old cat who's deaf so I help guide her to the kitchen when I hear the can opener. I don't eat wet food, so when I hear the noise, I know it's her dinnertime and I walk at her side and move her to the kitchen.
She's a sweet cat, so sometimes I pick up my toys and take them to her so she can play too. Sometimes I take a nap on the couch with her, too. I have lots of toys and a big cat tower to play in.
My rescue sister and I like to wrestle. My mom calls it the WWF-World Wrestling Felines. Sometimes I win and sometimes my baby sister wins, but only because I let her."
"What is your favorite time of day or way to bond with Polly? Is there a special time or place for snuggling or just hanging our together?"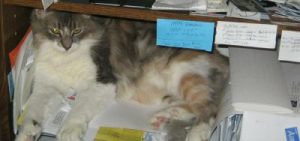 "I crawl up on the couch with her when she's up late watching t.v. and I like to lay in her arms and purr until I fall asleep, which is no easy feat because I'm almost 3 feet long from head to tail.
Sometimes I curl up next to her on the bed at night. During the day when I want attention, I roll over on my back and peep at her so she'll scratch my tummy or brush me.
I'm very sensitive and when people talk to me, I always look them in the eye. If mom and dad go somewhere for a long time, my feelings get hurt and I cry until she picks me up and talks to me. I'm not aloof like some cats are, I like as much attention as I can get."
"Do you have any funny or special quirks? What do you like to do to keep things interesting?"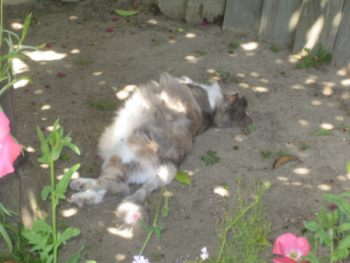 "My nickname is Missy Peepers. Because I don't meow, I peep. I go outside everyday, love to roll in the dirt a lot, watch the birds flying around and make mom and dad chase me all over the yard.
Even though I weigh 21 lbs, they still can't catch me. I also only sleep on my back and have to have my toy mousie with me while I sleep.
I like to chase jingly balls in the bathtub and I always watch dad shave, it fascinates me. I have to know what's going on at all times, so I follow mom and dad around to make sure I don't miss anything.
And whenever I do something wrong, like claw the couch and Dad tells me no, I always walk up to him and "poof." I arch my back up really high so it looks like my fur is all "poofed" out and I give him the innocent kitten face and start rubbing against him. I just keep poofing and rubbing until I'm too cute to be mad at. I'm no dummy."
"Thanks for the interview, Isabella! It was nice getting to know you!"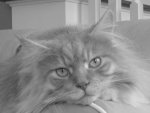 "This time of year, heat stroke (or heat exhaustion) can occur suddenly. We cats can get stuck outside or in a hot place like a shed or garage. Here are some things to know:
Signs include panting like a dog, dark colored tounge/gums, dizziness or walking wobbly, lethargy, drooling & hot paws.
Call or get to the vet as soon as possible, but there are methods you can use to cool down a cat immediately:
A spoon or syringe can be used to squeeze water into the side of the mouth, and lukewarm water can be placed on the body or feet, among other measures."
Full article: https://www.maine-coon-cat-nation.com/heat-stroke-in-cats.html