Tattle Tails: Maine Coon Newsletter

August, 2012

In This Issue:
Cat Quote
What's New On The Site
Maine Coons In The News
Alice's Interview With... Arthur!
Leo's Health Tip

---
"I have studied many philosophers and many cats. The wisdom of cats is infinitely superior."
~Hippolyte Taine

---
What's New On The Site:
The July Photo Album is complete! It is full of beauties of every size and color!
The August Photo Album is in full swing! Some of the most recent cats include Willis, Gabe. Levon, Puff, Scooter, Merlin, Watson. Kai, and Quincy showing off his lion cut! More beautiful cats are waiting to be added very soon!


There have been a few new additions to the Rainbow Bridge section since our last Tattle Tails. Please visit these lovely and touching tribute pages:
Fassa, Rest In Peace
"Mufasa, or Fassa, which is what we all called him, was the first Maine Coon I had ever owned. He was given to me from a family friend who couldn't have a cat where he was moving.
I had been around Fassa for some time & loved him to pieces. When he officially became mine, I was in heaven...."


Nutmeg - Sadly Missed
"This is Nutmeg – "Meg" or "Moosta". First and only Maine Coon I've owned. Sadly she died just a few weeks ago – gosh, getting teary now just writing this! I've had about 15 cats and four dogs in my life (plus a duck and some fish!).
As much as I've loved them all, this little girl was something extraordinary..."

"Torri" Luv Paws A Torrid Affair of Pinecoon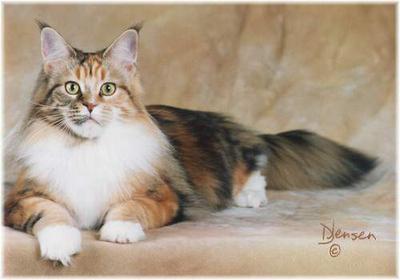 "Torri, one amazing cat. The Queen of all she surveyed and the light of our lives for ten years (an adopted retiree when seven).
When our grief has subsides we will again adopt a Maine Coon... but Torri can never be replaced...."


Who Rescued Whom?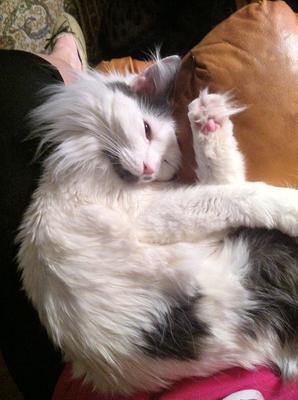 Toby: "In Oct. 2006, I dropped off a donation at the local Humane Society and walked out with the kitten that turned out to be the love of my life.
A big white furball with a gray plume of a tail and a few other gray markings. I had no intention of adopting another cat (already had 3 DSH rescues) but there was just something about Toby that compelled me to take him home...."

In Memory Of My Fur Baby Bruce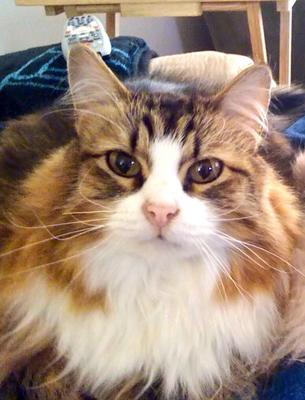 "My Bruce had such a huge personality and was so lovable. I got him for my birthday in Sept. 1997. I instantly fell in love the moment our eyes met That little ball of fur brought so much joy to my life and I have so many wonderful memories of him.
I recently lost him to cancer and I miss my boy sooo very much. I cry on a daily basis, not having his sweet face around is very hard...."
Maine Coons In The News:
A master magician named Simon Pierro creates illusion using an iPad. He does some really impressive things in the following video, which features his two seven-month-old Maine Coon kittens!
---
Alice's Interview With... Arthur!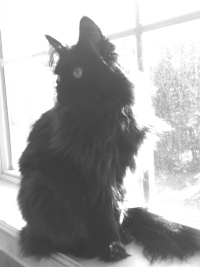 "Hi Arthur! Thanks for taking the time to talk to me today! I'm looking forward to getting to know you. You have wonderful classic Maine Coon looks!
So let's get started!"
"Hi Alice, my name is Sir Arthur Cooper Brandybuck, but please call me Arthur. I was born on April 2, 1998 in Addison Maine, so that makes me 14 years young. I am a pedigreed Brown Mackerel Tabby Maine Coon. I have a few nicknames, my parents often call me 'Brandybuck', 'Snorkelbeast', and sometimes 'Porky' or 'Elephant Toes' which I take great exception to."
"How did you come to live with Sharon and Carl? Did they choose you, or did you choose them?"
"The owner of my cattery used to send my brothers, sisters, and cousins to homes around the country using a small airline where my Dad was a pilot. The owner knew my Dad was interested in finding a Maine Coon, and one day the owner told my Dad that my litter had arrived. My Dad came to look at my litter when we were about 4 weeks old. When I saw him, I knew he was the right human for me. I walked away from my litter mates and marched right up to him, and looked him in the eye.
Dad told the owner that I was the right one. He was looking for a playful, strong, and assertive personality and boy did he get that in me!! Dad had just met Mom so she wasn't there when I picked him, but I met her soon afterwards when I came to my new home."
"Are there any other animals in the house? If so, do you love them, torture them, or tolerate them?"
"I have two pedigreed Maine Coon brothers named Elliot and Marley. I am the patriarch and the Alpha, though I only assert my Alpha tendencies when necessary. Elliot came to live with us when I was four and he drove me crazy at first, but he grew on me in no time. He saw me as his new best friend from the start and it was pretty fun having a playmate after four years with just Mom and Dad.
Then, when I was nine, Marley showed up. Oh my. Now I am an easy going guy, so I warmed up to him OK, but Elliot? He wanted Marley to go on an extended one-way trip to anywhere but our house. For months the three of us couldn't be left alone together, so I'd be left with Marley while Elliot was in exile in another part of the house, or Marley was put in exile. Elliot worried himself sick over this intruder for the longest time, but now he tolerates him and even plays with him sometimes. I generally let Elliot think he is in charge, but I have to put him in his place on occasion, especially when he picks on Marley."
"What is your favorite way to bond with your people? Is there a special game you play, or place you like to snuggle?"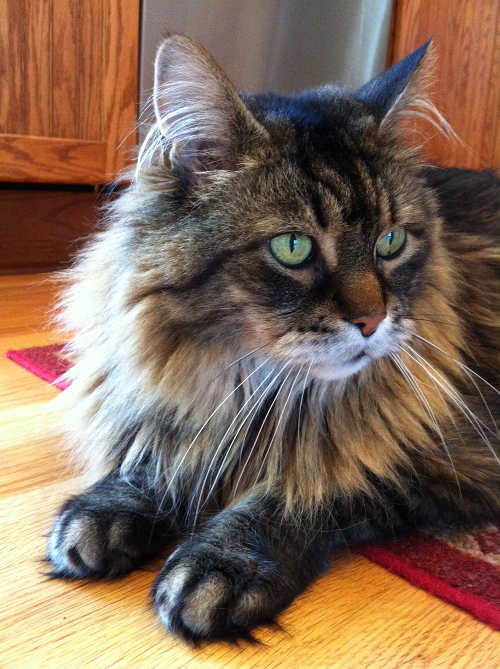 "I am a lap cat and will crawl into the first lap I find, although I prefer Dad's. I am a big boy at 20 pounds and I don't fit in Mom's lap very well. I climb up the back of Mom's upholstered desk chair and perch watching her work. She doesn't mind that her chair has turned into a cat tree. She also has a bed for us on her desk which I enjoy, as do the others.
I also sleep between Mom and Dad which they don't mind as long as I keep my tail-end away from their pillows. One of my favorite toys, and my brothers' too, is a Willow or Forsythia branch. It is long and flexible and Mom shakes it at us and drags it around the house or the yard and we chase it and try to grab it from her. Mom calls it a 'stick' and we all know what that word means. Treat time is another favorite playtime event. Mom or Dad throw crunchy treats around the house for us to chase and eat. We know the words 'crunchy' and 'treat' too.
Another word we know is 'outside'. Our parents take us out on leashes and play with us in the back yard. We also have a very safe pen we spend time in outside as well. It has cool places to get up on or go underneath and butterflies and bugs can get in and we love to chase them."
"Do you have any super-funny quirks? Anything that puzzles or annoys your people? Life as a cat has to include some mischief! Tell us how you stir things up!"
"Everyone thinks I am a pretty unique guy. I love cantaloupe for starts. I can smell one before Mom even cuts into it. It is better than Fancy Feast! I also love Mom's herb garden. I plop myself on top of the Rosemary or the Oregano, the Thyme or the Sage and rub my face on it. It is all catnip to me.
I've always been a klutz; Dad says I was born without springs. I prefer to say that I am 'gravity challenged'. Even as a kitten I aimed, jumped and usually missed my mark. That usually made my parents laugh except when I scratched the furniture. :(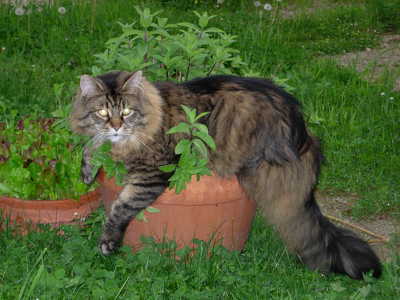 Another not so funny quirk is that I am always hungry. I think I have a mutation of the 'I'm full gene' which says "I'm empty'. I have an automated feeder for my 'light' food and my brothers are fed up on a table where I cannot jump (because I am 'gravity challenged') . All this because I topped out above 23 pounds a few years ago and they put me on a diet – how dare them!"
"Anything else you'd like to share?"
"Why do Mom and Dad call me 'Elephant Toes'? I have tan elephant toenail shaped markings on each toe. :-)
It's been very nice chatting with you Alice! Say Hi to Leo for me. My Mom just loves Maine Coon Cat Nation, keep up the good work and I look forward to your future interviews."
"It's been great getting to know you, Arthur! Thank you for being our Cover Cat for August!"
---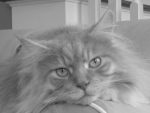 Leo's Health Tip:
"Hip Dysplasia was once thought to affect only dogs, but now we know cats can suffer from it as well. Although it's very painful, it's also treatable.
Signs include limping off and on, not running and jumping as usual, or being obviously in pain. Cats might even refuse to walk. Treatments vary, but sometimes anti-inflammatory drugs are prescribed, or dietary supplements, or even surgery. We big cats do put a lot of weight on our joints, so it's important to keep an eye out for potential hip problems."
Full article: https://www.maine-coon-cat-nation.com/hip-dysplasia-in-cats.html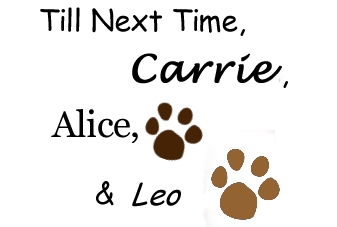 PS:
Be Friendly:
If you have friends or family who love cats, feel free to forward this newsletter to them! It's fun and free :) The more, the merrier! And if you've received this from someone else, feel free to use this form do you can get Tattle Tails next month!
PPS:
If you have enjoyed this issue, or any other page on the site, please help us grow by sharing it through FaceBook, Twitter, or other social networks. We really appreciate it!
If you have a blog or website, would you consider linking to us? Thank you so much!

Let's Connect!
Subscribe in a reader - Be notified of new posts!




Or, get The Daily Digest by email:
(Same as above, just delivered via email)





Join our weekly email group by filling out the form to the right. From time to time I'll send out special tips, articles, news, deals and other free goodies!







Subscribe in a reader - Be notified of new posts!
Or, get the Daily Digest by email:
(Same as above, just delivered via email)
Join our weekly email group by filling out the form below. From time to time I'll send out special tips, articles, news, deals and other free goodies!
Return To Tattle Tails Back Issues Page