Sweet Audrey
by Leslie
(Massachusetts)
Sweet Audrey
Hello Carrie,

I'm enclosing several pictures of my Sweet Audrey. I adopted her from a shelter - she's 4 or 5 years old & not very large. She has silky soft fur, a huge fluffy tail, fur between her toes, and a "lion mane."

Her chin has sort of a "fatty" pad. Her back feet are like snowshoes. She loves to be near me, but rarely on my lap - she is quite happy to be on the chair next to me and she follows me from room to room. She is a great companion.

I thought she was a long-haired calico, but after doing research, she has many characteristics of a Maine Coon Cat - but without the weight and size. What do you think?

Thanks

Reply
Hi Leslie,
Audrey is so sweet, and so pretty! I can tell she is a great companion. Aren't you both luck to have found each other ):

Well, as for her size, my Alice, a purebred Maine Coon cat is almost 8 pounds! And I've heard from others with little girls, too. So, it happens!

From the look of her, and all that you describe, I think she could possibly be a Maine Coon mix! I would lean toward the mix & not full because I don't see the tufts of fur on the tips of the ears. Full Maine Coons, the ones that came from registered parents, and from a breeder, will have those.

I can see the fur sticking out between her toes, though! Very cute!

I will make sure to add Sweet Audrey to our photo album soon, thanks for sharing her with us!
~Carrie


Sweet Audrey - Update
by Leslie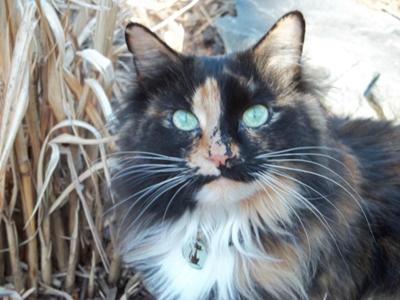 I am e-mailing a current picture of my cat, Sweet Audrey (mix Maine Coon Cat/Long-haired calico).
Thank you,
Leslie
Comments:

Pretty girl!
by: Ana
Audrey is very sweet!
Pretty Audrey
by: jessy
What gorgeous coloring!
In any case . . .
by: Jessy
Whether she is part Maine Coon or not, she is STILL a long-haired calico. I love the darkish calicos. I had one whose top half was tortoiseshell and whose bottom half was calico.
Sweet Audrey
by: Leslie
Luv that Sweet Audrey. Her bib is getting very long.