Sweet Audrey
by Leslie
(Massachusetts)
Sweet Audrey
Hello Carrie,


I'm enclosing several pictures of my Sweet Audrey. I adopted her from a shelter - she's 4 or 5 years old & not very large. She has silky soft fur, a huge fluffy tail, fur between her toes, and a "lion mane."
Her chin has sort of a "fatty" pad. Her back feet are like snowshoes. She loves to be near me, but rarely on my lap - she is quite happy to be on the chair next to me and she follows me from room to room. She is a great companion.
I thought she was a long-haired calico, but after doing research, she has many characteristics of a Maine Coon Cat - but without the weight and size. What do you think?
Thanks
Reply
Hi Leslie,
Audrey is so sweet, and so pretty! I can tell she is a great companion. Aren't you both luck to have found each other ):
Well, as for her size, my Alice, a purebred Maine Coon cat is
almost
8 pounds! And I've heard from others with little girls, too. So, it happens!
From the look of her, and all that you describe, I think she could possibly be a Maine Coon mix! I would lean toward the mix & not full because I don't see the tufts of fur on the tips of the ears. Full Maine Coons, the ones that came from registered parents, and from a breeder, will
have those.
I can see the fur sticking out between her toes, though! Very cute!
I will make sure to add Sweet Audrey to our photo album soon, thanks for sharing her with us!
~Carrie
Sweet Audrey - Update
by Leslie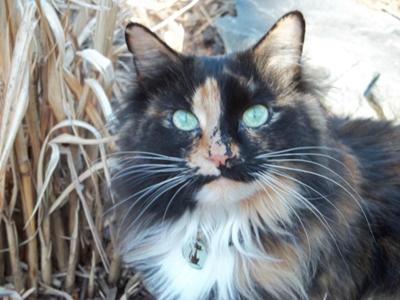 I am e-mailing a current picture of my cat, Sweet Audrey (mix Maine Coon Cat/Long-haired calico).
Thank you,
Leslie
Comments:

Pretty girl!
by: Ana
Audrey is very sweet!
Pretty Audrey
by: jessy
What gorgeous coloring!
In any case . . .
by: Jessy
Whether she is part Maine Coon or not, she is STILL a long-haired calico. I love the darkish calicos. I had one whose top half was tortoiseshell and whose bottom half was calico.
Sweet Audrey
by: Leslie
Luv that Sweet Audrey. Her bib is getting very long.
comments:
Im shocked and amazed..........
by: Diane Robertson
Sweet Audrey looks so much like our 'Marmi'(short for 'Marmalade'. Our Marmi looks just like your Maine Coon mix.
She is only 4 months old and has the Marmalade strip down her face on the same side and her legs are marked the same.
Our kitty is also a mix. Loving and beautiful....I never expected to see another just like her. What are the genetic odds.
We are from Bend, Oregon as are her parents. I'm going to try and send a picture to this website. I just have to figure out how. :) Your Audrey is such a beautiful cat....you are blessed indeed.