September 2012 Maybe Maine Coons
Here is our September Photo Album of Maybe-Maine Coon Cats and Mixes!
Maybe-Maine Coon Cats For September:
Is He Maine Coon?
By: Celeste Eden in NB Canada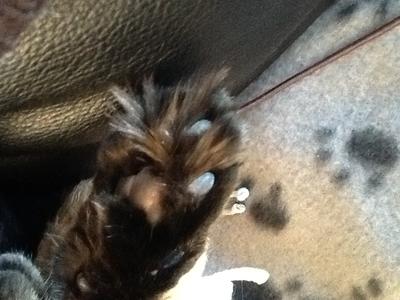 He has long hair between toes, huge fluffy tail so wide its as wide as his back is, hair in ears, tabby face/body, long fur underbelly and bum.
Affectionate, kind, gentle! Loves my 6year old cat even tho my cat hisses at him all the time. Wants to play a lot. Has a 3 feet 1 inch stretch from front paws to back. Is 8 months old! Weights 8lbs but looks as big as my 15 pound cat. Follows around the house and chases balls like a dog.
Talks a lot when awake! Loves other cats. Likes to be around people, sleep with us. Very smart. Learns fast. Huge huge paws and not because an extra toe. Huge claws. Vet said biggest teeth she'd ever seen on a cat. Oh, sadly he has the heart murmur genetic defect. He was a rescue.
---
I think my kitten is a Maine Coon
By: Melissa in Cypress, TX, Harris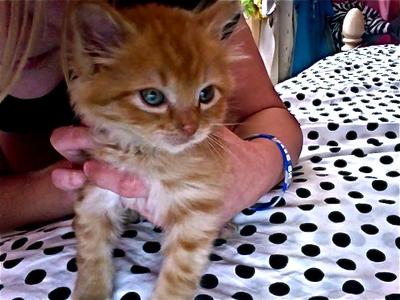 He is so playful but when he wants to play he is always biting and scratching I even put him in time our in the bath room for 5 minutes - what should I do?
When he goes to sleep he lets me pet him and rub him but not when he is awake!
---
Punkin - My Teddy Bear Cat
By: Erica Fraser in Pretoria, South Africa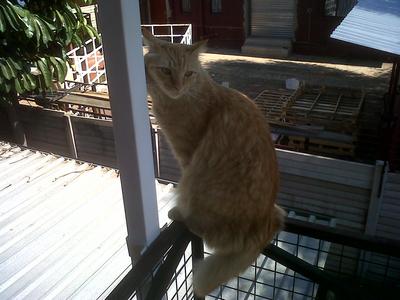 Punk the owl
Hi, I got Punkin from a pet shop about 3 years ago. He was a fuzzy & rather sickly looking orange furball, but there was something in his eyes that grabbed my heart.
A course of cortisone fixed my baby & till recently we blamed the meds for the fact that he's so huge! He is nothing like any of the other ginger cats i have ever had.
Last night i came across your website & saw countless pictures that looked just like my Punki-bear. After reading the characteristics (both physical and personality) my bear seems to fit the profile.
The ruff of fur around his neck, his prodigious tail that flies like a flag behind him, the hairy tufts between his toes. All that he's missing is the tufty ears.
As far as his personality goes, Punkin is dreamer, a thinker, a joy! He is ALWAYS an arm's length away from me no matter what i'm doing. He's the 1st to greet my guests at the door and is LOUD! He "chats" when spoken to, will tell you what he wants & will not stop till he gets it! He obsessively plays fetch with a hair elastic, dropping the returned item at your feet and will yell until it gets thrown again.
Did I mention he's the biggest cat I've ever seen?
I am sure my gentle giant cat has a little Coon in his bloodline somewhere...
Erica Fraser Cat-mom
October Update:
We got Punkin about 3 years ago from a pet shop. At first we thought he was just a fluffy (very cute) pavement-special kitten.
But as he grew up we could see that he was different from the other cats we've had before which led me to start sniffing around on the internet to see if i could identify him.
He is the biggest cat i have ever seen. He has ALL the traits of a Maine Coon except the tufts on his ears.
Punkin earned the nickname Punki-bear because of his gentle nature and his cuddliness. (i don't even think that's a real word)He has a prodigious tail that waves like a flag behind him...
We always know who has tracked mud into the house by the very furry (muddy) prints. Our other cats have dainty little paws while Punkin has hairy feet with clumps of hair between his toes which makes for very messy paw prints. Punk seems to understand what people say to him & watches inventively when spoken about.
His favourite game is fetch which he plays with a hair-elastic and enthusiastically brings back & drops at your feet. Heaven forbid you ignore him, for he WILL yell and sing and dance about until you throw his hair-tie for him again. He has even been known to pull hair-ties out of my friends hair should he not be able to find his own.
Maine Coon or not, Punkin is the most amazing cat-boy in teh world. At least in MY world :-)
---
Coon Mix??
By: Angela in California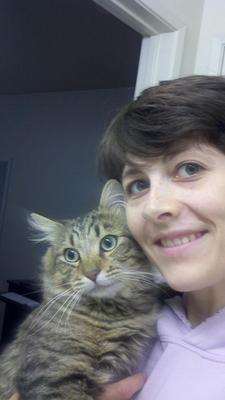 Oscar is new to our family. We would see him around our house in the early mornings sometimes, so we started leaving food out in our garage for him. We caught him and brought him inside.
He was very scared but it took only about 1/2 a day before he started loving on us. I took him to the vet and got him neutered, microchipped and vaccinated and am happy that I could give him a good home. :) He had a pellet embedded in his side, which the vet kindly removed free of charge.
He drools excessively when he purrs. He has a very strong body compared to my calico. We thought he was at least a couple of years old because of his size. But the vet told us that he was about 10-11 months. He weighs 10lbs. He has a long, strong tail. His eyes are yellow with a circle of teal right around the pupil. Sometimes his meows sound funny.
My calico is about 15 months and weighs 10.5lbs but she feels limp and weak compared to Oscar. I think he is a mix because he has large paws and a long tail. His tail looks twice as long as my calico's tail.
I have him in a nice room while he is getting used to our home and recovering from getting neutered. He meows when I stand up to leave and if he is left alone for a long time, he meows as loud as he can. He doesn't seem to have any problems with our maltese...but our calico hates all animals and growls and hisses when she sees him. He hisses back...but doesnt seem too bothered. Which is good.
I was surprised that he was completely healthy when we took him in. Maybe he was a pet before? But unneutered and unchipped...which are both mandatory on the Naval Base where I live.
---
Too be or not too be a little bit of Maine Coon Mix in me?
By: Constance Cayer in Mesa, AZ
taken 09/22/2012
Princess!, My goodness ..where to start?...I have had her with me since she was about 4 weeks old, thats when I found her. I know the daddy of her is Prince a huge cat that is a stray in the area and they look exactly the same.
The first thing I noticed about princess was the size of her paws! They were huge with tuffs between her toes, along with the typical markings on the forehead and the longest busshy tail i have ever seen. She is only 5 months old and huge, with chinchilla like soft fur.
She is by far the most unusual cat I have ever had sleeping, hanging upside down on her head or on top of mine. Oh and tenatious is a good word that comes to mind when describing her when it comes to play time its non stop non stop.
Her personalty is sweet and smart, you can see her thinking things through, working it out before she attemps it, whatever it may be.
So what do you all think????
---
Is She Part Maine Coon?
By: Louise Sirot in Kitchener Ontario Canada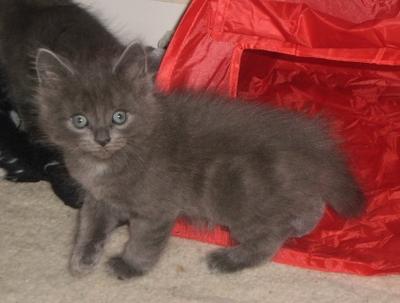 side view
Patches, She is 7 weeks old today, Charcoal grey Female. She has a Faint M on her forehead, she has blue eyes that haven't changed like her siblings have to green.
She has beautiful markings/patches/ bulls eye markings on her sides, and rings around her tail like a Lemur, she's medium long haired, really fluffy, but different lengths.
Other 2 siblings are Tiger striped Male, brown/black and light grey/silver tiger striped male.
I have searched the Classic Tabby pictures and she fits into none of them, except the markings, of the bullseye on her sides, her hair is 3 demensional, and thick, and long.
Any insight would be great,
Mother is Tuxedo medium haired
father is Silver Striped Tabby
---
Rescued Road Cat
By: Sally in Asheville, NC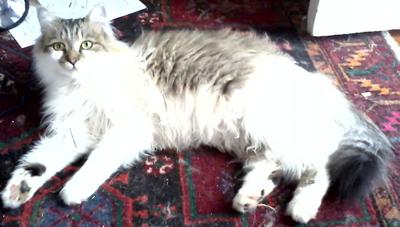 Chance on the rug 13 months
A little over a year ago, a tiny kitten was rolled up in a ball on the centerline of a busy highway at rush hour. He would roll to the left and right to avoid oncoming vehicles. My dear friend somehow saw the little face and stopped her truck to rescue him. He has been the delight of my life ever since. He must have been about 4 wks old then, with a bloody nose and mouth and wierd looking hair. He's 13 months now and the brightest spirit imaginable.
Chance is an extremely energetic, extremely furry boy with hairy ears and paws and an impossible tail. He communicates by purr, squeak and the silent meow, but mostly stares at me till I figure it out. I had a purebred Coon many years ago, and she was much the same. This boy is a great protector cat, believing he must guard my bedroom door and accompany me to the mailbox everyday. I am fortunate to live in an area where it is safe for him to go outside, and he is a mighty hunter of insects, earthworms, voles and moles. He also loves squirrels, but has never quite caught one, although he is an excellent climber of trees.
He comes when he is called if he can hear my voice, and checks in every hour if he is outside, just to be sure I am OK. He is very much a people cat and the whole neighborhood claims him. He is enormously patient with children and has been since he was very small.
Chance measures 30 inches from nose tip to tail tip at present and weighs around 14 pounds. He was brown tabby and white initially, but keeps wanting to go blond and white with black accents. Just gets prettier and prettier. I just want to show him off and show you why I know he's got some Coon/Weegie/Siberian genes somewhere. We live in the NC mountains, so I call him my WNC forest cat.
Comments:
Laurel: I love Chance! Such soulful eyes and absolutely gorgeous coat! So glad he was saved, what a story!
---
What do you think of Cleo??
By: Krysta in Texas
The second night home...pretty face with 'Lynx tips'
Little girl with an unknown father....
To say we adopted her I don't think would be accurate, I think it was more a of a rescue situation....once we got her home from this lady's house we saw that she was missing all of the whiskers on the left side of her face along with her 'eyebrows'....she also went through 3 LARGE cans of wet food a day for the first 3 days when she got here....She is doing just fine now though....and getting bigger and fluffier everyday!!
The lady said she didn't know much about the father, just that he was a big fluffy cat....with her lynx tips, 'M' marking on the forehead, and crazy long tail, we think he was most likely a Maine Coon. Opinions?
---
Little Jack
By: Savannah in Wheeling, WV
Jack at 6 months
This is my shelter baby Jack, he has all the traits of my mothers Coon, also a shelter pet, yet seemingly full Coon. The only thing a little odd about him is that he's 6 months, almost 7, old, and still as big as he was when we got him, maybe a little less skinny... Its almost as if he's a dwarf kitty...any ideas?
Comments:
Debbie, Wood Village, OR: Jack looks my Max did when he was little. Same handsome tuxedo markings. He'll be quite a handsome boy when he's grown!
---
Could My Kitten Be A Mix?
By: Lindsey in Upstate New York
I just recently adopted a 5 month old kitten thinking she may help my 3 year old cat with some of his behavior issues as he was acting out by knocking things over in front of me ect which he'd never done before which has now stopped since we brought Echo home...I suppose Callahan's way of saying he wanted a sister. Anyway...
From the moment I met Echo she nearly jumped from her cage and into my arms, she later showed off her playful side by chasing every bit of stuff she could find on the floor of the lobby then having a crazy game of chase with her sister and another cat in the lobby. Once in their carrier and on the way home she was an angel and just chilled out and watched the world go by and chirped at us a few times. She made herself right at home when we got her here, and she and my Callahan hit it right off playing right away. As soon as we got her home the big personality came right out. She's super friendly, wanting to see what your doing all the time, and "help" constantly with everything. Even going to the bathroom means you have company or she's waiting outside the door when you come out. She has to watch when you flush the toilet too. She will demand head scratches if your standing by standing up and pawing at you. She's not a lap cat but she has to nap near you. And she chirps at me when she wants things.
Physically is what first made me start thinking she could have some Maine coon in her, she started to remind me of my best friend from colleges kitten who is part Maine coon. The same fluffy tail, and facial features, but the more I started reading about it, she also has the hair tufts between her toes, and the medium long fur, and amber eyes. She doesn't really have the ear tufts tho, but the hair in her ears is kinds long. I know it's hard to tell in my pictures how fluffy her tail is since it seems to fluff out more when she's been active and after nap time is the best picture time since she's still sleepy and not going a million miles an hour. I'd love to hear what you think.
---
Misha - adopted 3 year old MC Mix
By: Sandra Cushway in Lower Alabama
We adopted Misha from a local Animal clinic where she had lived for the previous two years. She exhibits many Maine Coon traits. The tufts in her ears and feet, temperament, personality, size, etc. She is classified as an DLH cat (with Maine Coon features).
She was dumpted off at the clinic at around 1yoa and her tail had been damaged (shortened). We have had her for a week now. She is very good with everyone, from our 7 year old granddaughter all the way up to our 89 year old Mother-in-law. She is outgoing, not skittish at all. Very mild mannered. We are so very fond of our new cat.
---
Floyd - Maine Coon Mix?
By: Jeanette in Austin, TX US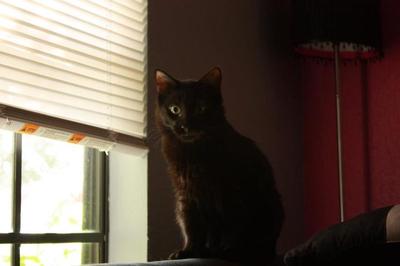 Almost 6 months old
I adopted Floyd when he was 8 weeks old. A friend of a friend had rescued a female cat and found out she was pregnant. Floyd was one of the last ones to get adopted and he's now a happy, healthy 6 month old.
Not only does he have that ruff on his chest, he's big - nearly 8lbs now. He's got furry paws and a big, beautiful, bushy tail. So physically, I am almost positive he's got some traits.
He's got a sweet little meow and will purr like a jet engine. Lately, he's got this fascination with water and will stare intently at it as it drips out of a faucet or drains down a tub or sink. I've even caught him going into my shower minutes after I'm done and will walk around or even lay in the tub.
Now for some other unique traits of his that may not be MC and just pure Floyd. He's not affectionate as in lap kitty. He'll talk to me and follow me from room to room but isn't keen on getting carried around or anything. He will, sit and purr as I brush him, especially when I brush his face. Often times, he'll get so happy that he has to go to his baby blanket and purr/knead/suckle as I finish brushing.
Another thing I've seen him do on occasion is he'll "guard his kill" - whether it is raw food (Along with his brother, they LOVE being raw fed) or a toy like a wadded up paper ball, he'll hiss and growl at Puck (3 weeks younger and not a MC mix whatsoever) if he gets too close. He won't around me though.
Finally, he's like my guard cat. He's hissed at strangers in or near the house and it is cute to see. He's not mean but protective of all of us, under his watch.
---
Does Ralphie have Maine Coon in him?
By: Linda Z in Roscommon, MI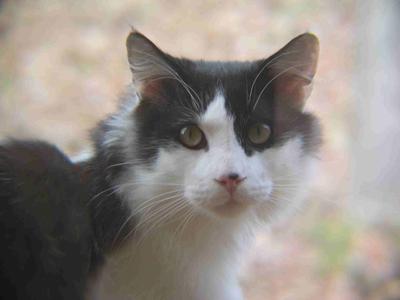 Ralphie
Ralph came to us as a stray in our neighborhood that we think somebody dropped off. He was about 6 months old at the time according to our veterinarian.
We've never had a cat before so we don't have much to go by but our neighbor who has always had cats said "he really looks different". He only weighs about 12 pounds but he's very slim being outdoors a lot.
He has huge feet with some hair tufts between the toes, a large fluffy tail and in the Winter he gets a ruff around his neck. He also has shorter hair on the back of his head that's like velvet it's so thick.
What confuses me about whether Ralph is a Maine Coon is that while he is a really big cat, he's not as large as many of the websites indicate that Coons get. Either way, he's sure a beautiful guy with a personality to match. He's very affectionate and talkative.
---
Is Tink A Maine Coon Mix?
By: Annette in Reading, PA
We found Tink outside as a baby she was outside in the freezing snow and crying. She has a lot of the characteristics. She's a big girl and she's not even 1. When I had her spayed they told me they think she is part Maine Coon so I went online and she fits almost all of the characteristics.
How big can she get and what is good advice for grooming her she hates being brushed and she is always getting knots.
---
Andre
By: Laine in Conway, AR
My family and I adopted Andre from our local pet shelter, when we had been looking to adopt a dog. My father had wanted a Maine Coon, and noticed that he looked alot like one.
Once we got him home we noticed that he had all the traits and characteristics that the average Maine Coon had. But since he's from the shelter he has no papers and there's really no way for us to know if he is or not. Is he part or possibly full Coon?
---
Tubby the Maine Coon?
By: Jennifer in Lexington Park, MD
I found Tubby when he was approximately 4 months old huddling under a shopping cart outside of the local grocery store in the rain. I took him home and he has been a part of the family ever since.
I think Tubby has some of the physical characteristics...he is a big kitty, tufts of hair coming out of his ears, the thick coat, huge tail but he doesn't have the personality described. I love him tons but he can be quite ornery! He loves his love but only on his terms!!!
---
Milo the Dairy Queen Cat
By: Beth in Nappanee, IN
My son found Milo wandering a busy highway about a year ago. He was so friendly that when my son called him he came right to his truck and hopped in. He was so friendly that I was SURE he was no stray. We were going to put flyers up, etc. and try to find out who he belonged to.
Then some friends of my son's saw pictures of the cat on Facebook and said "Oh that's the Dairy Queen cat.!" The Dairy Queen was right by the highway and the employees knew him as he hung around there and they fed him on their breaks. I then knew that Milo was a stray so we adopted him.
When I took him to the vet the vet estimated that he was 1 to 2 years old. I did not believe this. I thought possibly he was 1 but not more, he seemed too much like a kitten. That was almost a year ago and he has grown so much bigger now that I know he wasn't that old.
He is so friendly, vocal, proud and the king of our home. We have two other cats and a dog and he loves all of them. The photos I have uploaded are when he first came to us. He is much larger now and his hair is much longer too. He has the mark over his forehead as well, lots of tufts between his toes. He has hair coming out of his ears but not the tufts coming out of the tops.
---
Vinny is growing up! (Formerly Benny)
By: Samantha H in Ellicott City, MD
Vinny at 10 weeks old: Born April 8
We got Vinny when he was 10 weeks and I posted his picture on here in the June 2012 album. We called him Benny then, but soon after we changed his name to Vinny.
I didn't get any feedback about the possibility of Vinny being mixed with MC or not.. The older he gets the more he looks like one. His coat is steady getting longer and his tail much fluffier by the day.
Anyone have any idea? And/Or what he may be mixed with? He is now 5 months, 1 week old. He was born on EASTER. Sunday, April 8th, 2012 :)
Comments:
Beth Heemskerk: He has the same tail as my Teddy who is 100% MC
Dee Kangas: Oh yes I see a lot of Maine Coon in him! He is beautiful!
---
Is My Black Silver Kitten A Maine Coon Mix?
By: JoseF in Michigan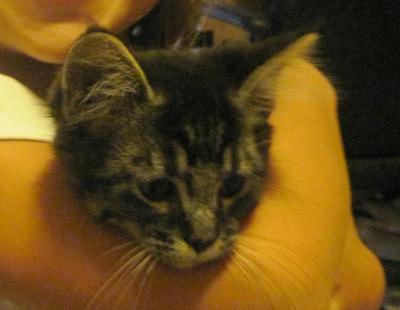 We adopted him a week ago from a shelter in Michigan. He is about 2-3 months old and a Polydactyly. Very sweet cat with big ear tufts.
Likes to fetch (eventually bats the toys back most of the time) and great with our young children. He was dropped off in a box at the shelter with a few litter-mates, most, of which, were similar.
---
Wondering if Umizoomi could be Maine Coon or have some..
By: Alison in Central Vermont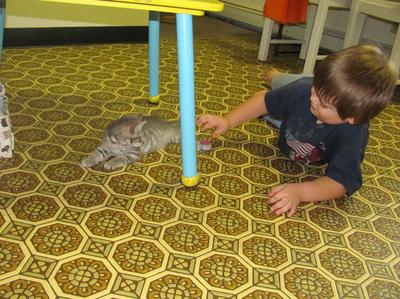 Umizoomi playing with my son
I just got Umizoomi (3yr old son pick name), He's 7 weeks old. Very curious, active, fluffy kitten.
Likes to be near by where ever you may be. Between naps he like to run around and play. It's hard to describe some of his playful moves but looks like he's boxing sometimes. lol
Please see photo tell me what you think..Thanks Ali
---
Lilly the Coon??
By: Jessica in Maine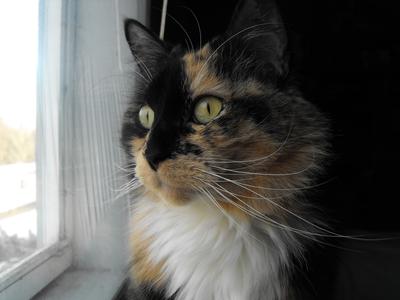 My cats name is Lilly and I'm thinking she may have some Coon in her, but I'm not sure.
She has the right color eyes, and the little tufts on her ears and paws. And she does tend to look right into your eyes. Do you think she could have some Coon in her? I would love to know. =]
Comments:
Jessy: She's a looker, whatever she is.
---
This is Sherman (Squirmin' Sherman...)
By: Ken in Genoa, NV, USA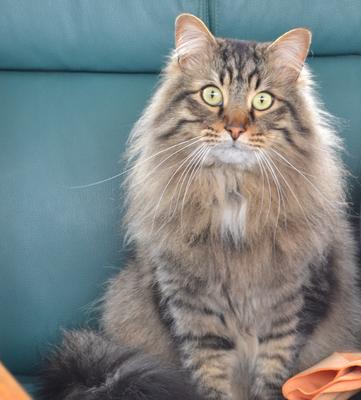 Sherman came to us as a starving stray - the vet thought he was about 5 months old and weighed all of 1 1/2 lbs. He's now about 4 yrs. old and weighs about 7 1/2 pounds.
He's quite shy, and will hide when strangers come to the house, but eventually will come out and check them out. He's a very loving cat who likes lots of attention and laptime, and is curious to the point of getting in trouble because of it.
He purrs like a diesel, but has a quiet, high-pitched meow. Appearance-wise, he seems to fit every description of a Maine Coon I've ever seen.
Comments:
Loree: He is beautiful!
Vinny Sheehan: I had a beautiful calico coon from 1975-2002 " Puff " lived 22 years with us with friend tiger lived to 21 yrs. I miss them, I do have a long hair Dom and a tiny Persian silver who is close to final decesion, do you have any kittens or coons under 1 yr that are adoptable. Thank you, ps. No children wife and I 65 & 67
Alison: My aunt has a Maine coon, Ranger, and Sherman looks like he could be Ranger's twin!!
Rebecca: Oh! He's lovely! :-)
Marg: Sherman is adorable. I'm so glad he has a good home.
Terri: Look at that face! Maine Coon or not he is gorgeous!
---
Dexter the Maine Coon Mix - Maybe?
By: Tess in Toronto, Ontario, Canada
I adopted Dexter as a kitten from a shelter a few years ago after falling in love with his fluffy fur, bright green eyes and adorable squeaky meow.
He has since grown into a large and friendly guy, with medium length fur, a long bushy tail and the sweetest tufts of fur poking out from between his "toes" (perfect for sliding around uncontrollably on the hardwood floors).
The squeak for attention that I found so endearing in the shelter has never deepened or gone away, and anytime he wants something - food, catnip, or his favourite, a belly rub - he'll let you know....loudly and repeatedly. He even tends to meow in response to words directed at him. His other behaviours are similarly doglike (he comes running when called, follows me around the house, and is constantly lying splayed out in the centre of wherever I am as a tripping hazard).
All of these personality traits combined with his other physical characteristics - large paws and ears, brown tabby, etc. - make me wonder if he is a least part Maine Coon. Since he was a rescue and I have no way of knowing his pedigree, I was wondering if anyone could help me shed some light on his possible breed - Maine Coon?
Comments:
Monica: Dexter sounds just like our cat, Sheldon, who is at least part Maine Coon (according to the shelter) I am suspecting that he might rather be part Norwegian Forest cat instead because his fur is more like that breed. He lost most of his mane for the summer but is now getting fluffy again due to the cold here in the Mountains of Montana.
Adele Rodriguez: My hubby and I have a Maine Coon cat. He has a habit of sliding when jumping up on the kitchen island or table. It's possible he could be a Maine Coon mix.
---
Teddy
By: Holly in SC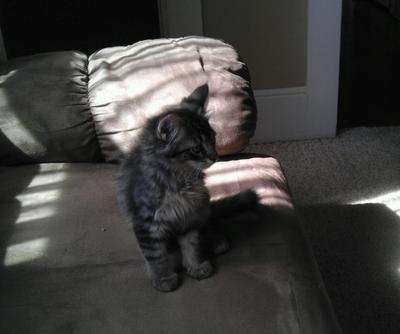 I got Teddy as a small kitten when he was around 2 weeks old.
A family member of mine found him trapped under her home and didn't know how to care for such a young kitten, so I took him in and bottle fed him.
He's the most relaxed and laid back kitten I've ever met. I've had quite a few guest's want to take him home because of how he greets and wants attention from everyone.
---
Is She A Purebred??
Emma Coon/Siamese Mix???
Emma is an adorable little kitten, she's so lovely, and happy and purrs a lot, she's definitely chooses me over my wife, she' s full of quirks and antics and I just love her so much.
The pet store I bought her from said Maine Coon/Siamese mix, however I see no Siamese in her or any traits, it doesn't matter to me what she is she's the second love of my life, just curious
Let's Connect!
Subscribe in a reader - Be notified of new posts!




Or, get The Daily Digest by email:
(Same as above, just delivered via email)





Join our weekly email group by filling out the form to the right. From time to time I'll send out special tips, articles, news, deals and other free goodies!







Subscribe in a reader - Be notified of new posts!
Or, get the Daily Digest by email:
(Same as above, just delivered via email)
Join our weekly email group by filling out the form below. From time to time I'll send out special tips, articles, news, deals and other free goodies!