R.I.P Coyote
by Beth Davis
(Ransomville NY)
He was a great lovable boy, but was very sick; after a year of multiple Vets no one could get him better - no one knew what was wrong.
But when he weighed in at 4.8 lbs after being 6 the week before I knew it was time say goodbye. You will be missed by all.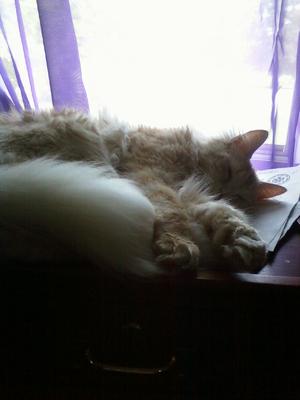 Comments:

RIP COYOTE
I've had my "Puppy" for only 8 weeks and I'd be devastated if I lost him. Very sorry for your heartache. I'm sure you gave Coyote a wonderful life.

Sick litter mate
by: Beth Davis
Thank you for the comment, I'm sorry to hear that you also have a sick kitty from the same litter, I was told Coyote was the only one sick.

Please get a hold of me I would love to share info. I may have lost Coyote but maybe we can get your baby well. This breaks my heart that there is another sick kitty. Which kitten is it? I know he kept one, I had 2, and there were 5 in the litter please email me

(((Coyote)))
I'm so sorry, so sad to read about the loss of your baby. My heart breaks for you and for what might be in store for my baby, who is also sick. Have had numerous vet appts, meds, etc.

Thru your posts and pictures, I know my baby is a litter mate to your Wiley and Coyote. Please, I would love to hear from you and share information.

Losing
Losing a beloved pet is one of the hardest things to do. I have lost so many over the years and still feel the hurt of each one. Love all you can while they are here.
I do know how you feel.

So Sorry for Your Loss
by: Jeanne
So sorry for your loss. Two years ago my 17 year Burmese got kidney failure and had to be put to sleep. Then a few months later my beloved 14 1/2 year diabetic Bombay developed hypoglycemia and I lost him while I was sick with MRSA.

I feel your pain and share it with you. Keeping you in our prayers. Jeanne, Angel (Siamese-Coonie mix) and Teddy Bear (Siamese-dsh mix) God Bless you in your sorrow.

Just a baby
Thank you everyone, he was just a baby at 1 yr old we all miss him, his brother Wiley misses him too.

I feel your pain
by: Sylvia
I lost my Sedric after 13 years just a few weeks ago. He was my heart! I still see him standing at the foot of my bed wanting me to pick him up and put him in the bed because he could not get in alone anymore. Sedric had diabetes.

I stop giving him commercial food and started feeding him just chicken breast. His sugar count went way down and the vet told me to take him off the insulin. I was back and forth to the vet. I really didn't think the vet knew what to do. I ... oh my I got to stop now because I am beginning to tear up again.

My other Kitty still looks for him.
It was one if the most hurting experiences I ever had.

My friends take your cats off the commercial food, its too high in carbs. And they don't tell you this on the food packages. And the Vet wont tell you either.

If anybody know of a vet that will tell you this, I want to know who he is.
Sylvia

OMG ;-(
by: Kidd~e Reese
OMG So sorry to hear about you hun!!! God bless your family and friends!! RIP Im sure you will be missed!! My Mom and Dad and every1 in our family loves me so much That would be horrible for them!! I know this 100000 % so I feel so bad for your family, I know mine would be soooo up set!!! xoxo God bless you all RIP COYOTE!! :-(

RIP Coyote
by: Vicky
God bless you. We lost our Coonie mix in May and cried for days. It's hard to do the right thing. Sending hugs to you. oxoxoxo

Coyote
by: Lisa Caramanello
So so sorry for your loss!! From Newt and Lisa <3

Your Sweet Angel
by: Lesley Wood
Sending prayers at this difficult time. Sweet Coyote is now enjoying his new life over the Rainbow Bridge where the days are warm and the sun forever shines! He will keep a special place for you until you join him there. Keep his memory alive in your heart!

Coyote
by: Maureen Bentley
R.I.P. Coyote. Sorry to hear about your much loved Coyote. My thoughts are with you on this sad occasion. You have very fond memories of your much love Coyote. He will always be in your heart. His memories will stay with you always. All the best to you.

So sorry
by: Deidra
I have 3 wonderful kitties! I worry about them and make sure they see the Vet. When they need to. They are my babies and I know how hard it is to have a sick or dying pet. I watched my 2 Dogs go. It effected my whole life. Please know that you will see your loved pet again. I pray you will heal and think of all the great times you had!

So sorry
by: BobbieB
So so sorry, it's like a family member with us when we lose a pet. And I"m sure it is with most people. It takes a long time to recover from that and really we don't, but go on with others. We do have wonderful memories of each and every one.

In Sharing
I am so sorry, he'll be on the other side of the rainbow bridge waiting for you. My Pushlet was 20 last Spring and now he is suffering from old injuries of hips and pelvis he is losing weight but manages eating and such.

I pick him sometimes to take him and some times he walks on his own, slow and easy but he is such a good boy. so bless all the Coons who leave us too soon, but never our hearts.

So Sorry
There are no words......God Bless You and your beloved Coyote....I dread the day when my beautiful friend is no longer here to make my days so special.

So sorry
by: Louie
I'm so sorry for your loss :( my Maine Coon passed July 2011 he was 13 but the dreaded kidney failure took him from me. just remember he will always be with you and you will be together again.
---
(note: comments are closed in this archived tribute page)
Return to Top of Coyote's Page
Sep 24, 23 09:30 AM

New today:

Chubbs

is our newest addition to our Maybe Coonie Photo Album. What do you think? TJ shares, "Our male kitten, Biggerton Chubberton, or "Chubbs" for short, is a tuxedo kitten.. Chubbs is di…

Sep 20, 23 03:16 PM

Freshly updated: Our

Royal Canin cat food review

looks closely at their formula marketed toward Maine Coon owners. What makes it a breed-specific food? Here, we examine it's ingredients and what it of…

Sep 15, 23 06:35 PM

New today: Meet Leigh-Anne's fluffy girl,

Ruby!

She wonders if she has some Maine Coon in her.. ⬇️