Rainbow Bridge Coonies
These tributes from 2021-22 are touching. Read and comment on Ivylou, Zoran, Sully, Amber and Makita here. They are all waiting on the Rainbow Bridge.
Beautiful, Gentle Maggie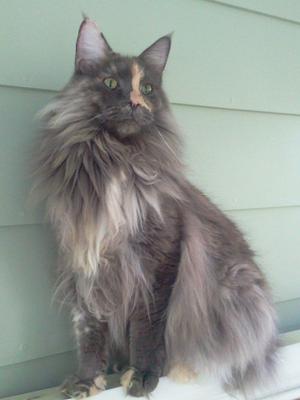 Maggie June 25, 2011-Jan. 6, 2023
We had to say goodbye to our beautiful Maine Coon, Maggie, on January 6, 2023 after she developed Hemangiosarcoma which is an aggressive cancer of the blood vessels.

It is very rare in cats. Maggie spent her last few months exploring in the back yard, sitting in her favorite chair on the screened porch and sleeping under the UGA Christmas tree.

She is greatly missed and forever loved.
---
Zoran The Red Goblin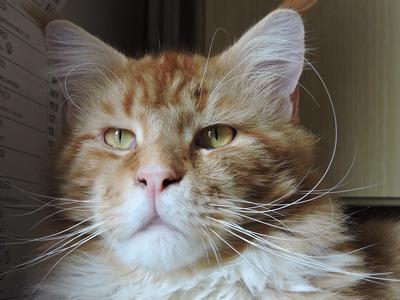 by: Gianni in Milano, Italy
Zoran the red goblin aka Fast & Furious was our "son," but he left us 5 years ago. He still lives in our hearts.
Comments:
15 and going strong!
by: Lisa

I have two Maine Coons that are 15 1/2 and going strong. Don't give up on your new one! He may live to a ripe old age! Bless you for loving these most wonderful cats.

Our Furbabies
by: Donna Riese

Seems like yesterday, we never forget our beloved cats, we lost our Baby Huey 3 yrs ago and will never have another one like him.
Main Coons are the best cats ever,however their life span is not as long as others.
I have another one now, and will continue to keep two cats in my house as long as I am able.

I thank the good Lord above for every cat I have owned over the years.They all gave me so much love, have pictures of them all they will never be forgotten. I look forward to being with them all in Heaven.
In todays world their is no promise for tomorrow, we need to Live everyday with our beloved Fur Babies as if it was our last, time passes way too fast to really enjoy our beloved animals.
I would rescue them all from the shelter if I could give them all what they deserve. Too many animals are not taken care of properly. You have to a have the means to protect and take care of them all.
Red Goblin I know is missed he is Beautiful and he will be waiting for you in Heaven. Always remember the good memories no one can take them away from you.
---
Sweet Silly Sully
Sweet Sully
by Pat Coyle in East Stroudsburg, PA, USA
Our world stopped on January 14, 2022 when we lost our beloved Sully (Sullivan) to HCM.

He had a heart attack in my arms at the tender age of 5 years old. He was such a good boy who was loved by all he met. He was silly and always knew when someone needed to be cheered up.

You are always in our hearts sweet boy until we meet again in Heaven. Love you always.
Comments:
He looks like a real sweetie
I understand your sadness. I have had 2 Coonies with HCM. The one I lost last was diagnosed with it at age 5 and then was on medication every day. He made it until age 18 1/2, but it was not the HCM that caused his demise, he wound up with a brain tumor.

The Coonie I had before that- my first one- lived until he was 6 and died from HCM. Back then in the 1990s HCM was not easily diagnosed, not that well known about. I knew something was not right with him and I had 3 different vets check him out. Something happened one day when I was not home, and when I found him he was lame in the rear and could not stand. He died that night at the vet emergency hospital.

I now have my 3rd boy since age 6, he is 12 years old now and healthy. All 3 of them have the same coloring and look alike - blue / silver. Maine Coon is the only breed I will ever get since I have lived with my first one.

Sending my Condolences
by: Janet E.

I am so sorry that you lost your little Sully. He was beautiful. I feel your pain and wish you peace and many Happy Memories of Sully

Condolences
by: Lisa

I am so so sorry for your loss. I lost my sweet Ivylou last December. She was my soulmate and the love of my life. I still miss her terribly every day. She also died in my arms. She was only 8 years old. Totally unexpected. My heart breaks for you. My thoughts and prayers are with you.
My heart breaks for you
by: Dennis P

Four years ago my little girl, Sophie passed in my arms---broke my heart as I found her at aprox 7 days old. She was like your SSS, my world at the time. About a month after she crossed the rainbow bridge, I found a pair of MC's at the local rescue (one of them almost matches SSS in coloring).
I told them they had awfully big paws to fill, Sophie would not be an easy act to follow, but being 4 year old MC brothers, they were up to the task! When you are ready, you'll find love with a kitten, or rescue again, possibly like my boys, even before you feel ready, could be that like my boys, they needed me(they had been abused and needed to find a loving home) They now rule the house!
---
Who Rescued Who 😹 Makita
by Lee Misiora
(Belleville, Mi. USA)
I named my Coonie- Makita.
Sad to say he passed away afer 20 years. Someone told me a litter of kitten we dumped down the road. He found his way to our house across a cemetery, a highway, 2 huge ditches and a field.His ears were so full of mites.

We cleaned him up and he was part of our family. He was the tamest-wildcat you ever seen. Several people who came over said-That Cat is a Main Coon!

I was a dog person, never around a cat before. I soon realize Makita was No ordinary cat. He would play and chase me like a dog, climb trees 80' tall and come down head first. He would go in the swimming pool, shower and pond. Hunt mice, rabbits, squirrels, snakes, birds and once brought a deer leg home, someone probably poached.

So many stories and memories. I believe He saved My Life.
---
Beautiful Bogie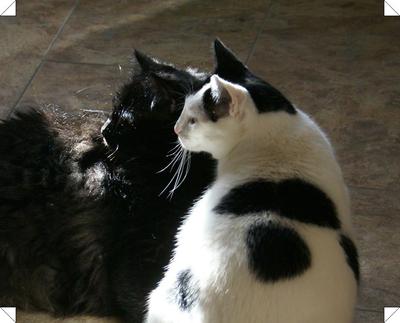 by: Marci Watson in Erie, PA
Rest easy Beautiful Boy... Bogie 12-12-06 to 2-3-23

Last night we said Goodbye to our Sweet Bogie. Our Super 16 yr old senior always gave us unconditional love, challenges with mischief mixed in, unending snuggles and always a best friend and source of comfort.

He loved laying in the sun, he was better than an alarm clock to tell me it was time to eat, donuts (thanks to my Mom), catnip in his ball or any toy or shaking his paw for treats.

Getting belly rubs.. He Loved Grace and recently his new friend Scurry the Feral who adopted us.

He was our guard panther in a cat costume and our friends truly understand this. We've been blessed by having him in our life and are so much better for it.

We will love and miss you always and you are taking a piece of our hearts with you Sweet Boy. 💔
Comments:
God speed Bogie.Fly high! Friends are waiting at The Bridge.
by: Pat Coyle

So, sorry for your loss. I feel your pain. I lost my beautiful boy last year. Have faith that you will be together again. God Bless you for giving your boy 16 years of love.
Remember
by: Mary

From the first hello to the time to say goodbye, there was love, so much love.
---
My Beautiful Prince Fluffalot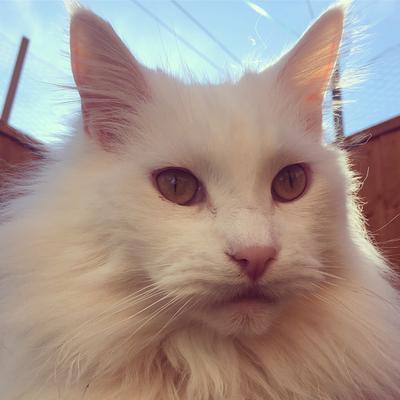 by: Lynn in Kent, UK
KA fluffy. We lost him at ten years old last year, heart failure.

He was the most characterful cat, he fetched, chatted away and always got into everything I was doing.

He cuddled up to me every single night and woke me up every morning with kisses. I miss him so much.
Comments:
Loss of a member of the family
by: Rachel

All I can offer is my symphony for your loss. Our fuzzy's occupy a huge part of our heart. I lost my friend of 20 years 5 months ago and I still break down at times. All the best.
Prince Fluffalot
by: Laurie

Sometimes angels don't have wings, sometimes they have whiskers. It's the good memories that keep us going and make us proud. Prince Fluffalot is sooooo handsome. Stay strong and proud, time really does help in healing.
Hugs.... so sorry for your loss
by: Aubencat

He is beautiful.... these furs babies hold special places in our hearts 💕
---
Miss Ivylou
by: Lisa Mongiat in Marquette, MI
Miss Ivy was the love of my life. I adopted her as a baby as she needed special care from her situation.

We bonded a true bond. She was my soulmate and the love of my life. She traveled everywhere with me.

She was loving and kind. Super friendly. She loved everyone she met. She stuck by my side through thick and thin. She wanted to be near me every minute of every day.

I live in rural area. She had been sickly on and off with stomach issues. No one ever seemed too worried.

I finally took her to a pet hospital as I knew something was wrong and they found she had a massive tumor in her stomach. It was too late.

I cared for her for 2 months and on December 13, 2021 I found her laying on the floor in the early morning when she had been in bed with me.

I picked her up and wrapped her up and she died in my arms at the young age of 8.

My heart hurts to this day I miss her so much. There is a hole in my heart for my sweet little Miss Ivylou.
Comments:
So sorry.
by: Pat Coyle

So, sorry for your loss. She was a beauty! Her eyes were like sparkling emeralds. May Miss IvyLou RIP. She was a lucky girl to have found you and only know love her entire life. Have faith that you will be together again.
---
Amber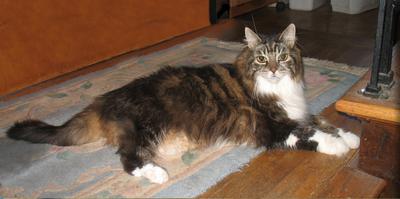 by: Terry R in Staten Island, NY, USA
My Beautiful Amber, June 28, 1998 - October 19, 2019

Amber was born in my back yard, June 28th of 1998. Her mom was a feral cat that had chosen to live in my back yard. Her dad was I'm pretty sure all Maine Coon. I only saw him once, I think he must have gotten out of someone's house. Amber looked exactly like him.

Amber's mom had two daughters that lived with her, and the three had kittens all around the same time, so Amber had nine litter mates. All the moms took turns nursing each others kittens.

Amber had a twin that looked just like her, only bigger, a male. He died as a kitten, had gotten sick outside and was too young to save. Another of the kittens was killed outside, I never saw the animal that did it. Other kittens were adopted, or a couple had disapeared early. I ended up taking in Amber with three other kittens, and spaying the moms.

Amber lived with her siblings (who were all short haired cats) in my house for years. The other cats passed away at different times over the years, but Amber lived to be 21, and passed away October 19th of 2019.

My husband and I loved Amber very much. She used to sit on the couch in between us, and took turns being petted by me and my husband. She was beautiful, (and I think she knew it!)!
Sep 24, 23 09:30 AM

New today:

Chubbs

is our newest addition to our Maybe Coonie Photo Album. What do you think? TJ shares, "Our male kitten, Biggerton Chubberton, or "Chubbs" for short, is a tuxedo kitten.. Chubbs is di…

Sep 20, 23 03:16 PM

Freshly updated: Our

Royal Canin cat food review

looks closely at their formula marketed toward Maine Coon owners. What makes it a breed-specific food? Here, we examine it's ingredients and what it of…

Sep 15, 23 06:35 PM

New today: Meet Leigh-Anne's fluffy girl,

Ruby!

She wonders if she has some Maine Coon in her.. ⬇️