November 2014 Maybe Coonies
Meet our November 2014 Maybe-Maine Coons and mixes! Do you think these kitties have some Maine Coon in them?

Maybe-Maine Coon Cats For November:
Zoe
By: Leah Garcia in Anderson Indiana United States
Zoe.. very rowdy and very vocal like her mother..
Her appearance looks like a Maine Coon ... was wondering if ppl thought she might be a mix??
She's 8 wks old in this pic.. can't get any better ones won't sit still long enough lol.
---
Fuzz - has adopted us
By: Kathy in Virginia
A rescue that has adopted us-
He doesn't have a normal "Meow" more or a squeak-chirp- meow...He loves to talk and stay close by you.
Not sure if he is a mixed Maine Coon. What do you think?
---
Nordie
By: Marilyn Gould in Temecula, CA
We are not sure of Nordie's breeding (a Maine Coon mix perhaps?)
He was a stray in need of a home. He's a great helper cat who likes to be involved in whatever it is we are doing and is a great conversationalist as well.
Any opinions on if he is a Coonie are most welcome.
---
My Baby Renji-just turned 10 months
By: Aindrea in South Carolina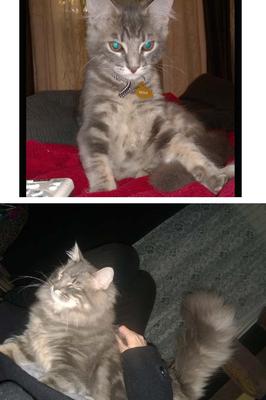 4-5 months to 9 months
This is my sweet baby Renji, he just turned 10 months old and weighs a healthy 11lbs.
He came into my life sometime in May when a family friend offered him to me, and I am so glad that I brought him home.
After we got through kittenhood and the introduction to my Female Black Cat Luna, all has been great.
I have wondered all along if he had a little Maine Coon in him, but I didn't know since we never saw the "father" to the kittens.
---
Homie R.I.P. My Baby Boy
By: Stephanie in Ontario, Canada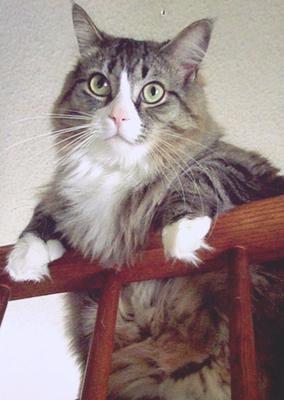 Homie had to be put down October 2014 (He was 9 1/2 years old)
I know he wasn't a pure bred but I do believe he was part Maine Coon myself.
He was the best cat I could ever ask for and the best pet on the planet in my eyes.
He was quite chunky (23 lbs) but even though he was quite big he definitely had that Maine Coon "Gentle Giant" disposition. The dogs would try to picks fights with him but he was never interested. Usually he just sat and let the dogs nibble on his ears haha.
He'd let children basically maul him and never once hissed, growled or let out his claws.
He had long whiskers and long hair between his six front toes. He had thumbs that made him look like he was always wearing mittens :)
He adored laying outside on the deck in sun better never felt the need to leave the house. He didn't chirp but he did meow a lot when spoken to, would come when called and meow whenever I looked into his eyes.
He LOVED to cuddle. He literally had to readjust himself multiple times to try to get as close as possible to me when snuggling.
Homie adored being around the family and in his last days he made sure he spent time with us as a family even more than usual. A beautiful cat inside and out.
I now have a purebred Maine Coon kitten and I see many similarities in their personalities. They really are the best pets to have <3
---
Emmy
By: GLGarner in Stanton, CA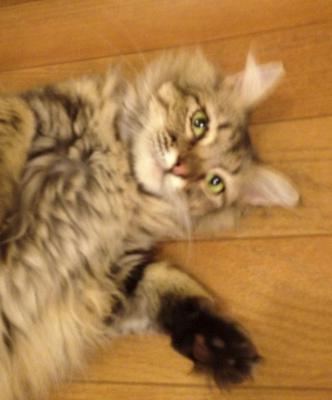 Emmy wants a belly rub
This is Emmy and she is a rescue kitty. The shelter said she's between 1-1/2 and 2 years old, but I think she's younger than that.
She seems to resemble many of the Maine Coon traits. Except that she doesn't purr very loud or at all. She's very friendly, playful and has a distinct meow--almost like a chirp.
She talks to you, responds to you and will often anticipate you. She's not a very big kitty--maybe 7lbs, but again I think she's much younger than they anticipated.
She has big feet with tufts of fur between her toes. She doesn't sit still long enough for me to know if she has a rectangle body or not, but her nose is straight with a concave-like look to it.
Her characteristics seem dead-on Maine Coon, from the stare and facial features, markings, scruff around her neck, social behavior, loves water, incredible feather duster tail, and the list goes on.
She loves to be held at night and curled up in your arms as you sleep--she'll stay with you all night, but doesn't like being held for long. Everything about her screams "Kitten" and I would love your opinion.
---
Levi @ 8 weeks old
By: Sandy in Pennsylvania
I adopted Levi from a rescue group.
He was one of 4 in his litter and the only male. The girls were 2-long haired and one short haired.
This feisty little boy has the tufts inside his ears and on the tips. His hair is semi long, he has a long body and a long tail. No tufts between his toes yet, but maybe that will come later.
He makes interesting chirps. He loves toys! ALL OF THEM! He has more energy than any other kitten I've ever had, and an appetite to match.
---
Ernie, Mischievous, Headstrong, And Curious
By: Jennifer C in Ottawa, ON, Canada
Caught red-handed shredding paper towel
Meet Ernie the cat. Always getting into trouble, and resident greeter and host to guests. Rules the roost but gets along well with my other cat.
He's determined, dominant, mischievous, extremely intelligent, and crazy affectionate.
He always wants to be around my feet when I'm walking around, and loves to cuddle -- a definite lap cat. He understands simple commands like "no" and "out!" (i.e. get out of the kitchen while I'm cooking).
He's also very curious about the shower and bathtub while I'm using them, and even likes to sit in the wet tub after it's drained.
Although he's a house cat, he has a strong hunting instinct, as observed with the odd bug that makes it into the house (unlike my other cat who couldn't kill anything to save his life!).
Ernie also doesn't "meow" -- rather he sort of roars, with a low-pitch, and almost hoarse and gruff version of a meow.
---
Leonidas
By: Heather in Dallas, Texas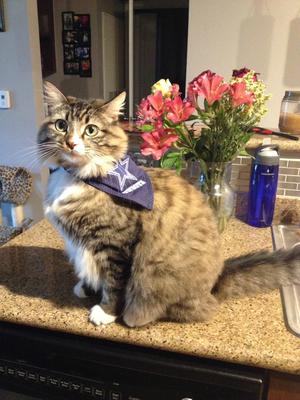 When we first got Leo, right away he was different from any cat I've ever had! At first we just thought he was a weird cat, but then we had so many people asking us if he was a Maine Coon.
We looked up what they looked like and as he gets older he's looking more and more like one. He is definitely the smartest cat I have ever interacted with. He has some behaviors outside of normal cats.
He loves loves loves water. He wants to sit in the shower, he loves playing with the water from the faucet, he plays in his water bowl, and we can't leave any cups of liquid out because we'll find him splashing in it. We realized quickly that spraying him with the squirt bottle when he did something bad did not work because of his love for water... and his stubbornness.
I was shocked when one day he brought his toy to me and just stared at me. I realized he was waiting for me to throw it. Since then, we play fetch every day all day.
And it rarely with his actual toys. He'll bring us q-tips, hair bands, socks, anything he can carry, he'll bring to us to play fetch with. In addition to playing fetch, he also likes to play "hide and seek" with us.
It sounds weird, but he will hide around the corner or under the bed and when we walk by he jumps into the air on his back legs and stretches his front paws up in the air and does this little dance standing up trying to scare us.
He is the most social cat I've ever had! He does not have a shy or scared bone in his body. When guests come over, he has to be front and center.
If we shut him up in the other room, we are going to hear about it! If he wants something, a toy, a treat, more food, us to wake up, we are going to hear it loud and clear until he gets it!
He is more like a dog than a cat. We call him our child because he is so social and his personality is so much like a human! My husband did not like cats, but Leo has turned him into a crazy cat lover. When I am around other cats, their personalities are so different from Leo's.
He's 15 pounds and only a year old. He has the bushiest raccoon tail, hairy ears and toes, and has the longestttt whiskers. His fur is so long and pretty. We brush him every day because he gets hairballs, but his fur seems to always stay clean and soft and pretty.
He has a very loud purr and he talks to us all day long. We just love him to pieces! He may not be a Maine Coon, but he looks and acts so similar!
---
Luna
By: Sarah Bol in Bournemouth uk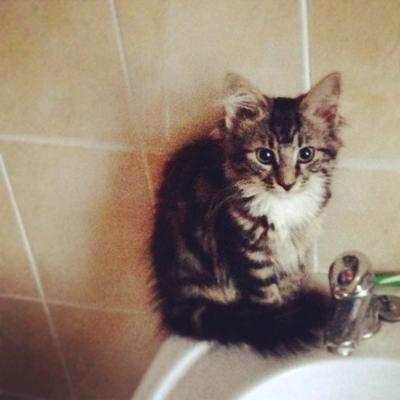 Luna is a 6 month old kitten, She's loving playful and always after a cuddle!!
She loves play hunting and jumping - but has such a soft nature and is never aggressive.
She has a very fluffy white ruff around her neck and long thick fluffy tail. She has very dark grey markings with white socks and ruff.
We don't know her parentage but wonder if she might be a Maine coon mix as she seems to have many of the traits physical and personality wise! I'd love to know what everyone thinks.
Many thanks
Sarah and Luna x x x
---
Jasper-the "Maybe Coon"
By: Rhonda Williams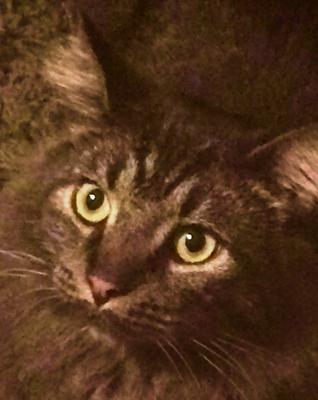 Jasper is a year and a half old, and I adopted him from a shelter when he was twelve weeks old.
I think he has "some" coon in him, somewhere, because A. He has the shaggy fur, tufted feet, neck ruff, enormous fluff tail, and the most gorgeous big green eyes imaginable.
He is a big old clown, and at times, he is very talkative! He never wants to sit in my lap, but he wants to be everywhere I am, and if he's not sleeping on my bed, he's very close. He is also enormous and is seemingly still growing!
He may just be a mutt, but I think he's gorgeous, and I like to think he is a bit of Maine Coon!
---
Saved From High Kill Shelter
By: Jen in GTA, Ontario, Canada
I adopted this lynx-tipped young girl after being picked up from death row at a municipal shelter scared, full of mange, and very emaciated.
No history on her except that. She took lots of work to regain her coat and weight. Currently at 9.5lbs. Likely only 1-1.5yrs old.
The vet says she could still use about 2 lbs more to achieve a "healthy weight" (=11.5lb goal plus future growth) and her coat and body is still filling in.
The rescue group said she might be "Siberian". I'm doubtful. She came to me silent but now won't stop talking about EVERYTHING!!!!! And is a total goofball always finding trouble (getting into whatever im working on, opening doors breaking into closed off rooms, or problem solving whatever cat-proofing contraption I've got set up just for the sake of defeating it).
Thoughts?
---
Sherbert
By: Danielle in Spanaway, WA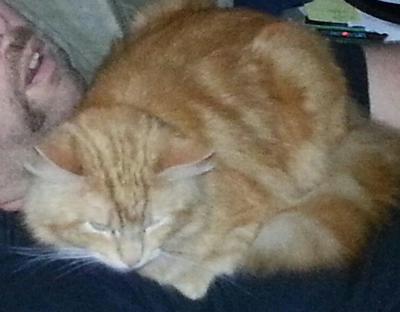 Sherbert is a lovable I want attention and I love high places all at the same time.
I think he a MCM because he weighs 14 pounds and has big paws and tufts of fur coming from his ears. I adopted him from a friend who had a littler of kittens (her cat not her sherself lol) about an hour after he was born.
She posted a pic of the litter and I barely saw his bright orange fur sticking out from the pile and I said I wanted him. He talks all the time especially if your not giving him attention.
---
Smokey. Coon or Not?
By: Kiefer Larsen in Peabody, KS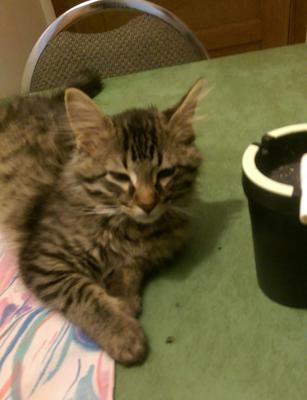 I picked him up when he was six weeks from a local animal shelter. Immediately very playful, very stealthy hunter.
He is always stalking something, whether it be socks or anything shiny. he tries to bolt out the door if he here's it open. He will sit by the door and meow after someone goes out and just stare outside.
He likes to attack everyones hands and feet and he nurses on soft pillows daily. He is soft and isn't really afraid of water. I've just been wondering what kind of breed he is and Maine coon is the only thing that makes sense.
---
Maisy
She is intelligent, very outgoing, and demanding.
She voices what she wants and always runs in front of your feet.
Very fluffy main and underbelly, hair coming out of her ears, very fluffy underbelly and smooth top coat.