November 2013 Maybe Coonies
Here are our November 2013 Maybe-Maine Coons and mixes! Do you think these kitties are Maine Coons?

Maybe-Maine Coon Cats For November:
Cotton
By: Karyn in Iowa
Cotton is a neutered male around 4 years old.
He was given to me when he was a very small kitten, my neighbor just didn't want him, so he joined my family. He weighs 19lbs and is a very big "talker" :)
He makes these little noises when talking to me or my other cats. Almost like chirping, but I can always count on him for conversation! He is so funny when he plays, he chases his own tail :)
He's very affectionate and while some guests at my house say "Geez! He's huge!", we don't notice or even care :) He's just our biggest baby.
---
Maybe Baby?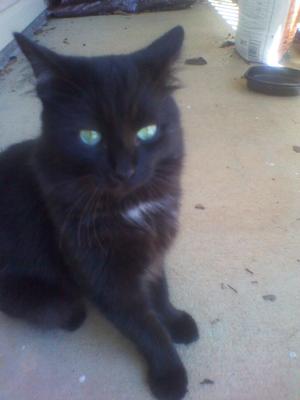 This is Boo. a few months ag and has been a part of ever ever since. People say he is very exotic looking.
Very fluffy ruff around is neck abd fluffy white hair from the ears. Most affectionate little guy but very small and unsure of age.
---
I Think My Kitten Is A Maine Coon Mix
By: Alyssa in Mexico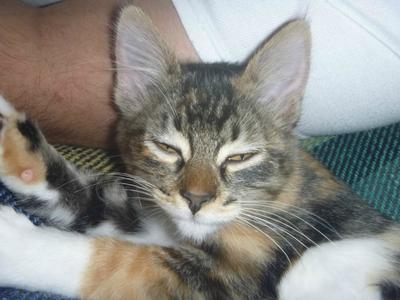 What made me first think that she might be a Maine Coon was that her ears are large and has a small amount of black hair at the top of her ears like many Maine Coons have, she also kinda has the same face.
I think the only thing that sets her apart is her hair is more short, she still has random lengths of hair but not so long. It seems her back and tail has the longest hair but her hair is not bushy. She does have the personality.
She does not mind water, she is starting to learn fetch, she is very smart and has the unique meows that Maine Coons have. My sister in law found the cat, she was trying to sneek into her house and would stay around her house for shelter and food so I took her in.
Me and my husband have been wanting a cat so we both took her and took care of her cause she was covered in fleas and she was alittle sick but much better and it has only been 2 weeks and she I think looks bigger than when I first got her.
Here is some pictures of her and her name is Zoe she is also 2 months old more or less.
---
Stardust~ sweet and unique
By: Jennifer L in Norwich CT USA
Stardust~ an unusual creature
in looks and action
Kitten with uneven length and color coat and some Coon traits. The bottoms/backs of paws and limbs are a dark rich color.
She has a freckle to each side of her nose but not sure if that is a Coon trait or just her own markings. Her whiskers have dark dots where they come out.
Dark eye liner and nose lining and around mouth when she yawns you can see it. She just seems different in many ways and is super affectionate and mellow.
---
Is she part Maine Coon?
By: Crystal Deuth in San Diego, CA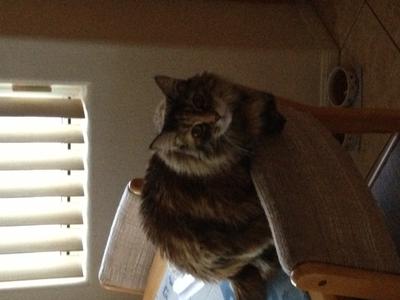 Her name is Phoebe and I have had her since she was 7 weeks old. She is now 12 years old.
Many people that see her tell me she looks part Maine Coon...?? She def does not have the affectionate personality except on her own terms.
I wish she was more friendly and cuddly...I am just curious to know what others though of her. She weighs about 11-12 lbs and her heaviest has been up to 14 lbs.
Even though she is somewhat of a snotty cat I love her lots and would never get rid of her. :)
---
Maine Coon Maybe?
By: Sue Ann in Double Oak, Texas, USA
I recently adopted Taffy from a rescue organization and she looks and acts so much like a Maine Coon.
The rescue staff estimates her age to be about 1 1/2 years, but knows very little about her background, as they got her from a shelter.
She follows me around, runs in front of me (I trip over her every time), and is very friendly. She loves to throw herself on the floor and roll over on her back, begging for tummy rubs.
We introduced her slowly to our two dogs and she was very laid back with them. So, any opinion?
---
Could She Be a Coon??
By: Elaine in Texas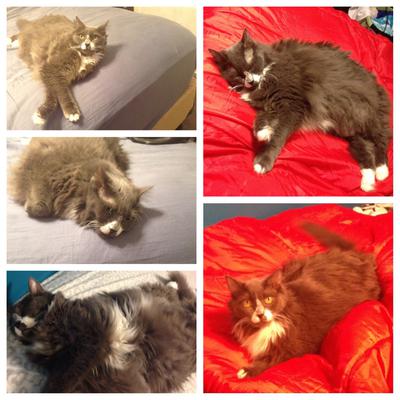 SallyMay
I've had my cat for 13 years. She's a loner cat, she doesn't really like people to mess with her and she doesn't really like new people.
But she's my best friend and my life wouldn't be the same with out her even if she is a pain sometimes (:
---
Is Marley a Maine Coon?
By: Amanda in Maricopa, AZ, US
I've looked up traits online and he seems to fit the description. I'd just like an opinion on it.
He is very much like a kitten, playful and the tiniest (and cutest) meow. He has pointy ears with long tan hairs growing on the inner ear. Big paws with hair growing between the toes. Three different types and lengths of hair growing.
And he's a BIG boy! (Not fat...) also he has the distinctive "M" on his forehead. Let me know what you think! p.s. I would upload a photo but I'm on mobile and it won't let me :(
---
Bubba
By: Bob And Connie Norwood in Las Vegas Nevada
A good friend had a cat (prox 3 years old per the vet) she could not take to next residence. We agreed to provide him a loving home.
Having lived on a Pennsylvania farm with lots of dogs and cats, this was no big thing. We are old now but the addition has had a dramatic effect upon our lives. Less squabbling... our time has become filled with Bubba and his antics.
Loves to play, of all the fancy toys, his favorite is a length of string attached to a stick. He never tires of chasing it.
He is very laid back but loves to be chased around the house. Finds different places to hide/pose, especially in high spots.
Very fond of belly rubs and loves to lay on his back with all paws akimbo. Devoted to which of us at home, but partial to Connie and sleeps in her arms with head resting upon hers.
First night we had him, I awoke a around 3 pm with his cold nose pressed upon mine!!!!! He delights in opening drawers and cabinets, stands on hind feet and side steps on back feet with paws clasping the drawer/cabinet.
He is very tolerent of being picked up, but lets you know when he wishes to leave. He has developed a daily routine including being at the door when he senses that one of us is coming home.
Hearing is exceptional and he seems to be more dog than cat like. Has to sniff everything and drinks water from the sink faucet.
Gets mesmerized with the fireplace flames and the bubbles from seltzer bottles. He is the light of our lives. Will attach pictures when bride shows me how.
What to do next:
Subscribe in a reader - Be notified of new posts!




Or, get The Daily Digest by email:
(Same as above, just delivered via email)




Or join our email group by filling out the form to the right. From time to time I'll send out special tips, articles, news, deals and other free goodies!
What to do next:

Subscribe in a reader - Be notified of new posts!
Or, get the Daily Digest by email:
(Same as above, just delivered via email)
Or join our email group by filling out the form below. From time to time I'll send out special tips, articles, news, deals and other free goodies!