November 2012 Photo Albums
Welcome to the November 2012 Album of Maybe-Maine Coons, where readers ask this community, "Is my cat a Maine Coon?"

Maybe-Maine Coon Cats For November:
Curious to see how much of Maine Coon I am!
By: Tiffany Partanen in Central Florida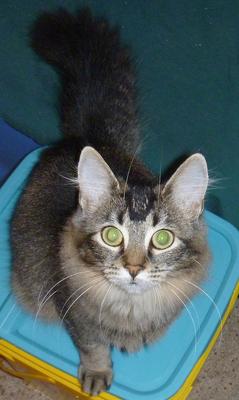 Hello everybody!! My name is Miley and I am an estimated to be about a 4-5 month old "possible" Maine Coon kitten. See, I was found by Animal Control under somebody's house deck and from there I was turned in to the Animal Shelter. I was there for a couple of weeks and wound up being #3 on the euthanasia list , :( one week until I was rescued!!! Tiffany, my foster momma has now since adopted me into her furever home and I love it OH so very much with all my other kitty friends!! I am glad I have found my furever home!! But enough about me here is my momma!! Bye bye!!.
Hey guys, like my fur baby has told you I acquired her through being her foster and decided I wanted to keep her!!! I know nothing about her background and the shelter seems to think she is a Maine Coon but we're not sure how much. I am just curious because I am interested in maybe putting her into shows when she is older? I am absolutely in LOVE with Maine Coons and have been for as long as I can remember. Miley is my first Coonie :) I apologize for the rambling and I thank you all for taking the time to read this!!
Much love,
Tiffany
P.S.: Here are a few pics with a couple to get an idea of her size.
---
Rescued Maine Coon?
By: Elizabeth Wolcott in Newtown, PA
tufted feet
We adopted Lillian from our local shelter. We were told she had been rescued from a hoarding situation and that she was at least a year old and done growing.
Our vet said that despite her smallish size (6 lbs) she was definitely not a kitten. We thought she was just the most beautiful little girl--until she became our most beautiful not-so-little girl. We've had her about 10 months now and she is half again as big as she was when we got her. Her torso is especially developed and rounded.
Anyway, I was looking at your site and thought 1) Lillian has grown a lot 2) Lillian acts like a dog, following us everywhere; guarding the house etc. 3) Lillian LOOKS like a lot of the cats you have on the site.
It would be fun to hear what someone who knows this breed thinks of Lillian.
Thanks!
Elizabeth
---
Is my cat a Maine Coon Mix?
By: Mrs. Samantha in Brantley County, Georgia, USA
This is my cat Elmo, she is about 2 years old..I've had people tell me she looks like a Marine Coon mix...She is the best cat I've ever owned!
She has never scratched my kids or anybody else. She loves for me to give her attention. When she wants something she is quick to wrap around my ankles and vocalize it to me. There are times when I trip over her, because she is going around my feet and talking to me.
She gets along great with other cats and dogs. She loves running through the house while playing with her kitten. We got Elmo when she was 6 weeks old from my in-laws. She was the only kitten out of the litter with her coloring..Her siblings were all black and white also with medium long hair..I was wanting to know what is everyone's thought about Elmo..I have also attached a picture of her kitten Bob (he has a bob tail) and is solid black :)
Thanks :)
---
Fluffy- VT kitten is she a Maine Coon Mix
By: J. Snelling in Bethel, VT
Our Fluffy was a gift for out son's birthday. She loves to cuddle, climb, she is very affectionate, great with our kids, very playful. Very smart.
Comments:
Ken: Our Hazel looks almost exactly like Jessica's Maine Coon cat. Hazel has a little more white on her chest but little less white on her back legs. Otherwise they are identical. Our Hazel is 15 years old and weighs right at ten pounds.
---
Don't know how I got lost, but sure glad I was found!
By: Carolyn in Baltimore, MD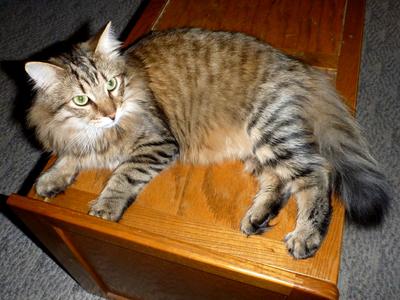 Calvin is a rescue cat, and we will always wonder how anyone could have lost such a wonderful animal. Their loss was definitely our gain! He certainly has all of the Maine Coon characteristics.
He is so inquisitive that we had to block off any holes he could squeeze into - after he got stuck in the basement ceiling! He is extremely loyal and always wants to be in the same room you are in, usually sitting right within petting range.
His favorite game is to fetch little balls - he loves to hurdle down the stairs after them, then tosses them up on the steps so they fall down and he can bat them - then he runs back to us with the ball in his mouth, hops on his chair and drops it for us to throw again. He also learned to do two tricks - he can give us a "High-Five" and "Give me Ten".
He loves his rescue brother - Hobbes, who is a short hair mix. Calvin doesn't meow, he makes little chirps. His paws are huge and he has the softest fur I have ever felt, but doesn't seem to shed it all over like other cats I have had. He is a big goof and doesn't seem to have a mean bone in his body.
We will always wonder if he started life in a cattery and somehow got away (after the ceiling incident, I can see how that could happen...), but we love him regardless.
What do you think - Maine Coon or something else?
---
Is Ellie a Maine Coon?
By: Amy in PA
We found a kitten on our deck one morning a few months ago, she was starving and infested with fleas. We assumed she had to have been dumped since we don't see many strays around here. The vet said she was about 4 months old in September, but litterally just a bag of bones and fur.
She is different from any other cat or kitten we've ever had. First thing we noticed, her voice, it sounds more like she's speaking words than a meow. Her toes have large tufts of hair between them. Her tail is huge. The hair on the back of her neck to her shoulders is very short, though, then becomes very long on the rest of her body. She has more energy than any kitten I've ever seen. And she absolutely loves water!
I started researching cat behavior and found some of her traits were common to the Maine Coon.
Does anyone have any opinions? We love her to death and just glad we found her when we did, she wouldn't have lasted much longer the shape she was in.
---
Meowingtons
By: Kristina in Baltimore, Maryland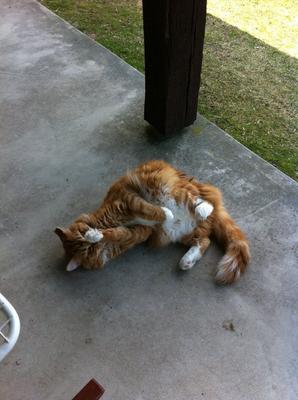 This is my cat Meowingtons. I rescued him from a friend who couldn't have him because her landlord would not let her. She rescued him from another lady who rescued him after his family abandoned him.
I am not sure how old he is but he is still very playful. His ear has been clipped to show that he has been fixed so it makes me wonder if he was feral at one time. He is the best cat I have ever had. He is so friendly even with strangers. It's kind of like he is nosy when new people are around. He has to sniff them and check them out.
He gets along with our two dogs and other cat wonderfully. In the picture above he is sleeping with out other cat. He absolutely loves our children. He has such a sweet personality and when he wants you to pet him he does not care what you are doing he will still jump up on your lap.
He always gives us kisses and he actually talks to us. All the time. That's why we call him Meowingtons. It's almost like he is trying to tell us stuff and he responds when we talk to him. He is very vocal and loves to play with the water in his bowl. He is so loyal and follows me everywhere like a dog would. He accompanies me to the bus stop to get my kids every day.
I love him so much and I cannot understand how such a wonderful creature could be given away so many times. I am so glad he came into my life and is now my forever friend.
Comments:
Sharon Duffy: He is adorable. Sometimes our fur babies go a long way to get to where they are supposed to be. I have a beautiful, black, Domestic Longhaired kitty, that i adore. He spent a year and a half in a cage , at the Humane Society, until I saw his picture on line, and went to get him. He is bea loving, grateful, loyal cat, that wants nothing more than to be at my side. I believe our kitties are nnow where they belong, loved and cherished...
---
Do Either Of My Kitties Have Maine Coon In Them?
By: Jenni in Ligonier, IN, USA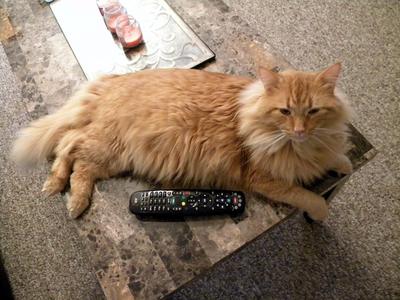 Buster on the Coffee Table
Buster is the big yellow one. I've included pictures of him with and without his winter ruff. He was a stray that came to us when he was about 3 months old.
After we had him neutered he grew a bigger ruff and thicker fur. He's a gentle giant and often follows us from room to room. He loves drinking out of the bathroom faucet and now that the kitten, Molly, is here he loves to play but he's so gentle with her.
He loves to be petted but isn't particularly social with people unless he knows them. I've never heard him hiss at all though and he loves other cats a lot.
Molly is a kitten from a stray that we fed. Her mother is short haired though and Molly really doesn't look at all like her other than the gray coloring.
Molly looks so much like the pictures I've seen of Maine Coon or Norwegian Forest cat kittens. You can't tell very well in the photos but she has slight tuffs on the top of her ears.
Molly is so smart and has already learned to sit on command (she's 11 weeks old) and knows about 5 words when we say them. She's very cuddly but really loves to play like all kittens do. The two of them have really become quite fond of one another.
I know that both cats are mixed, maybe with many other town strays over generations. I really have no idea.
I was curious because Buster is so big, he's the biggest cat I've ever had and also has such a long and full 'mane' in the winter months.
Any thoughts are appreciated. I love them both dearly.
More About Buster - Update
Buster in the Winter
Buster showed up at our front door 3 years ago on a very cold night. He was about 4 months old and so adorable but also very dirty.
After a bath and some food he decided he had found his home. We fell in love with him right away. We were unable to locate owners and even put him outside many times to see if he would go to his home, but he had already decided that he was already home. :)
As time went on it appeared that he wouldn't stop growing, he just got bigger and bigger and started growing a mane (which I now know is called a ruff). He would always go absolutely limp in our arms, liked to lay on his back and have his belly rubbed and loved the bathroom sink, first to sleep in, then to drink from the faucet.
I became curious and started to research cats and realized that he may have some Maine Coon in him. His fur, his size and his disposition seem to indicate so however he doesn't have big tuffs on his ears and they aren't as tall or as close together as most MC's are. He's surely a blended cat but it's my guess that he has a little Maine Coon in him, somewhere down his line.
I would love to hear from others, do you think he does? He looks like many of the pictures I've seen (other than the ears of course). It doesn't matter to us really because we love him no matter what, he's definitely our gentle giant.
Thanks for viewing Buster's pictures!
---
Bob Cat - He's A Coon Rescue
By: Shawn in Hawthorne, NV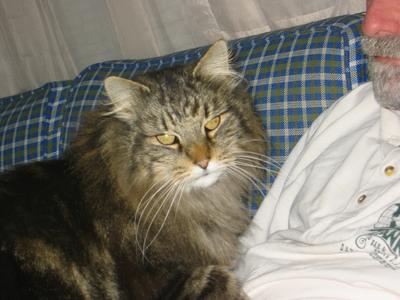 Bob in my lap
Bob was rescued off the street one night when it was 20 below. He cried out and came to me. I picked him up, put him in my vest pocket (he was that small) and took him home. He never grew large.
He comes running whenever he is called. Loves to sit on my wife's lap, loves to talk, and hangs around the kitchen being extremely vocal whenever I start preparing food.
---
I think our Shadow is a Maine Coon or Maine Coon Mix
By: Susie in Summerfield, Florida, USA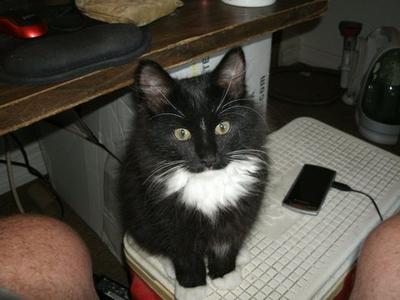 How shadow got his name is he follows us everywhere we go around the house.. LOL
His mother is a short haired cat his sisters and brothers are short hair except him (shadow) LOL
Why we think he might be a Maine Coon or Maine Coon mix is because he has a lot of fur as you can see in the photos.He has fur between his toes and he has a very bushy tail..He is very vocal .I should add he is 4 months old.He has to be under our feet all the time..He is very good company tho..He seems very smart.He looks at us while he is meowing..
He is a great joy to have around we love him very much. :)
Can anyone tell us if he is a Maine Coon or Maine Coon mix?
Thanks,
Comments:
Barb: what a beauty!
---
Our Pretty Boy
By: Jessica in Wewahitchka, Florida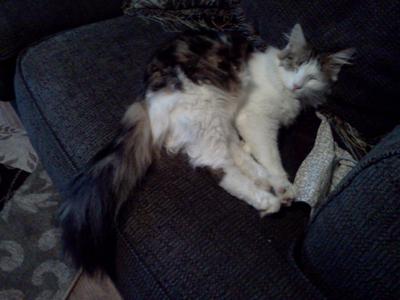 Springsteen
Well we aquired him through my daughters friend. He was about 2 months old when got him, so we are sure he's 7 months old.
He has the sweetest loving personality I have ever known a cat to have. He also has a very distinctive meow and really cool trills. Never have heard that come out of cat before. He has the mane around his neck, a very long full tail, beautiful pattern and the tufts between his claws. He also has long hair coming out of his ears.
He trips me up all time, cant ever be mad at him, so sweet. We love this cat so much. We feel like he may be at least part Maine Coon from what we have read about the breed.
He is just a big sweet boy. His name is Springsteen. My girls says he's the sexist cat they've ever seen. Weird way to discribe, but I must admit he is the most beautiful cat we've ever had the pleasure to own.
---
Is my shelter cat part Maine Coon?
By: Rebekah Mann in Asheville, NC
| | |
| --- | --- |
| Harry 6 Years old | Maude 9 Months |
Harry is a 6 year old rescue, he is so much like a dog I sometimes can't believe how smart he is. He loves me and mostly me hahaha.
He is 18 pounds has long black fur hair coming out of his ears, and my oh my is he vocal! If he wants something I will know it...whether its food water or his litter box cleaned out! He will sit in the sink and play with my faucet for hours...Is he part Maine?
I also recently got a new kitten from a rescue where I live...and I think she is full Maine Coon she is only 9 months so I'm not sure but she looks more Maine than Harry does... I'm uploading both pictures
Comments:
Sarah C: Let me tell you, Maude is definetly a Coonie! I have a full blooded Coon named Mr.Brady who looks exactly like her. When they are that color they are called "Blue Solids."
---
Is She A Maine Coon?
By: Jessica in Moncton, NB, Canada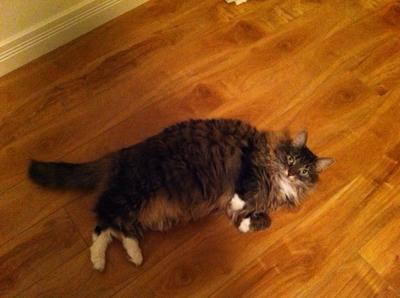 I got her 6 years ago so she's 6 years old. She was the smallest of the litter and is still quite small, under 10 pounds.
She really likes to play and run around chasing some balls that we throw at her and really needs her daily cuddle with us. She really is a cat that wants attention but not too much attention and she'll let you know when it is enough.
She is really vocal and it seems like she is trying to tell us what she wants, or to tell us she wants to play. I was just wondering if she was a Maine Coon?
---
King Of All He Can See
By: Rachael Miles in Southampton UK
Just 7 months old big paws. Weights 3 and half kg, big bushy tail. Bites hands when does not want to do something. Very long fur.
---
Been Told Soxiee is Maine Coon Mix
By: Kelly in Perth Australia
Hi Soxiee has just turned 1 and weighs about 10 pounds already, I am from Perth Australia and cannot find anyone in my area that is able to help me...even my local vet, I have searched the internet and you were the first one that I have clicked on.
After reading your site a lot of the information Soxiee gets up to, she talks to me, loves water...I mean she sits in the bathroom with all of us while we have showers and runs around the house all the time, and she is very big for a cat her age, bigger than most cats I have had in the past and very affectionate and I love her to bits, we all love her...I have added some pics of her, I do have some more.
Comments:
Karen and Tassie Girl - Coburg Melbourne : She looks and sounds alot like a Coonie - mine is also a rescue cat - I reakon 95% coonie, My Tassie does exactly what your Soxiee does.
Joy McHenry: With such a beautiful tail and the other features you mentionI do think he is a Maine Coon mix.. I am frm Perth too, but live in Oregon USA. Miss my home town Maine Coons are remarkable cats.
Sarah: In my opinion he is definetly a Coonie! I have had two maine coons in my life and the definetly love water. Also, Maine coons often make strange sort of "trilling" noises, kind of like a high pitched purr. Does he do that?
Jessy: What is it you're looking for help with? Determining whether Soxiee is/isn't Maine Coon?
---
Is my Kitten a Maine-Coon?
By: Tim in Australia
Her name is Iso-Dora. She is currently 11 weeks old. I adopted her at 10 weeks old - It was love at first sight.
Her breed is labelled as a "Domestic Medium Hair" - which doesn't tell me anything about her breed.
Over the past week I have been researching cat breeds and have noticed her to resemble a lot of Maine Coon physical & personality traits but without knowing her parents breed, its almost impossible to say for certain.
Her ears are set high and well apart and tufts are appearing. She has extremely long whiskers. There are five toes on the front paws and four on the back and her tail is long and thick. Her coat is extremely soft. She has a very loud Purr. Never Meows like a normal cat, instead I swear she is trying to talk (Almost chirpy sounding).
She is extremely affectionate, always wanting to be cuddled or stroked. Likes her stomach to be rubbed. Very curious with everything around her - she is very alert. She also seems to have a liking for water (Curious with it).
I have submitted a few pictures of her. Is she Maine-Coon or atleast have part Maine-Coon in her?
Thank-you for any help.
Comments:
Barb: what a pretty girl.
Sarah: Sounds like the tell tail signs of a Coonie! I have had two in my lifetime, and they are the only cats that have that chirpy "talking" sounds. They also LOVE water, and another thing I can see from ur picture is that she (as a kitten) has a large head, that is also a big trait of the Maine Coon! One thing to watch for is during the winter, they tend to grow a "mane" around there neck. Watch for that in you will know for sure!
Jan/owner of two Maine Coons: You are describing physical and personality traits of our two Maine Coons! Lover her, enjoy her!!
---
Gandolf the Grey
By: Jeanne in Utica, NY
Why, hello there!
Hi all!
I adopted my 6 year old fuzzy companion from a local animal shelter and it was love at first sight. His personality immediately drew me in as he strutted up to me and meowed for attention. Gandolf absolutely towered over the other cats there, a power house of muscle, not tubby like the other 'large' cats. I came back the very next day to adopt him and he's been my companion ever since.
Ever since I got him 8 months ago I've been wondering if he could be a Maine Coon or at least a Maine Coon mix. All my friends say he's a monster sized cat; which is true since he's the size of a small dog. Personality wise seems to match everything on this site; laid back, loving, and a playful goofball. He is always at the door when I come home from work, sleeps with me every night, is my constant shadow when I'm home, and has developed the habit to immediately meow whenever my alarm clock goes off in the morning to announce that he wants his breakfast.
Physically he is, as mentioned before, a very large cat. Big, muscular, medium-long fur, fluffy 'mane' and tail, and has long fuzzy fur between his toes.
So? What does everyone thing? Maine Coon, MC Mix, or just another large fluffy kitty?
---
Nala, my possible Maine Coon
By: Amber in West Virginia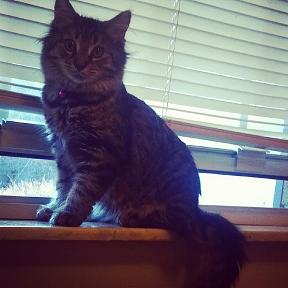 My boyfriend and I rescued Nala when she was just 4 months old.
I wanted a Maine Coon more than any other breed because of how large they become once reaching adult age. I'm still not 100% sure if she is indeed a Maine Coon, but she definately has a lot of the chracteristics!
She is only 1 years old, so time may reveal if she is or not. But here is my baby Nala cat that we have came to love like a child!
---
Finnigan
By: Jamie K. in Germantown, WI
Finnigan's 1st Day Home
We rescued Finnigan from the Wisconsin Humane Society a few weeks ago and has since become the absolute love of our lives! He was born in early October of this year.
Finnigan is extremely affectionate, very talkative and super intelligent (we have him sitting for treats on command). I think one of the many reasons why I was drawn to Finnigan is because he resembles my favorite cat breed, the Maine Coon!
I'd really appreciate a more expert opinion on his breed so I'm hoping you can help me. Maine Coon or not though, I think he's the cutest cat ever (I may be a little biased though...lol)!
---
Is Finn a Maine Coon mix?
By: Erin in Annapolis, MD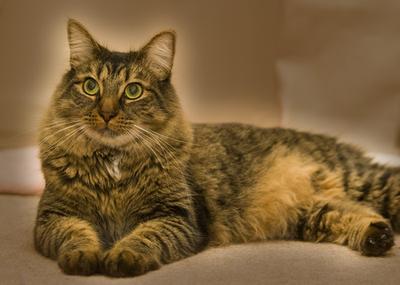 posing
I have to think Finn has Maine Coon in him. He is a gentle giant and so playful. He has a purr that sounds like a trill but can be also have a wide range of vacalization when he has a point to get across.
He fur does get matted at his haunches and he requires daily grooming. The physical characteristics you can see is the pics but he does have tufts of fur between his paw pads. Which helps his sister get away from him as he slides across the hard wood sometimes. He is 16.5 pounds but the doctor said he not really fat but more of a little muscle man.
He even has a heart murmur. No matter if he is a Maine Coon or not he is my little lover boy.
Comments:
Barry McKendree: Finn looks exactly like my Manny! Weighs in at 17 lbs! Beautiful cat!
Michele: I say Finn is mix Maine Coon he is beautiful - I have a pure-bred on order can't wait to get him...Love them gentle giants!!!!!
---
Mick, My Rescue Kitty
By: Jennifer in Canada
when we first got him
Mick was rescued from a kill shelter. He was thought to be 12 months of age when we got him. We have had him now for 8 months and he is getting huge!
He chirps, is very vocal, has a raccoon type bushy tail and a long mane. He has tufts of fur between his toes and a long haired belly.
Comments:
Cheryl: Certainly looks like a Maine Coon. Ruffled throat, plumed tail, fluffy coat. I am sure he has a lot of coon in him if not all maine coon. Beautiful baby!
Kat Jenkins: He's gorgeous. I have a beautiful girl, Feathers and she's my little (not so little) shadow.
Nana Nan: Gorgeous, gorgeous cat - his markings are breathtaking!
Barbara: He's so gorgeous... he is identical to my Pagan - love tabbies
Kelly and Darren Fresh: He looks a lot like our cat Rebel. He is 2.5 year old and 25lbs. We love him so much.
---
Sherlock Jones
By: Tess in Birmingham, AL


Sherlock Jones
After our previous cat died peacefully in her sleep at a ripe old age, I wanted to find a new pet to heal the grief for my family.
Interestingly enough, I actually searched adoptable cats in my area on Craigslist, where I found our newest family member. I immediately fell in love with that adorable face with those long whiskers and that mustache!
The vet clinic where I got her was happy to finally have someone adopt her, as most people want baby kittens and aren't interested in "older" pets (she was 8 months old at the time of adoption).
Now, I have had a few cats in my life, but this little girl definitely has some unique quirks. She took to her cat bed, scratching post, and litter box right away. She follows me and my husband around the house, and every morning when I wake up, she is sitting outside my bedroom door, ready to greet me. In fact, any time I go into my bedroom, when I open the door, there she is waiting for me. It's so cute! I have a constant buddy in the morning while I'm getting ready for work. She is extremely playful, and almost any object becomes a toy. She loves to play "soccer" with smaller objects. She will often pick up her "toy" in her mouth and carry it off to a new location. She is happy to lie at our feet or somewhere close by, and not interested in being in our laps at all.
It didn't occur to me to wonder what breed she might be, considering how we got her, but a friend who saw her photos on facebook said she looked like a Maine Coon. She has one herself, and said our cat seemed to have the physical characteristics of one. I started looking online, found this site, and as I read, kept nodding my head, "Yep, that's our cat."
Comments:
Barb: What a pretty cat- love his white mustache.
Tess: Our cat used to cry when we turned off all the lights and went to bed. She has cried a little when someone leaves. And she will cry when she loses a toy...this is very funny, it's like she's calling it to come back to her.
Maui: Hi! With your Maine Coon, when you leave does he cry at the door? We have a problem with ours, when we leave out the garage he cries and cries, it breaks our heart. So now I have to back my car out and come in the front door and then leave again out the front door. Oh the things we do for our little babie!!!
---
My Mix Maine Coon Hiro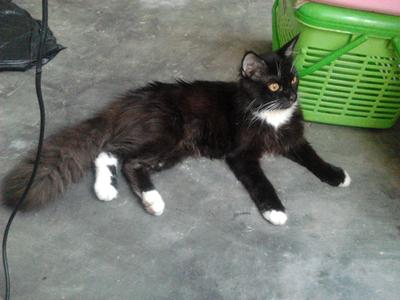 Hi my name is Acep, and My cat name's Hiro, he is a Maine Coon mix Persian breed (Sire: Maine Coon ped CFA and Dame: Persian pet quality)
He is very active cat and always makes some noise like "Furrr' or 'Eww..' and I lover his Color. His fur like Black hair, smooth and silky... he is Tall and a great jumper! He's lot run away if I not allowed he's Playing out home :D
And he often pees anywhere than in catsand :'( When I slept he peed on my back!! Oh Gosh... I was really mad :lol Look my Photo, is he a Maine Coon mix or just mixbreed Persian? Because I bought him online and I didn't see his parents, just looked by photo :D
Thanks All
Let's Connect!
Subscribe in a reader - Be notified of new posts!




Or, get The Daily Digest by email:
(Same as above, just delivered via email)





Join our weekly email group by filling out the form to the right. From time to time I'll send out special tips, articles, news, deals and other free goodies!







Subscribe in a reader - Be notified of new posts!
Or, get the Daily Digest by email:
(Same as above, just delivered via email)
Join our weekly email group by filling out the form below. From time to time I'll send out special tips, articles, news, deals and other free goodies!