Mittens
by Hannah
(Australia)
Mittens at 3 months old.
I found a 3 month old kitten in December 2009.
She was never claimed and I was instantly attached so I kept her, her name is mittens although she has no mittens the name just seems to fit her personality.

She is now nearly one year old, 11 months exactly I think.
I was browsing on the web and found this site, the description fits perfectly with her but I'm still not sure.

She has medium / long shaggy coat and had lots of little 'fuz' everywhere. She has black lynx tufts on her ears and incredible furnishings in-between her paws. she also has a very fluffy ruff around her neck we like to call a mane.
She is brown tabby with green round eyes.
Her tail is about as long as her body and very fluffy, she likes to swing it around in the air constantly.

She is very sweet natured and fun loving. Her favourite thing to do is play with everything and anything she can find, including dust in the air.
she has taken up the habit of chewing on me or licking me when she is tired.

She has a soft high pitched meow and likes to talk when she sees birds and other small animals.
whenever I have a bath she will try and climb in, she loves playing in water and especially loves bubbles

She is a hand full at times as she is constantly under my feet or pouncing on my feet, jumping on things and knocking things over or trying to play with me while I sleep she is quite mischievous and loves to wrestle with humans, although sometimes it hurts she only means well.

she also has lots of whiskers that seem to big for her but that's what makes it so cute.

She hates to be alone, she loves company especially human company.
She also has traits of a dog, she will come when you call her, walk along side me and easy to train.

The only difference is she is quite small and thin but long.
compared to our other cats which have all been domestic short hairs.. most of them where quite large in the belly too.

Thanks for your help, it would be much appreciated.
-H

(please note that we have taken the collar of her due to the amount of fur she has grown)


Mittens, and she's growing! - Update!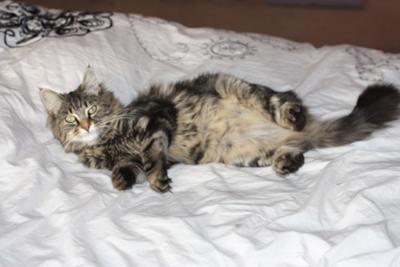 I recently sent in photos of Mittens asking if she was a or part Maine Ccoon, I have uploaded more recent photos taken the other day,
She is growing up although I still see her as a tiny fuzzy kitten.
From neck to start of tail (torso) is 40 cm long now (she is 1 year old in a week)

She seems to be developing more cute quirks everyday, she has become more and more mischievous as she grows although its sometimes the opposite with many cats.
She has taken a habit into carrying items everywhere with her, starting with a mouse toy her new favourite thing is marshmallows (she doesn't eat them!) and my necklaces.

She has taken a great liking to the TV (great in mornings when all she wants to do is play and I am sleeping) and all the exciting things going on on it, we brought a great DVD called Kitty goes hunting designed for indoor cats it is great for keeping her occupied when I just don't have time to play which she is constantly wanting.

She has also started growing tufts of fur coming out from behind her ears which is adorable and the Maine Coon traits are developing! (she has recently had her neck shaved to have her feline HIV vaccination)>

She really is the sweetest thing.


Comments for Mittens, And She's Growing:
Mittens looks like my cat, Chi
by: Intan
When i saw your picture of Mitten, it feels like I saw my cat, Chi. They both have similar faces and fur. :) She's beautiful. I love her. :)
Pretty cat!
Mittens is beautiful! I think my kitty may look like Mittens we he gets bigger.
She sure is growing!
by: Maine Coon Cat Nation
Hi Hannah,
Well, she is turning into quite the lady, isn't she?
Sorry it's taken me so long to comment on your beautiful photos. They really are wonderful.
Look at those tufts of fur on the tips of her ears! I just can't believe her first owners lost track of her! Their loss is definitely your gain. She's just stunning.
Looking back over all your info and pictures, since Mittens was previously owned, I really think she looks like a full Maine Coon. Of course, there's no proof, and I never say that about a kitten who's ended up abandoned or in a shelter.
But, it seems possible she was bought (hence the pink collar) and somehow lost. What do you think?
Well, Happy Belated Birthday Mittens, and here's to many, many more you gorgeous girl!
~Carrie
Thanks
by: Hannah
we found her wandering a main street following two strangers at midnight, it seemed kind of strange for such a young kitten, she was so tiny and the males didn't seem to want her so we asked them if she was theirs they said 'no please take her she has been following us all night'
following this we posted posters around the area we found her and adverts in the newspaper. after a month we decided that she must be in a better home with us because she wasn't in good condition, although she was defiantly owned (pink dainty collar).
thank you for your help we have our fingers crossed that she does get bigger but even if she doesn't she is still a bundle of joy.. and fur.
-H
All About Mittens
by: Maine Coon Cat Nation
Hi Hannah,
Thanks for sharing Mittens with us! So, you think she may be a Maine Coon? I can see why! She has just about every personality and physical trait of a Maine Coon cat.
You didn't mention how or where you found her? A Maine Coon breeder would not misplace a kitten, & never abandon one. So she didn't come from a breeder, but she was old enough to have left her littermates (usually 12 -14 weeks of age with Maine Coons) Perhaps someone did adopt her & it didn't work out? Maybe her new owner lost her or couldn't keep her?
You've given us such a thorough description, I love it! As always, I have to start by saying that without a pedigree nothing is certain. Even if I think she looks like a Maine Coon she'll always be a bit of a mystery, and we'll never know for absolute certainty. And, I'm always quick to point out that a young kitten is almost never a full, purebred Maine Coon who has been abandoned or lost. Who would do that? These are valuable kittens!
OK, now that I've said all that, Mittens couldn't possibly look any more like a Maine Coon. She has the ruff (mane), fluffy tail, super-long whiskers, but more importantly she has the foot tufts (nice shot!) and the ear tufts. That doesn't just happen randomly. Those are unique Maine Coon characteristics. So, in my opinion, it is very likely that Mittens is a full Maine Coon. Or, at the very least, a mix.
I don't know how she came to be a homeless kitten, but those ear tufts don't lie!
All the personality traits she displays support her being a Maine Coon, too. Loving the water, tiny meow, following you around, being dog-like & easy to train.
Thanks for sharing her, she seems to be growing fast, I bet she'll be big! It's okay that she's thin now, she's a teenager. She's likely to be lanky for a while and eventually fill out in the middle. Maine Coons are quick to grow and slow to mature! (they just keep growing, and growing, and growing... :-)
Have fun with Mittens!
~Carrie