May 2013 Maybe Coonies
Meet the Maine Coon mixes and Maybes in our May 2013 Album, and see what others think about their heritage.

Maybe-Maine Coon Cats For May:
Blaze,that wonderful Crazy Cat!
By: Jennifer Desaulniers in Vallejo California, USA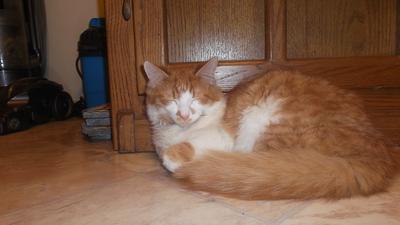 I work at the Humane Society of the North Bay in Vallejo, and I absolutely fell in love with a fluffy orange kitty I now call "Blaze".
When I first adopted him in March of this year, 2013 I thought he was a Domestic Long Hair, that is until I got him and got a closer look at him and his personality!
He is fluffy and robust and he has that tell tail "M" on his forehead, not to mention the big furry paws. He has quite the personality too! He has many "doggish" ways about him including playing fetch, begging for my dinner, and going for walks on his leash! He is one of the most social cats I've ever met, and he is ALWAYS seeking attention!
He is also an awesome hunter (mostly flys LOL) and an excellent climber. I do believe that Blaze is a Maine Coon/Domestic Long Hair mix, and he will, and always be, a loving and beloved part of our family!
---
Is She Part Maine Coon?
By: Adam in Tamworth, England
We had this little beauty (Lilly) from a young age from friend who said the cats father was a rare breed but could not remember what breed he was at the time.
We didn't follow it up because we just wanted a cat and it didn't matter what she was, a neighbor asked us recently if she was a Maine Coon but I had no clue what one was, so I googled them and found that she had some similarities, she is larger than most females and seems to still be growing at the age of 3 and developing new characteristics within her coat.
Her first litter was mixed long and short hair kitten the boys being very muscular and strong cats, her second litter which will be ready to go next week look very much like the Maine Coon kittens I have seen. Lilly has some bold characteristics in her nature and is not fully tame. What do you guys think?
(Note from editor: Adam, your picture(s) didn't come through - This happens when they are large files, meaning high quality photos. There are tips here for editing photos for the web, if you'd like to try again. I was unable to sent you an email.)
---
Simon
By: Brian in Saratoga Springs, NY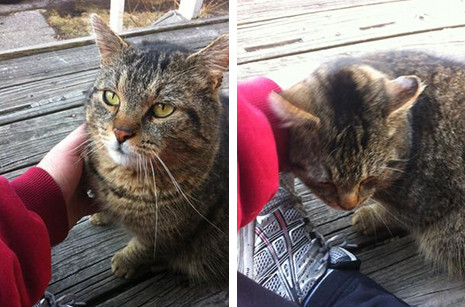 Simon was a stray that kept coming to our downstairs neighbor who leaves out food for said cats. We never paid much mind to him, but he was always there when we left for work and there when we came home.
One day while walking our pug Macy he started meowing and rubbing up against her and that was it. He has never left her/our sight. He actually followed us down the street like a dog meowing.
He had a wound on his back so we took him to a local non for profit group to get him looked at and fixed and that was the first time I heard of the name Maine Coon, they said he must have some of it in him due to his size (14.5 lbs) and coloring. Came to find out that he had already been fixed and because due to the wound he tested positive for feline aids. We were happy that its not terminal. We've since taken him home and he is fitting in real nice with me my wife and our pug Macy.
So is he part Maine coon? Who knows. What I do know is that he is very affection it, playful and very very vocal or like we like to say "mouthy" He follows us everywhere and when we are not in the same room as him he comes crying looking for us. When I respond to him it actually sounds like he's trying to talk to me. When he gets on the couch he'll start kneading the blanket and has this stare like Jack Nicholson in the shining. He always rolls over on his belly and is just the most handsomest boy. We are very happy to have him in our family and if he is a Maine Coon well it just makes for a better story.
---
Nala
By: Kristen T. in Florida, USA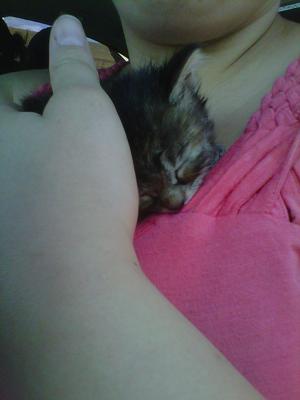 This is Nala. She was found in a parking lot when she was just under two weeks old, and is now currently four and a half weeks old. Her fur has continued to grow longer, and she is quite the fluff ball! She looks a lot different from the DSH kittens I have raised and fostered in the past, and has a much different personality.
After taking her to the vet, they said they couldn't really tell what she is yet, because she's still so young. Yet, comparing her to the pictures of kittens her age that are DSH, she looks much fluffier. Her fur is also extremely soft and wispy.
I don't think she is a purebred anything, but I do think she has a mix of something different in her blood.
She is extremely friendly, and has adjusted to being home a LOT better than any other animal I have ever worked with. She's very social, loves to talk/respond to your voice, and lets us know, very loudly, when she wants food or needs to potty.
I would just like to know if she will grow up to have longer fur, or if she will be shedding away all the fluff to have short fur.
---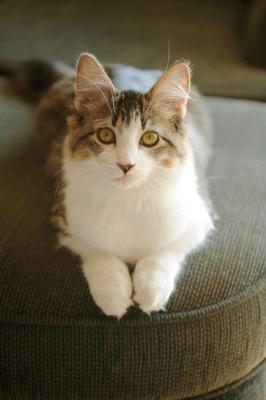 Happiness is a cat.
Happy Cat, our rescue love
By: Laura in Nashville, TN
She is the best cat ever and we named her Happy because that is what she makes us.
---
Ron
By: Aquila in Bend, OR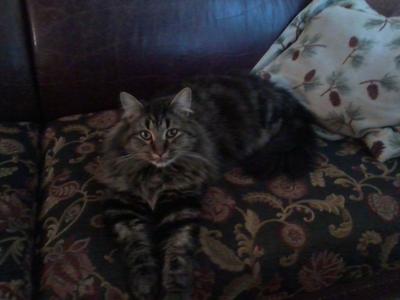 We found Ron on Craigslist. Thought we were just getting a short hair, normal house kitty. Boy, were we in for a surprise. He just kept getting bigger and fluffier.
He is now just over a year old and weighs over fourteen pounds. He has almost all of the Maine Coon traits. His neck and tail are the fluffliest parts of him. He has long whiskers and tufts between his toes.
He has a great personality. He gets along great with our other cat and loves other people. He is super friendly and follows us around the house. He just likes to be in the middle of it all. Big, goofy but smart, friendly, happy, acts like a really big kitten still.
He definitely picked my husband for his main person but he loves everyone. I would love to hear your thoughts. Here is one kitten picture and a couple recent pictures.
---
Is Dragon Slayer Able to Claim Maine Coon as Part of His Family History
By: Sandie in Kissimmee, Florida
Dragon Slayer Mane
Dragon Slayer thoroughly enjoys playing with lizards. Not a day goes by without discovering another dragon to slay on the porch. You just know he has a huge Cheshire cat smile on his face while playing with lizards/dragons. Hence, his name, Dragon Slayer.
Once Dragon Slayer escorts you to the bathroom, he immediately hops into the tub or climbs into the shower stall and lounges. He sleeps with his furry tail tucked near his mouth. His ears do not appear to be lynx-like but there are small tufts on top. His fur is of varying lengths and his front feet appear to be quite large.
Dragon Slayer was hanging out at a Real Estate office on the main street of a small town. He had been on his own for about thirty days according to the locals. His long fur was well kept and had no matting. He had no chip implanted and the vet said he was about six months of age. He will be going to be neutered on April 18th. Currently is is about 24 inches from tip of tail to tip of his nose and weighs about 9 pounds.
---
Bob - is he a Maine Coon cross?
By: Laura Rich in Cornwall, England
Bob
Hi there!
This is Bob (named after the book Street Cat named Bob!) I read it on honeymoon and it really touched me!
He is 6 months old and lives with myself, husband and our other cat Coco who is 3 and a girl...they are finding it hard to get along at the moment - have been co-habiting since Christmas so hoping they will start to become a little more friendly soon! I think Bob just seems to have alot of energy and our girl cat is quite the opposite.
Bob intrigued us about a month ago when he started to mature more - he (in our opinion) seems very large for his size! He has quite large ears which I understand is a maine coon trait and his tail is amazing - it is massive and akin to a fox's tail.
We thought he was going to be long haired but it seems he is now semi-long haired? Extremely soft fur.
He is sooo affectionate - he butts us in the nose all the time when snuggling in and I have never known a cat to be so good at catching balls mid air! He is also obsessed with the taps, the shower and the toilet! Anything water, he is in to! He is very playful and outgoing and just generally a handsome little chap.
We would love to know what you think about his breed as we think he could be Maine Coon cross? I would love to hear any feedback advice you have!
Many thanks
Laura
---
George
By: Dawn in Peoria, IL
Sir George
It was brought to our attention that George may have some Maine Coon in him. We always thought he wasn't a "normal" cat due to his personality.
First off, physically, he doesn't have the tufts of hair between his toes, but he consistently "chews" the hair off between his toes. He is also a pretty large cat, but nothing the vet says to worry about (13 lbs). He has been categorized as a DMH. He doesn't have the big wispy tail, but his tail is SO animated it has a personality all it's own. His coat is so soft. I have never felt a cat with such a silky coat. His shedding is also minimal.
Personality wise - he has a full range of noises. He will talk back, and his meows are different for each of his moods. He has a low growl when he's mad or annoyed, and vibrating purr-like when he's being silly, and a really fast repeating meow when he's happy.
He is very skittish around anything that he is not used to. When someone comes over to visit - he hides in one of the bedrooms, and is super affectionate when my boyfriend or I come into the room, but gets scared if anyone else does.
He is a rescue cat, and we do believe that at one time he was swatted down a lot when jumping on things, because he will not jump onto our laps and just recently started jumping on the couch while we are sitting on it. He will allow us to pick him up and set him on our lap, and his motor just starts going.
He is also very passive. You can basically do anything to him, and while he will let you know he doesn't like it (with his low growl) he never does anything physically to you.
I love that we have invited George into our home, we just want to find out the most about him that we can, so that we can make sure he is treated the way he should be.
What to do next:
Subscribe in a reader - Be notified of new posts!




Or, get The Daily Digest by email:
(Same as above, just delivered via email)




Or join our email group by filling out the form to the right. From time to time I'll send out special tips, articles, news, deals and other free goodies!
What to do next:

Subscribe in a reader - Be notified of new posts!
Or, get the Daily Digest by email:
(Same as above, just delivered via email)
Or join our email group by filling out the form below. From time to time I'll send out special tips, articles, news, deals and other free goodies!