March 2014 Maybe Coonies
It's springtime, and our March photo album of Maybe-Maine Coons is springing into action!

Casey - he looks Maine Coon to me!
By: Joanne in Arnold, PA, USA
My Casey was a shelter kitten when he picked me. I sat on the floor and he sat on my lap.
Now he is 1-½ years and he is a big boy, 18 pounds to be exact. When he meows he sound like a kitten so I call him my "baby kitty".
He loves to play in the sink spigot when it is on. He has a very sweet and gentle disposition. My vet tried to tell me he is over weight but I don't think he is just to look at him.he has big feet and a lot of thick fur and a somewhat bushy tail.
What do you think?
---
Maybe-Maine Coon Cats For March:
Miss Prissy-Priss
By: Robynne Elwood in Fort Worth, Texas, USA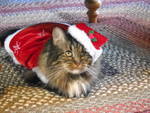 Pretty PrissyClaus
Never have I seen a more feminine, beautiful and loving feline than Prissy.
She loves me like a human would and loves being held upright on my shoulder just like I would hold a baby. I believe Prissy is the perfect creation formed from the union of the most gorgeous Maine Coon and the most beautiful Persian. God brought Prissy to me when He knew I needed unconditional love.
I have had Miss Priss-Priss for 5&1/2 years now and she has soothed my heart and soul and been right at my side through some very difficult times.
Now I know why people want to clone these wonderful gifts. I wanted to share her beautiful Christmas picture.
---
Rush
By: Rush in KL, Malaysia
I want to know is this mix breed Maine Coon? Or is this one of the Maine Coon breed?
---
Please Help!
By: Nicole in Isle Of Man
I got this kitty a few months ago, she's called Patches.
I got her as my other cat was pining for a friend. But she seems to look very different to other cats I've had. She's obviously a fluffy cat.
She has long hair growing Out of her ears and is very playful. She's about 15-17 weeks old. I just don't know what breed she is.
The house where I got her owned a Maine Coon (ginger) but the lady assured me the father was a white domestic cat like her mother, although he did have a fluffy tail.
---
Is she a Maine Coon kitten?
By: Lacey in Gresham, WI, USA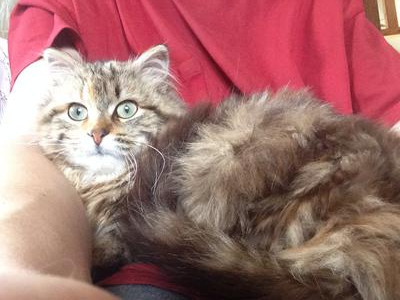 She was a drop off at my farm back in September or October.
She is really layed back and very great with my child, and even my chickens and duck. She was very easy to train to hunt mice.
---
Missy maybe a little Maine Coon
By: Candy in Dayton, OH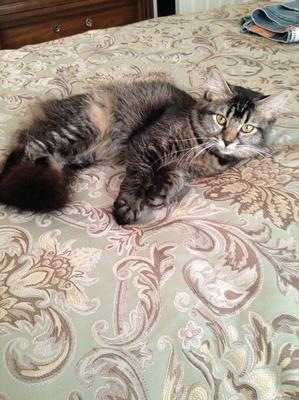 We got Missy from a friend when she was 3 months old. My friend had bought her for her daughter, but after, discovered her daughter had an allergy.
Where she got Missy, I am not sure. I honestly didn't think to ask. I was just excited I found a kitten that I liked. Right away, I thought she had maine coon physical characteristics. The tuff on the ears, brushy tail like a coon or fox, the sharp gold green eyes, the long silky black coat with the different texture fluffy undercoat, giving her a ticked look throughout her torso. She also has the long "saber tooth" like incisors that come down below her lower jaw. Her overall stature and frame strongly resembled a Maine Coon.
We introduced her to another kitten in our family on Thanksgiving. They were both the same age falling between 3 and 4 months. Missy's size dominated the black domestic short hair male.
I also noticed her lack of fear of water which has developed into a like. When we first brought her home, in the first week, I took her into the shower with me to give her a quick wash and to see how she would tolerate it. She curled up relaxed against my chest and let me put her under the warm stream to wash her, no resistance at all. She seemed to like it. Since, she likes to jump into the bath with my children or myself.
She is very affectionate but independent, she can seem persnickety at times. She can play rough if you let her and she has a stubborn streak. She is very vocal and often times will even "back talk'" when told no to something.
She doesn't like being separated from us and will sit outside our bedroom door at night and meow and howl if we don't let her in. She is comfortable around us but cautious around visitors she doesn't know, not mean though.
I am sure she isn't pure because there are no papers with her and I would think my friend would have mentioned that or even sold her instead of giving her away. I do think that she is a mix. I feel pretty certain actually.
I was wondering about her size. I was thinking that her development had slowed some over the past couple months. I even thought she was too small to be maine coon mix, but we weighed her today at 7 months and she weighs 7 lbs. So, she is bigger than I realized. She has a very healthy appetite, but isn't fat by any means.
I uploaded some photos, I also have a short video clip as well, I could send. It shows her much better than the photos, I think.
---
Wednesday - the Queen of Apartment C1
By: Jamie in Ithaca, NY, US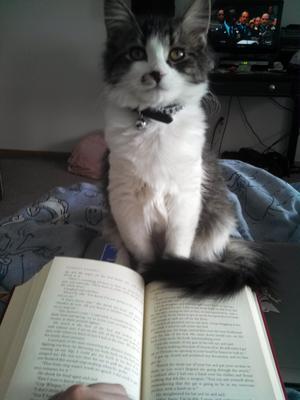 Wednesday :)
So yes my kitty's name is Wednesday and I have been wondering about her breed since I got her from my friend who found a litter of kittens in his backyard.
She is rambunctious, curious, and extremely playful. My roommate and I often compare her to a dog since we'll find her running around in what seems to be her imaginary scenarios and sometimes chases her own tail.
She loves attention and jumping around from couch to couch doing what we call "cat parkour." When I went to get her spayed at the local SPCA, the woman there mentioned that she might be a Maine Coon mix.
Everyone always comments on how pretty she looks. I'm proud to call her my kitty.
---
Dogs best friend! Introducing Prince Blue
By: Cathy in Amsterdam
Blue, our MC/Persian/ginger Tom mix, came to us at 8-weeks on 1.10.13. I was looking for a MC for our FC Retriever who had tried in vain to become friends with our 2 rescue cats. Read more at: Introducing Blue
---
Sissy Is a Mix, But You Wouldn't Know It...
By: Sally in Bethany, OK USA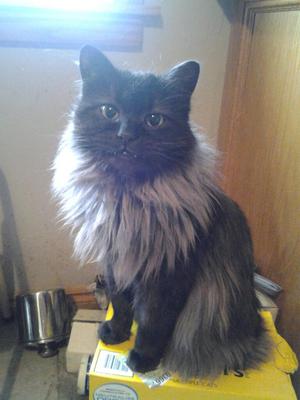 Our Sweet Sissy
Sissy is HUGE! She was born one of two, in the litter, from a very beautiful tabby mama.
She was twice the size of her sister, Scruffy. Who favors the coloring of a Maine Coon more, but still has that MC personality! Sissy has giant fangs, a beautiful ruff around her neck, and is very sweet and calm, in nature.
She doesn't snuggle often, but when she does, she wants to be up around my neck. She has a quiet but fun personality, and is very independent. She is pretty much the Queen, around here!
---
Is Giavanna a Mixed Coon?
By: Eileen B. in Brookfield, WI
She has very long whiskers, larger ears (with the tufts coming out, one ear is bent due to a previous surgery for ear mites that failed)
She is a big cat approximately 13-14 pounds, but very quick and smart! He hair is multi-colored but not fluffy, her tail is long but smooth.
She has this expression on her face, that is hard to describe, almost "grumpy or disapproving". Yet, her nature is very loving and she gets along well with the other cats, never fights! She is the fastest cat I have ever owned, especially with her big size.
She also, has the "M" shape above her eyes that I noticed most other Coons have. What do you think? She does look like some of the pictures in your club, especially the tiger striping of brown, black and red.
She was originally bought at a shelter by my daughter.
(Note from editor: Patti, if you sent a picture, it didn't come through - This happens with large files, meaning high quality photos. There are tips here for editing photos for the web, if you'd like to try again. I was unable to sent you an email.)
---
Magic Mistoffelees
Magic came from a shelter/rescue kitty.
He is spunky, friendly, and smart. Loves to be at your heels, by your lap, or tearing around the house.
Isn't terrorized by the senior cat who has always been "king" of the household.
---
"Sweep" my tortie stray, found on-the-lam in2002
By: Gena S. in Asbury Park, NJ,USA
We found this 5 lb. kitten in fall of 2oo2, and one day I tucked in my coat, and brought her home. She was fluffy, and I noted he "rumba pants", fluffed-out tail, low-slung body, chirpy/silent meow.
Now she's 12, weighs about 10 lbs.; vet says she's no MC,too small, but everyone in my bldg. says she's at least partly MC. I just love her: fat, paws w/fur underneath, fluffy tail, chirpy meow and purrs, thick, shaggy/rough coat, "brithches" on back legs, loves to play "bring the mousietoy and get tereats" every morning.
I always had Siamese before, and this little gal has opened to me the whole fascinating world of the "big" cats (MC. Nor.Forest, etc) and I'm hooked. Not good at sending her pix but will try.
---
Our Feral Cat Resembles Puddy
By: Carol Kean in Cedar Rapids, IA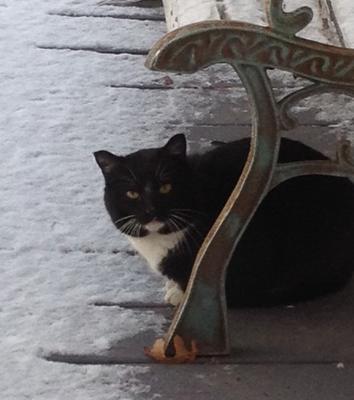 If we could trap and tame this gorgeous kitty, we would. Instead, s/he brightens our day with occasional visits at the patio door in search of food (fish, mac-n-cheese, but not cat food, we've learned).
What a tough one, surviving outside this long, historically cold winter!
What to do next:
Subscribe in a reader - Be notified of new posts!




Or, get The Daily Digest by email:
(Same as above, just delivered via email)




Or join our email group by filling out the form to the right. From time to time I'll send out special tips, articles, news, deals and other free goodies!
What to do next:

Subscribe in a reader - Be notified of new posts!
Or, get the Daily Digest by email:
(Same as above, just delivered via email)
Or join our email group by filling out the form below. From time to time I'll send out special tips, articles, news, deals and other free goodies!