Meet Other Maine Coon Cat Lovers
Welcome To The Coffee Shop!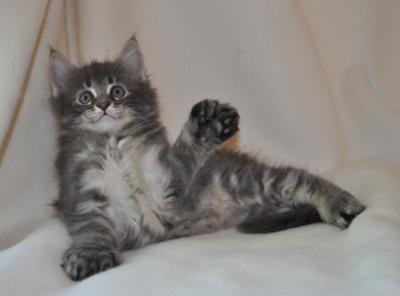 Hi!
Pour a cup of tea or coffee, come on in, and say hello! Maine Coon Cat lovers from all over the world have been connecting on our pages lately.
So, it's about time we introduce a place just for introducing ourselves and our cats!
As cat lovers, we sometimes browse the web without a particular goal in mind.
Maybe you want to ask a question, talk about life with cats, introduce yourself, or just socialize. 
This is the perfect place to meet and greet other Maine Coon Cat lovers. A little like a forum, but even better.
The Coffee Shop
Come on in! Introduce yourself and meet other Maine Coon Cat Lovers!
Meet Other Cat Lovers...
Click below to see more from other visitors to this page...

Maine Coon Coffee Shop
Meet our 10 month old Maine Coon "Goose"! He's very busy and curious! He constantly chirps and meows around the house. He loves his toys, watching …
---

15 Interesting Maine Coon Facts Video

by Steve in Washington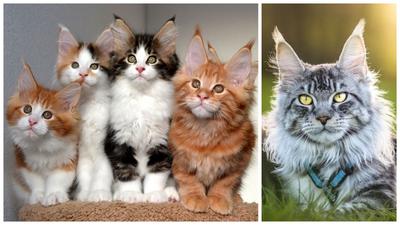 An interesting video about Maine Coon cats.
https://youtu.be/XZF96fJdRY4
---

About Freelancers and Cats
by Jessy in Orlando, FL
I'm now semi-retired but before that was a free-lance copy editor /editor / translator.

Like other people working out of the home or otherwise spending many solitary hours--weavers, musicians, writers--I like to have cats around.
My tortie-calico was the bathroom cat; my black kitty was the kitchen cat; and my little red DLH, my "miniature Maine Coon," was the office cat.
She'd sit on my desk for hours keeping me company and occasionally leaping to the top of the bookshelf and jumping down again, landing with a thump on the computer keyboard.
(One wonders how weavers deal with their kitties' love for chasing balls of yarn.)
What would we do without cats for company?
---

Allie
by Allie Booth in Great Falls, VA
I rescued my stunning orange Maine Coon Fran in 07.
He was roaming ocean drive in Miami - I brought him inside for a bath, he was filthy & he was so sweet & kind, he stole my heart. I was not allowed pets in my building, but was moving to Kentucky in days, so took him in. He sat on my lap the entire 2 day drive to Kentucky & became my angel.
He suffered a horrible condition being a male indoor cat, & long story short, he had a life saving surgery to unblock his unity tract & make it more like a female opening. I'm still aging the last of thousands of dollars that it cost.
He was incontinent for about a year and has been absolutely well, happy, no bladder problems and the happiest boy in the world for last 3 years. I love him so much.
Now my visa is going to expire here in the USA & due to the economy my green card work sponsor fell through.
I'm staying with my best friend in great falls ,va, she has 3 big dogs and Francie and his baby brother another rescue from Kentucky & he both live in a large basement, it has windows, but it's not the life I promised for him or Billy.
I've looked into taking them with me back to Ireland, but don't want to put them through the distress of quarantine & the trip.
I am hoping someone on here can give me some hope that I might just be able to find them a new forever home, where they can be free to roam the house and be safe and loved as much as I love them.
I spend as much time as I can with them in the basement, doing laundry, grooming them, playing with them, but I know they want to be with people. At least they are safe, I keep telling myself.
I'll post some pics soon, just in case I need a b plan for them if my visa does not work out, I'll know in may.
Meanwhile, if you are reading this and have room for Francie's a stunning orange Maine Coon and his cute foster brother Billy, please leave me a note. France is 6, Billy is 5.
They love each other. I named Francie's after st Francis patron saint of animals, he's saved my life more than once when I was getting treatment for childhood trauma, he was my reason to live.
Now I'm well and want to make sure he has a safe loving forever home in case I need to leave the USA.
Sorry to ramble, although I know if you love Maine coons's you will understand why I'm distraught about Francie's future.
They are squeaky clean tidy boys, love their friskies special diet for urinary tract, both neutered and have all their shots. Two bundles of love, indoor cats. Thanks for listening, Allie
---

Delore

by Emily in the UK
Hey I'm Emily :D I'm from the uk I'm 21 years old...and I love cats ! Which I'm sure everyone does here!
I have 2 Maine Coon cats...my 2 year old Lily (Lillian) and a six year old called Ollie (who's more my mums) Lily's a long haired tabby coloured kitty and Ollie is shorthaired...which I would like to know if anyone else has a shorted haired Maine Coon - he's obviously a cross but I would love to see anymore cats like him :) that's all I can think of to write right now :) x
---

Abigail's Mom
by Jane Kinzle in Brighton, MI USA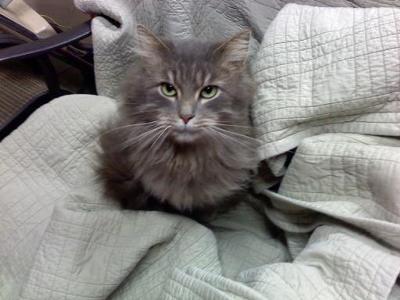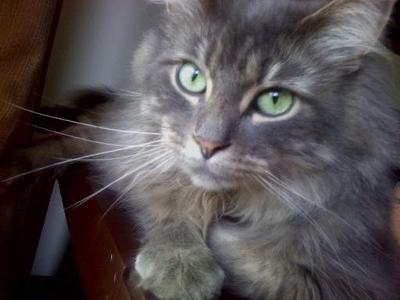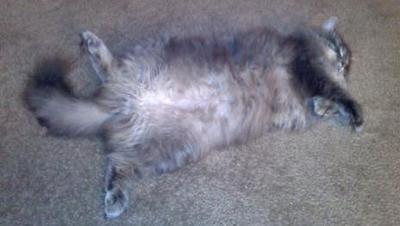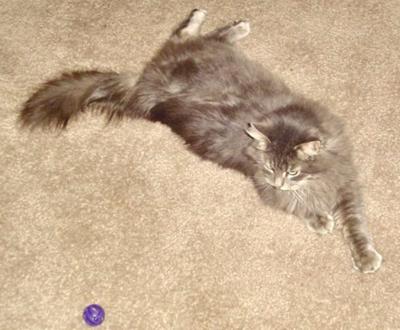 I am a retired senior and live in an apartment in Michigan. Last fall I rescued a beautiful female Maine Coon for a companion.
She is an almost-perfect girl. She acts more like a small dog than a cat with her greeting me at the door, licking my hand, trilling and rolling over and over on her back to get a tummy scratch.
She now weighs about 14 pounds (last vet visit) and was not microchipped. We're a great team.
I also posted her photo and a comment on the Maine Coon home page and will be posting more soon.
October 2011 Update: - Abby's New Holster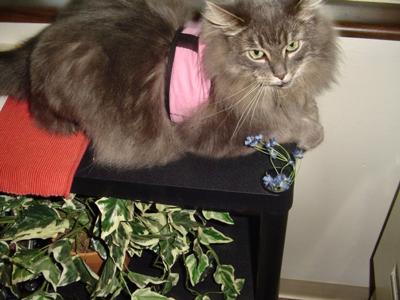 Abby likes her new holster and even wears it indoors. Bought it from Krazy K Farms.
Comments:
Abby looks good in Pink!
by: Marty
Cool pic of Abby. I like the plants for the Kitty Habitat. The holster is a great idea to keep your kitty safe from getting into trouble. Happy Walk-Abouts!
Gorgeous Girl!
by: Gail (Quincy, MA, USA)
Hi Jane,
Your little Abigail is certainly a very beautiful young lady! She is the perfect cat companion; however, one thing is very troubling to me.
I work in a 100% No Kill/Volunteer shelter and you'd be amazed at how many cats we get because they don't have a microchip. PLEASE! PLEASE! PLEASE!
Get your little lady microchipped. Even if Abigail is an indoor only cat, there may come a time that she gets loose - fire, break-in, hole somewhere, door accidentally left open...the list is endless!
Our shelter sees wonderful cats without ID or microchips all the time! If a cat has no chip, we hold it for 10 days, then adopt it out.
If a high-kill shelter gets a stray cat without a chip, they will either kill it or sell it to a lab for experiments. It happens all too often.
Your baby is absolutely beautiful. Again, I urge you, get her microchipped. She will give you years of wonderful companionship.
Let's make sure she always finds her way back home in the event she gets lost. Warmest regards, Gail

The Boode
by Mary in Anchorage, Alaska
I just said goodbye to my beloved Maine Coon, Miss Kitty, on 11/15.

The house is eerily quiet and empty. I lost the most amazing cat and companion ever!

When I am ready I will be adding two Maine Coons to my home. I am looking forward to being Cooned again!
Comments:
Condolences
by: Clint
I am so sorry to hear about your loss.

My wife and myself lost our beloved Maine Coon just a few days ago on Nov. 28,2011. It is indeed heartbreaking. He passed away suddenly just a month and a half before his 4th birthday.

Maine Coons are such outgoing, gentle, loving cats. I am sure if he/she could tell you, they would want you to be happy and to be strong and carry on.
So sorry
by: Laurie
Mary,
I am so sorry for your loss & I understand your pain in your heart I lost my Dillon on Nov. 20, 2011 and this house is so hollow...I have contacted the breeder I got him from and am hoping to have 2 kittens in late Jan.

Again I am so sorry about Miss Kitty but know that you will meet again...God Bless you.
Sorry
by: Anonymous
Sorry to hear about this. Specially this time of year. Just know your cat is in a far better playful and peaceful world
The Boode
by: Mary
I have been in contact with a cattery in the Seattle area and am awaiting the arrival of e-photos of potential new per children.
I thought I could wait, but my house lacks energy and I lost my fuzzy alarm clock.

I am hoping to become a pet parent again by Christmas
I can never replace Miss Kitty, the cat who walked on a leash, loved car rides, people and shoes...but an opinionated ball of fuzz or two can help heal a broken heart!
sorry for your loss
by: Mary in MA
Mary

I am so sorry for your loss. It is the worst. I lost my baby this summer - and eventually ended up with two Maine Coon kittens. They cannot be him, but they are a real joy and make me smile daily.

I wish you all the best, and I hope when you get some new little ones that they make you very happy.
---

Holly and Mia
by Jenn in North Carolina
I noticed the following traits of my cat, Holly: always playing with the water dish, loves to roll around on the floor & allows her belly to be rubbed lightly.
She is smart, with beautiful & large eyes; has a mane that makes my daughter call her a lion-cat. There are also the tufts of fur that stick out well past her toes - that I like to tickle when she's playful!
Her fur is so long, but she has a standard shaped face, not "squished" and her tail is definitely fluffy. I always like to say it looked like she was wearing Cossack pants since the fluff ends toward the bottom of her legs.
She loves to sneak around the patio with us on any day, cold or hot and stares at the birds through the screens ever so patiently, only the tip or her tail twitching.
Then there's her meow...these's no way to describe it except I joke around that she must be Jewish because it's a "Ma-hkk-ow" like she's trying to say Chanukah in the middle of her cries, LOL!
My daughter loves her because she sill just lays there while being hugged, except when she squeezes a little too hard, then she slips right through her arms & bounds away in a great big leap.
I lost touch with the original owner (she came to us through two other owners.) So I was unsure of the breed - I just assumed she was a strange mix.
After reading this page and seeing all of Holly's habits already written down, as well as looking at the pictures and seeing different colors of the same characteristics I simply an astounded and without a doubt, Holly must be at least 75% Maine Coon.
These traits along with the fur characteristics have me wondering if our 5 month-old kitten is close to half. I had no idea Main Coons could be orange-tabby colored.
Thought I don't believe our kitten Mia is full blooded by any means, she definitely has an ancestor somewhere!
Comments:
Which shows & where?
by: Jenn 
Wow, shows, really? Without papers? That sounds like fun. Mia is definitely an interesting cat. :-)
She only likes her head pet & very vigorously, lol! If you start scratching her back or near the tail (like most cats enjoy) she gets frisky & attcks your hand.
She meows at me until I follow her to the bathroom, then stands at the back of the bathroom sink & drinks from the faucet almost upside-down after I turn it on to a slow trickle.
She doesn't like to drink any other way! Holly will just lay down next to the self-filling water bowl and whack at it until it makes bubbles, then attack the bubbles as they rise throughout the tank.
Mia's orange coat is pretty and THE SOFTEST I have ever felt. She is so soft, I have nothing to compare it to.
Orange tabbies
by: Helen You should go to a cat show. At the shows here in this area red (orange) tabbies are very popular and always a crowd favorite. Big brown classic tabbies are also show stoppers.
I love big orange target tabbies and realized my dream a couple of years ago with my Coonie, Maineflashes Bezzer Buzzer.
He is a deep, rich mahogany red and his stripes are a salmon color, a striking contrast.

Enjoy your orange, they are sweet.
---

Miss Hissy
by Terry in Midland, Texas USA
My black smoke Maine Coon is such a great cat.
I found a breeder and brought her home to my 2 Manx cats, they don't have tails and I think they are jealous. Lol.
She has added a lot of entertainment to our lives, she "talks" to us, has major personality and is very loving.
She goes with me from room to room just so she can supervise whatever I may be doing, anything on my end table is hers, her paw will sneak over to snatch a pencil or whatever to investigate, she is such a brat. Lol.
She is already as big as my other cats and is only 5 months old with huge paws, beautiful.
---

Lady Jane Seymour
by Catherine Kelly in North Providence, RI
Lady Jane came to us out of the blue-her first owner moved to a non feline household.
Having had a Maine Coon before, I jumped at the chance when she was given to me! She is gentle, smart, silly, and loves water! She's about 3 months old and growing like, well, a Maine Coon cat!
---

My Sweet Bella
by Dolores Figueroa in Rocky Mount, Virginia
I have wanted another Calico cat ever since I was a little girl and I am now 54 years old!!
My last cat lived to be twenty and I finally had to put him to sleep which was very hard. The best thing I could do I thought was to adopt one from the local SPSC so I went online and found my Bella.
She is soo sweet when she wants to be..lol and she rules our house for sure.
She has her own bedroom complete with full size bed and two big windows one with a table in front of it so she can was and pretend she is chasing birds. I won't trade anything for my Bella.
I'm a Tortie and Calico Fan
by: Jessy
Let's see what yours looks like!
---

Our Mandy
by Shirley in Texas
We have Mandy, who we got from the shelter a little over 1 1/2 yrs ago.
When we got her, she had the largest, fluffiest tail we had ever seen. As the time has gone on, her tail has increasingly lost fur. Her tail is still large, but nothing like it was.
The vet says she is quite healthy, but we do not understand about her tail. Also, the fur from her back is growing longer around her tail. Has anyone else experienced anything like this? We would be interested in knowing.
Thanks!
Shirley
Comments:
Maine Coon Tails
by: Ginny - Tampa
I have several Maine Coons and my experience has been that the "Best" time for tails is from about 8 months to two years.
My 8 month old has what I refer to as a champion tail, while my 4 year old has an okay tail - pretty but no longer spectacular.
My breeder confirmed this especially with her breeding stock. Maine Coons also do not fully mature until they are about 3 years old. You will see all sorts of changes in their coats.
---

Eli's Mom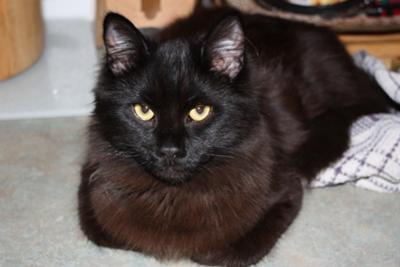 Little Bear
Eli is my Maine Coon and he is black. He turned 1 year old June 30th. He's the dearest fellow although at 6.9 kgs not the biggest!
I named him Eli because the quarterback for my favorite football team, the NY Giants is named Eli Manning.
Hmmm I thought, tall dark and handsome and going to be a Giant, Eli it is!
We live in Calgary, Alberta, Canada and I work in the oilpatch here. I have a 22 year old son and a 10 month old Ragdoll named Tiki.