My son named him Timon, my Aunt found him by the garbage dump. She brought him home to get fatten up and find another home.
My furball never left, he was with me for 13 1/2 years. I love him very much. Had no idea what kind of cat he was, my mum's friend said she thought he was one of the gentle gaints.
Because he was found and we did not know what his parents were he was called a mix. I did not care he was my furball, he waited at the door for me when I got home from work. He followed me around the house and when I went to bed so did furball.
He was always there with me and I miss him so much, and I still love my furball to this day.
By: Bill in Mt. Sinai, NY
Cody and I were together for 15 wonderful years till he lost his battle to cancer in Sept 2013.
He was a wonderful friend. He always wanted to be around whatever was going on in the house. Rest easy my friend and someday we will be together again.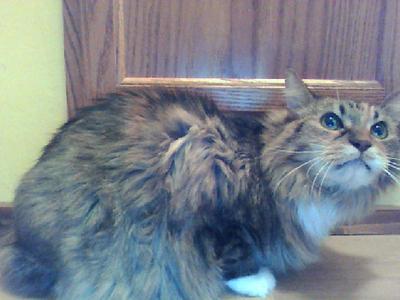 Pebbles I love you!!
When I was 2 years old, we found Pebbles. She was a stray and on the verge of death. She was very, very, thin. If we hadn't taken her in, she would have died soon.
Pebbles was a very good cat. She lived a good life with me. She was fat, lazy, and sometimes mean, but she was getting old. During her old age, she got cancer. She had gotten a tumor on her shoulder. It got bigger and bigger.
The vet told us that it would bust if we weren't careful. Later on, the tumor got bigger. We had to put her down. If we hadn't, the tumor was going to bust very soon.
My dad knew how much I loved my cat, so he got an impression of her chubby little paw. They put her paw in a cement looking thing and it made an impression of it. After that, the vet took little pieces of fur from her and put it into the cement looking thing.
Finally, they put in puzzle-box looking letters that spelled PEBBLES. I really miss Pebbles and I will always remember her. I made this in memory of her.
---
Monster, My Monster
By: Spring Hall in Savannah, GA, USA
Monster & I when he was a baby
Monster was born in November 2011 to a cat that I had rescued from the streets. His mother's name is Psycho & she received her name for the very reason that she bit me twice when she first came to live with me for no apparent reason.
In November she gave birth to four beautiful kittens. Each had a very sweet disposition, but all were tabby & siamese mix.....at least I thought they were all just that until I was informed that my neighbors cat Cletis, whom she palled around with is a Maine Coon.
When she gave birth I was thoroughly surprised because I had never even realized she was pregnant. Monster & Rugrat, both males, were part of her first litter along with their 2 sisters Curious & Blue....Blue was the only true signed siamese in the bunch.
The other 3 looked just like Psycho showing the tabby, but to my surprise one day I had noticed the 2 males seem to be quite a bit larger than their sisters so I weighed them....at the time of weigh in the kittens were approximately 2 months old & both males were weighing in around 5-7 lbs.....that caught me off guard & as they got older I began keeping a close eye on the both of them.
Monster began to show traits of acting more like a dog in alot of ways. I would tell him to sit and he would sit. The funniest part was when the other cats got near me he would stand up and act as though he was guarding me.
He loved to talk to me. I couldnt even go to the bathroom without him coming into the bathroom and lying on the floor to have a chitchat with me.
Sadly one day in June 2012 Monster began to act as if he was constipated. When we rushed him to the vet I was informed that he had FLUTDs Disease & my only real option (with being low income) was to have him put to sleep because the vet could not guarantee he would not become ill again.
It was a hard decision for me, but having to place him on a special diet (that he would not like) & no guarantees that he would be fine....I just couldnt subject my baby to this type of situation & I made the choice to have him put to sleep. When Monster passed away he weighed in at 12-15 lbs and was about 7 months old.
---
Markos
By: Anna Antoniou
2001-2014
---
*Liddle Kiddle* The best companion I could have ever asked for
By: Pattie Vogt in Grand Junction, Colorado
I got Liddle Kiddle from a pet store, of all places in 1998 right after I divorced my then, husband. My youngest son was 12 years old. My mother had passed away March 29, 1998. (That was also my ex's birthday) Liddle was born March 26, 1998.
It seemed to be a miracle for her to come into my life and my kids' life too. Right from the beginning she was the most precious life I could have asked for.
She was with me through the death of my mother, my divorce, my trying to get back into "dating" and not really liking any of the guys I was dating.
Sometimes I feel like she was my mother in feline form. The looks that she could give me reminded me of my mom. She knew when I shouldn't be doing something-like at 1 point I chose to drive after getting my license suspended-and she let me know by her look in her eyes.
She approved of my honey that I have now that I got together with in 2003. Liddle was his best friend too. I rented a couple places to live where there was no pets allowed but she was a good girl. She didn't get into the windows and nobody ever knew I had her. Btw, I'll never do that again. My furry friends are part of my family & if they aren't allowed, then I don't want to live there.
She went through various moves with me but as she got older, it was harder on her-as I could tell by the look in her eyes. I didn't like it either but one move she got into our walk in closet & got in the corner. She looked at me like I was going to leave her there. It was these times that I cherish.
I picked her up & "talked" to her about how I didn't want to move anymore than she did but I would NEVER leave her. We were a team! Any time I would get in an argument with one of my kids or cry because of certain things, she was right there.
She would lick the tears from my face. I would take her to bed with us every night. If she was missing from our bed my husband would call her to come into bed with us. She would lay at my head & put her paw on my face. If I turned over she would get up & reposition herself-again with the paw on my forehead. I miss her, even though I still have the two other cats.
The youngest cat-Kidders-was very young when we rescued her from her feral ways. She knew Liddles was like her mom to her. When I came home from the animal hospital with the towel that we took Liddles to the hospital in but there was no Liddles-Kidder would smack me in the face to show her disapproval. (She's over that now but still looks for Liddles).
She passed away on the 4th of July of 2013. She apparently had a seizure that took her last breath out of her. I was holding her & it happened as we pulled into the parking lot of the hospital. Little bubbles came out of her nose & that was her last breath. She gave me something nobody else has been able to do-gave me love & happiness for over 15 years.
When the doctor pronounced her dead, I laid my head on her, thanked her for being the best friend I could have ever asked for & let her know how much she will be missed. It's been a little over 6 weeks now but the pain is still there. I redid the words to a song we all know for her: "You were my sunshine, my only sunshine. You made me happy, when I was not. You'll never know, how much I miss you. Now my sunshine is gone away."
Thank you Liddles for being my companion through thick and thin. You passed with a smile on your little kitten face. I love you and so does Brian and the rest of the family. Thank you for all the smiles you put on my face also. WE ALL LOVE AND MISS YOU! Love you.....your "mom" of course.
---
<<< Home