Loving Tributes
These beloved pets touched the hearts of their families and will never be forgotten.
Here are their Loving Tributes.
Baby Bob, gone far too soon. Xxx
By: Vicki in Uk, Plymouth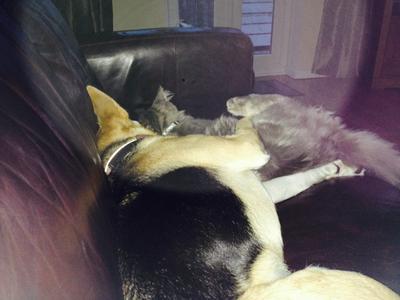 With Bella BFF
We first picked Bob when he was 6 days old. He was a big boy and was simply beautiful.
After several visits we collected him early Feb 2014. He showed signs of illness the day after collection and it was confirmed to be cat flu. The breeder didn't want to know but that's another story!
After many visits to the vets and lots of ear infections and antibiotics and near deaths door at one point, it was discovered that Bob had a polyp in his middle ear that was affecting his brain. It was operated on and removed.
Only 2 months later it had returned with vigour. It was inoperable and it was causing major infection and more neurological damage. We were devastated. He was only 8 months old. We decided as a family and after months of suffering for Bob it was best that he was pts.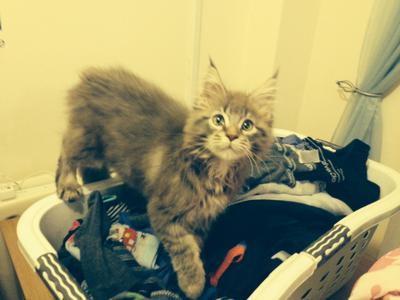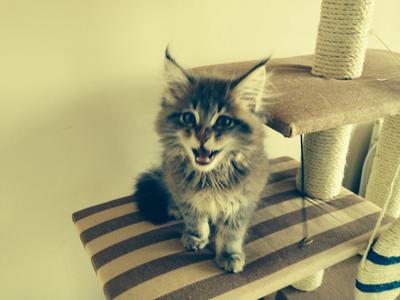 12 weeks old. X
He was the most amazing, beautiful cat I have ever known. His best friend was our dog Bella. She is mourning him to this day. We have made a memorial garden for him as he loved to be in the garden, playing amongst the plants and flowers.

Bob 06/11/2013 - 23/07/2014
Gone to Rainbow bridge but always in our hearts and minds. Xxxxxxx
---

Baby Casper The Friendly Kitten
By: Paula Bairstow in Leeds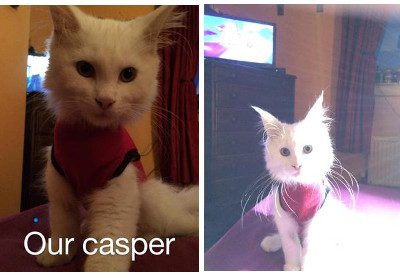 Our beautiful baby Casper, we had him only six weeks, and he passed of intestinal problems (intersuction), love you Casper.x
---

My Sweet Mischievous Loving Smokey
By: Tasha in Missouri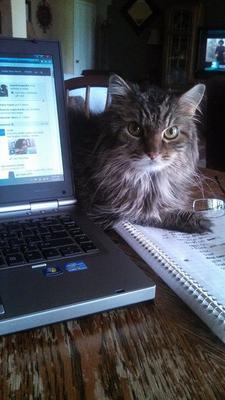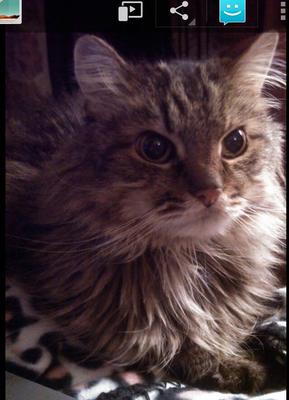 My Big Beautiful Smokey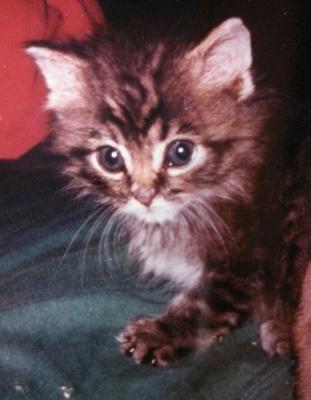 Baby Smokey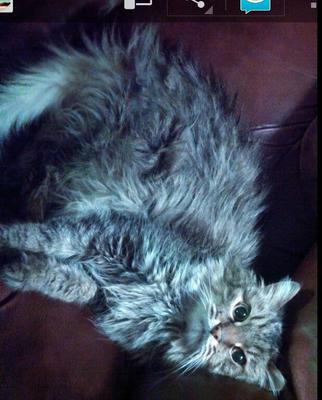 Walking into a local store, there was a man sitting out front with a huge box, so I peaked in and there were about 10 kittens in there.
So cute, but one caught my eye, a little long haired grey striped kitten. I picked him up and was hooked.
I begged my husband to let me have it, promising that it would be an outside cat after it got bigger, he was so tiny, fit in the palm of my hand.
We already had a Himalayan that was 12 years old but he couldn't say no to me, so we brought him home. The man told us they were 9 weeks old, however when we took him to the vet he said he was only 4 weeks old.
He grew up to be such a loving wonderful kitty, always chattering to us. He loved water, anywhere or anyway he could get it, would stick his face in cups and glasses and paws in bowls to get it.
Favorite thing was to crawl up on the bathroom sink and I would turn the water on and hold my hands out so he could drink out of my hands.
Chattered at bugs that happened to get into the house. He was with me always, in my lap, following me, laying on the table while I worked, sleeping by my side or on me, whatever, he was there with me until the end.
He was such a gentle soul, loved to head butt for attention, and would rub his face with mine and purr very loudly.
We had to have our Smokey put to sleep last night after a final round with chronic renal failure. We also lost another of our long time kitties who was 18 at the end of May and Smokey mourned him so bad.
I am missing him awful and always will, he was my best friend, my companion for so many years and will be missed. I know he wasn't a full Coonie but had so many characteristics of them. He talked all the time, was so gentle and loving.
Will see you again on the Rainbow Bridge one day!
---

Mr. Big Kitty
By: Mike in Fort Worth, Texas, USA

| | |
| --- | --- |
| Mr. Big Kitty | Mr. Big Kitty preaching |
I was fortunate enough to provide Mr. Big Kitty his forever home in 2003 when I happened to be in a local vet's office and learned he was abandoned by his previous owner.
I had never been exposed to this breed before and within a few minutes of bringing him home and showing him where his food dish was, then his litter box he sold me on his personality.
Having "conversations" with me on a regular basis. For the next 9+ years he was there wherever I was, either sitting up next to me or on my lap, chest, legs and even my face a few times when I woke up.
He passed after a botched routine procedure on 8/06/2013. Gone but never forgotten, he outlasted an ex-wife.
---

Foxy from Smithers
By: Andy Mathisen in Smithers, B.C., Canada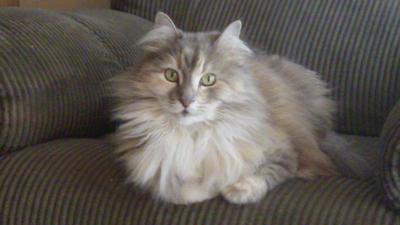 Foxy 2004-2014
My darling companion for 10 years passed suddenly on the night of July 17th. She passed quietly in her sleep and had no illness.
Foxy was a true delight and had many quirky character traits found in most Maine Coon cats. She would "chirp" and growl at moths. She would always eat with her paws and make a silly mess.
Somehow, she taught herself a magical little trick when I threw her a treat. She would sit back on her haunches and "pop" the treat into her mouth with both front paws! I have never seen any other cat do this.
She was also character in how she would stare at me... as if looking deep into my soul. We would often play the "blinking game" and seemed to communicate through our eyes.
Her passing brings me great grief and I feel quite alone without her charming presence in my life.
I gave her a proper send off and she has a quiet, woodland grave site nearby. I visit each and every day since she passed.
I was blessed to share 10 wonderful and loving years with her and mourn her deeply. RIP my lovey-dovey goofy darling. You will live forever in my heart and memory.
---

My Trixie Girl
By: Becky in Franklin, OH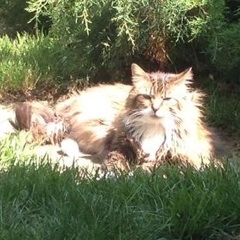 Trixie
We adopted Trixie from a local shelter and they estimated her to of been 3 years old. We had 12 years with her.
My special girl passed away this past December from kidney failure :o( Not a day goes by that I don't think of her and miss her.
We've cried a lot of tears and were heartbroken when we had to say goodbye.
She was truly a loved and cherished member of our family. Mommy, Daddy and Devin loved you so much and miss you sweetheart!
---

Diesel
By: Robert Farr in Port Ludlow Washington USA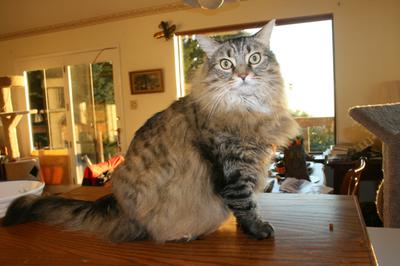 Deisel
We found her at a cat shelter. Her ears looked too big and her tail was longer than normal. What attracted us to her was her huge purr.
My wife said "That kittens purr is almost as loud as your truck" Well we took her home and she grew up into a cat that we will never forget.
Diesel would go camping with us (in a RV) became a watch cat, and Grand mother to a feral cat family we took in. Diesel would watch the kittens and if they didn't follow the house rules she would let them know.
Every morning a large fuzzy paw would wake me up for work (even on the weekend) at 4am.
Diesel was with us for 12 years. We will miss her.
---

Beloved James 2008-2014 Switzerland
By: Kim in Switzerland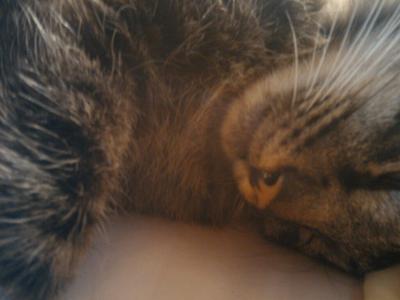 James
James was my soul mate that left us on March 24th.
No words can describe the unconditional love there was between us.
Intelligent with "this unique typical Maine Coon" gaze of his, he will be missed and remembered for ever!
---

Count Blackula
By: Diane in Canada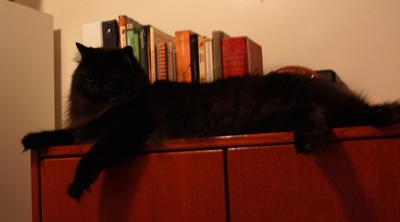 Count Blackula
Count Blackula was a rescue. He was Maine Coon mix and I truly do believe he rescued me.
I suffer from debilitating pain and Count Blackula was by my side non-stop. On really bad days he would snuggle up on my pillow and look into my eyes and stay with me. He followed me everywhere. On good days, he was an absolute clown always looking to play hide and seek.
Sadly, he had to be euthanized last August at the age of 3 yrs due to a luxated patella that could not be repaired.
It was an excruciating decision but we couldn't bear the thought of him being in pain for the rest of his life. His quality of life had deteriorated and it would have been selfish for me to keep him.
He will always be in my heart. My big lovable angel has certainly earned his wings.
---

Jerry May 15, 1998-April 22,2014
By: Ruth Hancock in Medway, MA USA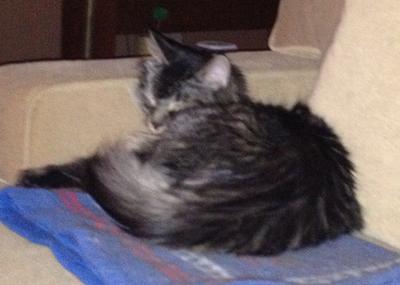 Jerry was a wonderful cat.
In his later years he was very friendly. He would let anyone who visited hold him.
Jerry had colon surgery three years ago but he could not beat bone cancer.

Murphy
By: Jon and Hope S. in Crystal City, MO

We rescued Murphy from a kill animal shelter one day before he was going to be put to sleep.
His fur was so matted that they could not even tell his gender. We immediately took him to the vet to get shots and examined. We were told he was a 3-4 year old male.
The next day he went to the groomer and had to lose of all his coon fur. He immediately settled into our home, sleeping with us every night. He was a bobtail and loved to give "head boops". He was never more than a few feet away from us.
After 7 short months, he became ill. Blood tests and an ultrasound revealed he had pancreatitis.
We took him to a 24 emergency clinic to receive the fluid therapy he needed to get better. After the swelling reduced, we learned that he had a cancerous tumor and was at least 8 to 10 years old.
We continued treatment to try to get him healthy enough to live out his remaining months in comfort, but he refused to eat. We had to let Murphy go after just 7 shorts months.
My wife and I were both with him during his final moments and he went peacefully. He will always be missed very much.
---

Zaphira- could we ever have lived up to your standards?
By: David Ockelford in Cornwall, UK

Zaphira was a Duchess- capital D!
I originally set out to get one Coonie kitten as a reward for my daughter being "good", but made the mistake of taking my wife (Julia) and daughter (Tabitha) along when I went to pick him up.
We ended up leaving with 2 brothers (Marmite and Rolo) as well as Zaphira. The boys were classic brown tabby with white, but Zaphira was silver tabby with white- she was stunning, and had a way of looking at you as if to say "You'd better be interesting, or I'll ignore you completely".
Sadly she got FLUTS (feline lower urinary tract syndrome) which led on to acute renal failure. She was put to sleep in my arms in September 2010, but it's a rare day when I don't think of her.

Hope you like the pics.
All the best
David
---

This Was My Little Baby Maine Coon - Julep
By: Michelle DL in Pigeon, MI, USA

| | |
| --- | --- |
| Baby Julep | Teenage Julep |
I got Julep from the vet I worked at, he came in with 3 brothers and one sister. All of them were so sickly, on the verge of death.
They were so sickly that the brothers and the sister were put to sleep. But, Julep (whom used to be named Thor) was saved because he was the most active one despite his conditions.
I had to talk my husband into getting him, as we already had one diva Maine Coon named Izzy (7years old at the time). But, we got him and everything worked out wonderfully. I got him when he was just 5-6months old so he was still learning and really looked up to my older cat. He did everything she did, including get into trouble.
| | |
| --- | --- |
| Izzy and Julep play time | Julep a week before he passed-all grown up |
Julep (I named him after my fav nail polish) was such a blessing, having come from a terriable past and landing in my house-we loved him. It was always an adventure having him around.
We had a good few months to spend with him before he started to get sick. The vet I worked for did ultrasounds & x-rays on him and found that his heart was not strong.
In April 2013, I woke up to crying from Izzy ( my older cat). She was sitting behind a chair in the livingroom (I could tell as her fluffy tail gave her away). Mewing so loudly I thought she hurt herself, but it was Julep. He passed away behind the chair and she was letting me know. His heart condition finally took him over, genetics that I couldn't fix. :(
This wrecked me, I was inconsolable for days, I couldnt go to work and look at my co-workers or other cats for a while. I really miss him up until this day still.
RIP JULEP MAY 2012-APRIL 2013. YOU WILL BE FOREVER LOVED.
---

Puff Adopted Us
By: Mary in Portland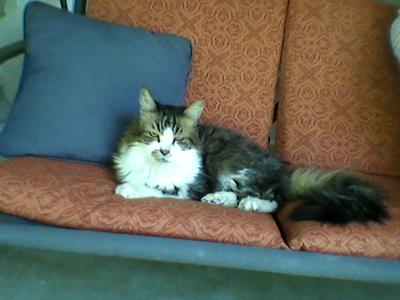 Puff adopted us after his owners ignored him; at first I was furious with them, then I realized it was the best thing they could have done for us and for Puff!
He started out in our garage when it was cold, then worked his way up to the very best chair or bed or spot in the house. We had him for 10 years; he was a character and we loved him.
He crossed the bridge this past August; it was a hard day for us, but we held him and told him we loved every minute that we had with him.
I still "see" him, sometimes in the house, sometimes in the flower bed....a reminder that something you love so much is never really gone...just waiting for you in another place....
---

Beloved Furball
By: Maryann Phillips in New Orleans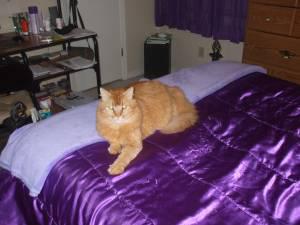 My son named him Timon, my Aunt found him by the garbage dump. She brought him home to get fatten up and find another home.
My furball never left, he was with me for 13 1/2 years. I love him very much. Had no idea what kind of cat he was, my mum's friend said she thought he was one of the gentle gaints.
Because he was found and we did not know what his parents were he was called a mix. I did not care he was my furball, he waited at the door for me when I got home from work. He followed me around the house and when I went to bed so did furball.
He was always there with me and I miss him so much, and I still love my furball to this day.
---

Cody
By: Bill in Mt. Sinai, NY
Cody and I were together for 15 wonderful years till he lost his battle to cancer in Sept 2013.
He was a wonderful friend. He always wanted to be around whatever was going on in the house. Rest easy my friend and someday we will be together again.
---

In Memory of Pebbles My Adorable Maine Coon
By: Ocea-Marie Hughes in United States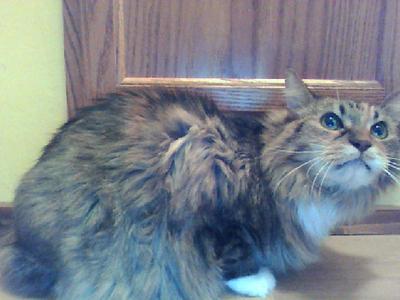 Pebbles I love you!!
When I was 2 years old, we found Pebbles. She was a stray and on the verge of death. She was very, very, thin. If we hadn't taken her in, she would have died soon.
Pebbles was a very good cat. She lived a good life with me. She was fat, lazy, and sometimes mean, but she was getting old. During her old age, she got cancer. She had gotten a tumor on her shoulder. It got bigger and bigger.
The vet told us that it would bust if we weren't careful. Later on, the tumor got bigger. We had to put her down. If we hadn't, the tumor was going to bust very soon.
My dad knew how much I loved my cat, so he got an impression of her chubby little paw. They put her paw in a cement looking thing and it made an impression of it. After that, the vet took little pieces of fur from her and put it into the cement looking thing.
Finally, they put in puzzle-box looking letters that spelled PEBBLES. I really miss Pebbles and I will always remember her. I made this in memory of her.
---

Monster, My Monster
By: Spring Hall in Savannah, GA, USA

| | |
| --- | --- |
| Monster & I when he was a baby | Last photo of Monster before his passing |
Monster was born in November 2011 to a cat that I had rescued from the streets. His mother's name is Psycho & she received her name for the very reason that she bit me twice when she first came to live with me for no apparent reason.
In November she gave birth to four beautiful kittens. Each had a very sweet disposition, but all were tabby & siamese mix.....at least I thought they were all just that until I was informed that my neighbors cat Cletis, whom she palled around with is a Maine Coon.
When she gave birth I was thoroughly surprised because I had never even realized she was pregnant. Monster & Rugrat, both males, were part of her first litter along with their 2 sisters Curious & Blue....Blue was the only true signed siamese in the bunch.
The other 3 looked just like Psycho showing the tabby, but to my surprise one day I had noticed the 2 males seem to be quite a bit larger than their sisters so I weighed them....at the time of weigh in the kittens were approximately 2 months old & both males were weighing in around 5-7 lbs.....that caught me off guard & as they got older I began keeping a close eye on the both of them.
Monster began to show traits of acting more like a dog in alot of ways. I would tell him to sit and he would sit. The funniest part was when the other cats got near me he would stand up and act as though he was guarding me.
He loved to talk to me. I couldnt even go to the bathroom without him coming into the bathroom and lying on the floor to have a chitchat with me.
Sadly one day in June 2012 Monster began to act as if he was constipated. When we rushed him to the vet I was informed that he had FLUTDs Disease & my only real option (with being low income) was to have him put to sleep because the vet could not guarantee he would not become ill again.
It was a hard decision for me, but having to place him on a special diet (that he would not like) & no guarantees that he would be fine....I just couldn't subject my baby to this type of situation & I made the choice to have him put to sleep.
When Monster passed away he weighed in at 12-15 lbs and was about 7 months old.
---

Markos
By: Anna Antoniou

2001-2014
---

*Liddle Kiddle* The best companion I could have ever asked for
By: Pattie Vogt in Grand Junction, Colorado

I got Liddle Kiddle from a pet store, of all places in 1998 right after I divorced my then, husband. My youngest son was 12 years old. My mother had passed away March 29, 1998. (That was also my ex's birthday) Liddle was born March 26, 1998.
It seemed to be a miracle for her to come into my life and my kids' life too. Right from the beginning she was the most precious life I could have asked for.
She was with me through the death of my mother, my divorce, my trying to get back into "dating" and not really liking any of the guys I was dating.
Sometimes I feel like she was my mother in feline form. The looks that she could give me reminded me of my mom. She knew when I shouldn't be doing something-like at 1 point I chose to drive after getting my license suspended-and she let me know by her look in her eyes.
She approved of my honey that I have now that I got together with in 2003. Liddle was his best friend too. I rented a couple places to live where there was no pets allowed but she was a good girl. She didn't get into the windows and nobody ever knew I had her. Btw, I'll never do that again. My furry friends are part of my family & if they aren't allowed, then I don't want to live there.
She went through various moves with me but as she got older, it was harder on her-as I could tell by the look in her eyes.
I didn't like it either but one move she got into our walk in closet & got in the corner. She looked at me like I was going to leave her there. It was these times that I cherish.
I picked her up & "talked" to her about how I didn't want to move anymore than she did but I would NEVER leave her.
We were a team! Any time I would get in an argument with one of my kids or cry because of certain things, she was right there.
She would lick the tears from my face. I would take her to bed with us every night. If she was missing from our bed my husband would call her to come into bed with us.
She would lay at my head & put her paw on my face. If I turned over she would get up & reposition herself-again with the paw on my forehead. I miss her, even though I still have the two other cats.
The youngest cat-Kidders-was very young when we rescued her from her feral ways.
She knew Liddles was like her mom to her. When I came home from the animal hospital with the towel that we took Liddles to the hospital in but there was no Liddles-Kidder would smack me in the face to show her disapproval. (She's over that now but still looks for Liddles).
She passed away on the 4th of July of 2013. She apparently had a seizure that took her last breath out of her. I was holding her & it happened as we pulled into the parking lot of the hospital.
Little bubbles came out of her nose & that was her last breath. She gave me something nobody else has been able to do-gave me love & happiness for over 15 years.
When the doctor pronounced her dead, I laid my head on her, thanked her for being the best friend I could have ever asked for & let her know how much she will be missed.
It's been a little over 6 weeks now but the pain is still there. I redid the words to a song we all know for her: "You were my sunshine, my only sunshine.
You made me happy, when I was not. You'll never know, how much I miss you. Now my sunshine is gone away."
Thank you Liddles for being my companion through thick and thin. You passed with a smile on your little kitten face. I love you and so does Brian and the rest of the family. Thank you for all the smiles you put on my face also. WE ALL LOVE AND MISS YOU! Love you.....your "mom" of course.
---

Our Sweet Zeusy
By: Rita & Ed in Ohio

We had Zeus for over ten yrs.
He came to us abused and uncared for. We took him to a cat hospital and made him well. He always bugged us for treats. He will be missed.
Love you kitty,
Mommy & Daddy.
---

Mikey
By: Tami Sprouse in Frisco Texas

I got him back in 2001 as a Christmas present form my 2 nieces who decided I needed a pet. They wanted to give me a puppy, but, I was traveling a lot at that time. Their mother finally got them to pick out a kitten.
They got him from the SPCA in north Texas. I had him for 14 1/2 years and he was my buddy. Mikey helped me work in the back yard and plant flowers. He was always there when ever I was putting things together (he always layer on the instructions or parts that I needed. I loved my big baby so much, it didn't matter where I went, he was there.
I couldn't even take a shower with out him there. I had my knee replaced and he was always checking on to see if I was ok. He got where his hind legs were very weak, I took him to the vet, got him home and he went into open mouth breathing and he passed a few hours later. I miss him so much, he was my buddy, my assistant and most of all, my very special friend who loved me unconditionally.
RIP Mikey and I will see you at the Rainow bridge.
Dec 10, 23 03:14 PM

New today: Meet

Ginny

from Lumacoon Maine Coon! Ajuna shares, "This is Ginny our three year old dramaqueen. She's a big softie once you get to know her, despite that look of doom in her eyes XD she wa…

Nov 10, 23 03:06 PM

New today: Meet adorable little

Juniper!

Nicole shares, "I went to the vet and they originally had her as domestic medium hair and once the vet saw her she said she has some Maine Coon in her because…

Nov 05, 23 08:36 AM

New today: Meet

Yellowstonecoon Tomboy Honey!

Jessica of Yellowstonecoon Cattery writes: "Hello, Maine Coon families! We are so tickled to share our beautiful Black Smoke baby girl with everyone! She…