June 2014 Maybe Coonies
Meet our Maybe-Coonies for June 2014!

Maybe-Maine Coon Cats For June:
Jordan Michael
By: Hill in Libertyille
Jordan Michael relaxing on cat tree
Jordan is 8 months and weighs about 11 pounds. I got him from a co-worker who knew I wanted a Maine Coon and did not want to wait months for a kitten to become available.
She said her friend was a breeder who wanted to sell him because he was not up to their standard. Jordan was the runt of the litter and polydactyl. They did not provide papers as they said they did not want me to try to breed him or put him in shows.
I looked up the breeder and the breeder is legit. However, I did not get Jordan directly from the breeder, I picked him up from my co-worker when he was about 8 weeks.
He has alot of the traits of a Maine Coon. He has the tail, huge tufted paws and ears. Soft voice and he acts like a dog. He is a big sweetheart.
I decide not to ask contact my co-worker or the breeder as I don't care if he is not full Maine Coon, he's awesome. Someone recommended this site and I am curious if anyone thinks he has Maine Coon in him.
---
Samson: Maine Coon???
By: Autumn in United States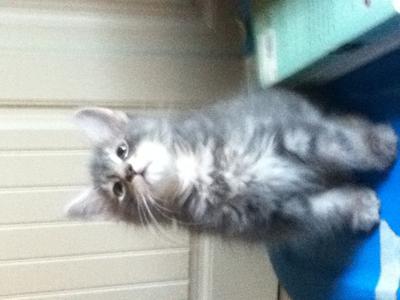 Samson when we first got him
We got Samson at the shelter when he was about 12 weeks old.
He and his brother were found outside and brought to the shelter. I didn't quite know what he was, but after a visit to the vets and looking through a book about cat breeds, I started thinking that Samson was a Maine Coon.
I looked at many websites about Maine Coons and he seems a lot like a Maine Coon. Only question, do Maine Coons have webbed toes, because Samson does.
---
Samiel
By: Joanna in Beaverton, OR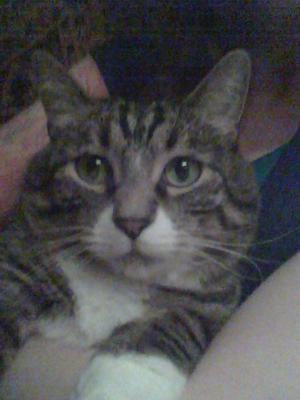 Sami is a 16 lbs female cat who is still proportional despite her size.
When I found her she was already spayed so I know she used to belong to someone. She is very very affectionate and talkative and displays the characteristics of a Coon.
I've had her now for seven years and have been told repeatedly by people with Coons that she looks and acts like a half-breed Coon, so I was curious. :)
---
Shanks, Our Son!
By: Norlyn Jean in Manila, Philippines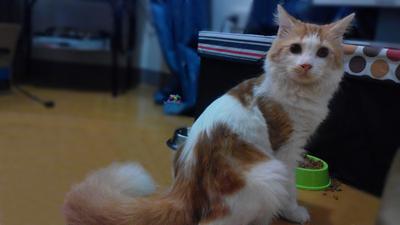 He was 3 months old when we adopted him. Now, he is in his 7th month, he has grown handsome and really resembles the Maine Coon breed.
At first, we thought he's Persian, but doubted it because he doesn't seem to look like one. Our curiosity lead us to researching about the Maine Coon breed, and its difference from the Persian breed.
We are now so certain that he is of Maine Coon breed. (What do you think?)
He acts like a dog sometimes, he loves playing fetch, loves bathing, and he's following me around wherever I go. He would usually look me in the eyes, as if he's trying to say something to me. His voice is so soft and low. Very mesmerizing and sweet.
We love him so much! My partner and I treat him like our son. :D We can't afford to lose him. :(
---
Maybe Maine Coon Mixes?
By: Casey H in South Carolina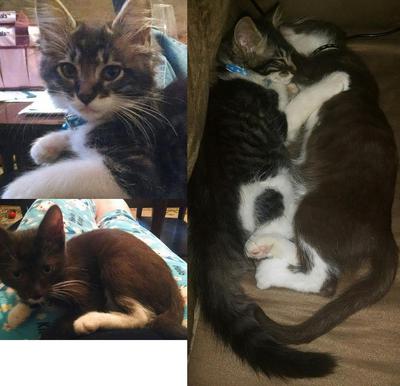 Our two furbabies are Gremlin (f-longhair) and Hershey (m-medium hair?). They are brother and sister from the same litter.
Their grandma looked like a Maine Coon and she bred with something to have a litter of long, short, and medium haired kittens.
Their uncle is MASSIVE, pale gray with light gray "shadow-stripes" and white feet, he's shorthaired, and doesn't have the lynx-tip ears.
Their mom bred with something and produced this litter that had long and medium haired kittens. Some were oddly colored (mauve/buff with white, chocolate brown with white) while others were black tabby/gray "shadow-stripes" with white and one black with a white spot.
Gremlin takes after her grandma.
Hershey is closer to his uncle. Gremlin is laid back, can be hyper at times, she has the lynx-tipped ears and tufts of fur between her paws, she is also very loveable and likes to lick and kneed all over you when she's trying to go to sleep.
Hershey has faint brown "shadow-stripes", he's very vocal, follows you like a dog, rambunctious, climbs EVERYTHING, and has both long and short hair on his legs and tail (sort of shire horse-ish). Could they be part Maine Coon?
---
Reckon If Hope Is A Coon?
By: Anita Chen in Malaysia
Hope now, at 8months old
My mom got Hope from a family, who supposedly had Coons and they told her Hope is a Coon Persian mix.
What do you think?
---
Is Baby a Mix Coon Kitty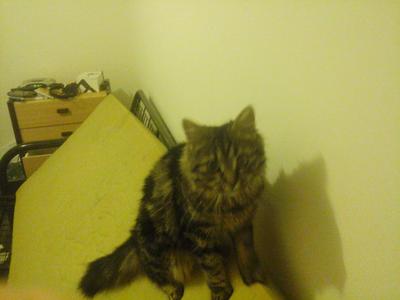 She is 1 year old and she is the baby of my old cat and love of my life and I was wondering if Baby had any Coon in her.
---
Does Kitty Look Maine Coonish?
By: Cindy in Texas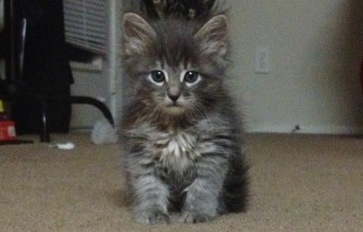 We adopted Kitty from our local animal shelter. She is too cute.
She is full of so much energy and loves to play, it can get a little crazy.
Kitty also likes to follow us EVERYWHERE:) and sleeps with us on our pillows.
---
Is My Kitty Part Maine Coon?
By: Redfox in Stuart FL
My husband and I got him when he was 5 1/2 weeks old from a friend who's cat stoped feeding him.
The mother is Siamese the father is unknown. He has lots of fur in his ears and has the pointed tips.
He loves our dog more then our female Tortie Cat. He also loves car rides even looks out the window. He's very vocal and hates playing by himself.
Guess that's why me and my husband were wondering if maybe he's Maine Coon Siamese.
---
Maine Coon or Mix?
By: Maria in South Africa
Hallo. I got a cat as a present from my husband and the person told my husband that he is a Maine Coon or maybe a mix, the person was not sure.
His name is Bones, he is very relaxed, and cuddly and so loveable and he is almost 16 weeks old and weighing 1.5kg.
He feels a bit thin, so i am giving him a nutrostim it's a nutritional supplement and stimulates apetite.
He still has very small teeth, he has light brownish gold eyes with a little bit of green. His hair is very thick but not to long, except the tail which have much longer hair, his hair is very, very soft.
When he does not see me, he will come and look for me and then he will get very vocal, like he is mad at me for not letting him know where I am. He likes to sit or lie beside me and sometimes lying on my lap and he sleeps on the bed beside me.
He has no problem when he is being picked up and held, it's almost as if he is totally relaxed.
He almost gave me an heart attack, he was sitting and then I picked him up, and it was like he went limp, but when I put him down he was fine.
I also saw that he is getting a black/dark gray spot on his front head. I would like to hear opinions.
---
Tigger
By: Pam Turner in Brighton, IA USA
I don't know if he was a Maine Coon even though he does kinda of look like one.
His mother was a feral cat (not a Maine coon) that I took in and she was pregnant. He was so loving and demanding and he was like my shadow and he didn't know the word stranger and he loved to play. He would drive his mother crazy wanting to play.
When he wanted attention he wouldn't hesitate to get right up in your face if you ignored him. He was about 9 months old when he was killed. But I would like to know if there is a small chance that he may have been.
---
Baby Boy
By: Hayley in England
Just had him and I think he really looks a lot like a Maine Coon well part coon. He has fur coming out his ears with a slight tuft on the top.
He has long whiskers and the are wavy. I think he will be mid length coated. He has the M marking on his head and a squarish muzzle.
His personality is wild just like most kittens and is very loving and fussy. He moans to be picked up a lot and lives laying beside you.
---
Pumpkin
By: Henry Mininberg in Irvington, NY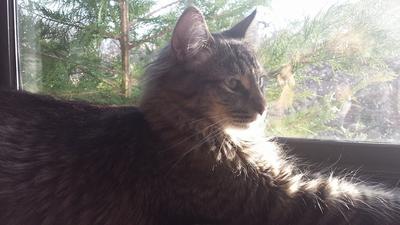 Pumpkin at 7 months
We rescued Pumpkin from a shelter. I never gave it a thought that he might be a Maine Coon mix.
However, he's now 10 months old, 12 pounds and is getting bigger all the time. He also is looking like he has a lot of "Coonie" in him.
I'd love to hear some of your ideas. What do you think?
---
My Perfect Pamela, Does She Have Coon In Her?
By: Madison in Ohio
My sweet kitten Pam is long haired, overly loving, very vocal, good with my son and my other kitty.
Her fur is rugged looking, she has huge paws and huge feet. She's also a polydactyl cat, meaning she has extra fingers.
She's the sweetest cat I've ever met, I mean she's in your face rubbing hers against your nose, chin, eyes, mouth, stepping on your face just to get a better cuddle session.
She cries when she's alone, if we step out of the house and our other cat opie is outside, she cries. She's in love with opie, cleans him, snuggles and plays, and he's a big boy too, he's got 4 extra fingers!
Pamela has a fluffly and very long tail. And her hair in her ears is wild! She has long patches of hair poking out between her toes, a big fluffy butt, and a fluffy neck.
She greets people when coming inside, even strangers, with kisses and cuddles. She's absolutely stunning. Is she a mix?
I found her on Craigslist for free and her siblings weren't all fluffy either. I had to have her because I believe polydactyl cats are wonderful pets, and my opie has been such a good friend.
She fits well with us. My phone isn't allowing me to upload a pic, but I can email one. I'm so very curious.
---
Quinn Oreo Fabray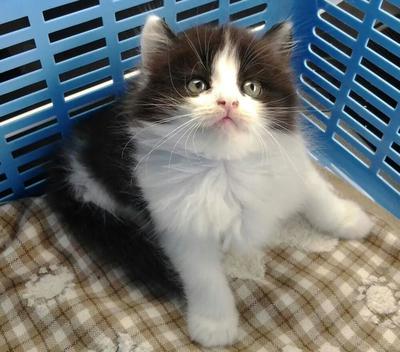 The day I got him. Couldn't get far enough away
Purchased from a pet shop
---
Gadget
By: Geoff McIntyre in Syracuse, NY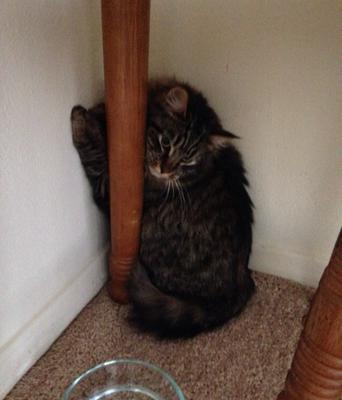 He's 2 years old and very affecionate and playful with me. Constantly talking, purring and licking me.
I don't have too many people over but when I do he always hides. If my guests can get to him he enjoys them pet him as long as he's in his safe spot.
The physical traits seem to be there according to this page. The furry toes, pointy ears, body shape. He also has a curly tuft of fur behind the base of each ear.
He bites me when I pet him sometimes which is new to me. Not hard or violent, just a gentle bite down and then lets me continue petting.
---
Milo The Funny Kitten
By: Arianna S. in Boston, MA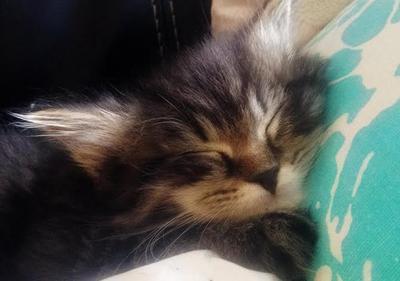 We got Milo two weeks ago at 6 weeks old, now he's 8 weeks and doubled in size. His best friend is a dog, they play all day for hours.
I grew up with dogs so in my research for a kitten I found that the best first car for a long time dog owner was a Maine Coon for their very outgoing personality.
The lady we adopted him from told us he was a Coonie, the vet said he's a Coonie and several other people at Petco.
Milo doesn't want to be alone and he follows us around all the time, he cuddles with us, especially with mommy (me), daddy and his doggie brother.
Do you think he's a 100% Maine Coon? Just curious.
Thanks
Arianna
---
Dexter. Do you think I'm Maine Coon?
By: Keona in Pennsylvania
I adopted Dexter from a local animal shelter in November 2013.
I brought him home and he acted like he had been here his whole life and quickly took over the house.The shelter said he was brought in as a stray and had him listed as a domestic medium hair that was 1-2 years.
When I took him to get his shots, the vet said he wasn't much over a year old. He has a huge personality. He loves to play and wants someone to pet him and will make sure you do. I have woken up to him biting my nose in the middle of the night.
He comes running if he hears the food and sometimes misses the table and falls. He is such a goofball and thinks everything is a toy. Dexter also likes to touch everything.
When the dogs go by he will gently paw at them and does the same thing to me from time to time. He never runs and hides when people come over and always has to be the center of attention.
I saw an article online about the personalities of Maine Coons and it descried him perfectly. Dexter can be such a brat but you can't help but love him.
I would love to know what everyone thinks! Do I have a Maine Coon mix or possibly full Maine Coon on my hands?
---
My Babies
By: Diane in Michigan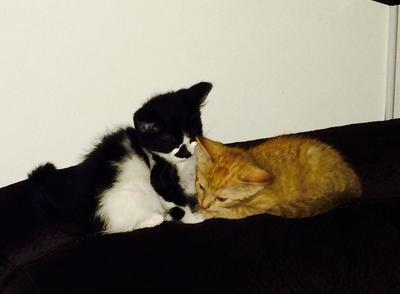 We got these beautiful kittens from an owner who has a beautiful silver Maine Coon 16 lb. But being sister and brother they look so different. He seems more like a Coon then she does, how can that be?
What to do next:
Subscribe in a reader - Be notified of new posts!




Or, get The Daily Digest by email:
(Same as above, just delivered via email)




Or join our email group by filling out the form to the right. From time to time I'll send out special tips, articles, news, deals and other free goodies!
What to do next:

Subscribe in a reader - Be notified of new posts!
Or, get the Daily Digest by email:
(Same as above, just delivered via email)
Or join our email group by filling out the form below. From time to time I'll send out special tips, articles, news, deals and other free goodies!