June 2012 Is S/He a Maine Coon?
Come visit our June 2012 Photo Album of maybe Maine Coons and mixes!

Maybe-Maine Coon Cats For June:
Do you think he has some Coon in him?
Meet Bigfoot
Found him at the shelter:
2.4 kilo
He his 4 months old and oddly talkative when he wants love or attention.
The boy has a whooping 25 toes, long fluffy tail.. no tufts on the ears though.
Lovable pot of glue that follows me everywhere and explores the place.
I was wondering if he might have a bit of Coon in him.. He reminds me of one somehow
Comments:
Debbie: Going by the fluffy coat, huge feet and ear tufts there is definitely Maine Coon in your adorable cat.
---
Casey might be Coon
By: Lauren in NJ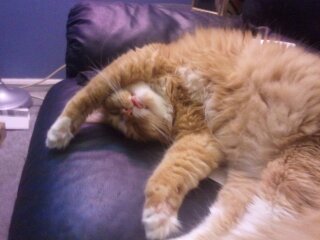 Casey has always been different since the day I got him. He was a rescue and was fluffy but nothing like he is now.
He is very silly and likes to steal things off of counters, knock things on the floor, has to follow me to bed, likes 15 minutes of cuddle time at night, if he wants out of my room he bites me, if he wants to lay in a certain spot and I am in the way he bites me.
He chirps at me and touches me until I pet him. If he wants something there is no changing his mind about it. When I first got him he would go to work with me where his best friend was a dog. Even if I had a bad day he always makes me smile :D
---
Could Benny be a MC mix?
Benny is 10 weeks old and he has a lot of characteristics & physical traits of the Maine Coon.
I saw his mother and she was brown and sleek... she was brought in to a rescue group because she was found pregnant and homeless. Benny does not resemble his mom in any way. His tail is as long as his body, And its pretty fluffy for being as small as he is. He has very big ears & tiny tufts on the tips that seem to be growing in thicker each day.
He also has long tufts of hair in between each of his toes. His fur gets much longer past his shoulders all the way to his rear end. What do you think?
Comments:
Samantha H: We have renamed Benny to Vinny now, and hes gettin bigger by the day :)
---
Cody
By: Les Paterson in Wonthaggi, Vic. Australia
We would like to know if our Cody is a part Maine Coon cat. As she was a stray kitten when we got her we have no idea apart from comparing photos of the beautiful cats in your albums.
---
I Think I Have A Coon!
By: Shelli in Oregon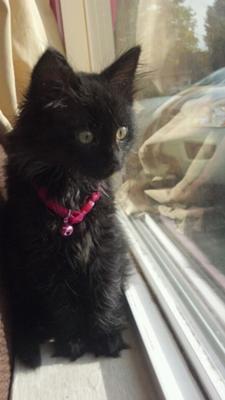 We adopted Magic from a local shelter. Right away there was something different about her.
She is so attached to human interaction that she follows me around and puts her paws up on my leg to ask to be held. We have only had her a few days but I noticed that she is a larger than normal 11 week old kitten. I started digging and found your site. She has many of the Coon characteristics (physical and temperament) that I just have to wonder if we have ourselves a Coon mix.
I have attached a photo below for you to review. The sunshine on her washes out the smokey grey ring around her neck, but you can still see it.
She also has the long hair on her paws (they look more like big furry boots) and she has the long hair in her ears. She also has random white and smokey grey tipped hairs on her legs. Please let me know what you think!
---
Is he a Maine Coon mix? Or just a domestic medium hair? He is 3 1/2 months old
By: Chris in Michigan
I am debating on adopting him. I just want him to grow to a healthy big cat.
Comments:
Dennis & Anita: Who would adopt who? Don't wait too long to live in the moment! If he wants to own you, it's meant to be! Those are some pretty big ears and paws to grow into! I'd vote for some Maine Coon blood in there somewhere!
Sherri: if you dont adopt this cat I will!!!!!
---
"Buzzy Boy" - otherwise known as Cheese
By: Elva in Cleveland OH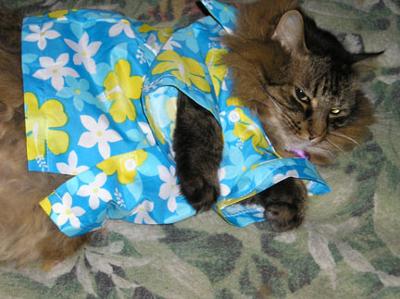 Has very much the look of so many of your cats already on your website - in fact some of the photos on your homepage sruck me immediately!
Cheese is a talkative, big muscular guy (18 - 20 lbs) with a full med length coat, big furry "hands", a wide "mane" & the lovliest round lt green eyes. Not an excitable guy, he's even pretty laid back at the vet's.
He's one of the purr-iest cats I've known, has a wonderful deep in the chest buzz that runs at the drop of a hat. Loud too - you will hear & feel it. (& there's that intersting even deeper note - sort of a 'ruff ruff ruff' chuckle - that comes in when he's concentrating on something like a "puzzle" I've set him.)
Helping with Paperwork
Several people, including a vet have told me they thought they were seeing "Maine Coon" . . . it'd be great to know!
A very patient guy too - as you'll see with him in a "Hawaiian" shirt (a favorite style of my late husband Frank - the original agreement for Cheese to live with us was discussed & agreed to by him & Frank!)
Would very much like to know what you all think - do I have a "Coonie"?!!
---
Everything but the Tail
In: New York, NY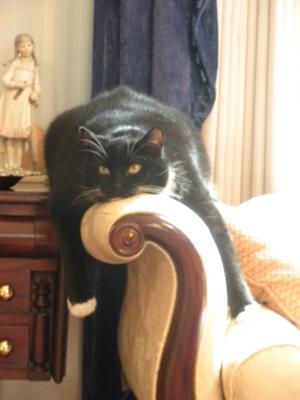 Here's the thing about Ike: he has every single personality trait of a Maine Coon, but he doesn't have long fur or the fluffy tail!!
I answered an advertisement for Free Kittens in Brooklyn and rescued Ike from this crazy apartment that was literally crawling with different cats and multiple litters of kittens. The old man who lived there tried to tell me that Ike was for sale, but he didn't speak much English, and I just thought he was trying to rip me off.
Up until a couple of years ago, I just thought that Ike was super quirky and bit plump. But I've know many cats, and have never met one like him. Now I think that maybe these quirks are all part of his unknown ancestry.
His Size: He was a normal size until he was 3 years old, then suddenly he grew from a normal kitten into this huge cat. Now he's 20lbs (although he's large boned, and quite muscular, I will admit that he needs to lose some weight). His paws are huge and fat and round, and his legs are extra super long (my friends call him the little horse).
His Coat: Although he does not have long hair, his fur is much more dense than any other cat I have owned. It's not long hair, but it's not short either. He's fuzzy, not fluffy if that makes any sense. His white fur (on his belly and neck) is especially soft and thick. My sister has always called him 'Mr Pantaloons' because he does have long tufts of fur on his rear hindquarters. He also has fur in-between his toes and long pronounced eyebrows.
His Voice: He is very loud and is constantly talking. It is a high pitched, cry/howl whenever he is bored, hungry, or wants to be brushed. He has the loudest purr I've ever heard, and it starts up as soon as you pet him!
His Habits: This is what brought me to this site to begin with. I've just never met another cat like this. A friend came over recently and saw him sprawled across the armrest of my sofa and asked 'what kind of animal is that?' He can seriously lounge- he looks like a sloth sometimes! He always drapes his paws over the edges of things and uses his paws frequently to grab things and knock things over. He sits upright in chairs and watches TV with us. He loves to play and loves to be brushed. He's been obsessed with water since he was a kitten. When he looks at something he turns his entire head upside down like an owl. He loves to lay across large spaces, but also loves to squeeze into tight spots. He drapes himself across me when I'm sleeping and is incredibly snuggly. He's very possessive of me and of his food. He's tolerant and easy going but he's a super scaredy cat. He hides whenever he realizes that there's someone new around, but is never aggressive at all.
---
A Co-worker gave me my cat Ryder
By: Melanie A. in Mississippi
This is how my co-worker first found her
My co-worker actually found her abandoned close to her home one day in December 2011, she was such a small kitty too. My coworker was moving and couldn't have the cat with her so told me about her. I agreed to take her. Neither one of us knew what kind of cat she was or the sex. So I named her Ryder because she did not like the car ride back to my home...lol! I figured it to be a neutral name.
As she started growing I noticed how long and beautifulher fur has been getting. Especially the tail and lower belly area. She seems to be at least a Main Coon mix.
---
BB is my kitty :)
By: bbsakitty
I got BB from an animal shelter when she was a scraggly little bag of bones. I've had her for a year and she has definitely filled out!
I think she has some Maine Coon characteristics like her large size and tufty paws. Also, she has a pretty big neck ruff and chest and a huge fluffy tail.
She chirps and purr-meows at me a lot too. But,she does hate water...a bunch
---
Full Maine Coon? Or Maine Coon Bengal Mix?
By: Amanda in Yelm, Washington, USA
Leo! the first day we brought him home.
I bought my kitten Leo a couple weeks ago when he just turned two months old from a local pet store that sold him as a Maine Coon/Bengal mix. He is very playful, loving, cuddly, and loves to sleep on my chest or buried in my hair!
Why I think he may be full Maine Coon is he has the big paw, the tuffed big ears in the ear and on the top, the beautiful face and big eyes. Different lengths of fur and a different type of shag fur around his neck.
What do you think? I don't really see Bengal in him. So do you guys think I bought a full Maine Coon or Bengal?
---
Coon mix ... Or not Coon mix ... That is the question!
By: Adrienne in Mississippi
We got Caesar @ 6 weeks old from a local vet office where his and his litter had been dropped off because the owner could not take care of them. After some research, I was wondering if perhaps he had some Smoke Black Maine Coon in him? Some of the characteristics that make me wonder are:
1. large for his age (only weighs 2 lbs, but he's very tall and long)
2. Tufted ears
3. Very big, furry feet (like cookie monster)
4. Very shaggy "multi dimensional" colored coat = torso is smokey dark brown, head-legs-tail are black with crazy long white hairs, chest-underbelly-scruff around neck are turning smokey gray.
5. Personality = he is a lot calmer but more physically coordinated than any kitten I've known at this age. SUPER smart and trainable. Very affectionate and social.
I included photos of him @ 6 weeks and 9 weeks. What do you think??
Comments:
Jessy: Whatever he is, he's cute!
---
This is my Phatboy, could he be a Coon mix?
By: Deborah Commissaris in The Colony, TX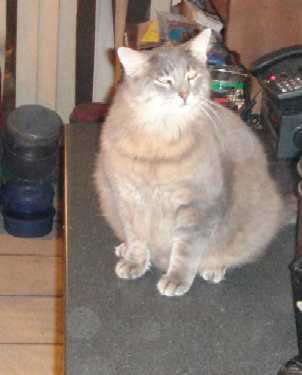 We got Phatboy when he was 6 weeks old from a lady who took in a stray domestic shorthair cat who happened to be pregnant, he appeared to be normal but all of a sudden we noticed he was getting bigger than the other adult cats in the house and his hair became longer and his tail was so heavy it brushed the ground.
Our vet was taken with him and even said if we ever wanted to find a new home for him she would be glad to have him.
Phatboy was a very laid back kitty, he used to love it when we swept the floor, he would throw himself in front of the broom and refused to move until we had swept him up in the dustpan and put him in the garbage can, then he would sit and watch us sweep. He also like to lay on the edge of the counter and snag us as we walked by, he would hook that strong paw around our arm and it was either stop and play with him or pull him off the counter.
He has this sleepy eyed look that makes you melt when he looks at you, company could not believe he was a cat because he would get in their laps and love on them and would not leave them alone, they even accused us of giving him drugs because no cat was that loving!!! LOL!!!
He was a rowdy player too, he would run through a room and bounce off of the walls or doors getting all the other animals excited but none could catch him. He had a way of begging when he wanted something, he haunched on his hind legs and put his 2 front paws together and waved them at you.
His weight shot up to 22.9 lbs and the vet became concerned and said we needed to monitor his eating , yeah right!!! He was very vocal and would feed himself if we didn't do it!!
He got out one day and we could not find him, he was gone for 4 months, everyone told me to accept that I would never see him again but I could not do that, one day a local called me and told me who had my cat, I went to get him and he was down to 8 lbs, it broke my heart but at least I had him back and he is now at 12 lbs and slowly getting back his weight. One of the pictures I shared was him and his buddy LilBit who I believe may be a ragdoll, now LilBit is bigger than Phatboy!!
---
My Maine Coon Mix?
By: Crystal in Highland NY
This beautiful young lady was dropped off at my house last October, and we didn't think much of her breed, she appeared to be a domestic shorthair.
Seven months later, she is gaining in size and weight, and her fur is getting much longer, she has a ruff, long underbelly and bottom fur, LOVES the water, is super affectionate, has to be in the middle of everybody and everything, super tiny meow, loves to chatter.
Do you think she may be a Maine mix?
Comments:
Michele: Crystal, she's definitely a Maine coon mix - she bears a striking resemblence to my parents' cat. The "talking" was the characteristic that sold me - Maine Coons comment on anything and everything!
Ru: Yes i think she is a MC.
Marianna (Australia): She certainly looks like a Maine Coon, she looks a lot like my Milly even with the same green eyes. eyes
Roberta: She's gorgeous - love the eyes.
---
Maine Coon Mix?
By: Amanda Hickman in (Union, MO, USA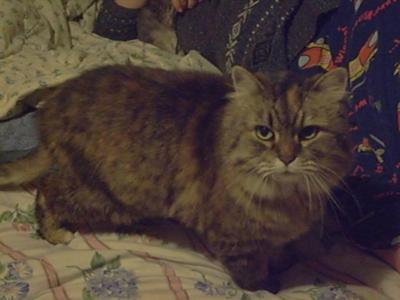 I know that my late cat was not a full bred Maine Coon, but I'm thinking she may have had some Coon in her ancestry.
I'm looking for a new cat, similar to her because she was such a great addition to our family. She was a sweet cat, didn't like to be cuddled unless it was on her terms, but would always sleep in bed with us.
Slow and picky eater, easy to bathe, ran away when company would come over. Beautiful long hair, soft as velvet. Greenish yellow eyes. Loud purring, short mews, kinda sounded as though she was talking to you. We got her from a couple who didn't know that their cat had gotten pregnant. Any help would be appreciated.
Let's Connect!
Subscribe in a reader - Be notified of new posts!




Or, get The Daily Digest by email:
(Same as above, just delivered via email)





Join our weekly email group by filling out the form to the right. From time to time I'll send out special tips, articles, news, deals and other free goodies!







Subscribe in a reader - Be notified of new posts!
Or, get the Daily Digest by email:
(Same as above, just delivered via email)
Join our weekly email group by filling out the form below. From time to time I'll send out special tips, articles, news, deals and other free goodies!