January 2014 Maybe Coonies
Here are our January 2014 Maybe-Maine Coons and mixes! Do you think these kitties are Maine Coons?

Maybe-Maine Coon Cats For January:
Cymba (Our Prince who thinks he's a King)
By: Jack VanNatta in Gales Ferry, CT
Cymba is a rescue cat, from a High School project, adopted by my wife as a furry healing pet (I had a quad heart operation in May 2011, he arrived June 2011, 2 months old).
Researching Maine Coons, he definitely has most all the traits... Read More
---
Does My Cat Have A Little Maine Coon Cat In Him?
By: Henry in Irvington, New York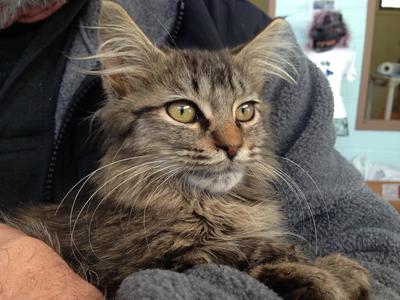 Six months ago we adopted this beautiful medium hair Tabby.
As he has begun to grow, I've notice what might be traits of him being a Maine Coon Cat mix.
He has the little tufs of hair between his toes, a big beautiful bushy tail, a lot of hair in his ears (not at the points) and a wonderful personality. I'm asking all of you Maine Coon Cat lovers what do you think.
No matter what he is, I'll always adore him, and think he's the most beautiful cat there is ( except for my other two) Thanks everyone out there for your input.
---
KC Kitty
By: Claudia in Parma, Ohio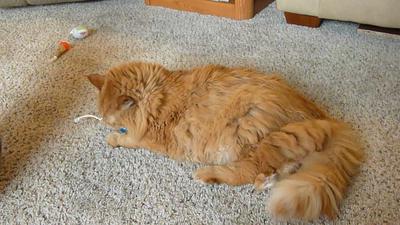 KC in all his orange fur
KC fits the bill when it comes to being a possible Maine Coon, He is a large. super friendly (comes to the door when the door bell rings) and is a super talkative kitty.
You can have a conversation with him and I believe he will answer you! We adopted from the Portage County APL in Ohio as a kitten and is now 13 years old. He is very loving to people as well as all of my other 4 cats.
He loves to sit on my lap. I foster kittens as well and when I meet with potential adopters he is right there in the middle wanting attention. Everyone wants to take him home.
---
Poppy the Maine Coon Calico?
By: Avery in Mississippi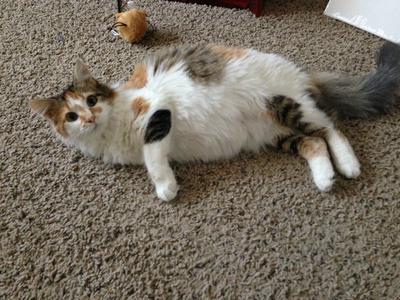 Poppy was adopted from the local shelter about 5 months ago after being found on the side of the road malnourished with a bum front leg that had to be amputated.
As soon as I laid eyes on her I knew she was mine. I instantly fell for her intense eyes, gorgeous coat color, bushy tail, and most of all her tripawed-ness.
I'm fairly familiar with the Maine Coon breed so once I started seeing signs I became curious if she may be a mix. She has ear tufts, paw/toe tufts, longer fur in all the described places, a bushy raccoon-like tail, and she's now huge!
Personality wise, she's extremely friendly and demanding of attention. She's super vocal with lots of "chirps". Sometimes I wonder if she thinks she's a human or if she thinks I'm just her hairless cat mom, but either way she's very attached and loyal.
When I was adopted she was estimated at around 2 and a half months old which puts her at about 8 months old now and she's already 9 pounds!
---
Odin, An Adopted Cat
By: Isaac Gonzalez in Girona, Catalunya, Spain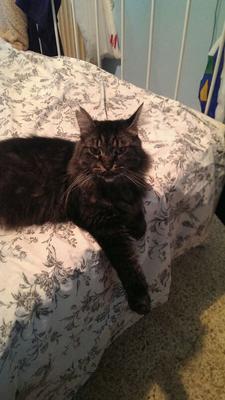 This is Odin, our beloved male cat. We got him from an animal shelter, since someone abandoned him in the streets of a big city, and those who found him reported that Odin was following each person who passed nearby to get some cuddles... They told us he couldn't have been born in the wild, because of his behaviour towards people.
Our local vet told us he is aproximately between 1 and a half and 2 years old, but since we live in a town where "forest cats" are barely seen, he couldn't tell if he was part Maine Coon, Norwegian Forest Cat or even a Siberian.
Nowadays he is between 2 and 3 years old, wheighing around 15 lbs (6 Kg), and about 29.5 inches (75 cm) from the nose to the end of the tail.
As you can see, he has the "stop" in the nose, fur coming out from the ears, his tail is almost as long as his body and his paws (which are big and powerful) have fur between the toes.
Moreover, he has round eyes with an expectant expression.
About his nature, he loves to play with us, to get his belly rubbed (won't stop meowing until he gets it), never gets tired of being hugged, and I found funny the fact that he says "meow" as a "hello" everytime he sees us for the first time in hours.
Furthermore, he loves company (from humans or other cats), and spends a really long time washing himself, sleeping, and just laying down and looking around. He loves to be near us, but rarely he lays over us (we're lucky, he could very well smash us!). Eventhough he had a problem with strange people when we adopted him (he's got a cigarrete burn on his belly...) now he accepts them.
It may seem silly, but he lays everywhere, and doesn't move even if you poke him (he looks at you and just says "meow"; then continues to lay).
Thank you for your attention, and let's hope we solve the mistery of the rescued cat! Sorry for any mistakes, we're from a between Barcelona and France, so English is our third language!
Sincerely,
Rebecca & Isaac
PS: It's quite difficult to take pictures of Odin because he goes towards the camera to sniff it and play with the photographer.
---
Marley 6 Months
By: Dianne in Connecticut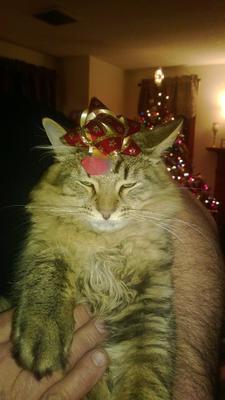 We got Marley 6 months ago he was 8 weeks old.
He is such a fun cat, always playing, loves to play with tons of toys, always is the bathtub after we take our showers.
Marley is very friendly and social when anyone comes to visit. Seems like he always tries to talk to my husband and I.
We are not sure if he is 100 % Maine coon but he sure looks it and acts like it. Attached is a picture of Marley at 6 months
---
Payton and Bella
By: Jamie Rincker in Strasburg, IL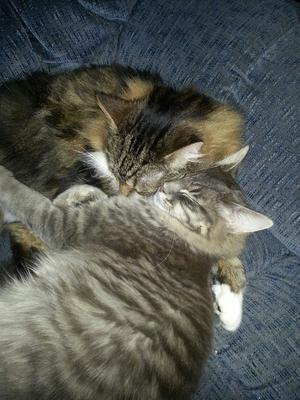 I would love to know if you think one or both of my cats have Maine Coon in them! Either way, I call them my "Coon kitties".
Payton is my 7 year old tomcat which I got from the Humane Society in Bloomington, IL. "Playing with ANY kind of string (I have this silly game where my owner puts a plastic bag in the living room floor and takes a string into the other room and I'll take one end of the string and keep "walking" her to the plastic bag, where she tells me "Good Boy").
I also bring her random toys mostly when she is sleeping, but sometimes into the front room, I drink water out of the bathtub after my humans take showers, snuggling on my human's husband's lap at night (I get grumpy with him when he has to get up), and I haven't met a person I do not like, I always have to be the center of attention."
His hair is really coarse and even at his old age, he seems like a big overgrown kitten most of the time. I have a video where he is beating up my pillow shaped like a catfish and biting it's whiskers! hahaha
Bella is my one year old female I got from the Humane Society in Lincoln, IL. She's a little more timid and shy than Payton, but howls down the hallway in the mornings when she was her moist catfood (we call her "coyote kitty" for this reason). She's still quite a bit more playful than Payton and wakes us up at all hours of the night, either jumping across the bed, or sucking on the blanket on the bed by me and soaking it. She also likes to take naps with me under the blanket on our reclining couch. She has feel into the bathtub with me once and is starting to love her belly rubs just as much as Payton does. She has softer hair than Payton, I like to say I'm "snuggling my cotton ball" when I'm giving her attention.
They love each other and are always kissing each other and giving each other baths (Bella usually gets some pretty good cow licks from Mr. Payton). Two of the sweetest kitties I've ever had the pleasure of calling mine. They both make those funny chattering sounds, which from what I read is another characteristic.
---
Is Mishka a Maine Coon?
By: Anna in Melbourne Australia
Our cat came from a shelter after being surrendered so her history is unclear.
Examined by a vet, it was concluded she is a Bengal crossed with a domestic long hair. I am not so sure. There are Melanistic Bengals that are solid black but I've not seen any long haired ones.
She has tufts of fur between her toes, has a glossy black coat, crimped in parts, quite a bit of fur inside her ears, weighs 6.5kgs, is large and long, has a light grey undercoat beneath the black fur, chirps a lot, has a lot of thick curly fur around her backside, and the thickest lushest tail.
She doesn't really have a ruff or the little tuft poking up from her ears. Her coat is crimped in some places.
Could she be a Maine Coon? She is six years old. Beautiful animal. I've seen pics of black Maine Coons that look almost identical to her. I'd love to know.
---
Leroy "Jethro" Gibbs
By: Shannon in New York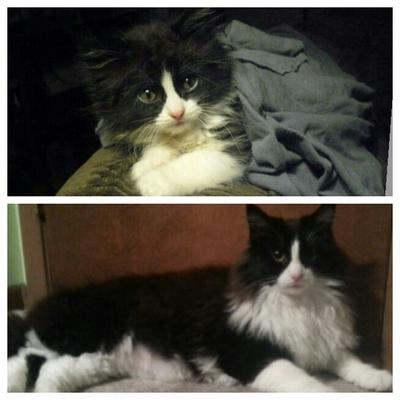 Jethro is now 6 months old, weights over 12 pounds, is 2.5 feet long (tail being 1 foot) and sits at 1 foot tall.
I adopted him at 6 weeks old after he was found alone on the side of the road. Could he be a mix??
---
Munchie
By: Lorraine in New Jersey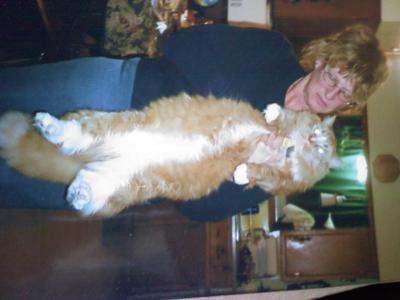 Munchie has a sweet tiny meow for a 20 pound cat.
He came to us 6 years ago as a tiny kitten and has grown into the biggest sweetheart anyone could ask for. He follows us around like a dog and always wants to be involved with everything going on.
We walk him on a leash and people think he is a dog! (although he doesn't like dogs). He is a Maine Coon mix we think.
He has the biggest feet and longest whiskers I have ever seen in a cat and his tail is always up in the air. He is our big baby of the house!
---
Nala
By: Teresa in Houston, TX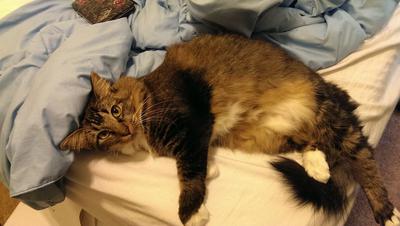 Lounging around
This is my baby Nala... When I got her I was told she was a mix between Maine Coon and Bengal.
But my main question was do Maine Coon cats get overly attached to one person? She follows me around and when I sleep she has to be right on me or next to me and when I try to move her she goes completely limp so I cant move her :)
Either way she is the best addition in my house
---
Sebastian Beardsley
By: Barb Lawson in Somerset, KY USA
To Adopt or Not Adopt?
I rescued Sebastian about 2 months ago. According to his vet records, he was 10 months old at the time.
He has many of the characteristics of a Maine Coon; tufts of fur on the bottoms of his feet, a magnificent ruff around his neck, incredile coat and sparkling personality.
He LOVES to have his belly and paws rubbed, which is a first for me; most cats will not let you do that!! He loves attention and follows me like a puppy dog. I often find him in the bathtub, shower or sink, apparently it is one of his favorite lounging places.
As a recent "empty-nester" I had debated for several months whether or not to get a cat (not really a dog person). I had made 3 trips to the local animal shelter and none really stood out to me.
One evening on my way home, I stopped at a local pet store to see what they had. Suprisingly, the local Humane Society was having an adoption event that weekend and had about a dozen cats & kittens there.
Sebastian was in the bottom row of cages, nowhere near eye level. He was just laid back....waiting. (One of the photos is one I took to send my daughter before adopting him, to ensure I wasn't going insane!!)
I was instantly drawn in by his amazing coat and beatiful green eyes. I have to wonder....is he Maine Coon?? His vet records classify him as a domestic long hair, but on further research it appears to me his is at least PART Maine Coon. Regardless, I love him. He has found his forever home!!
---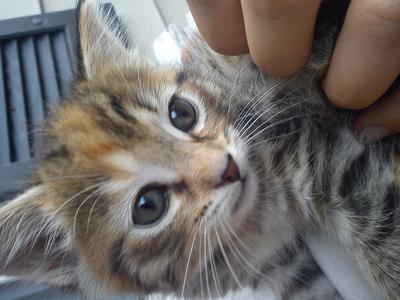 Emma
By: Dylan in KY
I know my cat isn't a full bred Maine Coon.
She was sold to me as a "Maine coon/Siamese mix' however she shares many traits, but half of her M is orange and the other black and I haven't seen any other like this.
Is this common or is she even more special than I thought?
---
P.C.
By: Kei in Australia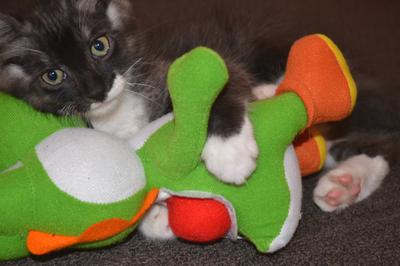 When i first got my boy, P.C I was told he was a Himalayan mix. His mother was quite large and long and I honestly didn't know to much about breeds and didn't question. But now that I've had him for a month and he's grown into his personality and features he doesn't seem like a 'normal' kitten.
He's now 11 weeks old, i was given him at a very young age and he was very malnourished and riddled with fleas literally, he had over 100 fleas over his tiny body.
He is probably the most affectionate kitten I've ever met. He will sleep on my neck and purr all night long, occasionally licking or giving me a love bite.
He love food, and i mean all food, he tries to get onto our plates and eat ours.
When he's awake and playing he's constantly 'chirping' or making a Brr noise its adorable.
He doesn't like when there is no one around, he will cry and howl until someone finds him and he comes running to my voice.He already knows his name quite well and will come when I call, he also knows what no means.
His furr its medium length but it's getting longer by the day and he's growing so fast. Summer is just ending here in Australia and i can tell he will have a very long winter coat. The furr under his gray is all white and very dense.
His tail reaches just over his shoulders and he's quite a long kitten.he's already nearly half the size of our 6 month old tabby. At 8 weeks he weighed around 900grams.
---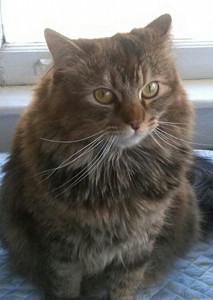 Bella
By: Kasey Kaelin in Glenolen PA
She is super loving and too me looks as if she could be a mix. Her mom was a stray. She was a calico. All the kittens were black except my Bella.
---
Introducing My 10 Month Old Boy, Boots
By: Sarah in Virginia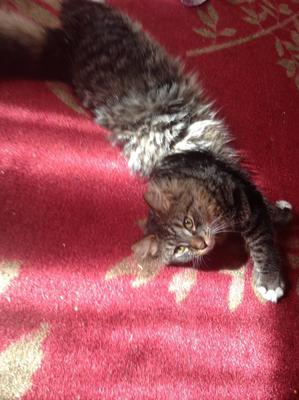 We adopted Boots when he was around 7 weeks old. I'm not sure if he is 100% Maine Coon, so I was wondering what you all thought?
He is around 10 months old now and weighs 10 pounds. Boots is a very rambunctious boy who is always on the move. Boots loves to sit on the side of the bathtub to paw at my water when I take a bath.
Boots is very comical and always seems to make us laugh. He is fascinated with plaing in his water bowl, unraveling toilet paper, and digging clean litter out of our litter container. Boots is awesome with our 3 year daughter. He's a very sweet boy.
---
Mesah And I Saved Each Other
By: Cathy Aponte in Bessemer, PA USA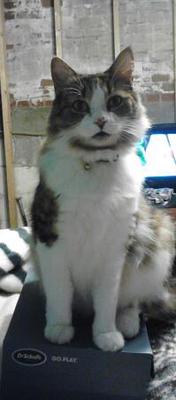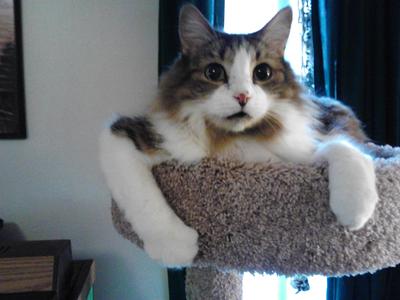 Mesah, a cat that saved me from my self emotionally. I lost a family member, went through a divorce, lost my home, I had eight different places to templraraly stay with family, due to a un stable place to live I lost my emotional support dog!
One night this big cat all scratched up on the face, came out from a car 'where I used to stay' have seen her before there, I called to her and she came right to me. I fed her she ran away, at one time she even hissed at me. Two year's now we have had each other. Before Mesah I didn't care for cat's. I wonder if she is Maine Coon, or part Maine Coon?
---
Chester
By: Jen in Mineola, Iowa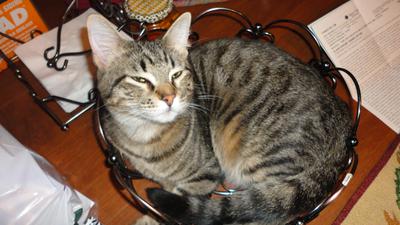 We found Chester in our backyard by our boxer Bevo when he was barley a pound. Now he is 7 months and is 12 lbs.
Do you think he could be part Maine Coon?
---
Kitty-Might Be A Main Coon
By: Debbie in Dyer, TN
One day I was at the barn feeding my horses and I heard a cat crying. I looked here was this cat. He was very friendly but I smelled a bad oder.
I looked and this cat was hurt real bad. I doctored on him and thought he was better. We would take him with us to our lake house. I noticed he wasnt eating and I looked his leg was getting bad again. I took him to the vet.
We weren't going to keep him because my husband doesnt like cats, but he is now our family pet. We love him very much. I think he is a main coon or has maine coon in him. We churps, plays in water, climbs on high furniture, has an M on forehead, extinguishing paws, long whiskers.
His fur is the softest I have ever felt. He is my alarm cat. He gets into everything opening up cabinets. He has all the distinguishing of Main Coon but not persian. His tail is getting fluffy. I beleive he is around 2 years old.