She has many of the physical and behavior characteristics I have seen listed and before I even knew about Coons I kept telling everyone she acts more like a dog than a cat.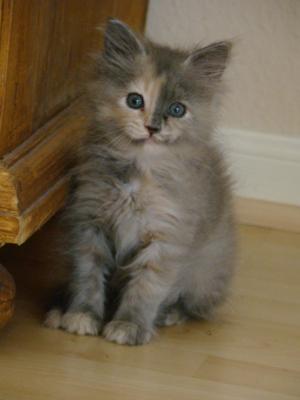 We had to put our old lab Angel down several weeks ago and we were all very sad in addition to my youngest daughter being diagnosed with a benign brain tumor which has made her very sick which led us to looking for a kitten.

I grew up with cats but its been a long time since we had a kitten. This one was listed as FREE and the pic was so cute we could not resist. We knew we were not ready for another dog and so now we have her.

She was in terrible shape when we got her. I often call her our flea-bag-full-of-fungus. She was flea infested and had ring worm and only weighed 1.3 lbs.

She is doing much better now with lots of TLC and she has become the highlight of everyone's day including my husband who now plays and takes naps with her. He has never liked cats but Nala captured his heart too!
Her tail is very long and the fur is coming in longer and longer. She is an avid hunter and misses nothing!
She is so sweet but can be very feisty at times and a total lap cat too. She acts like a Jack Russel terrier at times.

Follows me all over the house and waits at every door till I come out. Makes unusual sounds and is quiet most of the time. I know she is a mix as I saw the mother who did not look coon at all but who knows about the dad as she is a barn cat.

The first pic is at 6 wks old and the second is 11 wks. I will add a better pic of her so you can see her long tail.

Anyways, thanks for looking and I love this site. I look forward to your comments :)
Barb


comments:
What an adorable kitty
by: Becky

Hi Barb,

Bless you for taking this kitten into your lives. I raise Maine Coons but love all cats and rescue them in my neighborhood whenever I can.

You probably don't have a pedigreed kitty but she's adorable! Every kitty deserves a loving home. It sounds like she's blessing you too.

She's a Charmer!
by: Jessy

Free cats rarely turn out to be free: they are apt to have several of umpteen things that need to be fixed by a vet.

Unlike Carrie, I am not the least surprised to see a handsome barn cat--but then, I grew up with barn cats all around. The matriarch of them all was a blue-cream calico, like yours.

The ear set suggests a maybe Maine Coon mix, I think. Whatever, I think she will grow up to be an impressive-looking cat and give you much joy.

Thanks so much for the reply and sweet welcome!
by: Anonymous

Hi Carrie,
Thanks so much for the sweet reply and welcome! I am so silly crazy over our Nala and what a great place to share a common passion for these gorgeous animals.

I forgot to add that a lot of her hair broke off when the vet did a series of sulfur dips to treat the ring worm and it broke off a ton of hair and a bunch of her whiskers broke off too, especially around her neck. She has the tufts of hair between her toes.

Her hair is really going through a change and her tail is getting thicker every day and the long hairs are coming in thicker too.

No telling how she will turn out but it is so fun to watch her change and grow. It took us two days to get her to let us hold her as she was not socialized and extremely frightened.

How do I add more pictures I took some more that are so much better of her and would love to add them?
Sincerely,
Barbara

Beautiful!
by: Maine Coon Cat Nation

Hi Barb!

Thank you so much for your kind words about the site! It makes my day :)

I'm so sorry to hear about your dog, and then your daughter. Life throws us for a loop sometimes, and you really sound like a trooper. I admire your attitude. Your family will be in our thoughts.

Nala is just stunning, I would never have thought a "barn cat" could be so beautiful. She does seem to have many Maine Coon traits, let see what others have to say...

Thanks so much for sharing her! I'll be sure to add her pretty face to our photo album soon!

All The Best,
~Carrie