Fluffball, Roscoe, Dixie and Friends
Come meet Fluffball, Roscoe, Dixie, Roland, Mookie, Sadie and more in this lovely album of 2020 Maybe Coonies!
Fluffball
by: Shawn in Grayslake, Illinois USA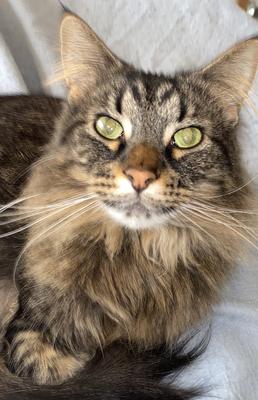 He is very sweet and lovable. My lap cat.
---
Pillow Pants Roland
by: Esmé in California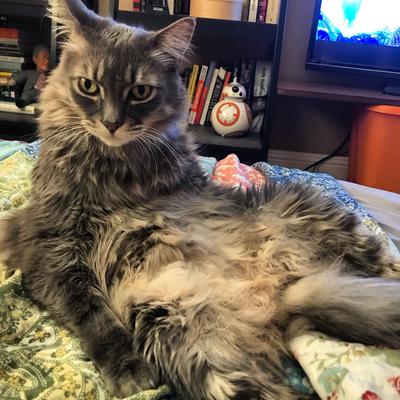 Mr. Pillowpants
Roland is at least half Maine coon. His other half is either Persian or Ragdoll. He is beautiful.

We call him pillow pants because his butt is so full of thick long hair :)

He is very loud and very large. Maybe about 17 pounds. He loves attraction and food. I don't know which one he loves more tho.
---
Roscoe. Maine Coon mix?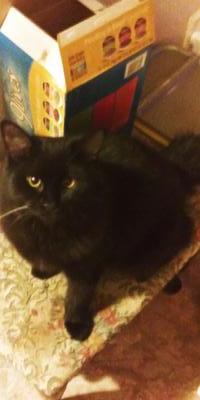 This is my very handsome boy Roscoe. I rescued him from the local shelter in Muscle Shoals Alabama.

He is 7 months old. He weighs 13 pounds and is 28" from his nose to the tip tail. I've been curious since he was 2 months old if he is a Maine Coon mix.

He's solid black with 1 white whisker. Tons of undercoat. He also has a brown/rusty color to his coat in bright light.
He has the softest, silkiest coat I've ever seen. Tufts of fur between his pads on his feet and in his ears.

He doesn't have the super pointed lynx like ears though. Has a tail that deserves a name of it's own.

Whiskers that are so long they can wrap around the back of his head. Very rectangular shaped body, and his belly fur has become very wavy and curly.

Such a sweet boy and never meets a stranger. Very social and vocal. Gets along great with other cats. Very spoiled, bright, patient and loved. Murderer of leaves blowing across the yard... So far. Not a lap cat and doesn't like being held. Loves his toys, cat tree, Mom, food bowl and naps.

Likes to stand on my chest and will share the pillow with me. Wonderful addition to the family.
---
Maine Coon Kittens?
We adopted these two sweet kittens from a rescue and I am wondering if they are part Maine Coon. What do you think?
---
Curious
by: Marlene in Florida
I adopted my babies through a rescue. I was told they are Maine Coon. Doesn't really matter because he and his brother are beautiful. We live them both the same.
---
Dixie
by: Lorrie in Marietta, GA
I adopted Dixie from our local animal shelter two months ago.

She is two years old and has all of the personality traits of a Maine Coon, as well as several physical ones.
---
Mookie, Maine Coon Maybe
by: MJ Hirt in Pine Valley, NY USA
Mookie came to me 4 days before my birthday. I say he's my dead husbands b-day present to me.

He was only about 4months old when he just showed up out of the night onto my porch. He's my lovebug!!
---
Sadie
Sadie was found alone as a kitten on a farm!

She was sent to live with a foster family and then we adopted her! Sadie is different than any other cat I've ever owned!

She'll let anybody hold her, she's completely unafraid. She's not afraid of dogs or any other animals.

Right now she's only eight months old and she starting to grow long tufts of hair around her neck. Her paws are very large.

She has a great appetite and will eat anything. If you're munching on popcorn you have to be aware, she'll jump up and eat right out of the bowl!
---
Lucy, Rescued as a kitten
by: Robert Brunson in Canyon Lake, California, USA
Here is Lucy, we rescued her and don't have any history other than she was abandoned.

I've attached pictures of here when we got her, and a picture of her now. She's not very large, but definitely has some Maine Coon traits.

Long fur that is very soft, long bushy tail, tufts between her toes, she always taps her water bottle before she drinks, makes funny noises, not really meowing, just funny sounds.

She loves attention, every morning when I wake up she jumps on my chest and I have to scratch and pet her, she also does this while we watch TV. She will lay on the floor while my wife and I watch tv.

The kids are always picking her up and she doesn't resist. But she I also loves to rough house, she is lightening fast, and will five in front of your feet saying I'm ready to wrestle.

We also recently had a big mail tabby decide to adopt us, so we had him neutered and bathed, he is Bruce. Very neat cat, but Lucy runs the show, she's not afraid to say I'm in charge.
---
Ginger
by: Aaron in Houston
Very brave, and outgoing.
---
Luna
by: Rebecca Rocha in Tracy Ca United States
A friend was giving them away at 1week old she is now 3months.
---
Oliver
by: Kayla in Wisconsin
Wondering if my kitten may be a Maine Coon Mix
His name is Oliver. He is super playful and craves attention. I noticed his ears have a little hair at the tips and was curious.
---
Lynx, Tuxedo, and Figaro
by: Rae in Georgia, USA
| | | |
| --- | --- | --- |
| Tuxedo, 8 months old | Lynx, 8 months old | Figaro, Lynx, and Tuxedo |
Figaro, 8 months old
We have three brothers, two of which we think look like a Maine Coon mix.

All three are big for 8 months. Already 2 ft long, from head to bottom. The mom was a stray, and was very tiny, but had Maine Coon characteristics.

The dad was a smooth small black cat. The three boys are already bigger than their parents.

They are great hunters, have huge feet, and ate super sweet. Would love to know if they have Maine Coon in them.
---
Baby, The Picky One
by: Petra in Kentucky
Hanging out with me after a long day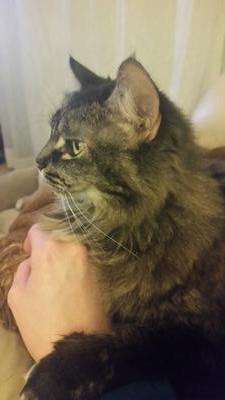 That Face :-)
Baby was given to me as a kitten by the UPS man who already had cats and dogs.
She is relatively skittish with strangers, but has no issues bugging me :-)

She is more a one-person cat, although she warms up to people who have been around for a while. She is also okay with my dogs.

She has long hair and people have ask me if she has Maine Coon in her.
---
Emma my Emma
by: Teri Fultz in Centerville IA
We brought Emma, (so named due to her glorious "M" between her beautiful ears, when she was only 6 weeks old.

There were four kittens born to Harriet, a smallish grey tabby however, Emma looked nothing like her litter mates.

The tufts of hair in her ears looked "weird" to my son so he trimmed them and they have never fully grown back.

She has tufts of hair on her paws between her toes and a gorgeous full feather brush tail she is so proud of! Her trill is a sound we love!
---
Meet Vincent
by: Ang Marie in USA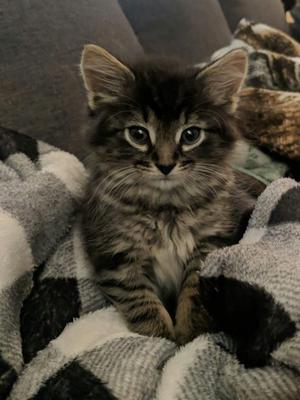 This is Vincent. He is my first cat. The mother is an American short hair tabby, but the father is unknown. He is the runt of a litter of 6 (4 girls and 2 boys).

All short haired tabby, some with more calico colors to their coat. The 2 boys however stood out from the rest of the litter.

The first being and orange tabby, and then there is my handsome little fellow. Born on October 1st, just barely 7 weeks old.

Very playful, true sweetheart, follows me around like a puppy and chirps and trills to no end.

Which is why I began looking into him more after a friend told me he looked as if he could have Maine Coon in him. Any thoughts?
---
Milo and Clifford
Adopted Milo and his brother Clifford last month.

comments:
Big ears
by: Jan
By the looks of those huge ears they are certainly Maine Coons.
---
Hunter
by: Chris in Addison Illinois
Hi I'm looking to see if he's a Maine Coon mix.
He has a very long tail, he's very long, he's only 6 months and weighs 7.6 pounds.
---
Scout My Rescue
by: Lauren in Louisiana
I grew up with a fluffy stray cat we adopted and love long haired cats.

I saw his picture on a cat rescue site and thought I had to have him after looking for months for my "dream" cat.

My husband isn't a cat person so I knew it had to be my perfect cat to be worth the convincing. So we were in a town an hour away on an over night trip.

The morning we were leaving I looked at "Adopt a pet" website and found this beautiful scared cat pictured in his carrier. I told my husband I wanted to look at him since the site said he was actually across the street at Petco.

When we got there, they said he was at the cat rescue and my husband just told me to pick one there instead of driving across town when they closed in 30 min. I couldn't.

I had the girl see if they could wait on us. We got to the shelter and they spoke with us and asked questions, etc.

I told them I had my heart set on Scout. They said he was in isolation due to a cold and could hold him for me while they finished his medication. I went in there, picked him up, and instantly knew he was my cat.

So in February 2018-I brought him home that night and finished his medication. He weighed 9 lbs and I was told they thought he was 2-3 years old.

I don't know his story but I know he was picked up off the street. He let me trip his nails and licked me, cuddled me, purred and I knew he was someone's pet before.

I don't know anything about Maine Coon personality but he is the sweetest most lovable cat I've ever seen. He is obsessed with me. My family can't believe how sweet he is and how attached he is to me.

A few months after getting him, my mom started noticing how fat he was getting. I weighed him and he was 16 lbs. He has stayed the same for a year now.

My brother has noticed how big his paws are and much bigger than his cats who weighs even more than Scout. We got a kitten last year which is now a year old and she is only 8 lbs and much smaller than Scout.

My friend noticed his neck hair and ears and mentioned he could be a Maine Coon mix.
I think he's gorgeous and perfect regardless but I'd like to know if he is Maine Coon mix and what their temperament is. I wish I could make mine live until I die but obviously I can't and I'd like to know if I just lucked out or if it's the breed.
(note: comments are closed in this archived photo album)
Dec 10, 23 03:14 PM

New today: Meet

Ginny

from Lumacoon Maine Coon! Ajuna shares, "This is Ginny our three year old dramaqueen. She's a big softie once you get to know her, despite that look of doom in her eyes XD she wa…

Nov 10, 23 03:06 PM

New today: Meet adorable little

Juniper!

Nicole shares, "I went to the vet and they originally had her as domestic medium hair and once the vet saw her she said she has some Maine Coon in her because…

Nov 05, 23 08:36 AM

New today: Meet

Yellowstonecoon Tomboy Honey!

Jessica of Yellowstonecoon Cattery writes: "Hello, Maine Coon families! We are so tickled to share our beautiful Black Smoke baby girl with everyone! She…