February 2015 Maybe Coonies
Hop on over to see this month's Maybe-Maine Coons, sent in by their owners to see if they have some Coonie in them!

Maybe-Maine Coon Cats For February:
TigerLilly The Abandoned Coon?
By: Ashley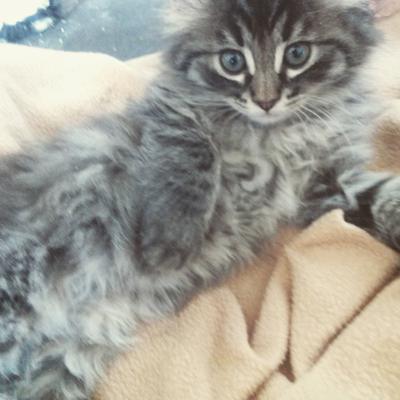 Posing for a photo
Lilly is around I'd say, 8 weeks to 10 weeks. She iS rambuctius as any kitten. Maybe more.
She chirps like a bird and yowles while she eats. She is not even scared of my big mean dogs. However she may be now, she was attacked my my bigger dog this morning. Shes fine now.
But anyway, Lilly has the long ear hair and lots of the other signature Coon traits. Including one extra digit.
She was found at a stop sign in the light snow, she was curlled in a little ball. We waited about 30 minutes. When we came back ashe was there still. An we took her home. She is just like any Maine Coon. But she might be mixed. idk?
---
Matilda
By: Ellen in NC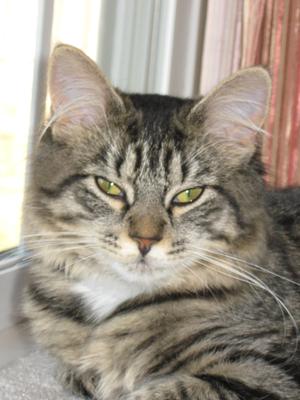 Matilda is 5 months old. We adopted her in a Port City and were told that she may have some Maine Coon in her. She was the runt of the litter and not as fluffy as her siblings.
To say she has a large appetite is an understatment. She is now very large for her age and has started to get super fluffy in the past month.
She loves to get into the tub and play with the water. She carries her toys in her mouth. She carries on a conversation with us with these cute little trilling sounds. She sleeps on her back.
And I have never had a cat that responds to "no". She is so easy to train. While she has to be in the room with us, she doesn't want to be held.
We thought it would be fun to see what other people's opinions on her possibly being a Maine Coon are. We really feel blessed to have found such a wonderful kitty!
---
Bozeman
By: Brooke in Wisconsin, USA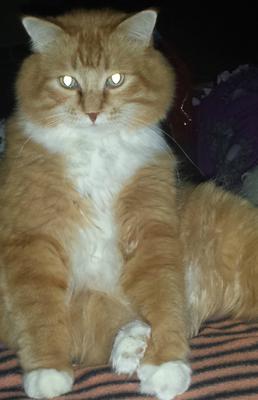 My Cat Bozeman
I adopted this sweet boy from my local animal shelter about four years ago.
He's fun loving and extremely playful. He really enjoys being the center of attention! As I was reading this site, I began to wonder if my sweet boy could possibly be part or full Maine Coon.
There are definitely some of the characteristics that he shares with the breed, such as the hair growing between the toes and the tufts of hair in the ears.
What do you guys think? Could my big guy possibly be part Maine Coon?
---
Jin Jin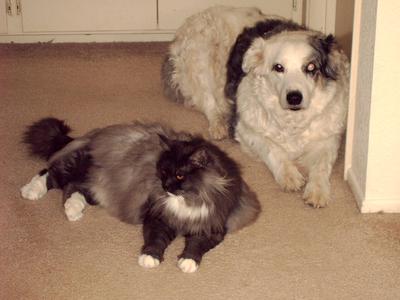 With his buddy Banks
A little over a year ago, Jin Jin decided he wanted to live with us. I tried to find who he belonged to, but I had no luck. I drove around and some kids said they've seen him wandering around for about three months, so I figured he was let go by someone. (maybe they moved) Needless to say he has the best of homes with good food, a warm bed and lots of love.
The vet thinks he's a Maine Coon / Tuxedo Persian mix, but I have my doubts. Take a look at his picture and let me know what you think.
---
My Shadow
By: Judith Drake in Chicago, IL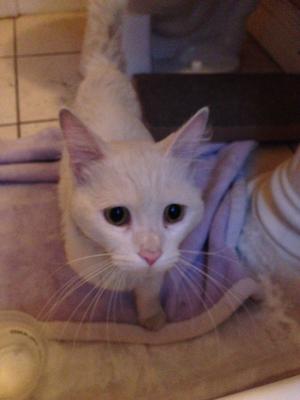 I rescued Shadow from a locked, boarded up basement in July of 2014.
I heard him meowing and scratching at the boards while I was walking my Yorkie Sophie. He was emaciated, 6 lbs and dehydrated.
I'm not sure how long he was down there, but know he would have died if I hadn't found him.i don't know if he is a Maine Coon or a mix. I have before and after shots of him, he doesn't have the tufts on the ears, but does on his huge paws. He has the big fluffy tail and he chirps more than meows.
He's extremely affectionate, playful and follows me everywhere. He's quite dog-like, likes to sit in my lap and sleeps on my chest or in my arms at night.
---
Quinn
By: Siri in Kenosha, Wi USA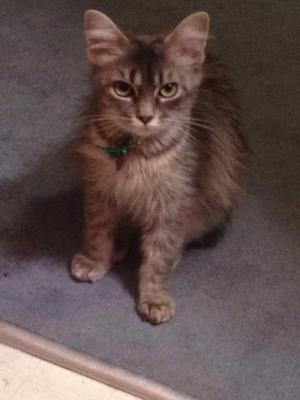 When we first brought her home in April 2014
This is Quinn, we got her from the local shelter where the estimated her to be about 7 months old and weighed 4lbs.
When I first saw her I just thought she was the cutest thing with all that hair, big bushy tail and with her huge paws that she still hasn't grown into.
When we first got her she was very traumatized and skittish. Now, less than a year later she is over 9lbs but isn't fat and has turned into this totally different cat. She now always wants to be by someone to snuggle.
She gives kisses and wants you to solely pay attention to her. In the past she would only be vocal if our other cat got shut in one of the bed rooms. Now, she wants to actually play and talks to her toys.
Looking through all the pictures on this site I feel she is at least a Maine Coon mix but I'm wanting to get other opinions.
---
Max, Our Rescue Kitty.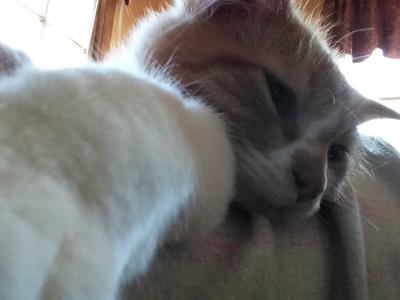 Our Max
Max was rescued as a small kitten by some friends of ours. He was the lone survivor of his litter. He was a tiny mess! He couldn't even meow.
He would try but no sound would come out so they named him, "Mute!" When we adopted him, we decided to change his name to "Max." He's about 7 months old now.
He has long ear fur, long fur between his toes and a long, bushy tail. We think he may be part Maine Coon. Even if he's not, he's a sweet & beautiful cat.
---
Jack Knucklebones
By: Annetta in Raleigh NC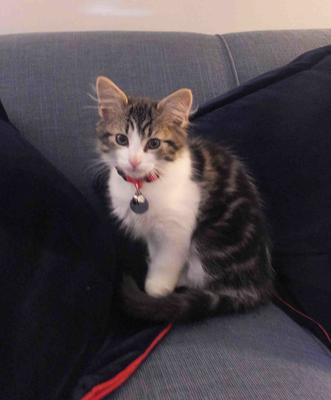 Jack Knucklebones, 10 weeks
I think Jack may have a little Maine Coon dna (?).
These photos are from when he was about 10 weeks old...now he's about 18 weeks old. He is average size so far (weighing 5 lbs presently), he knows no fear, is friendly when he's not busy, and he and our Welsh Springer Spaniel play like litter-mates.
I'm teaching him to come to a whistle and my son has gotten him to fetch a paper ball several times. All and all a lovely kitten...if I could just keep him off the kitchen table!
---
Potyi (Spot) the housecat
By: Will in Hungary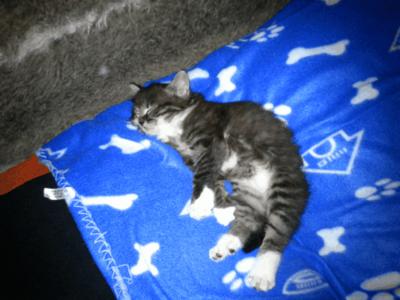 Hello Everyone!
Potyi was born as a big ball of fur in a litter where her brothers and sisters looked like ordinary small housecats.
When she started to mature we were amazed of her traits as the enormous tail and long fur, even between her "fingers". The name "Spot" (or like "Spotty") comes from all of the little black spots around her body even on the roof of her mouth, and between the paws. She talks to us in an unusual way too, she doesn't usually meows she just like chirps or purrs loudly when looking directly to our eye all the time, with a wide variety of tones.
I bumped into a big Maine Coon at a cat show and I thought she's very much like this type of cat. She is bigger than all of the housecats in the neighborhood.
What do you think? Is there a chance that one of her ancestor was hunting in the wilds, or maybe a freelance Maine Coon from around the corner? :)
W.
Top of February 2015 Mixes and Maybes